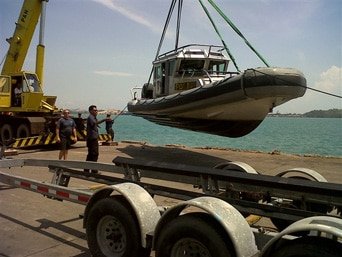 by Donna Miles
American Forces Press Service
WASHINGTON, July 12, 2011 – The poppy fields of Afghanistan — a major revenue source for the insurgency there — may seem a million miles away from U.S. Pacific Command's headquarters in Hawaii.
Yet the production and trafficking of acetic anhydride — a chemical produced in the Pacific and shipped to Afghanistan, where it's used to transform opium into heroin — is one of the big concerns of Joint Interagency Task Force West, explained Tom Wood, its deputy director of operations.
The task force, focused on supporting counternarcotics operations in Asia and the Pacific, recognizes the link between drug trafficking, U.S. national security and regional stability, Wood told American Forces Press Service.
Illicit drugs have long been recognized as a threat to the United States, where drug abuse takes a heavy personal toll on users and their loved ones. But society at large suffers, too, not only from petty crimes committed by addicts to fund their habits, but also from even-more-insidious activities conducted by transnational crime rings bankrolled by the drug trade.
JIATF West is one of three interagency task forces that work in partnership with regional nations to confront this scourge. JIATF South, based in Key West, Fla., supports the counternarcotics fight within U.S. Southern Command's area of responsibility. JTF North, part of U.S. Northern Command, focuses predominantly on the southwestern U.S. border.
Acetic anhydride production and trafficking is just one of JIATF West's pressing challenges, Wood said. Others are the industrial-scale production of chemicals illicitly trafficked to the Western Hemisphere to produce methamphetamines, and the flow of drugs from the Western Hemisphere to China, Australia and other parts of Asia.
To address these challenges in an area of responsibility that spans half the globe, JIATF West promotes collaboration between U.S. and foreign law enforcement agencies and other federal agencies to support their efforts.
By law, the Defense Department is barred from actively conducting law enforcement. But it contributes to those efforts largely through intelligence about drug flows through the region, Wood said. Whenever possible, JIATF West passes it to partner nations to act on within their sovereign waters.
"We use as much of U.S. and [Defense Department] intelligence assets as we can to contribute to this fight," Wood said. "Part of the success of what we do is the fact that we work with foreign partners and exchange information. While we don't physically do the operations, we team with them and combine our efforts for the goal of cutting back on counternarcotics flows trans-regionally."
But an equally important part of JIATF West's mission is to help 36 partner nations in the region improve their own counternarcotics capabilities, Wood explained.
"We spend a good fraction of our effort on the partner nation capacity-building piece of the counternarcotics fight," Wood said. "That is where we can be most effective in combating the transnational crime problem out here in the Pacific."
Pacific Command has 36 partner nations in Asia and Pacific, many of them struggling with drug challenges of their own. But Wood said the impact extends beyond the partners' own borders, contributing to regional instability.
JIATF West's partner support focuses heavily on the maritime domain and helping partner nations build capacity within their maritime police or coast guards. This runs the gamut, Wood explained, from helping nations develop the physical infrastructure and bases needed to project power within their sovereign waters to deploying trainers to help them close capability gaps.
"What we are trying to do is essentially teach a man to fish," he said. "We are not creating dependency. We are creating a sustainable capability that these forces can use over the long haul."
Over the past three years, for example, JIATF West has deployed teams of Navy reservists throughout Asia and the Pacific to help law enforcement and counternarcotics forces throughout the region set up operating and maintenance programs for their vessels.
In Indonesia, for example, the national police charged with patrolling the nation's waters had long been plagued by too few patrol boats and lack of a program to keep what boats it did have running.
JIATF West worked with the State Department's International Narcotics and Law Enforcement and Department of Justice's International Criminal Investigation and Training Assistance Program to help the Indonesian police procure more small craft. Meanwhile, a JIATF West small craft maintenance training team helped them set up a program of scheduled maintenance.
"This group of maritime police now has almost no down time, with no more than one boat down at any given time," Wood said. "This has been a success, both in the deployment of boats and the ability to create this sustained maintenance culture that has allowed them to keep the boats on the water, doing what they are supposed to be doing.
"Boats tied up to the pier or in dry dock are not a measure of success," he said. "Just the presence out on the water has a deterrent effect. And if they are not out steaming, then they are not a deterrent."
As regional partners work together to interdict narcotics shipments through Asia and the Pacific, Wood emphasized that they're providing a strong deterrent to other transnational crime as well.
"If you can board a vessel to look for narcotics or illegal fish, you can board a vessel to look for guns or for bombs," he said. "No matter what, the same skill sets apply. And as you teach [partners] how to do things better, you are helping them develop skills they can apply to any of those threats."
This approach has generated many success stories in the region, both in terms of drugs interdicted and criminals convicted.
But Wood acknowledged that many of JIATF West's biggest victories are the ones that never make the headlines.
"A lot of what we do will never see the light of day," he said. "But that's OK, because this is a team effort. The key thing for us is that we have a multitude of partners, all working together and focused on the counternarcotics problem."
ATTENTION READERS
Due to the nature of independent content, VT cannot guarantee content validity.
We ask you to
Read Our Content Policy
so a clear comprehension of VT's independent non-censored media is understood and given its proper place in the world of news, opinion and media.
All content is owned by author exclusively. Expressed opinions are NOT necessarily the views of VT, other authors, affiliates, advertisers, sponsors, partners or technicians. Some content may be satirical in nature. All images within are full responsibility of author and NOT VT.
About VT
-
Read Full Policy Notice
-
Comment Policy