It's been quite a while since I've posted anything on Veterans Today, the main reason being that I plain ran out of anything to say negative, positive, debating, challenging, or agreeing. Simply put, I had a brain fart.
I don't know if I'll ever get out of this writer's block or brain constipation, but for now I can only start out slow noting what others have to say that makes common sense to me.
I just received my July/August 2011 edition of The VVA Veteran and on page 6,        I found a very insightful article by Bill McClellan that originally appeared in the St. Louis Post-Dispatch under the title 'Hero' and 'veteran' are not synonyms.
Since I really don't wish to appear to violate someone's copyright, and I like putting things in my own words, I will paraphrase and quote what McClellan had to say about how we have devalued heroism over the past decade or so by calling every Veteran and active duty trooper – a Hero.
During my lifetime I've gotten to know, I mean really know, only one person that I consider a hero Buddy Bucha, although he never acts like he's earned our nation's highest award for heroism – the Medal of Honor. The first thing we notice about real heroes as Bill points out is their modesty. It is that modesty that earns Buddy Bucha more respect than his motivational speeches.
Since Paul Bucha is a Life Member of VVA, just as I am, I'm sure he's seen this opinion piece in the VVA Veteran magazine, and I believe Buddy would hold the same views as Bill McClellan, and I, on how we devalue real heroism.
ROBERT L. HANAFIN, SP5, U.S. ARMY (69-77), Major, U.S. Air Force-Retired (77-94), U.S. Civil Service-Retired.Veterans Issues Editor
According to Bill McClellan, his state of Missouri has a program to help veterans find jobs. Bill notes, "That's a good thing." However, "The program is called Show-Me Heroes. That's not such a good thing," said McClellan.
Not meaning to pick on Missouri – the "Show Me" state, but every state, U.S. territory, and even the District of Columbia has some effort, cause, or organization with Hero or Heroes in their title. My state of Ohio has more than any one human being can keep track of.
In fact, there has been a significant proliferation of such groups and organizations since 9/11 that both the Pentagon and Charity Watch Dog organizations have had to keep close tabs and screen to determine which are legit and which are scams.
All Veterans and Our Troops Are Not Heroes.
OK, I know that saying the above is going to be a turn off to some readers both Veterans and Non-Veterans who wish to continue proliferating the myth that all our troops and veterans are heroes. However, having spent time in at least 3 military services as Army enlisted, Air Force Officer, and DOD civilian, I tend to agree with Bill McClellan that "all veterans are not heroes." In fact, precious few of us are or consider ourselves to be heroes, even true heroes who have earned the recognition show this in their modesty.
When Everybody's a Hero, Nobody Is.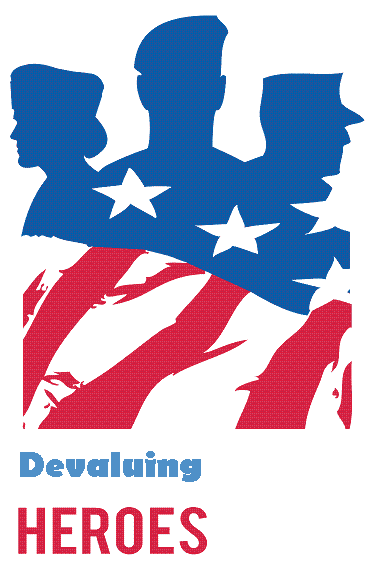 Bill makes another significant point that "If we want to honor those few, that's great. But we don't honor those few by pretending that all vets are heroes. When everybody's a hero, nobody is. We devalue heroism."
McClellan also points out quite accurately that "hero" has become a synonym for "member of the armed forces."
When we turn on the mainstream media we have seen far too many Chicken Hawk politicians as Bill puts it "talking about giving our heroes in Afghanistan and Iraq the tools they need to complete the job." This theme has remained the same since politicians who prefer not to serve sent other people's children in harms way circa 2001.
Bill rightfully notes that we need not hold our breath "hoping that some other [politician] would stand up and say, "You're misusing words," but that just ain't gonna happen. McClellan puts it quite humorously and accurately:
"Suggesting that the military is not filled with heroes would be like [politicians] going out in public without a flag pin in [their] lapel."
Those Who Serve Actually Know That Not All of Us Are Heroes.
I can relate when Bill says, "the people who understand best that "hero" is not a synonym for a person in the service are the people in the service. They understand that most military jobs are in support roles. It is hard to make the argument that the computer tech is a hero or that the cook is a hero, but they are still vital cogs in the great machine."
Even at the Tip of the Spear, Real Heroes are in Short Supply.
Another accurate observation by McClellan is that: "The sad thing is, everybody didn't used to have to be [a hero]. The word "veteran" was considered honorable enough that a program to help veterans could refer to veterans as veterans. After all, it's not the Heroes Administration. It's the Veterans Administration."
Well to be quite accurate Bill, it is the Department of Veterans Affairs, not the Department of Heroes Affairs. Although readers may or may not agree with Bill McClellan's observations, one thing he emphasizes is that "if the government really wants to support veterans, it ought to make sure that men and women with service-connected injuries get the best possible health care." This is something that I believe most of us Veterans and Troops can agree on.
Getting back to the Show-Me Heroes program.
Here Bill talks about Veterans Preference in Hiring. Now most Vietnam Vets know that Vet Preference has been around since that war. It was a joke then and remains a joke today.
However, Bill's view is still quite insightful and I quote. "If I were running a personnel department, I'd be inclined to give preference to veterans. Not because I think they're heroes—I'm a non-heroic veteran myself [ME TOO]—but because I understand that the military gives young people a great deal of responsibility. That 22-year-old filling out a job application might have been a sergeant. If so, he was in charge of other people. He might have been in charge of some very expensive equipment. Few young people in private industry [college and university graduates] are given similar responsibility. So I would be hiring somebody who has shown that he or she can handle responsibility. I would not be hiring a hero."
As I mentioned earlier, I've only met one true hero who earned the Medal of Honor, but Bill notes that:
"Over the years I have met several people who did heroic things in the military. None of them cared about publicity. Not one. They wanted the same things that we non-heroic veterans wanted, which are the same things that most young people want today—to be able to support a family and buy a house and live a comfortable middle-class life. In other words, a job. A decent job, a job with benefits. You shouldn't have to be a hero to have a chance at a decent job. Just being a veteran should count for something." —Bill McClellan