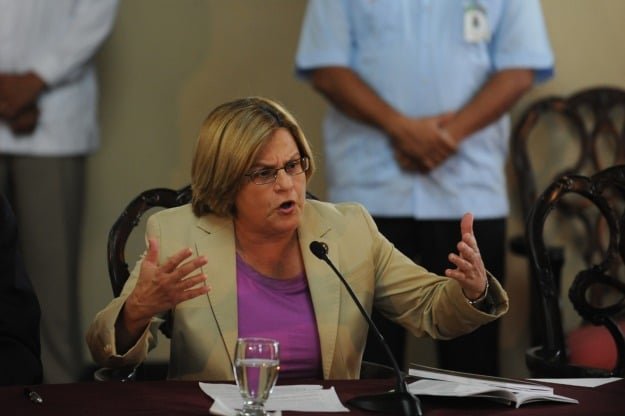 "The Fool and the Clown play the part of 'scapegoats' in the ritual sacrifice of humans."
(Frazer, The Golden Bough, London, 1911/12)
by William A. Cook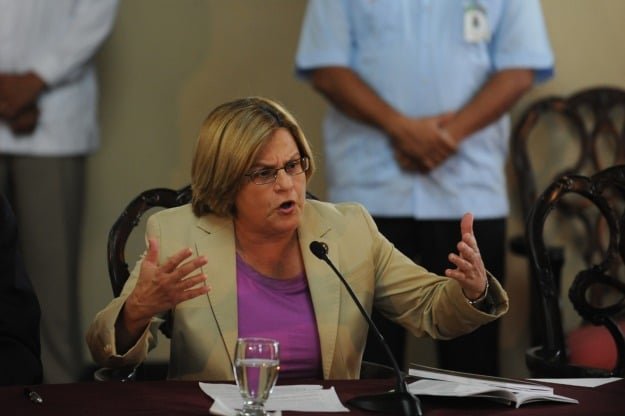 There are those who serve; it's their duty, their lot in life, to be the water bearer, existing on the fringe of all orders and systems, an attendant lord, subservient, to be of use, meticulous, ultimately, the Fool. Adorned in multiple colors reflecting the incoherent influences to which she is subject, bearing aloft a stick from which dangles a bag containing her only means of influence, money, at her heal, a white lynx bites at her left calf, her unconscious self, signifying all that remains of her lucidity, all that remains of her remorse. Thus the Fool becomes the symbol of the irrational, of blind impulse, of instinctual action, of unconscious behavior, subservient to their master without conscience, without thought, without mercy, lacking remorse and hence a soul.
It occurred to me while reading Ileana Ros-Lehtinen's recent declamation in the Miami Herald (August 27, 2011), "To Protect Israel at U.N., Money Talks," that Frazer's explanation of the Medieval Fool as the attendant lord to the masters that employ them fits our Congresswoman perfectly. Here are her words, reflective of her blind, impulsive subservience to her masters' position justifying her instinctive right to protect her masters by presenting legislation on their behalf regardless of its implications for the American citizens that voted her into office.
Abu Mazen's Palestinian leadership has announced that they will seek recognition from the United Nations in September.
Such U.N. actions would severely undermine opportunities for a negotiated peace between Israel and the Palestinians. They would provide implicit recognition and legitimacy to a self-declared "state" and reward and reinforce the unilateral, rejectionist policies of the Palestinian leadership.  Restarting bilateral negotiations would become even more difficult.  Ramallah could seize on the U.N.'s actions to escalate its efforts to demonize and isolate Israel internationally, including through seeking an International Criminal Court investigation in order to undermine Israel's right to defend itself from attacks by violent extremist groups like Hamas and Hezbollah — including the very attacks that have killed several Israelis and wounded many others in recent days.
Mark how the servant denigrates the action of the Palestinians, not because it is a legitimate right of the Palestinian people to seek recognition, but because it will negatively impact the controls Israel now uses to prevent completion of a negotiated peace settlement: if recognized, the status of Palestine would now be co-equal with the Israeli state and allow Palestine to negotiate on an equal footing, including the legal apparatus of the U.N. that could require Israel to remove its occupation from Palestine, hold Israel accountable under the jurisdiction of the International Court, and place Israel on notice that it must comply with the U.N. Charter, the Universal Declaration of Human Rights, and the more than 160 Resolutions passed by the General Assembly that call upon Israel to recognize the human rights of the Palestinians. Ileana continues:
Fortunately, we are not helpless in the face of this dangerous challenge. There is a historical precedent for how to stop it.
In 1989, Yasser Arafat's PLO also pushed for membership for a "Palestinian state" in UN entities. The PLO's strategy looked unstoppable until the George H.W. Bush administration made clear that the U.S. would cut off funding to any UN entity that upgraded the status of the Palestinian observer mission in any way. The UN was forced to choose between isolating Israel and receiving U.S. contributions, and they chose the latter. The PLO's unilateral campaign was stopped in its tracks.
This example demonstrates a simple but needed lesson: At the UN, money talks, and smart withholding works.
Notice how cleverly our subservient lord avoids the legal dilemma facing Israel, ignores the moral issues that arise with the introduction of the vote for recognition, and addresses only how to undermine and destroy the initiative. She would have Israel stop the nations of the world from holding an open discussion of this issue that has haunted the UN for over sixty years, effectively preventing freedom of speech to the entire world community, and this from a nation that declares itself democratic, and resorts to bribery to shut down all debate handing final resolution to the state that has literally placed its neighbor under siege denying in the process the rights of the Palestinian people. Negotiations become, as a result, the predetermined actions of the state of Israel supported without question by the United States. As our representative Fool notes with glee, "money talks at the UN" and all Israel has to do is force the U.S. Congress to withhold its money from the U.N. and its member states. Thus does Ileana become the determiner of how the citizens of the U.S will respond to the dictates of Israel. Ileana then concludes her declamation:
I will soon introduce the United Nations Transparency, Accountability, and Reform Act, which will reflect the executive branch's previous successful policies by cutting off U.S. contributions to any UN entity that grants membership or any other upgraded status to the Palestinian observer mission. This legislation will also leverage U.S. taxpayer dollars to make sure they do not fund biased or wasteful UN activities, and to achieve other much-needed reforms that will make the UN more transparent, accountable, objective, and effective.
Note how effectively she transforms an Act that denies the rights of the Palestinians, the member states of the United Nations, and the people of the United States into a "Reform Act that is Transparent and Accountable." Her words are meaningless: "transparency" hides the reality that no nation can discuss the rights of the people of Palestine; "accountability" means she will have the Congress repeat its depraved act of 1989 that denied the rights of Palestinians to be recognized at the UN; and "reform" becomes a euphemism for "hostile takeover of the United Nations" by willful force. She has become the Medieval Fool of Frazer's description, a person devoid of mercy and without remorse for those innocents she sacrifices, the unconscious, subservient lord of her employers.
Unfortunately, Ileana does not work alone. She serves as the culminating act of the Israeli government and its supporters that intend to deny the Palestinians their right to an independent state. This reality is most graphically illustrated by a comment made by the butcher of Beirut, Ariel Sharon:
"We'll make a pastrami sandwich of them. We'll insert a strip of Jewish settlement, in between the Palestinians, and then another strip of Jewish settlement, right across the West Bank, so that in 25 years time, neither the United Nations, nor the United States, nobody, will be able to tear it apart." (1973, to Winston Churchill, III).
How gracefully he speaks of the denigrated, the desperate, the despised. But that is exactly what Israel has done and intends to complete. There shall be no Palestine, period. The current government's party platform, the Likud's Platform states it as bluntly as it can be stated: "The Government of Israel flatly rejects the establishment of a Palestinian Arab state west of the Jordan River."
How often have we read that statement in the American press? What talking head mentions it? But no American has not heard that Hamas intends to "wipe Israel off the map." We are the victims of calculated propaganda that controls our perception and thus our reality is but controlled ignorance. Yet our Congress has accepted its role as the pillars that support these lies. The U.S. House has passed a Resolution, by a 406-6 vote, warning "the Palestinians that they risk cuts in US aid if they pursue UN recognition of a future state not defined in direct talks with Israel." These are the representatives that speak on behalf of the American people, not the Israeli. Yet they serve, as does their principal Fool, to do their masters bidding.
A view of the true map that exists in Palestine reveals how completely Israel has acted in consuming Palestinian land. The millions of Palestinians, who at one time in 1947 lived on approximately 97% of the land, now have, under the occupation less than 14% remaining. Yet their population virtually equals that of the Jews.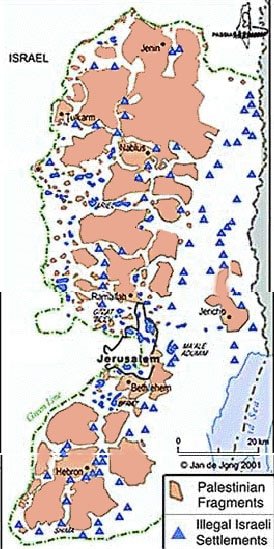 Israel / Palestine: Arab / Jewish Population (1914-2005)

B. Chart
---
| | | | | |
| --- | --- | --- | --- | --- |
| Year | Jews | Arabs | Total | % of Jews to Total |
---
| | | | | |
| --- | --- | --- | --- | --- |
| 1914 | 60,000 | 731,000 | 791,000 | 7.585% |
---
| | | | | |
| --- | --- | --- | --- | --- |
| 1922 | 83,790 | 668,258 | 752,048 | 11.141% |
---
| | | | | |
| --- | --- | --- | --- | --- |
| 1931 | 174,606 | 858,708 | 1,033,314 | 16.897% |
---
| | | | | |
| --- | --- | --- | --- | --- |
| 1941 | 474,102 | 1,111,398 | 1,585,500 | 29.902% |
---
| | | | | |
| --- | --- | --- | --- | --- |
| 1950 | 1,203,000 | 1,172,100 | 2,375,100 | 50.650% |
---
| | | | | |
| --- | --- | --- | --- | --- |
| 1960 | 1,911,300 | 1,340,100 | 3,251,400 | 58.783% |
---
| | | | | |
| --- | --- | --- | --- | --- |
| 1970 * | 2,582,000 | 1,045,000 | 3,627,000 | 71.188% |
---
| | | | | |
| --- | --- | --- | --- | --- |
| 1980 | 3,282,700 | 2,100,000 | 5,382,700 | 60.986% |
---
| | | | | |
| --- | --- | --- | --- | --- |
| 1995 | 4,495,100 | 3,506,900 | 8,002,000 | 56.173% |
---
| | | | | |
| --- | --- | --- | --- | --- |
| 2005 | 5,275,700 | 5,139,100 | 10,414,800 | 50.656% |
(Pro-Con.org)
What more can be said? Israel and its umbilical host, the United States, has no intention of creating a Palestinian state. Its supporters have invested 42 million dollars in fueling the rise of Islamophobia in America to ensure that this does not happen ((Think Progress, Faiz Shakir, published in Truthout.org, 8/28/2011)). The impact of this enormous expenditure to distort America's understanding of the Arab world, coming at this time as the U.N. prepares to vote on recognition of the Palestinian state, could not be more corrosive. Here's how it is done.
The money has flowed into the hands of five key "experts" and "scholars" who comprise the central nervous system of anti-Muslim propaganda:
FRANK GAFFNEY, Center for Security Policy – "A mosque that is used to promote a seditious program, which is what Sharia is…that is not a protected religious practice, that is in fact sedition." [Source]
DAVID YERUSHALMI, Society of Americans for National Existence: "Muslim civilization is at war with Judeo-Christian civilization…the Muslim peoples, those committed to Islam as we know it today, are our enemies." [Source]
DANIEL PIPES, Middle East Forum: "All immigrants bring exotic customs and attitudes, but Muslim customs are more troublesome than most." [Source]
ROBERT SPENCER, Jihad Watch: "Of course, as I have pointed out many times, traditional Islam itself is not moderate or peaceful. It is the only major world religion with a developed doctrine and tradition of warfare against unbelievers." [Source]
STEVEN EMERSON, Investigative Project on Terrorism: "One of the world's great religions — which has more than 1.4 billion adherents — somehow sanctions genocide, planned genocide, as part of its religious doctrine." [Source]
These five "scholars" are assisted in their outreach efforts by Brigitte Gabriel (founder, ACT! for America), Pamela Geller (co-founder, Stop Islamization of America), and David Horowitz (supporter of Robert Spencer's Jihad Watch). As the report details, information is then disseminated through conservative organizations like the Eagle Forum, the religious right, Fox News, and politicians such as Allen West and Newt Gingrich.
Over the past few years, the Islamophobia network (the funders, scholars, grassroots activists, media amplifiers, and political validators) have worked hard to push narratives that Obama might be a Muslim, that mosques are incubators of radicalization, and that "radical Islam" has infiltrated all aspects of American society — including the conservative movement.
(Think Progress Report, 8/2011).
We speak here of human rights, the justice that must be given to those deprived of their land, those made destitute by 60 years of occupation, massacre, seizure of basic rights as dictated by international law, surrounded by an inhumane wall that deprives them of participation in the affairs of this world, denies them the right to participate in their destiny, all because one nation has decided to prevent their right to exist as an independent state. Justice cries from the hills of Palestine to the people of the world, "Let us live in freedom and peace, not as vagrants in our own land, but as individuals granted the respect and dignity that is the due of every human being." No one should be made a sacrificial victim to the Fool that willingly ignores the humanity of another in her remorseless unconsciousness as subservient lord to her masters.
---
William A. Cook is a Professor of English at the University of La Verne in southern California and author. His works on the mid-east include The Rape Of Palestine: Hope Destroyed, Justice Denied, Tracking Deception: Bush Mid-East Policy and The Chronicles Of Nefaria. He is editor of MWCNEWS. His latest book: The Plight of the Palestinians: a Long History of Destruction is out now, available to order from Palgrave Macmillan! He can be reached at [email protected] or www.drwilliamacook.com.
ATTENTION READERS
We See The World From All Sides and Want YOU To Be Fully Informed
In fact, intentional disinformation is a disgraceful scourge in media today. So to assuage any possible errant incorrect information posted herein, we strongly encourage you to seek corroboration from other non-VT sources before forming an educated opinion.
About VT
-
Policies & Disclosures
-
Comment Policy
Due to the nature of uncensored content posted by VT's fully independent international writers, VT cannot guarantee absolute validity. All content is owned by the author exclusively. Expressed opinions are NOT necessarily the views of VT, other authors, affiliates, advertisers, sponsors, partners, or technicians. Some content may be satirical in nature. All images are the full responsibility of the article author and NOT VT.