Predicted, Expected, We Warned You
By Gordon Duff, Senior Editor
Congress can begin slashing military pay and benefits, cutting access to Tricare Prime and upping fees for retirees.  John McCain said so and he represents everything military. 
John McCain can be in the senate because he isn't in prison.  He has a pardon secretly issued by President Richard M. Nixon, saving him from a court martial for treason.
This is the same John McCain who fought to stop the search for American POWs when our intelligence officers reported live sightings from reliable sources. 
We learned that hundreds were alive while McCain was blocking efforts for their recovery.  With McCain's position as "cover," North Vietnam executed surviving POWS, particularly the 200 held by them in Laos.  This was brought out in the tapes of conversations between Secretary Kissinger and President Nixon that were uncovered in the Nixon Library in the 1990s.
I interviewed the head POW recovery officer in Thailand, Col. Jim Hanke, a long time friend, I interviewed Col. Ted Guy, WW2, Korea and Vietnam hero who demanded McCain's arrest,
I have interviewed so many over the years and yet today, congress turns to him to support broken promises and more broken lives. 
McCain's peers, McCain's commanding officer tell a story quite different from that we hear on the campaign trail.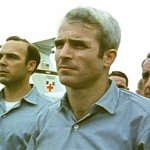 What is held back about McCain, what is held back about his father, Admiral McCain, amounts to the among the greatest scandals in American military history, aiding the enemy in Vietnam, allowing the destruction of the USS Liberty and most of her crew by his father. 
Yet congress and veterans organizations, the VFW and American Legion worship this guy.

Next comes the cuts to veterans services, cuts in disability compensation, and more roadblocks.  Veterans are an easy target, especially for the millionaires that make up our Senate. 
One million veterans have claims for disability in processing, some for 25 years.  My own took 12 years, just to move the paperwork through the VA. 
This is only the beginning of the cuts.  The biggest cut in Veterans funding has been the 10s of thousands of suicides.  The government has saved several billion there.  This was a plan.  As troops developed PTSD, they were drugged and sent to war over and over, more times, more drugs.
Then they were either thrown out as unfit, bad discharges, 26,000 of these so far, or put in line for VA benefits.  500,000 recent vets are awaiting "adjudication.'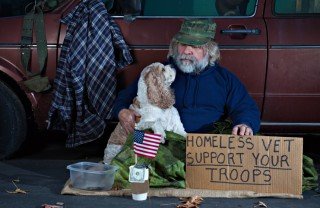 The provisions made for vets?  We filled the jails, the homeless shelters, they live under bridges, they live on the streets then the kill themselves. 
This was the plan, no difficulty understanding it.  All those "profilers" and MBAs at the VA figured the game out and put it into operation. 
Let's not forget the few surviving Vietnam veterans.  There is a reason I am bringing this up.  When we are measuring injustice, lets go all the friggin' way.
Not sure if you know this but Vietnam vets weren't paid when they served, not in any real sense.  "Military service" was not considered a "real job."
Some serving in Afghanistan are making over $100,000 a year, some well over that.  Military pay is actually well above all but the best paid professions in the US.  On the other hand, the work is vital, although the wars are against imaginary enemies, often started by the US out of greed or profit but this is not the responsibility of those who serve in the military.
I served in Vietnam and it was even stupider than Afghanistan, if such a thing is imaginable.  I do so love being a citizen of a country so consistently on the wrong side during wars.  Don't worry, all those who fought in Iraq and Afghanistan are very aware of this as is everyone who fought in Vietnam. 
Few of those survive today. The issue, why I bring up Vietnam?
Troops who fought in Vietnam and who returned home disabled, except for the most serious of traumatic injuries, were never compensated. 
The average disabled Vietnam veteran received his award and finding at 55 years old or more. Today, the age is 23.
Those who served in combat in Vietnam saw fighting unimaginable by today's standards, casualty rates in combat units went to near 50% killed.
Then there is the issue of pay.  As a non-commissioned officer serving as a combat Marine in Vietnam, I was paid less than a 12 year old girl working as a babysitter 3 hours a day, 3 days a week.
Our families, the families of those on active duty in Vietnam had no health care or benefits of any kind. Families of Marines serving in Vietnam got nothing no PX privileges, no health insurance, and a living stipend that wouldn't even buy gas and that cost .30 a gallon back then.
GI bill?  It paid for college?  $173.00 a month?  Oh please, it paid for nothing. 
In fact, troops serving in Vietnam were paid less than those who served in World War II, got less benefits, and when they came home wounded or disabled were typically denied treatment.
The service organizations, the VFW and American Legion were of no help.  The VFW denied us membership saying Vietnam wasn't a "real war."
Vietnam veterans took over several Legion posts and were eventually banned.  Some may wish to remember it differently but I was there. 
My old college roommate, John Humins (Dr. John Humins) and I joked about this when he and his wife visited here last year, our "war against the American Legion" in East Lansing.
But I'm not complaining.  Vietnam was stupid, a war the veterans themselves made the government end.  In doing so, we hoped we would put an end to using up American kids for wars for profit, whether fighting for oil or for Israel or for colonialism, under the guise of "war or terror" or "fighting communism," it was all the same.
It was always a con.
So, if kids today are paid what they deserve, thousands a month rather than $90 a month for their service, it's fair.  If John McCain, the debunked and discredited blowhard says he speaks for us, he is wrong.  I am speaking for us.
At times I find myself impatient with military retirees.  I see some as institutionalized, incapable of good decision making.
This knife in the back will wake up more than a few, we can thank John McCain for that.
Yes, I admit that paying a veteran disability for decade after decade is expensive.  Stealing oil and selling drugs, the real business of America, has overhead. 
Nobody knows more about racketeering than John McCain, Jeff Gates will tell you all about that.
The wars were fought to make billionaires out of millionaires and did so with such success that 80% of America's wealth is now in the hands of 1%. 
That was another plan, referred to as the Project for a New American Century. 
I have a suggestion for Mr. McCain and his friends in congress, who raise their own pay with regularity, who have wonderful health insurance policies for life and seldom die from battle except for the occasional "accidental" plane crash to readjust the voting margins in the Senate.
Find that 1%, find their money, foreign banks are a good place to look, and use that to finance the promises made to America's military families.
Next time we have a war, in fact I believe several are going on right now, congress can go to the front lines, where we can keep an eye on them.
Gordon Duff posted articles on VT from 2008 to 2022. He is a Marine combat veteran of the Vietnam War. A disabled veteran, he worked on veterans and POW issues for decades.
Gordon is an accredited diplomat and is generally accepted as one of the top global intelligence specialists. He manages the world's largest private intelligence organization and regularly consults with governments challenged by security issues.
Duff has traveled extensively, is published around the world, and is a regular guest on TV and radio in more than "several" countries. He is also a trained chef, wine enthusiast, avid motorcyclist, and gunsmith specializing in historical weapons and restoration. Business experience and interests are in energy and defense technology.
ATTENTION READERS
Due to the nature of independent content, VT cannot guarantee content validity.
We ask you to
Read Our Content Policy
so a clear comprehension of VT's independent non-censored media is understood and given its proper place in the world of news, opinion and media.
All content is owned by author exclusively. Expressed opinions are NOT necessarily the views of VT, other authors, affiliates, advertisers, sponsors, partners or technicians. Some content may be satirical in nature. All images within are full responsibility of author and NOT VT.
About VT
-
Read Full Policy Notice
-
Comment Policy