DISCLOSURE: VT condemns the horrific tragedy committed by the NAZI Party against Jewish Citizens of Europe during Word War II known as the "Holocaust". VT condemns all racism, bigotry, hate speech, and violence. However, we are an open source uncensored journal and support the right of independent writers and commentors to express their voices; even if those voices are not mainstream as long as they do NOT openly call for violence. Please report any violations of comment policy to us immediately. Strong reader discretion is advised.
---
Letter Reflects Psychotic Break by Criminal Police Mob
By Gordon Duff, Senior Editor
Once upon a time, we used to hear stories about heroic police.  Because of Oakland, a department that fired lethal high-velocity ordnance into a peaceful crowd, police are unlikely to ever be considered heroes again.  Heroes are those people who stand up against police and for America. 
Heroes are those who stand against those who serve "the reptile."
Reptiles?  There can be no other explanation, insects are too social, even the black widow spider only kills its mate, it doesn't strive to devour a planet.

The Oakland Police, the ones I saw, belong in prison, not on the "paid for eating donuts" role, the form of "semi-welfare" that many civil employees join, police, city commissioners, many county veterans service officers and so many others who abuse authority or spend their lives hiding behind administrative rules and voice mail.
Injustice goes further than just Wall Street and Washington, it comes to every town and village in America.  In American cities, mob rule has been the norm since the British kicked the Dutch out of New Amsterdam.  Government is and always has been an expression of organized crime.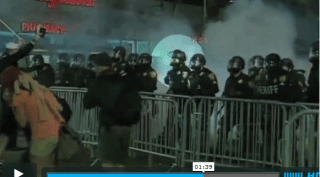 Investigating police and municipal officials takes of the efforts of thousands of Federal agents each year who are, often as not, told to keep their "hands off."  Public graft is considered a franchise, a reward for helping rig elections.
The police I saw in Oakland were the rioters they complain about in their letter.
Defending America?  Occupy Wall Street protesters were doing that.  It was fairly peaceful in New York City this weekend. 
My daughter was at OCW.  She made it pretty clear what the primary problem is there, starving Americans.
OCW was feeding the homeless, not their own members, mind you, but the endless homeless that now are found across America.  We are told 25% are veterans, we know the numbers are higher.  Rudy Giuliani used to round them up and ship them out of town.
In Los Angeles, they report several thousand homeless.  Our records show the Los Angeles region has a minimum of 6,000 homeless veterans alone.
With VT involved, along with the ACLU and major law firms, we have taken the Federal Government to court to force them to spend some of the billions of tax dollars earmarked to help homeless veterans instead of steal the money for themselves.
Stealing money meant for veterans is an American tradition, mentioned last week in Boardwalk Empire, the HBO hit television show.
While working on the story, Veterans Administration Police came to us complaining that their supervisors and top VA administrators had ordered them to make illegal arrests, forge documents, commit dozens of crimes. 
This was reported to the FBI.  Nothing was done so now we have taken them to court.
Then accountants for the VA came to us and said that the Veterans Administration officials had set up phony medical laboratories, empty offices, where real medical work was sent, but never done. 
We believe this is going on across the country, the Department of Veterans Affairs being bilked out of tens or hundreds of millions or more by crooked employees protected by the veil of administration, almost as though they were Oakland Police.
HISTORY
A minor reminder.  If you think you know history because you went to college, think again.  A current scam, financed by the banksters and their army of paid liars who fill the internet, the newspapers, fill television with fiction as truth.
It's all part of the mental conditioning to maneuver free humans into generations of slaves, the idea that America was never meant to be a democracy.  They say it is a "republic."
What they mean is that they have been paid to convince people that only rich people have rights, the rights to send to war but not fight, to tax and spend but never pay, the right to steal but never pay for their crimes.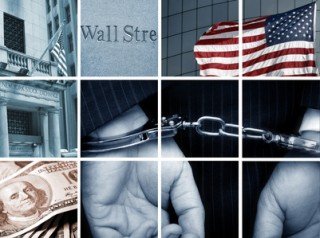 Are they right?  Of course, history has proven that justice is bought and sold like any other commodity and that universities exist to rubber stamp the lies that help the  control the planet.
Send your kids of college and they come out robots, hoping to worm their way into "middle management".
If they are without conscience and sufficiently criminal, they may become hedge fund managers or start some insurance scam of their own, robbing the elderly or stealing people's homes.
The last generation of business school grads taught America to send jobs overseas, set up a "service economy" and flood the nation with illegal immigrants. 
They were taught that deregulation was the key to everything and that imaginary capital, traded in wildly speculative systems without rules, was the path to a lifestyle of excess and power.
The generation before than only snorted cocaine off the abdomens (and elsewhere) of high priced call girls.  They actually paid for the cocaine, brought into the US by the CIA, paid for the hookers.  This was the last really great generation of honest Americans.
THE SYSTEM
Banks are a good place to start, the real center of evil.  Banks represent a worldwide crimewave that operates governments.  Banks orchestrate wars, not just Afghanistan, but World War I and II, Vietnam, the Cold War, but they really started hundreds of years before that. 
The history we teach, of battles and assassinations and alliances, isn't history at all, its deception. 
Wars were always between banks over money and the "incidents" that started the wars, from Pearl Harbour to 9/11 were nothing but theatre.
Yes, people died.  If money rules, and money does rule, then the lives of people are nothing. People are disposable, capital has all power, this is the nature of the disease.
Some in America have called it Federalism, some call it the New World Older. It is served by organizations with a hundred names, the highest levels of Freemasonry, the Catholic Church, Israel and Switzerland, (people do live there, but only as "cover").
There is a bizarre idea that the world needs to be sucked dry, everything of value, even the oxygen has to be taken away, the land defiled, the human population debased, the animals caged and tortured, all in service of strange theories more reptilian than human. 
The great religions exist as a farcical backdrop, oblivious and silent while all this goes on. 
The real entertainment, the real addiction, even more than the thousands of tons of narcotics the globalist cabal floods our societies with, pours into our schools, is cruelty itself.
The media exists to peddle fear and hate, ethnic, race, class.  It is more than that, we are being systematically dehumanized to live in a "science fiction" world. Turn on the television.  Vampires and zombies, all day. 
When it's not that, its spies and conspiracies, flooding our fictional lives with the shadow of our real one, numbing us to the corruption and disease around us.
The treatment of Veterans is a microcosm for the reality of society, American society in particular.  Veterans are humans sent off to kill other humans. 
The purpose?  Veterans eat food, use up weapons, all generating capital which accumulates in the hands of the 1%.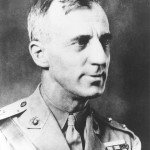 The wars themselves, the rational illusory, mythical, more honestly, are always lies.
Wars to protect democracies that never existed from political and social movements that saw things differently, that didn't worship money above people. 
That is always the reason for war. Read Smedley Butler.  If you haven't, do it.  One page is enough.
War is a crime, whose purpose is to steal money, to help enslave people and America is, were one to push past the myth of history, past the movies of the holocaust, past the theories, past the fictions…America is invariably at war against injustice it has itself created or fighting to impose injustice on others.
When faced with evaluating the attacks on the ultra-corrupt Libyan regime, one that appeared to some to be standing against tyranny.  But under close examination, it proved as so often the case,  was nothing but window dressing for tyranny, some balked. 
Some thought two wars were enough.  Others automatically assumed that if America were fighting, it had to be wrong.
A madman was leveling cities with heavy artillery and many found themselves paralyzed with mistrust.  That, in itself, is a symptom.  This is what "preconditioning" is all about.
We are told 3,000 have died in Syria.  We are also told we can't intervene, more like 30,000 may actually have died.  Why?  Well, Gaddafi in Libya was loaded with money which he shared with the banks.  It bought him months.
Syria?  Russia defends their air with sophisticated weapons and stops any UN vote to protect Russia's only port on the Mediterranean. 
As for the Syrian people?  They have been slaves for generations, slaves of the Ottomans, slaves of the French and now slaves of Assad. Syria is interesting, at least to VT. 
We have the ability to "follow the cash" as we are an organization of burned out former NWO thugs. 
Iran is an odd nation.  I broadcast there daily, am read in their papers, I even defend them, quite often actually. 
I know them to not be the threat, not be the people Americans are told.  They and the people of Afghanistan and Iraq and Pakistan are among my friends.  Our next generation may learn that, share that friendship, if we don't kill everyone first.  I give the chances at 50/50.
Syria, an area where hypocrisy has taken so many turns that no side knows another anymore.  Franklin Lamb was there a couple of days ago, we have been discussing it, as I have with many others.  I am amazed.
Turkey wants to attack Syria over problems with war crimes and refugees, we are told.  Iran and Hizbollah, both on American terror lists are helping Syria.  Russia is flying in "technicians."
Syria is a daily bloodbath, real people fighting for freedom for sure, but everyone else in the world interfering as well.  That still, as with Libya, doesn't change things.  The Assad government, though one of the few not enslaved to Washington and Tel Aviv, can no longer honestly rule.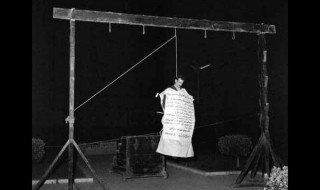 We are told how much Israel, the tiny nation that controls America, hates Syria.  Then our spies, and we have so many, begin to unravel something else. 
Syria and Israel have secret "protocols" of cooperation. 
Iran and Israel share the same, exposed by VT last week, plans to enrich each other with oil speculation through a ruse of war so dangerous it threatens the entire world.
Behind it all, as the armies that march the streets of the world figured out, are the Banks. 
The names may be Jewish, the passports Israeli, the arch-criminals may be the Bush family or the Rothschilds, or the Swiss or French. They may be the arms manufacturers or big oil, the Freemasons or the Catholic Church.
The armies of thugs are clear as day, police departments, the CIA, the Pentagon and the police and security services, the armies of dozens of nations tasked with cruelty and corruption they will never understand, never fathom, only blindly serve for a crust of bread and a pat on the back by a reptilian overseer.
I leave you with the letter from the Oakland police, a document demonstrating the delusion of a few tasked with defending a people they are not a part of, of enforcing laws they themselves don't obey, of serving a country they betray with their very existence.
Do I damn everyone because there is nothing left of America but serving the oppressors, getting coffee for the bankster cheats, repossessing homes, selling defective products, delivering poisoned medicines?
Or how about their taking part in the fastest growing of them all, the machinery of slavery, the press, the internet, the media, the entertainment industry, those tasked with conditioning the slaves with crushing the spirit, with selling the dream, your chance of serving the reptile.
An Open Letter to the Citizens of Oakland from the Oakland Police Officers' Association
1 November 2011 – Oakland, Ca.
We represent the 645 police officers who work hard every day to protect the citizens of Oakland.
We, too, are the 99% fighting for better working conditions, fair treatment and the ability to provide a living for our children and families.
We are severely understaffed with many City beats remaining unprotected by police during the day and evening hours.
As your police officers, we are confused.
On Tuesday, October 25th, we were ordered by Mayor Quan to clear out the encampments at Frank Ogawa Plaza and to keep protesters out of the Plaza.
We performed the job that the Mayor's Administration asked us to do, being fully aware that past protests in Oakland have resulted in rioting, violence and destruction of property.
Then, on Wednesday, October 26th, the Mayor allowed protesters back in – to camp out at the very place they were evacuated from the day before.
To add to the confusion, the Administration issued a memo on Friday, October
28th to all City workers in support of the "Stop Work" strike scheduled for
Wednesday, giving all employees, except for police officers, permission to take
the day off.
That's hundreds of City workers encouraged to take off work to participate in
the protest against "the establishment."
But aren't the Mayor and her Administration part of the establishment they are paying City employees to protest? Is it the City's intention to have City employees on both sides of a skirmish line?
It is all very confusing to us.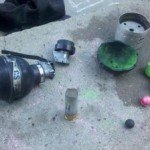 Meanwhile, a message has been sent to all police officers: Everyone, including those who have the day off, must show up for work on Wednesday.
This is also being paid for by Oakland taxpayers. Last week's events alone cost Oakland taxpayers over $1 million.
The Mayor and her Administration are beefing up police presence for Wednesday's work strike they are encouraging and even "staffing," spending hundreds of thousands of taxpayer dollars for additional police presence –
At a time when the Mayor is also asking Oakland residents to vote on an $80 parcel tax to bail out the City's failing finances.
All of these mixed messages are confusing. We love Oakland and just want to do our jobs to protect Oakland residents.
We respectfully ask the citizens of Oakland to join us in demanding that our City officials, including Mayor Quan, make sound decisions and take responsibility for these decisions.
Oakland is struggling – we need real leaders NOW who will step up and lead – not send mixed messages. Thank you for listening.
Editor's Note: Dear Oakland Police Officers Association.  Ah….Mixed messages??? This is one of the stupidest letters I have ever read in my life. 
The only shot you had was to refuse orders to use violence on the protestors…you and the Sherif's deputies. I can assure you that our readers, many of them veterans are going to help you out as much as we can supporting criminal prosecutions for all those in the chain of command who were responsible.  Jim W. Dean
Gordon Duff posted articles on VT from 2008 to 2022. He is a Marine combat veteran of the Vietnam War. A disabled veteran, he worked on veterans and POW issues for decades.
Gordon is an accredited diplomat and is generally accepted as one of the top global intelligence specialists. He manages the world's largest private intelligence organization and regularly consults with governments challenged by security issues.
Duff has traveled extensively, is published around the world, and is a regular guest on TV and radio in more than "several" countries. He is also a trained chef, wine enthusiast, avid motorcyclist, and gunsmith specializing in historical weapons and restoration. Business experience and interests are in energy and defense technology.
ATTENTION READERS
We See The World From All Sides and Want YOU To Be Fully Informed
In fact, intentional disinformation is a disgraceful scourge in media today. So to assuage any possible errant incorrect information posted herein, we strongly encourage you to seek corroboration from other non-VT sources before forming an educated opinion.
About VT
-
Policies & Disclosures
-
Comment Policy
Due to the nature of uncensored content posted by VT's fully independent international writers, VT cannot guarantee absolute validity. All content is owned by the author exclusively. Expressed opinions are NOT necessarily the views of VT, other authors, affiliates, advertisers, sponsors, partners, or technicians. Some content may be satirical in nature. All images are the full responsibility of the article author and NOT VT.