Spain's Largest International Film Festival
by Jane Rosenstein and Didier Lambert
An old brown metal suitcase pictured on a beach was the theme of the 59th Film Festival held in the seaside city of San Sebastian, Spain from September 16-24, 2011. It is the largest film festival in Spain and attracts attendees primarily from Spain but also from Europe and USA. What was the reason that a suitcase was chosen for the theme? It was because watching films implies going on a trip which takes us to new places where we experience new adventures.
San Sebastian, located on the Bay of Biscay in northern Spain, is surrounded by mountains.
It has 185,000 inhabitants of which 16,500 are university students. In 2015 it will be famous at the cultural capital of Spain. Located in the Basque country, it has great Spanish and Basque cuisine. The city has 3 beaches, Playa de La Concha being the main one and it is beautiful. There is a walkway along the beach where old and young alike go walking both day and night.
Living in Paris and going a few times a year to San Sebastian,we were happy to attend the film festival. It provided us an opportunity to see films from many countries we could not see in Paris and we also saw one " Le Skylab" before it came to Paris.Meeting other avid movie fans, producers and journalists was great. The festival invited journalists who paid a small fee to attend several films per day, one film each night at the Kursaal Theater, an Opening Gala, a closing Gala and press conferences.
When we were not seeing films we enjoyed going to the beach, and eating tapas in many bars. Something different we enjoyed was the brochettes cooked quickly on a plancha grill top in the restaurant Egosari in the Old City. We ordered brochettes with different combinations fo two items including shrimp, squid, longustino, mushrooms, and fish.. The brochettes and tapas were accompanied by wine and cider.
We enjoyed going to a favorite restaurant, Sidreria Donostiarra, which serves a great meal: omelet with , cod "Donostiarra style", prime rib , green salad, goat cheese, quince and walnut, and unlimited cider at 32 Euros per person. It is fun to go to the barrel and get more cider.
Not to be missed is the good shopping in San Sebastian. The Spanish shoes are good but expensive. Zara, a famous European department store for women's and men's clothing has their headquarters in Spain so the same clothes are less expensive in Spain then in Paris.
At the San Sebastian Film Festival there were several categories of films such as
Official Selection, Made in Spain, Horizontes Latinos, Jacques Demy , American Way of Death,
Digital Shadows, 4+1 Contemporary Mexican Cinema, New Directors.
We choose to see most of our movies from Official Selection.
People came not only to see the films but to get involved in the spirit of seeing actors and actresses , producers and directors in several places – entering and existing the red carpet leading into the Kursaal, the theater where many films were screened and arriving at the luxury Hotel Maria Cristina just across the street. Holding cameras in their hands, people crowded behind the ropes bordering the red carpet to get autographs and take photos of the stars.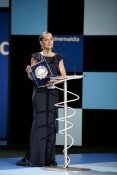 Hotel Maria Christina was a favorite spot for photos. The entrance to the hotel was accessible to visitors who could have a drink at the bar. The hotel is luxurious and so is the bar but it is very calm. Rates were about 600 Euros per night for 2 people without breakfast.
Pensions, like hotels but without the services, were available to reserve several months in advance! We like Pension La Perla which is in the center and within walking distance of the venues but there are many available with advance booking. In Irun at the border between France and Spain there were some rooms available but the problem is that there is no transportation back at night!
Films were shown in several locations – mainly the Kursaal, a large theatre which seats 1506 people. Principe which has several theaters , Antigua Berri a little far from the center but in a typical neighbor hood and Victoria Eugenia, a large theater next to Hotel Maria Cristina.
The press could go for tickets a day in advance except for the first Friday when tickets were given the same day for films at the Kursaal. There were several films offered free during the day and also some other free films we could see without tickets on an availability basis. Such was the case when we were fortunate to see "Living in the Material World" a film directed by George Harrison presented for the first time about the life of John Lennon. It consisted on films from his life and interviews with those who knew him It was great to have had this opportunity to learn about John Lenin one of the famous Beetles!
The opening night we were invited with other members of the press to go to see the film "Intruders" a mystery film. We were thrilled to see the stars ,producers and directors and the cast to go down the stairs after the performance. This practice was followed for the films that were presented from 9:30-10:30 p.m. starting time at the Kursaal.
Following the film, we were invited to a gala celebration at Museo San Telmo ( San Telmo Museum. Sponsors of the opening party were
DONOSTIA SAN SEBASTIAN TURISMOA, COCA -COLA, GIPUZKOA HOSTELERIA-OSTALARITZA
and supporters were
Vodka FINLANDIA, JACK DANIEL'S, MASTER'S y RON BARCELÓ
The exhibition at San Telmo Museum featured Fellini http://www.santelmomuseoa.com/index.php?option=com_flexicontent&view=items&id=5345&cid=0&Itemid=111&lang=es
at Museo San Telmo ( San Telmo Museum). Ladies dressed up in dresses and men wore jackets. We were met producers, journalists, directors and VIPs. We were served Spanish wine, champagne, rum, beer and soft drinks. Waiters and waitresses offered Spanish specialities including tapas, various hors d'ouvres, and then desserts.
There was live music but no one danced! Since the cocktail hour started as we arrived in a special bus for us at 11:30 p.m., people were hungry after the movie. The talk of the party was upbeat – which movies would get awards . Producers of films not in the competition told us they came to be seen and make contacts. Taking advantage of the place, we went to see the collection on display in the museum. It was interesting. We stayed until closing at 3 a.m. and then walked back to the pension.
A particularly interesting film was " No Habra Paz Para Los Malvados" ( No Peace for the bad men) which was shown on Saturday night. We sat in Level B one level up and could see the directors in the last rows. Although the film was violent and told the story about a cop who got away after killing several people, Spanish people liked the film and told us it was great.
A highlight of the film festival was on Sunday night when Glenn Close, an American actress who won Emmy, Golden Gala and Tony Awards, received the Donostia Award. She was beautiful and charming on stage and said that actors are an alien nation and make people believe what it means to be human beings. She said we need love and it is most important to honor the human landscape and the human heart. What a privilege to have seen Glen Close in person!
Then we enjoyed seeing her act in "Albert Nobbs" a film where she plays a woman disguised as a man to get work at a hotel in 19th century Ireland. Glenn Close produced the script with John Banville. People were touched both the story and the acting and told us the film was exceptional!
"La Voz Dormida" ( The Sleeping Voice) was a very captivating film because it told the story of a pregnant women being imprisoned in Franco's regime in Spain following the end of the Spanish Civil War for allegedly helping her Communist husband. The judge decided she can have her baby before she is killed.
Both the pregant women and her sister who comes to Madrid to see her and eventually take care of the baby were involved with men fighting for the underground in the mountains. Thinking about recent events, mistrials, lies and imprisonments and knowing about Communism, we found this film moving. Seeing the directors and actors seating in the last rows in the balcony where we were sitting was exciting. We thought the film was well acted but we didn't know that the leading actress would get the award for best actor/actress.
We took a chance and stood in line to see" Take This Walz" a film that actress Sarah Polley directed. Although the man taking tickets told us it was full, a lady from Switzerland told us her teacher told her to insist and there are always seats available. We got in and had to sit in the first row. The film concerns a married woman whose husband writes cookbooks who has to choose between staying with him or going with the neighbor who offers excitement and love. She loves her husband and the neighbor. The film depicts love, sex, romance. With today's high rate of divorce we can all relate to this film
"The Deep Blue Sea" is another movie about a married women who is the wife of a High Court Judge. She is involved in a relationship with an ex RAF pilot and goes to live with him. People found this movie dramatic and touching. Money isn't everything. The judge had money but not the pilot. We could all relate to a married woman leaving her older husband for a younger man \who offered excitement and love. It was well acted and captured our attention.
We wanted to see one film about culinary arts. A New Yorker went to Tokyo to film
"Jiro Dreams of Sushi". This sushi restaurant is a subway in Tokyo, seats only 10 people but received 3 stars from Michelin the highest ranking. David Gelb made his reservations months in advance.Jiro, now in his 80s, goes to work every day and prepares the sushi. He trained his sons and others how to cook but he personally participates. The menu depends on what is available each day. Each person gets 20 pieces of sushi. The cost is three hundred Euros
(300) Euros for the meal.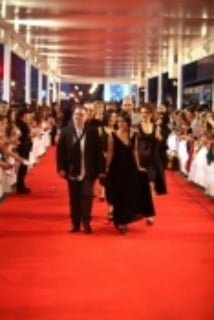 "Le Skylab" a French film directed by Julie Delply who won an
award said she had fun for 9 years making and directing the film. The film takes place in 1979 when were expecting the Sklylab station to fall to the earth. The film is about a 10 year old girl attending her grandmother's birthday celebration. We enjoyed watching the family gathering and could relate to happy times we've had with our own families. This entertaining film was easy to watch -just sit back and relax. In today's hectic wold a time just to relax and enjoy a cheerful movie set in the French countryside is a real pleasure.
We also saw one of Jacques Demy's movies "Lady Oscar" which he produced at the request of the Japanese government. It is about the French Revolution. His most famous film is thje
"Les Parpaluies de Cherbourg" (Umbrellas of Cherbourg) which we saw in elementary school.
Jacques Demy was a famous French producer.
On September 24, the last day of the film festival, the press was invited to see the presentation of the awards for the Official Selection en direct ( on a large screen) from the large theater in Kursaal. The festival provided drinks and sandwiches for the press. We did not have the simultaneous interpretation headsets so we missed some of the comments but others told us what the people whom we did not understand said. Some of the award winners came to the room where the press was. It was exciting to hear them speak and take photos. We had headsets with simultaneous interpretation into English! We could see them on the podium right in front of us.
There were numerous awards in various categories. We are sure the judges had to work very hard to choose the winners.
The Silver Shell Award winners received their award shaped as a Silver Shell and the Golden Shell Award winners received their award shaped as a Golden Shell.
Golden Shell for best film went to "Los Pasos Dobles" ( Double Steps). from Spain and Switzerland. The cast and producer came to meet and be photographed by press and media. The producer is Luisia Matienzo .
Special Jury Prize went to Julie Delpry director and actress in "Le Skylab" from France. She said it took her 9 years to make this film and she had fun doing it.
Silver Shell for best director went to Filippos Tsitos. for " Adkkos Kosmos"( Unfair World) from Greece. He came to the press afterwards on the stage in the room where we were, said he was happy to get the award and told us there is no money in Greece to produce films. It was produced voluntarily.
Silver Shell award for best actress went to Maria Leon for her leading role in "Los Voz Dormida" Spain. We were so happy and she was just great and was thrilled to get the award.
Silver Shell for best actor went to Antonis Kafetzopoulos for "Adiscos Kosmos" (Unfair World) from Greece. He also won best director so he was very happy when he spoke to us from the podium in the press room.
Prize for Best Cinematography went to Ulf Brantas for "Happy End" from Sweden.
Jury Prize for Best Screenplay went to Hirokazu Kore-eda for " Kiseki" (I Wish") He said he remembered his jacket for the closing ceremony but forgot to change his shoes so there he stood wearing tennis shoes!w
Audience Award went to "The Artist" a French film which is currently in movies theaters in Paris.
Award to the European Film went to "Et Maitenant on va Ou" ( And now where does one go?) a film made in France, Lebanon and Egypt which is now showing in Paris.
Several other awards were presented.
The San Sebastian Festival, Cookie Bar and Promeuve were the enterprises that invited us to the Closing Gala celebration in the Miramar Palace. We waited for the free shuttle assuming that there would be one like for the Opening Gala and were told we missed it. We didn't know it was just for the jury. At 11 p.m. we arrived at the Miramar Palace to be told to come back in a hour. The gala started at midnight after special guests watched the closing film, " The Intruder". We went to an Irish bar for an hour. Arriving at midnight we were given ham sandwiches, hot dogs, risotto, Spanish meat and fish specialties and were offered at food stations where the food was cooked. Outdoor and indoor bars served wine, champagne, beer, water, soft drinks.
We met several producers including Luisia Matienzo the director whose film : Los Pasos Dobles" won the award for best film At 2 a.m. we danced with some people. At 3:30 a.m we asked the people at the entrance how to get back to our pension and planned to get a taxi. We were offered a private car with a driver. First class service for journalists from Veterans Today!
Seeing special films on various topics, seeing actors and actresses , meeting producers producers made our visit to San Sebastian Film Festival fantastic. It was an exciting experience which made us feel very happy.
ATTENTION READERS
Due to the nature of independent content, VT cannot guarantee content validity.
We ask you to
Read Our Content Policy
so a clear comprehension of VT's independent non-censored media is understood and given its proper place in the world of news, opinion and media.
All content is owned by author exclusively. Expressed opinions are NOT necessarily the views of VT, other authors, affiliates, advertisers, sponsors, partners or technicians. Some content may be satirical in nature. All images within are full responsibility of author and NOT VT.
About VT
-
Read Full Policy Notice
-
Comment Policy