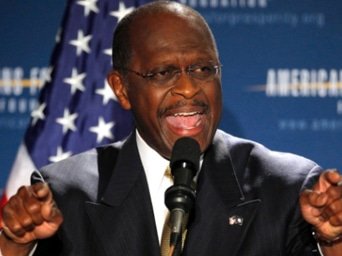 Yup, Cain places Israel ahead of the United States.
"You mess with Israel, you mess with United States" — Herman Cain

by Mantiq al-Tayr
Just keep reading. Sit back, grab your favorite beverage, make sure you are not near any sharp objects, and read, weep and drink. (oh, to fully understand your politicians' obsession with an ally, please don't skip the videos, seeing is believing.)
1. Of course he is, why the hell are you even asking? But it's not just that his two top aides, Mark Block and Linda Hansen are long time Americans for Prosperity hacks (AfP being a Koch brothers creation). Nor is it just the current scandal involving Block and possible illegal campaign contributions. It goes much deeper than that. Enjoy the ride into the depths of the abyss.
Oh, before I get into it, I bet you wanna know what the picture above is all about and what it has to do with Herman ZioCann. Just keep reading. Sit back, grab your favorite beverage, make sure you are not near any sharp objects, and read, weep and drink.
First of all , I sure hope that the sexual harassment allegations against Herman Cain don't derail his candidacy because Americans richly deserve to have such a monster become their president. Thank Allah that Cain has mastered the art of groveling before Israel, as this link shows so clearly. "Mr. Cain is a firm supporter of Israel," said Imri Eisner, who was just named Cain's point man for Jewish outreach. "He's made it well known that as president, he will know who our friends are and who our enemies are."
And good old Imri, should know. Yeah, Cain made his hajj to Israel in August and for his own personal "Feast of the Sacrifice" he offered up Palestinians to the racist bigoted God of the Hebrew Bible.
Cain is pretty much an ignoramus on most subjects. His ignorance of exactly how much he needed to grovel before Israel caused him some problems early in his campaign to become the Israeli Vice President for American Affairs (IVPFAA). Thus when asked by Islamofacist Chris Wallace about the right of Palestinians to return to Israel – from whence they had been expelled by completely innocent peace loving Jews – Cain mumbled something about how they should have that right if Israel wanted to grant it to them. Even a statement as obsequious as that cannot be tolerated by the Z people, so Cain had to get an education about Israel. One thing he did was read a bunch of books by Alan Derwoshitz. I'm not making this up.
And he also read "Israel at Sixty: An Oral History of a Nation Reborn" written by two Jews named Gerald and Deborah Strober. Who are the Strobers?
Well, have you heard of Herman Cain's new book? It's called "I'm totally controlled by Zionist Jews and I want to help them destroy America." Okay, that isn't really the title. The real title is "This is Herman Cain! My Journey to the White House." Except he didn't really write it. Gerald and Deborah Strober wrote it for him.
And it was the Strobers who told him to go to Israel, so he did.
"The Strobers, who are Jewish and live in Manhattan, suggested a trip to Israel, and in August they accompanied Cain on a four-day tour of the country, starting with an appearance at Glenn Beck's Jerusalem rally. Cain met with Israeli political figures — most of them on the right, including Deputy Prime Minister Moshe Yaalon, Deputy Knesset Speaker Danny Danon and Jerusalem Mayor Nir Barkat."
Cain's token meeting with Palestinian puppet Salaam Fayyad never took place. It was all Jews all the time for Cain. Oh, plus attending that Glenn Beck hate fest too. He learned his lessons well. "Deborah Strober added, "He's been briefed on the right of return and has an understanding of that."'
While in Israel, Cain also said "This may get me in trouble, but I do not care," he said. "I think the Israeli people is (sic) more interested in peace than the Palestinians. Look at history and the fact that you're getting bombed on the southern border. It is clear to me that Israel is more interested in peace than those seeking to deny the peace process."
The more I think about it, the more I like the title I proposed for his book, rather than the one the Strobers used.
Oh, by the way, J.D. Gordon, one of Cain's main advisors, is the son of Jewish father and has a rather interesting connection to a really juicy scandal involving pro-Israelis in the UK. As Max Blumenthal opens his article on Gordon he writes:
"Top foreign policy advisor to US Republican presidential candidate has a murky history fraught with accusations of fraud, links to alleged clandestine operations with Mossad, sexual harassment and racism."
Man, I really want Cain to become president. Maybe J.D. Gordon will become the head of the National Security Council.
"Not only has Gordon worked as a well-paid "fellow" for the Center for Security Policy, a far-right think tank at the heart of the campaign to demonize Muslim citizens of the United States, but he has also been the key Washington representative of Atlantic Bridge, a shadowy front group at the center of a major influence peddling scandal that in October brought down British Defense Minister Liam Fox."
Note to Shas Party Members, the Center for Security Policy is wild-eyed Islamophobe Frank Gaffney's outfit. See why we need Cain to win in 2012? I'm gonna go get me some bumper stickers. You have got to read the Blumenthal article and share it with your friends.
Oh, wait, I forgot to talk more about the Strobers.
Gerald Strober is a really cool catch for Deborah Hart, aka Deborah Strober. When they got married back in 1981 Gerald was "national director of The American Friends of Tel Aviv University in New York." But Gerald was even luckier. Debbie's daddy is Phillip Hochstein, former editor and publisher of New York Jewish Week and a big shot in the Newhouse gang. Her deceased brother is Joseph Hochstein who has quite a few relatives living in Israel. Philip and Joseph founded Michael Collins Piper's favorite publication, "The Washington Jewish Week." (Just kidding Mike. I think he prefers "The Forward.") Joseph passed away in Israel, where he spent the last decades of his life.
Deborah and Gerald have a child who apparently lives in Israel. Read all about this wonderful couple here.
" In fact, when Herman Cain visited Israel earlier this year, the Strobers — who have an apartment, a child who made Aliyah and grandchildren in Israel — say they arranged his itinerary and traveled with him. Indeed, like the idea for the memoir, the idea for Cain to go to Israel was theirs as well, they said."
Even the book was their idea. And apparently so was everything else in Israel.
"According to the Strobers, Block immediately picked a date, which was later modified so that Cain could attend Glenn Beck's rally in the Jewish State. While in Israel with Cain, the Strobers arranged for the White House contender to meet Israeli government officials and opposition leaders, to stop by the land the Israeli government has set aside for a U.S. Embassy in Jerusalem, to go to the West Bank settlement of Ariel and to visit Christian holy sites, among other activities."
Hold on a sec. I have to digress. "Ariel" was the feature of this Mantiqiyyan post earlier this year. Read it to see what an illegal piece of shit it is and how it was founded by religious fanatics. It's also supported in part through US tax-deductible donations. End of digression.
By the way, the "Block" referred to here is Cain's chief aid, Mark Block, a Koch brothers crony as I noted above, but I digress.
And here's the bottom line for the Strobers:
"The Strobers are confident that even though Cain may not be an expert on foreign policy, he has the fundamentals right and would certainly be better than the current administration on Israel. "
Cain has learned his lessons well.
And now he needs your vote. Vote for Cain, Americans deserve him.
2. It's video time goys and girls. But it's a little different this time. I don't expect you to watch them all, though you should. But I also give you a little commentary, some of it I hope will be informative and it will also explain the picture at the top of today's post.
First, here is Herman ZioCaine in Israel on Israeli National TV in August. He is no longer the fiesty right wing gadfly who delights in outraging others. Here he is zio-pussy-whipped into utter submission. He actually makes Obama look good. That's no mean accomplishment.

Video link: http://youtu.be/tiBZhUp5M6g
Now here is ZioCain back in the US. It's real short. He's trying to talk tough, but I can still detect that pussy-whipped tone.

Video link: http://youtu.be/AdMOGNVlAcs
Okay, now below we are back in Israel and on Fox News. The questioner talks like a typical Fox News Mossad agent. He asks ZioCain at one point [start at around 1:17 in the video] a question about Obama and Israel asking "Do you sense that they [the Israelis] don't feel like they have a loyal leader in the White House?"
That's right, the assumption in the question is that the President of the United States has to be loyal to Israel. Cain agrees with that assumption. He replies "I not only sense it, I had a lot of people here tell me that in no uncertain terms. And it goes back to when President Obama threw Israel under the bus or he threw Prime Minister Benjamin Netanyahu under the bus when he was coming to the United States. The people have not forgotten that. Not only a lot of Jewish people who live here in Israel, but I have also ran (sic) into a lot of Jewish people who came over the Glenn Beck event, and they also feel as if this president has let the Jewish people down. That will not happen in a Cain presidency. Absolutely not, because as you know my doctrine is real simple, if you mess with Israel you are messing with the United States of America. That's how strongly I feel about the relationship between the United States and Israel."
Yup, Cain places Israel ahead of the United States. Americans really deserve this guy.
Enjoy the video.

Video link: http://youtu.be/6cSTKNwJkTM
Here is perhaps the most disgusting ZioCain video of all. It says so much, oh so much. He is speaking at the Israel Day concert. That concert was on June 5th. The picture at the start of this essay is taken from the concert's brochure. That's right, Herman Cain spoke at an event honoring Jonathan Pollard. Man, Americans deserve this son of a bitch. Here, watch him grovel. The web site for the Israel Concert Day is here. Their brochure in full is here [PDF]. You should look at those documents and see who they bring in for this thing. It's like having Mossad move into Central Park. The web pages don't even look American. They look foreign, alien, weird. And that's because they are.
Video link: http://youtu.be/fNy0lJRwqig
Source: Sabbah Report
---
 Mantiq al-Tayr is a blogger who is attempting to wake up other American citizens to the true dangers and challenges which face their country and is devoted to justice for the Palestinian people. Truth is his objective, satire is his tool. He also enjoys reading the Qur'an from time to time.
ATTENTION READERS
We See The World From All Sides and Want YOU To Be Fully Informed
In fact, intentional disinformation is a disgraceful scourge in media today. So to assuage any possible errant incorrect information posted herein, we strongly encourage you to seek corroboration from other non-VT sources before forming an educated opinion.
About VT
-
Policies & Disclosures
-
Comment Policy
Due to the nature of uncensored content posted by VT's fully independent international writers, VT cannot guarantee absolute validity. All content is owned by the author exclusively. Expressed opinions are NOT necessarily the views of VT, other authors, affiliates, advertisers, sponsors, partners, or technicians. Some content may be satirical in nature. All images are the full responsibility of the article author and NOT VT.