Dictators and Depots I Have Known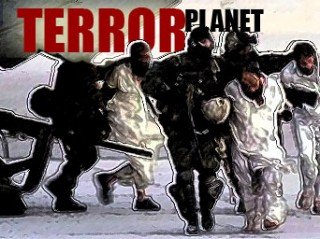 From an admittedly skewed perspective of my very young, impressionable years, I'd like to shine a brief spotlight on four twentieth century dictatorships I have personally known.
Stalin first. I was too little to have witnessed his brutalities first-hand in the Ukraine where I was born to German-descent parents.
But I heard plenty of stories about the artificial famine of the mid-Thirties where the death-cart passed each day along the street to pick up the dead by the wayside.
Seven million are said to have perished.
My young parents, then still single, were students in a teachers' college in Odessa. A particularly poignant story I heard all my life is that my father came courting my mother each evening with a handful of beans in his pocket.
They would soak them overnight on the windowsill and cook their only meal of the day in the morning. I was born the following year. I suspect that had it not been for the beans in my father's pockets, you wouldn't be reading my missives in Veterans Today.
My father was arrested six years later by the Soviet Torquemadas. Every male age 14 and over was arrested in our German-descent town in the early days of September 1941, only weeks before Hitler's Wehrmacht arrived and drove the tormentors away.
My father's "crime"? Being German. We never saw him again. He never saw a "Nazi" in his life.
Hitler next: I know that most of my readers have a different view of history from mine. I won't pontificate here about the power of decades of relentless atrocity tales about what the "monster of monsters" allegedly did – or at least ordered.
Let me just say that, having been raised in a pacifist setting of Germans of Russian descent in a religious community deep in the Paraguayan jungle, I was well into my thirties when it dawned on me that Hitler was perceived by most of what passes as the "civilized world" to be a ghoul who used to chew on a carpet in his rage against the Jews – and not the trustworthy liberator that I and my people experienced.
General Stroessner of Paraguay.
He came to power when I was still a teenager and ruled, I believe, for 30-plus years in a moderate fashion.
Not so in the beginning. I heard he made short shrift of same obstreperous liberal padres of the Catholic Church by throwing them into a tiger cage, thus crushing any serious opposition.
The simple paisanos loved Don Alfredo Stroessner to abandon. I glimpsed him only once, in 1984, when I went back to the places of my youth.
As he did each Thursday afternoon, there he walked the streets with a handful of cronies on the way to a hotel to play a game of cards. He had no bodyguards, and people greeted him without pretense as you might greet a neighbor.
Stroessner disliked and distrusted his own son, Gustavo, a not-too-bright spoiled brat. Legend has it that when he fell mortally ill, he masterminded his own benign revolution to get himself deposed to assure a successor to his liking.
His place was taken briefly his son-in-law – who died shortly thereafter – I was told, in New York hospital. Mean conspiracy buffs claim he was killed.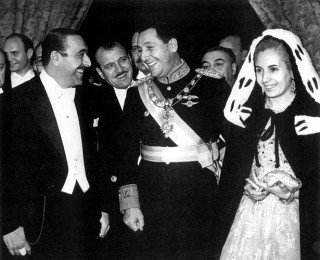 General Peron of Argentina. More or less the same story in terms of unreserved admiration by the populace. His wife, Evita, was worshiped like a goddess for her activism on behalf of her "descamisados" – the Shirtless Ones.
She helped arrange "aguinaldo" – at Christmas, all employees in Argentina received an extra month's pay.
At age 17, I experienced only the end of Peron's popular rule. A personal insight why it ended came to me by accident.
I worked at the time as a maid for a well-to-do Argentine family who, I found out much later, were personal car-racing buddies of the Perons.
As I was serving food at a small family dinner one evening, I overheard one of them say:
"Well, he finished off la rubia (the Blond One)" – and there were guffaws all around. A week later, Evita's "terminal cancer" was announced, and after another few weeks, she was supposed to have succumbed.
Ever since, Argentina has been in the clutches of the banksters.
The four gents above were unabashed dictators. They didn't hide behind "democracy" – as "democratic" governments these days are wont to do as they rain terror on civilians.
From the perspective of a simple youth caught in the juggernaut of a world war and brutal postwar struggles for survival, in my book only Stalin was to be feared.
Ever heard of the "School of Americas"- the place where torturers were trained in Fort Benning, Georgia? The following press release was sent to me last night:
SOA Watch – [email protected]
Solemn voices lifted up the spirits of those killed by graduates of the School of the Americas and filled the air as the music team sang out their names from the stage during this morning's funeral procession in front of the entrance to Fort Benning. The crowd of thousands responded, "PRESENTE!"
Joining actor Martin Sheen on stage this weekend was Georgia NAACP State President Edward DuBose, who told the crowd many had asked him why he'd come here.
"I made a promise to Troy Anthony Davis that I would continue to speak out against any system that takes any innocent life," DuBose told the crowd. "However long it takes, we'll be here. We're on this road until justice is served!"
United Auto Workers President Bob King also addressed the gathering, lifting up the voice of organized labor standing in solidarity with workers all across the Americas.
Social movement leaders from Colombia, Haiti, Honduras and Costa Rica joined the thousands of activists who made the trek to this year's vigil. Jimena Paz, who helped organize the SOA Watch Encuentro in Venezuela, and who, as a young member of the Honduran Resistance, has lost friends to the SOA-led repression campaign, shared her compelling story from the stage.
Dr. Luther Castillo, a young, Afro-indigenous Garifuna doctor and community organizer, directs the foundation For the Health of Our People ("Luagu Hatuadi Waduheñu" in the Garifuna language), and is the founder and director of the First Popular Garifuna Hospital of Honduras.
Exposing the effects of SOA training of Honduran soldiers since the 2009 graduate-led military coup, Luther shared that he and the hospital have been subject to many threats of closure and other attacks by the military and coup government.
Jani Silva, a community organizer from La Perla Amazonica, Putumayo, Colombia, addressed the reality of US foreign policy in her country, which has sent more than 10,000 soldiers to be trained at the SOA with chilling results.
Mario Joseph, a prominent Haitian human rights lawyer, is representing political prisoners and victims of political violence in Haiti. He spoke from the stage, urging solidarity with Haitian struggle to keep the army from being brought back.
Also present among those giving testimony to SOA violence was Nelly del Cid, one of the Feminists in Resistance in Honduras. She shared her deep concerns about the huge number of femicides since the coup.
Costa Rican lawyer and peace advocate Luis Roberto Zamora also gave updates about the lawsuit he filed against the Costa Rican government for sending police to the School of the Americas/WHINSEC.
Theresa Cusimano, 43, of Denver, Colorado, crossed the line for the second time following the morning's solemn funeral procession. She was arrested by military police and faces up to six months in prison. Stay tuned for a message from Theresa!
Editing: Jim W. Dean
ATTENTION READERS
Due to the nature of independent content, VT cannot guarantee content validity.
We ask you to
Read Our Content Policy
so a clear comprehension of VT's independent non-censored media is understood and given its proper place in the world of news, opinion and media.
All content is owned by author exclusively. Expressed opinions are NOT necessarily the views of VT, other authors, affiliates, advertisers, sponsors, partners or technicians. Some content may be satirical in nature. All images within are full responsibility of author and NOT VT.
About VT
-
Read Full Policy Notice
-
Comment Policy