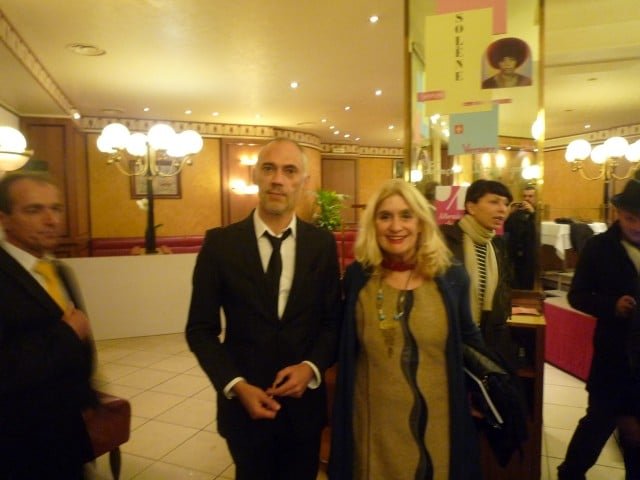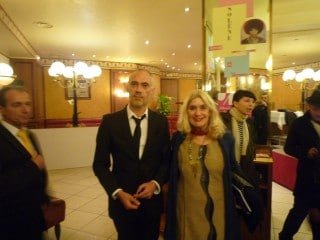 Prix Wepler- Fondation La Poste  2011
Each year since 1998 , Brasserie Wepler, a famous restaurant here in Paris, over 100 years old and Fondation de la Poste ( a foundation of the French Post Office) gives a literary prize, Le Prix  Wepler-Fondation,  to an outstanding author.The prize goes to authors whose works are difficult to read because they are profound and not written mainly for commercial purposes like they do In USA .  
The first prize is 10,000 Euros and there is a price of 3,000 Euros for honorable mention.  We were happy to have been invited  on  November 14, 2011 with other journalists, media and  members of the community  including Martine  Le Quentrec, from Montmartre in Europe,  Corinne Ricouard of Chance Productions, the mayor of Paris and, Christophe Girard, the person in charge of the cultural  department  of the mayor's office of  Paris.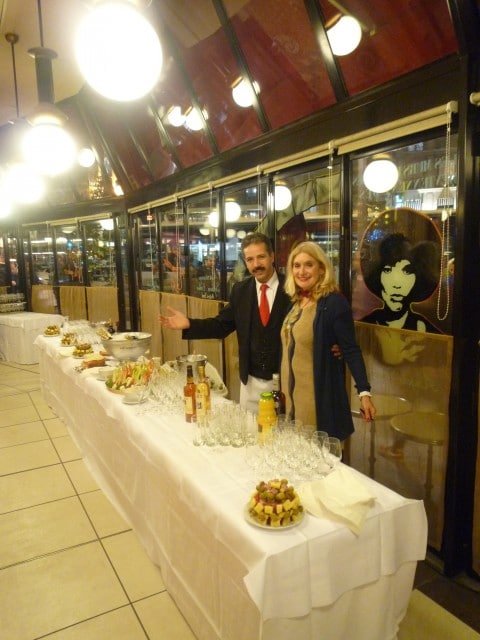 Damien Laval,  the  press agent suggested that we arrive early to meet the winner and other VIPs including Philippe Cochinard, Producer, Paris Web TV Quartier.fr.
This year the poster featured a person with an Afro haircut and had the slogan:
"Les Murs Renversés Deviennt Des Pontes "  ( The walls that tumble down become bridges). We can relate to walls such as The Berlin Wall coming down and becoming a bridge between East and West Germany.'
Le Prix Wepler- La Poste ( Literary Prize Wepler Foundation was the idea of Marie- Rose Guarniéri owner of the bookshop  La Librarie des Abbesses in Montmartre. She said that he bookstore has red decor because she adopts the red objective – resistance.  She believed that even though certain authors like Nietzche and Pessora continue to be with us even though they are deceased.
Wepler a famous restaurant which has a reputation for its fine oysters was a favorite place for dining and conversation for several writers including Céline, Max Jacob and Henry Miller. Each year, Wepler closes the restaurant to have the presentation of the prize and a great reception.
Michel Bessière, Wepler's owner, loses a lot of money due to the restaurant's closing for dinner. He not only offers his restaurant but provides a sumptuous buffet including oysters and champagne for 500 people. His contribution is a good sponsorship!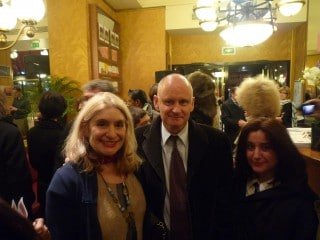 When the organizers created  the prize their objective was to promote authors whose innovative works were not written mainly for profit.  The jury changes each year to get new opinions. This year there were thirteen members on the jury including readers who are selected from a competition called from "Forum" the magazine from the post office,  a teacher of journalist, a bookstore owner, a literary critic, Marie-Rose Guarniéri, a woman in prison( customary to include someone from the prison each year). The jury starts to select members in April and begins to receive texts in May and June.
To avoid the jury knowing the names of the authors and publishing company, the jury requests the work to be sent without these names.After the prize, editors invest by paying for advertisements  in " Monde des Livres" ( World of Books) which. Prix Wepler-La Poste books are on bookstores' shelves two to three months longer than average. In 2010, Jacques Abeille, whom we met last year at Wepler, won the honorable mention prize for Les Jardins Statuaires ( Gardens of Statues).
Due to his prize, 8,000 more copies than anticipated of his book were sold.We arrived at Wepler arond 7:30 p.m. half an hour before the official opening to see the organizers including Damien Lavel, press attache and meet the prize winner.  Éric Laurent, the prize winner for 2011, wrote a book called Coupe de Foudre in 1995. He told us he was honored and happy to win the prize. He said the idea came from his life's experiences.  The prize winning book Les Decouverts ( The Discoveries) publisher Editions de Minuit is the story of a young boy who sees a reproduction of "Sabines" of David in an old dictionary.
The story evolves about his adolescent experiences until his first night of sex.  The double pages from " Penthouse"in the middle of the book  and a strip tease in a forest party are important parts in his reaching adolescence.  It is also a book about other aspects of adolescence including masturbation.Le Mention Spéciale  du Jury ( Honorable Mention of the Jury) went to François Dominque for  Solène  published by Éditions Verdie.
The writer is the author of several novels, poems, essays. He is also a translator. It is a story about a refuge family in a suburb of Lyon. The family does not is cut off from  the outside world.  Their funds decrease but they still try to maintain a daily life. Solène, a little girl, is very imaginative and perceptive.  She has the gift to read the thoughts of people close to her and can know their troubles, worries, secrets and dreams.
We enjoyed the reception after the awards.  It was great being with our friends Martine Quantrec Association Montmartre en Europe and from and Corinne Ricouard from Association Chance Productions.   We enjoyed the delicious buffer of various hors d' oeuvres and oysters. Champagne was plentiful. Also there was French wine, white wine and soft drinks. Waiters and waitresses offered various desserts including chocolate mousse.
Then, after the buffet, we enjoyed dancing!
Wepler-Fondation de la Poste provided us with a good opportunity to meet the sponsors of the prize, prize winners and others. It is good to have such a prize which not only rewards writers and inspires other writers but also exposes the public via new advertising by editors and books in bookstores, of new works which they could enjoy. The hospitality of Michel Bessière and his staff of Wepler , his great ambiance and delicious food ( special prize for oysters) contributed to a great evening..
ATTENTION READERS
Due to the nature of independent content, VT cannot guarantee content validity.
We ask you to
Read Our Content Policy
so a clear comprehension of VT's independent non-censored media is understood and given its proper place in the world of news, opinion and media.
All content is owned by author exclusively. Expressed opinions are NOT necessarily the views of VT, other authors, affiliates, advertisers, sponsors, partners or technicians. Some content may be satirical in nature. All images within are full responsibility of author and NOT VT.
About VT
-
Read Full Policy Notice
-
Comment Policy