Another SEAL Book, Another Version, Colonel Mustard With A Mallot in the Music Room                                
…by  Gordon Duff,  Senior Editor
The Murdoch papers are carrying a new version of the bin Laden saga.  This one contains much of the fiction of the last 25, leaving out much as well. 
Nothing is new, just a set of lies with some reason for them to be retold. 
We know what that reason is, nobody takes a word of it seriously anymore, not the first stories, not the sea burial, not the execution of the world's most valuable intelligence asset.
I do so love fiction, even when some of it is true.  There really are ghost helicopters, there really are Navy SEALS.
The mission, and there was one, involved the assassination of an 80 year old former Mujihideen, not Osama bin Laden.  Bin Laden had died years before as an active CIA agent.  We have multiple confirmations on this.
There was a crash, one of the magic helicopters hit a wall and Americans were killed. 

Later on, more Americans died mysteriously in Afghanistan to make up for the "none" that were seen by half the town and publicly hauled away while Americans warned people, "these aren't dead bodies we are carrying, we weren't here at all, you are dreaming this."
It really isn't funny, I guess but you leave yourself open for such thing when you choose to deceive.  The lies started long ago, long before even the staged 9/11 demolitions and simulated hijackings, yes, we know that too.
I am so in love with the Corbett video.  Maybe it is his hint of lisp which adds an aspect of both pain and irony to his fastidious debunking of the whole charade.
[youtube yuC_4mGTs98]
There are two ways of looking at this.  You could say the video is humorous and amusing or you could suffer a bit from being too gutless to get out the torches and pitchforks and put those responsible for what is a series of criminal acts that do qualify for, under current laws, arrest without warrant, trial without judge, representation or jury and summary execution.
For SEALS and the other million people hiding behind security classifications, it has nothing to do with "national security" or "whistleblowing."
It is about lying and stealing.  Just because you have sworn fealty to a petty thief and drug dealer, you think your oath to the American people means nothing?
Spill it all, just use somebody else's name.  Its how we journalist do it.  Back to justice and "executions." I would streamline the process more, if you get my learning.  I would then call that process "democracy."
Why? The answer is simple.  The end result would be freedom for the American people.
Bitter Seals tell of killing 'Bert' Laden
                                                            … by Christina Lamb  The Sunday Times
The Seals have spoken out because they were angered at the version given by politicians, which they see as portraying them as cold-blooded murderers on a "kill mission".
They were also shocked that President Barack Obama announced bin Laden's death on television the same evening, rendering useless much of the intelligence they had seized.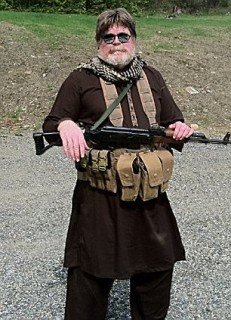 Chuck Pfarrer, a former commander of Seal Team 6, which conducted the operation, has interviewed many of those who took part for a book, Seal Target Geronimo, to be published in the US this week.
The Seals' own accounts differ from the White House version, which gave the impression that bin Laden was killed at the end of the operation rather than in its opening seconds.
Pfarrer insists bin Laden would have been captured had he surrendered.
 "There isn't a politician in the world who could resist trying to take credit for getting bin Laden but it devalued the 'intel' and gave time for every other al-Qa'ida leader to scurry to another bolthole," said Pfarrer.
"The men who did this and their valorous act deserve better. It's a pretty shabby way to treat these guys."
The first hint of the mission came in January last year when the team's commanding officer was called to a meeting at the headquarters of joint special operations command.
The meeting was held in a soundproof bunker three stories below ground with his boss, Admiral William McRaven, and a CIA officer.
They told him a walled compound in Pakistan had been under surveillance for a couple of weeks. They were certain a high-value individual was inside and needed a plan to present to the president.
It had to be someone important. "So is this Bert or Ernie?" he asked. The Seals' nicknames for bin Laden and his deputy Ayman al-Zawahiri are a reference to two Muppets in Sesame Street, one tall and thin and the other short and fat.

"We have a voice print," said the CIA officer, "and we're 60 per cent or 70 per cent certain it's our guy." McRaven added that a reconnaissance satellite had measured the target's shadow. "Over 6ft tall."
When McRaven added they would use Ghost Hawk helicopters, the team leader had no doubt. "These are the most classified, sophisticated stealth helicopters ever developed," said Pfarrer. "They are kept in locked hangars and fly so quiet we call it 'whisper mode'."
Over the next couple of months a plan was hatched. A mock-up of the compound was built at Tall Pines, an army facility in a national forest somewhere in the eastern US.
Four reconnaissance satellites were placed in orbit over the compound, sending back video and communications intercepts. A tall figure seen walking up and down was named "the Pacer".
Mr Obama gave the go-ahead and Seal Team 6, known as the Jedi, was deployed to Afghanistan. The White House cancelled plans to provide air cover using jet fighters, fearing this might endanger relations with Pakistan.
Sending in the Ghost Hawks without air cover was considered too risky so the Seals had to use older Stealth Hawks. A Prowler electronic warfare aircraft from the carrier USS Carl Vinson was used to jam Pakistan's radar and create decoy targets.
Operation Neptune's Spear was initially planned for April 30 but bad weather delayed it until May 1, a moonless night.
The commandos flew on two Stealth Hawks, codenamed Razor 1 and 2, followed by two Chinooks five minutes behind, known as "Command Bird" and the "gun platform".
On board, each Seal was clad in body armour and night vision goggles and equipped with laser targets, radios and sawn-off M4 rifles.
They were expecting up to 30 people in the main house, including Bin Laden and three of his wives, two sons, Khalid and Hamza, his courier, Abu Ahmed al- Kuwaiti, four bodyguards and a number of children.
At 56 minutes past midnight the compound came into sight and the code "Palm Beach" signaled three minutes to landing.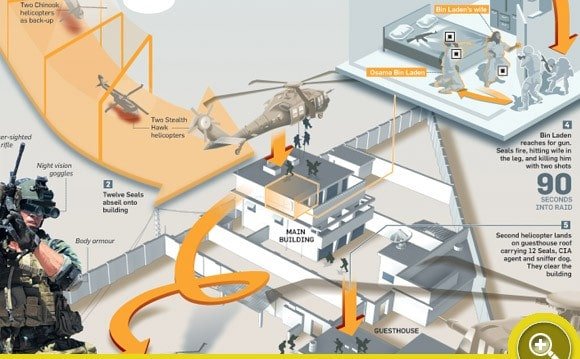 Razor 1 hovered above the main house, a three-story building where bin Laden lived on the top floor. Twelve Seals abseiled the two metres down onto the roof and then jumped to a third-floor patio, where they kicked in the windows and entered.
The first person the Seals encountered was a terrified woman, bin Laden's third wife, Khaira, who ran into the hall. Blinded by a searing white strobe light they shone at her, she stumbled back. A Seal grabbed her by the arm and threw her to the floor.
Bin Laden's bedroom was along a short hall. The door opened; he popped out and then slammed the door shut. "Geronimo, Geronimo, Geronimo," radioed one Seal, meaning "eyes on target".
At the same time lights came on from the floor below and bin Laden's son Khalid came running up the stairs towards the Seals. He was shot dead.
Two Seals kicked in bin Laden's door. The room, they later recalled, "smelt like old clothing, like a guest bedroom in a grandmother's house". Inside was the al-Qa'ida leader and his youngest wife, Amal, who was screaming as he pushed her in front of him.
"No, no, don't do this!" she shouted as her husband reached across the king-size bed for his AK-47 assault rifle. The Seals reacted instantly, firing in the same second. One round thudded into the mattress.

The other, aimed at bin Laden's head, grazed Amal in the calf. As his hand reached for the gun, they each fired again: one shot hit his breastbone, the other his skull, killing him instantly and blowing out the back of his head.
Meanwhile Razor 2 was heading for the guesthouse, a low, shoebox-like building, where bin Laden's courier, Kuwaiti, and his brother lived.
As the helicopter neared, a door opened and two figures appeared, one waving an AK-47. This was Kuwaiti. In the moonless night he could see nothing and lifted his rifle, spraying bullets wildly.
He did not see the Stealth Hawk. On board someone shouted, "Bust him!", and a sniper fired two shots. Kuwaiti was killed, as was the person behind him, who turned out to be his wife. Also on board were a CIA agent, a Pakistani- American who would act as interpreter, and a sniffer dog called Karo, wearing dog body armour and goggles.
Within two minutes the Seals from Razor 2 had cleared the guesthouse and removed the women and children.
They then ran to the main house and entered from the ground floor, checking the rooms. One of bin Laden's bodyguards was waiting with his AK-47. The Seals shot him twice and he toppled over.
Five minutes into the operation the command Chinook landed outside the compound, disgorging the commanding officer and more men. They blasted through the compound wall and rushed in.
The commander made his way to the third floor, where bin Laden's body lay on the floor face up. Photographs were taken, and the commander called on his satellite phone to headquarters with the words: "Geronimo Echo KIA" – bin Laden enemy killed in action.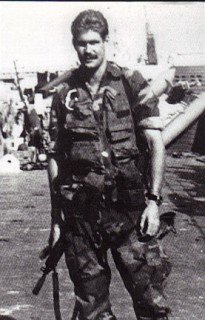 "This was the first time the White House knew he was dead and it was probably 20 minutes into the raid," said Pfarrer.
A sample of bin Laden's DNA was taken and the body was bagged. They kept his rifle. It is now mounted on the wall of their team room at their headquarters in Virginia Beach, Virginia, alongside photographs of a dozen colleagues killed in action in the past 20 years.
At this point things started to go wrong. Razor 1 took off but the top secret "green unit" that controls the electronics failed. The aircraft went into a spin and crashed tail-first into the compound.
The Seals were alarmed, thinking it had been shot down, and several rushed to the wreckage. The crew climbed out, shaken but unharmed.
The commanding officer ordered them to destroy Razor 2, to remove the green unit, and to smash the avionics. They then laid explosive charges.
They loaded bin Laden's body onto the Chinook along with the cache of intelligence in plastic bin bags and headed toward the USS Carl Vinson. As they flew off they blew up Razor 2. The whole operation had taken 38 minutes.
The following morning White House officials announced that the helicopter had crashed as it arrived, forcing the Seals to abandon plans to enter from the roof.
A photograph of the situation room showed a shocked Hillary Clinton, the secretary of state, with her hand to her mouth. Why did they get it so wrong?
What they were watching was live video but it was shot from 20,000ft by a drone circling overhead and relayed in real time to the White House and Leon Panetta, the CIA director, in Langley. The Seals were not wearing helmet cameras, and those watching in Washington had no idea what was happening inside the buildings.
"They don't understand our terminology, so when someone said the 'insertion helicopter' has crashed, they assumed it meant on entry," said Pfarrer.
What infuriated the Seals, according to Pfarrer, was the description of the raid as a kill mission.
"I've been a Seal for 30 years and I never heard the words 'kill mission'," he said. "It's a Beltway (Washington insider's) fantasy word. If it was a kill mission you don't need Seal Team 6; you need a box of hand grenades."
Editing:  Jim W. Dean
Gordon Duff posted articles on VT from 2008 to 2022. He is a Marine combat veteran of the Vietnam War. A disabled veteran, he worked on veterans and POW issues for decades.
Gordon is an accredited diplomat and is generally accepted as one of the top global intelligence specialists. He manages the world's largest private intelligence organization and regularly consults with governments challenged by security issues.
Duff has traveled extensively, is published around the world, and is a regular guest on TV and radio in more than "several" countries. He is also a trained chef, wine enthusiast, avid motorcyclist, and gunsmith specializing in historical weapons and restoration. Business experience and interests are in energy and defense technology.
ATTENTION READERS
We See The World From All Sides and Want YOU To Be Fully Informed
In fact, intentional disinformation is a disgraceful scourge in media today. So to assuage any possible errant incorrect information posted herein, we strongly encourage you to seek corroboration from other non-VT sources before forming an educated opinion.
About VT
-
Policies & Disclosures
-
Comment Policy
Due to the nature of uncensored content posted by VT's fully independent international writers, VT cannot guarantee absolute validity. All content is owned by the author exclusively. Expressed opinions are NOT necessarily the views of VT, other authors, affiliates, advertisers, sponsors, partners, or technicians. Some content may be satirical in nature. All images are the full responsibility of the article author and NOT VT.