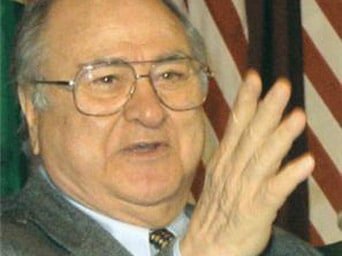 James Abourezk represented South Dakota in the U.S. House of Representatives from 1971 to 1973 and in the U.S. Senate from 1973 to 1979. He is the author of numerous articles and books, including Advise & Dissent: Memoirs of South Dakota and the U.S. Senate. CNI asked Mr. Abourezk about his experiences with the Israel Lobby while he served in Congress. In his response he told of an Israeli plot against him that has received perplexingly little coverage in the U.S. press.
Below is his description of this and other incidents:
Q: Despite such books as Paul Findley's They Dare to Speak Out, Edward Tivnan's The Lobby, and Mearsheimer and Walt's The Israel Lobby, some people still tend to downplay the power of the Israel Lobby. Can you tell us about some of your experiences with it?

A: I'm an eyewitness to what the Lobby does to Members of Congress, including to me during the time I spent in D.C.  I was threatened, marginalized, attacked, lied about, among other matters in an effort to silence my criticism of Israel's policies and of the Lobby.
At one time Bob Cordier, from the Washington FBI office, called me to tell me that, during the investigation into Alex Odeh's murder (Alex was one of my staff people) the FBI had uncovered a "plot" on  my life.  Not a threat, but a plot, but, he said it's OK now, as the guy who intended to murder me had now gone back to Israel.  Alex Odeh's murder came not long after I had run four full page ads in the Washington Post asking for support against the Israel Lobby.  My assumption was that, reading the ads had enraged the plotter, which led him to bomb the ADC office in Orange County, California.
I also assume that the plotter was Robert Manning, a hit man who was later convicted of the murder of the secretary of a Jewish businessman in California.  Apparently Manning had been hired by another Jewish businessman who was a competitor. They found the fingerprints both of Manning and of his wife on remnants of the letter bomb that was sent to his target, but opened by his secretary, who died as a result of the explosion.
Manning and his wife were safe from extradition from Israel, due to Israeli policy of not extraditing Jews for any reason, until Peter Jennings on ABC nightly news did astory on how Manning was running free in his West Bank settlement.
The news story so embarrassed the U.S. government as well as the Israeli government that he was allowed to be extradited to California, but on the condition that he not be tried for killing Alex Odeh, but only for the Secretary.
That condition was tantamount to a confession that he had murdered Alex Odeh.  Manning's wife died of a heart attack in an Israeli jail while awaiting extradition.
James Bamford, now a writer living in Washington, D.C., and who was Peter Jennings' producer then, has film clips of the news story that he shows at lectures he gives on the subject.  He went to the West Bank and filmed a machine gun toting Manning for the news story.
Lobby-engineered mud-slinging
I was under continual attack by the Lobby while I was in politics.  Because I kept myself clean during my time of service, someone in the Lobby dug up a story designed to embarrass me by exposing my oldest son to ridicule.  He was, at the time, living on an Indian reservation in South Dakota on food stamps.  The Lobby got Spencer Rich, who was a political reporter for the Washington Post, to do a story on him.  Rich several times called both my wife and me trying to get us to comment, but we refused.  So he ran the story, headlined, "Senator's Son Living on Food Stamps."  That set off a fire storm of criticism against the Post, and against Ben Bradlee, who was then Editor in Chief.  Larry Stern, who was one of my friends, and an editor of the Post, complained bitterly to Bradlee.
One of the Style section writers, Tom Zito, whom I had never met, called me one day and told me the story about his protest to Bradlee over the story.  Bradlee finally said, "Alright, go find some other famous people whose kids are living on food stamps and we'll run it."  Zito told me that he had found that Bradlee's daughter was living on Food Stamps out in Oregon, causing Bradlee to kill the story on the spot.
Years later I ran into Spencer Rich in a store in DC.  He confessed to me that he still felt bad about doing the story on my son's food stamp adventure.
"We're going to get him"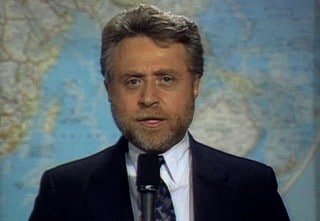 Si Kenen, who was then Executive Director of AIPAC, used to tell anyone who knew me, to tell Abourezk "we're going get him."   And when I returned from a trip through the Middle East, I spoke about the trip at the Federal Press Club (reserved for women and blacks) and talked about how every Middle East leader I met with said they would be willing to sign a peace treaty with Israel if Israel would go back to the 1967 borders.  A young fellow named Wolf Blitzer, who was then writing for AIPAC, rose to ask me several hostile questions.  The next issue of the AIPAC newsletter headlined that "Abourezk Sells Out to the Arabs."  That was the beginning of the war, as I failed to collapse after that broadside, and worked to make AIPAC sorry for their attack on me.
I used to take the lead in human rights legislation in the Senate.  I once offered an amendment to a bill that would cut off American money for any country violating the human rights of their people.  Before anyone would vote, I was asked during debate "whether the amendment would apply to Israel."  When I said "no" I would get that person's vote.
I also had all kinds of pressure put on me by rabbis who would come to visit me.  Once an Iraqi Jew, a woman, came to visit me to tell me how bad it was for Jews in Iraq, I suppose trying to get me to change my mind on the Palestinian issue.  She said she was constantly beat up and called a "dirty Jew" when she lived in Iraq.  I told her I knew her feeling, because when I grew up in rural South Dakota, other kids would beat me up and call me a "dirty Jew."
After I left the Senate, Art Meggido, a writer for the Baltimore Jewish newspaper asked me for an interview.  When I asked him why I should give him an interview, he told me that the Jewish community would eventually have to deal with me when it came to making peace in the Middle East.  So I agreed.  When the article came out, he related a story that an unnamed Ted Kennedy staffer told him that I had approached Kennedy and asked for money to go to Iran and free some hostages to help him in his 1980 primary campaign against Jimmy Carter.
The truth of that libel was that Kennedy sent three of his supporters to me to ask if I would go to Iran to free some hostages in his name.   One was Jan Kalicke, one was Sen. John Culver and the other was Ted Sorensen.  I supported Ted, so I agreed.  The only thing I asked for was that they buy my ticket to Tehran, which they agreed to do.
When I read the article I wrote to Meggido telliing him that unless they retracted the lie, I would sue him and the newspaper.  They ran the retraction.  Because we had agreed that we would not talk on the phone about this, we decided to talk only in person about the trip.  No one knew about our deal except Kennedy and his staff, which included Tom Dine, who had been working for AIPAC earlier.  It had to be Dine who talked to Meggido with the lie.  And during the kerfuffle, I had a hard time getting Kalicke to call Meggido to verify my story, but it all came out in his retraction.
There are other stories that I could tell you at the risk of boring you to death, but the Lobby had every Senator, except me, scared shitless.
* * *
Since CNI does not feel that anyone will be bored by these other stories, we have asked Mr. Abourezk, who is a member of our board of directors, to provide additional ones, which he has agreed to do on occasion. He is a columnist for the Washington Report on Middle East Affairs, which has long published such commentaries and reminiscences. For an earlier article by Mr. Abourezk on this topic, see "Yes, It's the Lobby: 'Political Fear' Drives US Support for Israel."
Editing: Debbie Menon
American Policy in the Middle East with Senator James Abourezk and Alison Weir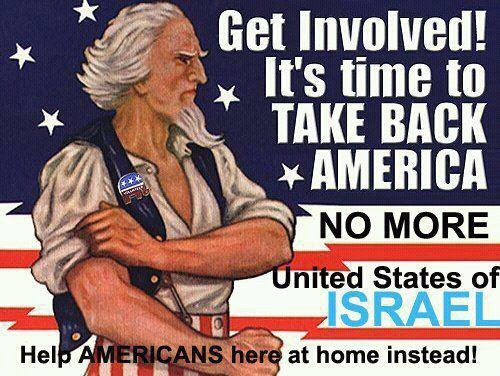 ATTENTION READERS
We See The World From All Sides and Want YOU To Be Fully Informed
In fact, intentional disinformation is a disgraceful scourge in media today. So to assuage any possible errant incorrect information posted herein, we strongly encourage you to seek corroboration from other non-VT sources before forming an educated opinion.
About VT
-
Policies & Disclosures
-
Comment Policy
Due to the nature of uncensored content posted by VT's fully independent international writers, VT cannot guarantee absolute validity. All content is owned by the author exclusively. Expressed opinions are NOT necessarily the views of VT, other authors, affiliates, advertisers, sponsors, partners, or technicians. Some content may be satirical in nature. All images are the full responsibility of the article author and NOT VT.