There he was, live and on stage with all his enthusiasm on display. At 75 years old, Charlie Daniels hasn't skipped a beat. When it comes to entertainers and patriotism, they don't come any more patriotic than Mr. Daniels.
The USO and the North Carolina Association of Broadcasters put together a program to honor those who served in Vietnam and what a celebration it was. At times there wasn't a dry eye in the 65,000 attendees as old acquaintances were renewed, memories stirred and to many, the day's events culminated 40-50 years of being in the closet about serving in Vietnam. Most honored among those at the Charlotte Motor Speedway were the 58,195 Marines, Army, Navy, Air Force, and Coast Guard personnel who never came home.
The celebration began Friday night with a reception which featured several Medal of Honor recipients and entertainment by country singer Randy Lynn and the Oak Ridge Boys. It was a fitting tribute to kick off Saturday's grand event. Among the dignitaries were Senator Richard Burr (NC Senator on the Armed Forces Committee), Chris Noel (former voice of Vietnam Armed Forces Radio and USO entertainer), and many politicians.
It would be hard to list all the Veteran Service Organizations (VSO's) which lined the Race garage complex on the south side of the infield, and the military displays that were housed in the northern section of the garage. It was almost impossible to move from one display area to the other as dads, moms, and the whole family moved back and forth taking in all there was to see. The helicopters on display seems to be the favorites of the kids, while the dads and moms seemed to relish the VSO garage area where they were able to reconnect with fellow veterans and learn about all the different organizations that offer services many knew nothing about.
We had a double booth set-up for Richard's Coffee Shop, "The Most Patriotic Coffee Shop in America" and our Living Military Museum, and greeted many thousands of local area veterans who were not aware of the services we provide and the comradery which is open to all veterans.  I was surprised with the number of veterans who had traveled to Charlotte from Maryland, Virginia, South Carolina, Georgia, West Virginia, and Tennessee, several who actually sought out our booth. Many told me they were planning to spend the week in the Charlotte area and were planning to take in the local Knights baseball team when they play one of their games in camouflage uniforms, and to travel up to Mooresville to visit the NASCAR and North Carolina Auto Racing Hall of Fame Museums and to take in a tour of auto racing's motorsport attractions in the Charlotte area where over 90% of the racing teams call home.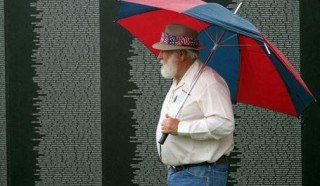 The traveling Vietnam Wall was on display, and as usual, allowed those in attendance the opportunity to pay respect for those who gave all in service to the country. 216,000 North Carolinians were called to serve and no part of the country sent more warriors than Ft. Bragg in Fayetteville, NC.  More than 1600 have their names etched in time on The Wall.  Most never asked to go off to war, yet they went anyway. I think the most important aspect of the celebration was that there wasn't a single veteran on hand that didn't finally get the "welcome home" they deserved. You could see it in their eyes and feel it in their handshake and a hug. All remembered the time when everyone in uniform was call "baby killer" and spit-on by many of the maggot-invested hippy-type slugs, that today are the same ilk that are running our government. A lot of those discussions could be heard as wave after wave of veterans walked by.
The festivities of the event included:
U.S. Air Force Flyover which was deafening and signaled the kick-off of Saturday's event
U.S. Army Golden Knights parachute demonstration came floating in right on time and right on target just as the morning thunderstorm clouds were breaking, almost as if "on key" and being choreographed by a higher being.
The live music from Charlie Daniels Band, Oak Ridge Boys, George Clinton, Rockie Lynne, The 82nd Airborne Division "All American" Chorus, and The 2nd Marine Aircraft Wing Band, was as good as anyone could have imagined.
Flag Story from U.S. Army Color Guard and Flag Troops
U.S. Marine Corps Armored Vehicles
U.S. Navy Suburban Recruiting Vehicles
Coast Guard Static Displays
The American Veterans Traveling Tribute (The Wall), an 80 percent replica of the Vietnam Veterans Memorial in Washington, D.C.
Information tables and assistance from the Department of Veterans Affairs
World War II Half Track
Numerous displays from North Carolina based Veteran Service Organizations and several organization who traveled here from other parts of the country
A host of non-profit organizations devoted to supporting military members, veterans, and their families
American Red Cross
Displays featuring David Kennerly's Pulitzer prize-winning portfolio of combat photos from the Vietnam conflict which was one of the most popular displays for the dad's to show and explain for their grand kids.
Six Vietnam-era helicopters provided by the NC Vietnam Pilots Association including members of the old crews including the medics and nurses who saved countless lives.
Coca-Cola Family Fun Zone where Coca-Cola will provide a variety of entertainment for the whole family including interactive games, the Coca-Cola NASCAR Show car, driving simulators and video game cans all free during the event.
It was a long time coming for those who served and for those who were not able to be here for this great event, you might want to spend a while watching this one-hour news clip that is available on –line at WRAL-Charlotte
Following his service in the Marine Corps Ed Mattson built a diverse career in business in both sales/marketing and management. He is a medical research specialist and published author. His latest book is Down on Main Street: Searching for American Exceptionalism
Ed is currently Development Director of the National Guard Bureau of International Affairs-State Partnership Program, Fundraising Coordinator for the Warrior2Citizen Project, and Managing Partner of Center-Point Consultants in North Carolina.
Mr. Mattson is a noted speaker and has addressed more than 3000 audiences in 42 states and 5 foreign countries. He has been awarded the Order of the Sword by American Cancer Society, is a Rotarian Paul Harris Fellow and appeared on more than 15 radio and television talk-shows.
ATTENTION READERS
We See The World From All Sides and Want YOU To Be Fully Informed
In fact, intentional disinformation is a disgraceful scourge in media today. So to assuage any possible errant incorrect information posted herein, we strongly encourage you to seek corroboration from other non-VT sources before forming an educated opinion.
About VT
-
Policies & Disclosures
-
Comment Policy
Due to the nature of uncensored content posted by VT's fully independent international writers, VT cannot guarantee absolute validity. All content is owned by the author exclusively. Expressed opinions are NOT necessarily the views of VT, other authors, affiliates, advertisers, sponsors, partners, or technicians. Some content may be satirical in nature. All images are the full responsibility of the article author and NOT VT.