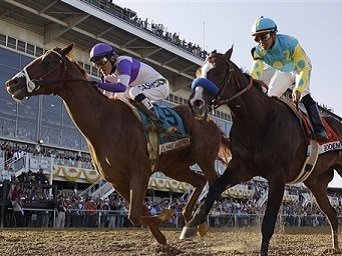 The heart of a true sports champion is always special to behold and that includes horse racing. 'I'll Have Another' has just won two legs of the Triple Crown but what we are now witnessing is a rare bonding of a special horse and its jockey where they have become not only one but an unstoppable force on the race track ~ as they most certainly will be at Belmont Park on Saturday, June 9th in New York:
Watch this Preakness video closely and you'll see jockey ( Mario Gutierrez ) and horse become one as I'll Have Another over takes Bodemeister in the stretch to win by a neck ~ but he was literally flying at the finish while Bodemeister was obviously spent. Look carefully at this photo and you'll see a horse in his jockey in perfect sync with each other.
I'll Have Another's Preakness victory / 3 minute video
Veteran Racing writer, Martha M Boltz, saw it the same way ~ " With his chestnut head low, his neck extended to its maximum and those hooves flying in the dust, I'll Have Another with Mario Gutierrez clinging to his back, added the Preakness win to his string, making him 4 for 4 on the track. And the young rider who came out of virtually nowhere (Hastings Race Track in Vancouver) a few months ago, smiled and shook his head, wiping tears from his eyes, as he said in his soft Mexican accent, "It's not me ~ it's all about the horse. He's just a great horse … Sometimes in the ephemeral world of horse racing, there comes together a perfect duo, a man and a horse, with a symbiosis that is basically inexplicable. The man knows and feels the 2,000 pounds under him, and the horse knows the 125 pound jockey on his back, and they work together. This was one of those days". See article ~
Having owned a horse for several years in the late 1980's ~ I can personally speak for the bond that often exists between a horse in its owner or in this case a horse in its jockey.  My horse was a Paint and his name was Scout. He was gentle and well trained but he loved to run and he knew all my verbal cues. I still fondly remember saddling up Scout and riding into the Sonoma vineyards and slowly trotting up to a quarter mile dirt road between the vineyards. Scout knew what was coming and shuddered in anticipation as I positioned him at the start of the straightaway. I verbally clucked just once with my tongue and we were off and running ~ at full stride with me clinging to his back and urging him on ~ Let's go Scout ! 
Riding 2000 pounds of horse at full gallop is beyond exhilarating, it's a bonding experience in all its glory.
And that's my point ~ Jockey Mario Gutierrez has that same bonding connection with I'll Have Another which will provide the deciding edge at the Belmont as well as a triple crown victory. I can definitely identify with Gutierrez who still says in awe  "He's a wonderful horse ~ he just wait till I give him the word, and then he does it."
Here's an interview with a humbled Mario, who had just won the Preakness, where he confirms the joy and delight of that experience of riding a gallant 2000 pound horse that responds to your cues and wants to run. 4 minute video
As David Daniels writes in Bleacher Report ~ "Horses aren't alone when they cross the finish line. Jockeys will forever play second-fiddle to the thoroughbred, but shot callers like Mario Gutierrez deserve more credit. His ability to push the right buttons at the perfect time is what led to I'll have Another's victory in the 2012 Kentucky Derby and Preakness Stakes."
Tom Pedulla of USA Today reported that Steve Cauther ~ the jockey that won the last Triple Crown 33 years ago in1978 with Affirmed (and the last to do so) ~ is a huge fan of Gutierrez. He said of Gutierrez:
"They found this new kid like me in the day. They believed in him, and he can ride. He obviously fits the horse, and the horse responds to him ~ The horse definitely responds to him. I'll Have Another concluded back-to-back Triple Crown competitions with finishes to remember. Bodemeister built a comfortable cushion between himself and I'll Have Another each time only to have those leads evaporate. And I'll Have Another isn't the one flipping the switch at just the right moment ~ Gutierrez is." 
So there you have it, a horse with a gallant heart who loves to run and a gifted jockey who truly knows and respects his horse ~ but also knows when to turn him loose.
History will be made on June 9th when I'll Have Another wins the triple crown and Gutierrez will be right behind his ear in the home stretch ~ urging him on as both horse and rider share their exciting and historic moment in history.
---
About the Author: Allen L Roland is a Freelance Alternative Press Online columnist. He is also a practicing psychotherapist, author and lecturer who also shares a daily political and social commentary on his web site at AllenRoland.com. He also guest hosts a Truthtalk, a national radio show that airs monthly. He is available for comments, interviews, speaking engagements and private consultations via email at [email protected].
Allen L Roland, PhD is a Freelance Alternative Press Online columnist. He is also a heart-centered spiritual consultant, author, and lecturer who also shares a weekly political and social commentary on his website at AllenRoland.com. He also guest hosts Truthtalk, a national radio show that airs monthly. He is available for comments, interviews, speaking engagements as well as private consultations via email at [email protected].
Roland is a twin who was born in Boston, Massachusetts, survived a dysfunctional family, pursued and lived his dreams, including becoming a Navy supersonic carrier pilot, finding himself by fully opening his heart, writing three books, siring four children ~ and still living his ultimate dream by making a difference from a place of love, celebration, and service.
His Ph.D. dissertation THE UNIFIED FIELD was chosen by Common Boundary and Noetic Science Institute, in their 1998 national dissertation contest, as one of the top three finalists for combining spirituality and psychology. His ongoing heart-centered work as a consultant with veterans with PTSD is the most satisfying work of his life. Allen's online newsletter, columns, and radio broadcasts are committed to the truth ~ as he sees it ~ for only the truth is revolutionary.
ATTENTION READERS
We See The World From All Sides and Want YOU To Be Fully Informed
In fact, intentional disinformation is a disgraceful scourge in media today. So to assuage any possible errant incorrect information posted herein, we strongly encourage you to seek corroboration from other non-VT sources before forming an educated opinion.
About VT
-
Policies & Disclosures
-
Comment Policy
Due to the nature of uncensored content posted by VT's fully independent international writers, VT cannot guarantee absolute validity. All content is owned by the author exclusively. Expressed opinions are NOT necessarily the views of VT, other authors, affiliates, advertisers, sponsors, partners, or technicians. Some content may be satirical in nature. All images are the full responsibility of the article author and NOT VT.