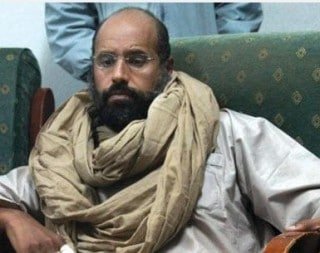 Russian, Australian and Other ICC Representatives Caught Spying
Tinker, Tailor, Lawyer: ICC Staff Arrested in Libya for "Spying"
By Mark Kersten

(London School of Economics for Justice in Conflict) with the BBC

————————–

Editor's Note:  The ICC has long been under criticsm for being 99% politics and 1% justice.  In Libya, ICC officers and lawyers are being held after the discovery of a wide number of documents meant to access billions in Libyan funds.  This is the untold story of the "unsigned documents," bank drafts to be used by Gaddafi family retainers and intelligence agents for "purposes unknown."  A good possibility is also tha the ICC is working to start a second revolution in Libya.

(BBC discription of Gaddafi's private prison:




Home will be a specially built blockhouse which sits on one side of a courtyard. Inside, there are two exercise yards, each covered with sturdy steel mesh designed to combat the chance of a helicopter rescue attempt.

His cell is still being fitted out, and sits behind a plain grey door secured by a single bolt and padlock, the paint freshly applied. The blockhouse is designed so that he need never leave it, with a warren of corridors and locked doors allowing him to move between his cell and the exercise yards. Across the yard is an indoor football and basketball court, housed in a handsome beige building with tinted green windows and white columns at the entrance, looking more a luxury villa than a prison gym.

Inside are facilities allowing Saif to play five-a-side football and basketball, though it is unclear who he will play with. There is even a touch of grim humour in the compound, with one of the workmen due to paint the walls placing a white handprint on the wall by the cell entrance.

The luxurious conditions, which will include a private mosque, personal chef, 24-hour medical cover and satellite television, have provoked mixed reactions from the guards. "If Obama came here, or Sarkozy or Cameron, they would be very happy with the accommodation, it is luxury," said one guard in a black sweater, a Kalashnikov slung over his shoulder. "It's not a prison, it's a holiday resort."

Another bearded guard working in the prison office outside the walled compound said: "There is not one thing Saif will not have here. This prison is like a castle, a castle fit for a king."

The intense security surrounding Saif's prison is testament to the power the Gaddafi family continue to hold on the minds of Libya's rulers.)
That it was the ICC caught in the plot is not surprising as their reputation as with that of the IAEA, the Interntional Atomic Energy Commission, and their imaginary Iranian bomb plots is another issue of international intitutions being used by the wealthy and powerful.
————————–
I really hope John le Carré has read news of the arrest of four ICC staff members in Zintan while attempting to visit Saif al-Islam Gaddafi. A delegation, which includes an Australian lawyer, Melinda Taylor (media reports have not named any other members of the delegation), were detained while attempting to provide Saif with information and documents pertaining to his defense against charges of war crimes for his role in the Libya's revolution.
[youtube Pjo4CnodxTQ]
 The team had been invited by the Libyan General Prosecutor's office to visit Saif. When the delegation went to visit Saif, however, everything went pear-shaped.
A commander from the Zintan brigade, Ajmi al-Atiri, described what appeared to be an intelligence operation against the ICC staff:
"We tricked the ICC team by presenting them with one of our men who we told them was deaf and old and illiterate but he is actually a wise man who can speak four languages including English.

That is when we found out the lawyer had a letter written in English that they wanted him to sign admitting that there is no law in Libya and asking to be transferred to the ICC. When we searched the woman we found she had a letter from [close confidante] Mohammed Ismail for Saif and another one written back to Ismail.

They also took a number of empty papers with his signature on it, and he gave them a number of letters written by Saif for Mohammed Ismail. Before the delegation entered the meeting with Saif, we inspected them and discovered spying and recording materials on one (member) of the delegation.

The case is a homeland security issue…The lawyer should have presented the material to the prosecutor-general's office before taking it into the suspect.
Saif would only be allowed private meetings with a lawyer if he had appointed one for himself, but in this case the ICC appointed this lawyer for him and so has no right to sit with Saif privately."
The validity – or lack thereof – of these rather serious allegations remain unclear. For one, I'm very curious what "spying and recording materials" were confiscated. The use of cameras and tape recorders, for example, should not be an issue when meeting with defendants. It has also been suggested, but not confirmed, that Taylor smuggled the allegedly "dangerous" documents in her bra. Media outlets have not picked up on it, but on Twitter #ICCBra has been a trending topic.
Regardless, what is crystal clear is that there remains zero to no trust of anyone who attempts to provide any kind of legal assistance to Saif. Of course, this is nothing new (see also here). Anyone seeking to provide a modicum of fairness to the proceedings against Saif by providing him with legal services, it would seem, will face heavy resistance – or worse.
The ICC is clearly concerned about the situation. Relations between the Court and the Libyan government may quickly deteriorate. Sang-Hyun Song, the President of the ICC, declared that
"These four international civil servants have immunity when on an official ICC mission. I call on the Libyan authorities to immediately take all necessary measures to ensure their safety and security and to liberate them."
No one will be particularly comforted by assurances that the ICC staff are "under house arrest in Zintan, not in prison." According to Rana Jawad, a BBC correspondent in Tripoli, ICC officials will be arriving in Tripoli today in order to persuade Libyan authorities to release the detained staff members. Unfortunately, it is not clear whether the Court can do much other than demand the release of its employees and encourage the national governments of the detained staff members to provide consular services. Australia, presumably on behalf of Taylor, is already doing so.
Zintani commander, Ajmi al-Atiri, speaks at press conference regarding the detention of four ICC staff members (Photo: AFP)
The situation really brings to the fore the reality that Libyan authorities do not have control over powerful militias nor the fate of Saif. Gaddafi's son remains in the custody of the Zintani rebels who captured him last November and who have never suggested that they are willing to cooperate with the National Transitional Council in trying Saif. For months, members of the NTC have repeated their line that Saif will soon be transferred to their custody. They even built him an apparently state-of-the-art prison in Tripoli and showed off re-furbished courtrooms. But the faction of Zintani rebels who have held Saif since his capture have remained uninterested.
Indeed, they have suggested that Saif should be tried in Zintan, not Tripoli. Some believe that only once the Zintan rebels have squeezed out all of the political utility of holding Saif will they release him to the national authorities. That is unlikely to happen until after elections later this summer.
Of course, another pressing question is whether this will affect Libya's admissibility challenge before the ICC. My view is that, like the government's declaration of a blanket amnesty passed last month for any "acts made necessary by the 17 February revolution", it absolutely must. Not only does this underline the reality that national authorities have little control over the Zintani rebels in possession of Saif, but it should infuriate the Court's members – including judges. To affirm Libya's rather shaky admissibility challenge would be to affirm the conduct of the Zintani rebels towards both Saif al-Islam as well as the ICC's staff.
We can debate whether or not issues regarding fair trial procedures or treatment of ICC staff have any legal standing in how the ICC's Pre-Trial Chamber rules on Libya's admissibility challenge. But, as I've said before, judges are not politically blind. The question is whether the arrest of ICC staff trying to provide legal services to an individual charged by the ICC is the last nail in the coffin.
ATTENTION READERS
We See The World From All Sides and Want YOU To Be Fully Informed
In fact, intentional disinformation is a disgraceful scourge in media today. So to assuage any possible errant incorrect information posted herein, we strongly encourage you to seek corroboration from other non-VT sources before forming an educated opinion.
About VT
-
Policies & Disclosures
-
Comment Policy
Due to the nature of uncensored content posted by VT's fully independent international writers, VT cannot guarantee absolute validity. All content is owned by the author exclusively. Expressed opinions are NOT necessarily the views of VT, other authors, affiliates, advertisers, sponsors, partners, or technicians. Some content may be satirical in nature. All images are the full responsibility of the article author and NOT VT.