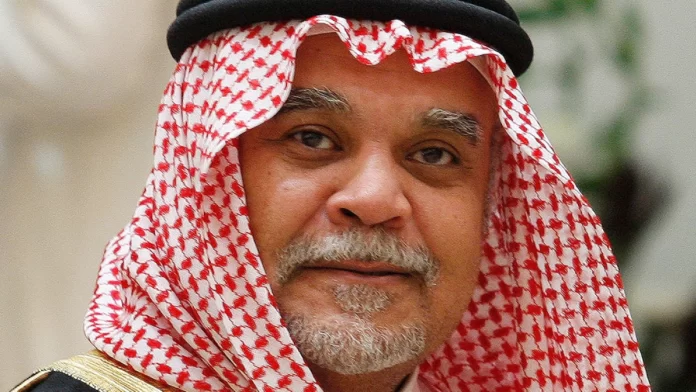 Bandar al-Sultan, Recently Appointed Saudi Intelligence Chief Feared Missing
By Gordon Duff, Senior Editor
When I read the report a week ago on Voltaire.net, responsible for some fair things but lots of less reliable material also, I became afraid.
As a journalist, perhaps the "pretend" kind, in that I have difficulty being slavish and naturally stupid, I knew it could be true.
Just in from a "friend of an associate" close to Bandar:
"Was Prince Bandar "Bush," 63, son of Prince Sultan bin Abdulaziz (perennial Saudi Defense Minister,1963-2001), semi-perennial ambassador to Washington (1983-2005), and secretive jihad financier, killed by a Syrian intelligence death squad?
Thunderous silence prevails in Syrian, Iranian, and Arab media (most of it is controlled by the Saudis). The same applies to al-Jazeera. This is DEBKA's somewhat fanciful take.
 Dates are crucial. Prince Bandar bin Sultan bin Abdulaziz Al Saud may have pulled off operation "Damascus Volcano" on July 18. He was definitely promoted to head of Saudi intelligence on July 19. And he might have been killed in a bomb attack on the Saudi General Intelligence HQ in Riyadh on July 22.
One Syrian rumor mill version rules that "Damascus Volcano" came from Saudi intel — with logistics provided by the Central Intelligence Agency (CIA). This is highly unlikely; the CIA is clueless on how to penetrate Assad's inner sanctum. The predominant version circulating in the Syrian capital is this was a white coup.
"Damascus Volcano," by the way, was a flop; the swarm of mercenaries — infiltrated via Jordan — who was supposed to take over the capital had to retreat up north. Now the news cycle is fixated on another faux game-changer — the "Battle of Aleppo."
There are serious problems with all the spin around "Damascus Volcano." None of the Assad regime's four heads of military intelligence were killed — they are actually running the (ghastly) show in Aleppo.
There are also problems with a Syrian death squad being able to strike Riyadh's inner sanctum. But Iranian intelligence could certainly pull this off. As for Debka's assumption that Tehran may have hired al-Qaeda jihadis for an inside job against the House of Saud, that is rubbish.
The bottom line; no one knows, because no one is talking.
 What is certain is that Bandar as head of Saudi intelligence was part of King Abdullah's hardcore response to the Arab Spring.
In Syria, the House of Saud strategy boils down to regime change — and a fragile, fragmented, Sunni government in Damascus not aligned with Tehran.
Internally, the strategy is to viciously smash any peaceful Shi'ite-majority protest in the eastern provinces. Essentially, there's no Arab Spring in Saudi Arabia because the House of Saud either bribes or intimidates its subjects.
The overall strategy of choice is "blame it on Iran"; as this logic goes, Saudi Shi'ites are Iranian puppets as much as Bahraini Shi'ites. The Obama administration blindly subscribes to this fallacy — totally missing the point; the House of Saud hates any semblance of Western parliamentary democracy as much as it hates Shi'ites — Iranian and otherwise.
 So what happened in Riyadh? A graphic Tehran message to the House of Saud? A rogue suicide bomber? An internal Saudi war? The House of Saud is not talking. And Bandar is not moving.
Pepe Escobar is the roving correspondent for Asia Times. His regular column, "The Roving Eye," is widely read. He is an analyst for the online news channel Real News. He argues that the world has become fragmented into "stans" — we are now living  an intestinal war, an undeclared global civil war. He has published three books on geopolitics, including the spectacularly-titled "Globalistan: How the Globalised World Is Dissolving Into Liquid War". His latest book is "Obama Does Globalistan."
The story required several things:
A major building had to blow up with nobody putting on the internet.  The last time I urinated in the woods at midnight, it hit youtube and went viral.
Bandar talks to the CIA and Mossad hourly.  They leak information like it was their job, which, of course, it is.
For Saudi Arabia to go a week while major news sources are now asking hard questions is embarrassing.
This guy could really be dead and if he is, Saudi Arabia will look like a pack of jackasses till the end of time.
As this is off the cuff, a few things drive me nuts.  Turkey is lined up on Syria's border like they were being bribed to invade Syria so they could get into the European Union.
Who would want to go to a party after the booze and drugs are gone and the police are hauling people away?  It is not time to consider joining the EU.
Turkey was planning, a year ago, to kick Israel's ass, lots of talks, but absolutely no action.  They were also going to help Gaza and Egypt.
Instead, Turkey has become an international joke.
Then there is Syria.  They are being blamed for killing the guy who may not be dead but should have the common courtesy to at least tell us if he is dead or not.  He actually seemed or seems like a very nice person for a professional torturer and monster, the only qualifications of his new despotic position.
Syrians blew him up?
The current big scare is that Saudi Arabia will invade Syria.  DEBKA, the Israeli rag says Russia has a huge armada sailing to Syria.  Then they name the ships.  I double check on Pravda.
Have you ever seen the drawings a kid who turns out in daycare when he needs to be on Ritalin?
That's DEBKA and Pravda.
The fleet could fit in the average bathtub.  Russia needs to spend some bucks, build some things and stop playing "world cop" with no badge and gun.
So, here I sit, if I tell you he is dead and he shows up alive, I am a total idiot.
If he shows up alive but sat out a week of everyone thinking he is dead, he may get a dig on Dallas.
(90's TV insider joke)
There is no way out of this.
Worse still, nobody is talking.
Nobody.
Then we have Iran promising to defend Syria from invasion this week, although I can't attribute the claim to the highest authority, it was high enough.
Were I Iran, I would want to read the email trail between Assad's wife and father-in-law and Mossad.
Nuff Sed on that one.
Today, now, while the world is coming apart, Bandar Bush, the smiling face of Saudi insanity and despotism is nowhere to be found.
Bad timing.
Still, announcing you are alive because the "internet" said you were dead makes you look like a bit of a dipshit also.  My point is that we are maybe a day past that one.
So, either he shows up by sundown tomorrow or he is one dead camel-riding Saudi pilot with a former huge home in Aspen.
If this is the case, then we start asking what else is being kept from us.
That would be nice.
Speculating about how killing someone we don't know is dead is not a good idea.  It would be very painful for the Bush family and Israel.
The actual humans in Bahrain should be dancing in the streets.
Problem is, this guy never seemed "out of control."
Why was someone this personable appointed at this time to such a horrific job?
So, we wait and wonder because the clock has gone around once too many times for things to be as they are supposed to seem.
A "stuck in an elevator with 3 hookers" story isn't going to fly this time.
Gordon Duff posted articles on VT from 2008 to 2022. He is a Marine combat veteran of the Vietnam War. A disabled veteran, he worked on veterans and POW issues for decades.
Gordon is an accredited diplomat and is generally accepted as one of the top global intelligence specialists. He manages the world's largest private intelligence organization and regularly consults with governments challenged by security issues.
Duff has traveled extensively, is published around the world, and is a regular guest on TV and radio in more than "several" countries. He is also a trained chef, wine enthusiast, avid motorcyclist, and gunsmith specializing in historical weapons and restoration. Business experience and interests are in energy and defense technology.
ATTENTION READERS
We See The World From All Sides and Want YOU To Be Fully Informed
In fact, intentional disinformation is a disgraceful scourge in media today. So to assuage any possible errant incorrect information posted herein, we strongly encourage you to seek corroboration from other non-VT sources before forming an educated opinion.
About VT
-
Policies & Disclosures
-
Comment Policy
Due to the nature of uncensored content posted by VT's fully independent international writers, VT cannot guarantee absolute validity. All content is owned by the author exclusively. Expressed opinions are NOT necessarily the views of VT, other authors, affiliates, advertisers, sponsors, partners, or technicians. Some content may be satirical in nature. All images are the full responsibility of the article author and NOT VT.