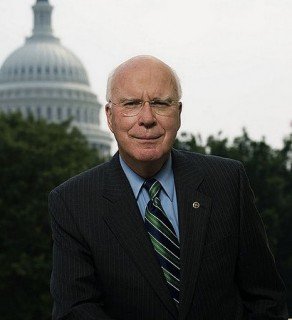 Senate Judiciary Committee Chair, Patrick Leahy, Directs DOD Inquiry into Gwyneth Todd Case
Accusations have been made against two senior Navy officials that may well lead to charges of conspiracy to commit murder, treason and terrorism against the United States. 
More importantly, sources report that behind the plot that it has taken years to bring forward may well implicate former Vice President Cheney. 
As of this writing, the lives of all involved hang in the balance as, too often in the past, cleaning up the crimes of the Bush administration has involved "accidents" as with presidential aide John Wheeler, whose body was found in a Delaware landfill in January, 2011.
[youtube Dz69tVUf9ns&list=UUaMH8-gD-ZYyC93vY6GlnCQ&index=11&feature=plcp]
No arrests have been made and there is even less evidence of an investigation being initiated.  Wheeler worked on the periphery of a half dozen secret projects, one of which is believed to have brought about his murder at the order of powerful Washington insiders.
Todd, herself, was approached by someone claiming to be an embassy "passport official" at her home in Australia.  The Sydney Morning Herald carries a detailed report on what may have been a second murder/kidnap attempt, one foiled.
[youtube xleuPrIeifE&list=UUaMH8-gD-ZYyC93vY6GlnCQ&index=10&feature=plcp]
A month ago, Jeff Stein of the Washington Post wrote a 5500 word article on former White House security staffer, Gwyneth Todd.  Todd reported a 5th Fleet under Vice Admiral Cosgriff and Commander Lynn Chow that had gone rogue.
The Post printed much and, surprisingly, the article became impossible to locate in 24 hours without having saved the link.  Search engines killed it in a process known as "scrubbing."
VT then published a somewhat different and direct approach, in direct cooperation with Todd herself.  Todd has long worked with VT and had agreed to move from "unofficial" to "official" staff.
[youtube 5-DY6MDk5-Q&list=UUaMH8-gD-ZYyC93vY6GlnCQ&index=3&feature=plcp]
Todd then began a campaign of radio interviews.  The three videos above are from Republic Broadcasting's Mike Harris.  Todd has, however, been interviewed by a half dozen hosts in the last 10 days, putting on the record her accusations.
The audio is clear, Todd's accusations include false flag terrorism and attempted murder.
Todd, whose White House career began during the Clinton Administration when she served on the National Security Council.
At this time she was a civilian contractor to the Navy, serving as "Chief Political Consultant for Middle Eastern Affairs," attached to the 5th Fleet in Bahrain, a command that Admiral Cosgriff, a known "Necon extremist" had acquired from what many believe to be "his betters."
The story, as Jeff Stein outlines it, begins with Todd being sent out on a "James Bond" assignment by Cosgriff, an assignment she was not qualified for and one later shown to be a "set up."  You see, Cosgriff and his assistant, Lynn Chow had issued a letter suspending Todd's clearances and firing her…BEFORE she was given the assignment.
The shock was when she later returned, alive, and found herself "out in the cold."  Here is Stein's take from the Washington Post:
[Editors Note: All Intel people the world over will recognize this 'being sent out on a final mission' as an age old method of disposing of personnel so they cannot later testify about certain events. Many of you out there know people to whom this has happened…Jim Dean]
Todd thought the report was fishy. Although Bahrain's Shiites did oppose the U.S.-backed Sunni monarchy, they're Arabs, eternal enemies of the Persian Iranians.

And Qassim himself, it happened, had warned Todd just the previous day that anti-monarchy demonstrators might attack places frequented by U.S. personnel.

The report "looked like a fabrication by someone trying to kill two birds with one stone, by making the Bahraini Shia appear to be anti-U.S. terrorists who also happened to be taking orders from Iran," Todd said.

"I knew, really knew, that the Bahraini Shia were trying to ensure U.S. personnel were nowhere near the possible violence." She suspected the intelligence report was cooked up by Bush administration hawks.

Cosgriff "asked me if I could go out and verify the information at the source — an informant in Dirza, a Shia village — saying that he realized it was dangerous," Todd said. Cosgriff declined to answer questions for the record about his meeting with Todd; a retired senior naval officer familiar with his thinking said he did not issue an order.

Todd's boss, Martin Adams, recalled the event. "I saw the incoming report," Adams said. "Someone — I do not remember who, but it was a junior officer — brought it to the office I shared with Gwenyth and showed it to her and to me."

Subsequently, Gwenyth got a call, asking her to go down and see Cosgriff — an unusual event in itself. When she returned, she said she had to work that evening, as Cosgriff had asked her to go out to confirm the information in the report."
______________________
As stronger accusations against Cosgriff and Chow began to surface through VT and Todd's radio shows, Commander Lynn Chow flew to Australia to meet with naval officials there.  It was believed, at first, that Chow, a Naval Intelligence officer, had wanted to silence Todd, whose husband is a serving naval officer in Australia, by applying "leverage."
However, this turned out not to be the case.
Reports of the meeting from highly confidential sources indicate that Chow admitted writing the letter "setting up" Todd.  Chow told the admirals that she had done this without any knowledge of Admiral Cosgriff and, in fact, had never informed him at any time.
A provable outline of events makes this story preposterous.
There are two possible rationales that might explain Lynn Chow's behavior:
Cosgriff's actions were done directly at the behest of Vice President Cheney, something we have confirmation on but no testimony.  Were Cosgriff threatened with prosecution for crimes

COMMANDER LYNN CHOW, SOURCES SAY SHE IS COVERING FOR COSGRIFF BECAUSE OF POOR "FITNESS REPORT"

this serious, there would be a domino effect, leading, minimally, to Cheney.

Chow might possibly have career issues as Cosgriff is currently working for Textron, a major naval ship builder, any scandal, and it is certainly too late for this one, would end his career which might have included a "home" for Lynn Chow.
UPDATED:  A high level Pentagon source has confirmed that, prior to retiring, Vice Admiral Cosgriff had given Commander Lynn Chow an "unsatisfactory" fitness report, thus ending her career.  There had been other accusations about Chow, a high ranking Naval Intelligence officer, but they are unconfirmed though extremely serious.
Sources near Cosgriff indicate he had destroyed Chow's career to cover himself from possible prosecution.  Chow has told associates she is planning retirement and looking for a job in the "private sector."  Those near her assumed the scenario indicated she planed to move to Textron and work with Cosgriff.  How does one describe this kind of friendship?
When Todd showed up alive after the meeting in Bahrain where she believed she was to be killed, she managed to convince base security to let her in, get her passport, file reports with the State Department, warning them of Cosgriff's plans and to then escape from Bahrain, eventually ending up in Australia.
Those who helped Todd were put on terror lists, hunted down as was Todd, at least one person was murdered and she has been in fear for her life for 5 years.
This is a White House official that worked directly with two presidents, directly with Paul Wolfowitz and Condi Rice.
Additionally, Todd was the chief FBI informant in the AIPAC spying trials.
Until the last few weeks, Todd learned she was "wanted" by the FBI.  She has now been told the "charges" have been dropped.
As things stand, with the Chairman of the Senate Judiciary Committee officially requesting a full scale investigation, no member of the Bush administration is safe from prosecution.
Editing:  Jim W. Dean
Gordon Duff posted articles on VT from 2008 to 2022. He is a Marine combat veteran of the Vietnam War. A disabled veteran, he worked on veterans and POW issues for decades.
Gordon is an accredited diplomat and is generally accepted as one of the top global intelligence specialists. He manages the world's largest private intelligence organization and regularly consults with governments challenged by security issues.
Duff has traveled extensively, is published around the world, and is a regular guest on TV and radio in more than "several" countries. He is also a trained chef, wine enthusiast, avid motorcyclist, and gunsmith specializing in historical weapons and restoration. Business experience and interests are in energy and defense technology.
ATTENTION READERS
We See The World From All Sides and Want YOU To Be Fully Informed
In fact, intentional disinformation is a disgraceful scourge in media today. So to assuage any possible errant incorrect information posted herein, we strongly encourage you to seek corroboration from other non-VT sources before forming educated opinion. In addition, to get a clear comprehension of VT's independent non-censored media, please read our
Policies and Disclosures
.
Due to the nature of uncensored content posted by VT's fully independent international writers, VT cannot guarantee absolute validity. All content is owned by the author exclusively. Expressed opinions are NOT necessarily the views of VT, other authors, affiliates, advertisers, sponsors, partners, or technicians. Some content may be satirical in nature. All images are the full responsibility of the article author and NOT VT.
About VT
-
Comment Policy