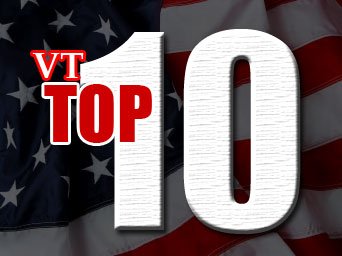 Veterans! Here's your Top 10 Newsstories of the day compiled from the latest sources
We encourage you to browse our list so that you can take what you want and keep what you need

1.   First women drop out of Marine officer infantry training.  The first two female lieutenants to volunteer for the Marine Corps' Infantry Officer Course failed to complete the program, the Marine Corps said Tuesday.
 
2.   Disabled vet sues law firm, claiming abusive collection practices.  A law firm accused of telling a disabled Army veteran that he "should have died" rather than collect disability payments is being sued for violations of the Fair Debt Collection Practices Act, according to Arizona court documents filed last week.
 
3.   Prison bars don't stop Iowa veterans from serving their community.  It is not surprising that when U.S. Air Force veteran Matthew Krewson saw a story about Taylor Morris on the news, he was inspired to help the 23-year-old bomb detection expert who was severely injured in a May blast that cost him portions of all four limbs. What may be surprising is that Krewson is an inmate at the North Central Correctional Facility in Rockwell City, Iowa.
 
4.   Soldiers take aim to become 'best warrior' in Army.  Soldiers from Army units the world over are converging on Fort Lee this week for the 11th annual Best Warrior Competition. Twelve non-commissioned officers and 12 soldiers below the rank of specialist will compete through grueling physical and mental tasks.
5.   NSF-funded study to find efficiency models in VA patient-centered medical homes.  Government Health IT  A group of researchers led by an industrial engineer have been awarded a National Science Foundation grant to find efficiency models for patient-centered medical homes by studying the U.S. Department of Veterans Affairs, the largest health …
6.   Veteran seeks information about Agent Orange.  Washington Times  Many veterans claim to be affected by an Agent Orange-related disease, but if the sites where they were stationed or deployed to aren't recognized by the VA, they may have a rough road ahead of them. The VA will assist in identifying locations outside …

7.   New benefit for veterans with hearing or speech loss.  The Virginian-Pilot  Qualifications include proof of an honorable discharge and documentation of a service-related disability rating from the U.S. Department of Veterans Affairs. Active members of the Virginia National Guard who have completed the required initial active …

 8.   Cost-Of-Living Adjustments For Veterans Delayed In Senate.  CQ  The US Senate was widely expected to clear a bill providing a cost-of-living increase for veterans "during one of the biweekly pro-forma sessions being held during the congressional recess." But Senate Democratic leaders have set aside action on the bill until the post-election session of Congress because they are "concerned that passage by unanimous consent would erode the White House's position in a federal lawsuit challenging the president's recess appointments of Richard Cordray as head of the Consumer Financial Protection Bureau (CFPB), and three members of the National Labor Relations Board (NLRB)." But David Autry "of the Disabled American Veterans, an advocacy group representing veterans and their families, said" Veterans Affairs "needs ample lead time to make sure the checks and direct deposits are 'issued in the correct amount and on time.'"
 
9.   VA Gets New Advocate For Female, Minority Veterans.  Army Times The new director of the US Veterans Affairs Department's Center for Minority Veterans is "Barbara Ward, a Vietnam-era Air Force nurse whose previous work has included serving as California's assistant secretary for women and minority veterans." In addition to heading VA's Center for Minority Veterans, "Ward is the principal adviser to VA Secretary Eric Shinseki on policies and programs for minority veterans."
 
10.   Manufacturers Launch Program To Hire More Veterans.  AP "Some of the nation's leading manufacturing companies announced a new program Monday to help veterans gain the skills necessary to fill some of the estimated 600,000 high-tech, manufacturing jobs that remain open because employers can't find qualified applicants." General Electric "and Military Families at Syracuse University are developing a reference guide that employers can use to help them more effectively recruit and mentor veterans. The guide will be made available to those companies participating in efforts by the US Chamber of Commerce and the White House to help 100,000 veterans and their spouses obtain work by 2014."

Have You Heard?

Companies Pledge to Hire Veterans

Private companies are stepping up to put Vets into fast track education programs and developing transition guides to help Vets get in the door. Learn more


ATTENTION READERS
We See The World From All Sides and Want YOU To Be Fully Informed
In fact, intentional disinformation is a disgraceful scourge in media today. So to assuage any possible errant incorrect information posted herein, we strongly encourage you to seek corroboration from other non-VT sources before forming an educated opinion.
About VT
-
Policies & Disclosures
-
Comment Policy
Due to the nature of uncensored content posted by VT's fully independent international writers, VT cannot guarantee absolute validity. All content is owned by the author exclusively. Expressed opinions are NOT necessarily the views of VT, other authors, affiliates, advertisers, sponsors, partners, or technicians. Some content may be satirical in nature. All images are the full responsibility of the article author and NOT VT.