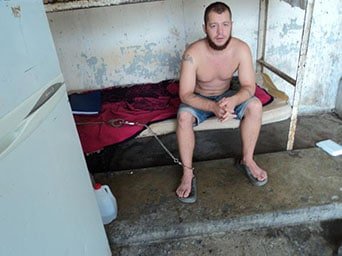 Devastating' photo sent to family of ex-Marine jailed in notorious Mexican CEDES prison over antique shotgun
Jon Hammar's mother Olivia says that her son, who was allegedly told he could take gun into Mexico by U.S. Customs and Border Protection agents, looks 'lost.
by Christine Roberts / NEW YORK DAILY NEWS
An anonymous email account from Mexico sent Jon Hammar's family the above photo of the ex-Marine chained to a bed at CEDES prison in Matamoros, Mexico.
The mother of a former Marine imprisoned in Mexico says she is heartbroken over a new photo of her son, the first taken since he was locked up for trying to declare an antique gun at the border.
"It's just devastating," Jon Hammar's mother, Olivia Hammar, told the Daily News. "He's normally such a happy kid. And now he just looks so lost."
The photo shows the 27-year-old chained to a bed inside his cell at the notorious CEDES prison in Matamoros, Mexico.
An anonymous email account from Mexico sent Olivia's husband, Jon Hammar Sr., the picture Monday, as first reported by Fox News Latino.
MARINE JAILED IN MEXICO ON GUN CHARGE IS 'CONCERNED' ABOUT PUBLIC ATTENTION TO HIS CASE, HIS FATHER SAYS
"I found your email on the Internet and I wanted to send you this photo," the sender wrote in Spanish.  "I am not giving you my name because I like my job and I don't want to lose it. Juan is OK but I hope he is let out quickly."
Jon Hammar, who spent four years serving in Iraq and Afghanistan, has been jailed at CEDES since shortly after Aug. 13, when he was arrested while crossing from Brownsville, Tex., to Matamoros.
Hammar and his friend, former Marine Ian McDonough, were on a road trip to Costa Rica. When the pair reached the Brownsville border, Hammar told U.S. Customs and Border Protection agents that he was carrying a shotgun.
REUTERS
Hammar served four years in Iraq and Afghanistan.
The agents allowed the two to continue, and allegedly said that the gun, which apparently belonged to Hammar's great-grandfather, wouldn't be an issue at the Mexican checkpoint.
Yet when Hammar told Mexican border agents about the gun, he and his friend were immediately handcuffed. The friend was later released.
Olivia Hammar of Palmetto Bay, Fla., hasn't visited CEDES yet. But her husband, who went back in September, said there is so much foot traffic in the jail that anyone could have snapped the photo.
"Hundreds of people walk by everyday, it would be really easy to take a picture," Olivia explained, adding that she believes the person responsible is a "sympathizer."
CEDES is one of the most infamous prisons in Mexico given that many of its inmates are linked to some of the county's most dangerous drug cartels. The cartels are believed to have a say in what happens at the facility.
Olivia and her husband, as well as U.S. lawmakers, are grappling with why the U.S. Customs and Border Protection agents allegedly told Hammar it would be okay to carry the gun and why Mexican border agents simply didn't turn the ex-Marine around.
"I don't understand why the administration wouldn't have intervened by now," Olivia said. "For a former Marine. For any U.S. citizen in general."
NIGHTMARE IN MEXICO: FRIENDS, FAMILY CALL FOR RELEASE OF FORMER MARINE JAILED IN MEXICO AFTER TRYING TO DECLARE AN ANTIQUE SHOTGUN
There appears to be some confusion over whether Hammar's shotgun qualifies as a restricted weapon in Mexico.
The federal prosecutor in the case says that Hammar's 24-inch-long barrel is one inch shorter than the country's requirement of 25 inches, Fox News reported.
Hammar's lawyer, Eddie Varon-Levy, said that the prosecution never agreed on how to officially measure the gun.
Hammar is set to appear in court on Jan. 17, 2013. He faces up to 12 years in prison for possessing a weapon used by the Mexican army.
His family, however, hopes that the case will ultimately be dropped.
Rep. Ileana Ros-Lehtinen, R-Fla., the Hammars' local representative and chairwoman of the House Foreign Affairs Committee, has drawn up a petition demanding Hammar's release. Over 20 lawmakers have since lent their signatures.
Olivia, however, says there has been little sign of progress.
"Nothing," Olivia said. "Unless there are talks going on at higher levels, nothing has changed."
ATTENTION READERS
We See The World From All Sides and Want YOU To Be Fully Informed
In fact, intentional disinformation is a disgraceful scourge in media today. So to assuage any possible errant incorrect information posted herein, we strongly encourage you to seek corroboration from other non-VT sources before forming an educated opinion.
About VT
-
Policies & Disclosures
-
Comment Policy
Due to the nature of uncensored content posted by VT's fully independent international writers, VT cannot guarantee absolute validity. All content is owned by the author exclusively. Expressed opinions are NOT necessarily the views of VT, other authors, affiliates, advertisers, sponsors, partners, or technicians. Some content may be satirical in nature. All images are the full responsibility of the article author and NOT VT.