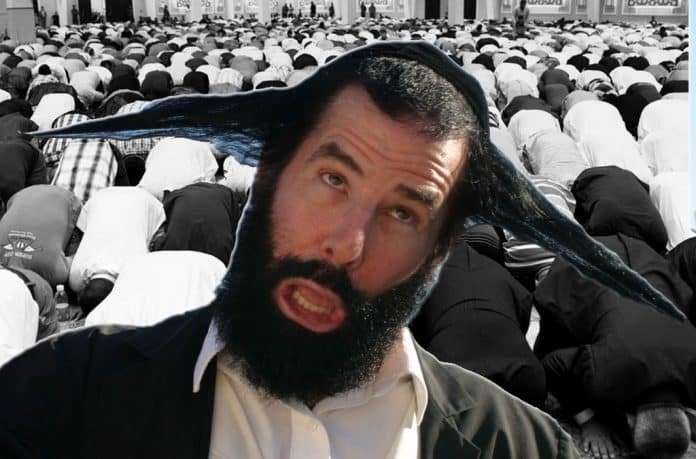 In the US there is powerful well-funded circles of influential people and organizations with a mission to defame, demean and dehumanize Muslims and Islam. Though Islam has it own shares of "ugly faces" there are ugly faces of religion in all Abrahamic religions even in Buddhism and Hinduism. No religion is free of "ugly faces" and hates speech.
From denying the rights to a Christmas tree in Upper Nazareth by its Jewish mayor, to the withdrawal of "kashrut certificates" from businesses with Christmas trees by the chief municipal rabbi.
To the fatwa issued by Sheik Yahya Safi, the Imam of a mosque in Australia forbidding Muslims to extend Christmas greetings to fellow Christians, to Buddhists Monks calling for murder and ethnic cleansing of Muslims in Myanmar to Pamela Geller and her offensive and racists subway ads. There is always the Ugly Face of Religion.
When I set out to write this article I spent couple of days doing research on how individuals claiming "faith" and how some religious leaders are the one who invoke and promote hate and incite violence and murder in the name of religion and faith.
Pamela Geller is not the only person of the "Jewish" faith to spread hateful and venomous language meant to demean Muslims. Rabbi Ovadia Yosef, the head of the Shas's Council of Torah Sage and the most senior Sephardic Rabbi is quoted
"Goyim were born only to serve us. Without that, they have no place in the world-only to serve the people of Israel".
In Rwanda, where an estimated one million died, Christian churches and taking part in the genocide with priests inciting violence and murder.
In Bosnia, leading priests find excuses and justified support for the many massacres that took place in the civil war where an estimated 400,000 people died as part of systematic ethnic cleansing of Bosnian Muslims.
Here in the United States and since September 11th, not only average citizens became part of the Islamphobia that is taking hold in the US with the US military becoming part of this trend.
US military officers are told," Islam must changer or we will facilitate its self-destruction". Lt. Col. Mathew A. Dooley, an instructor at the Joint Forces Staff College presented a series of training material that if not racists and bigoted it promoted and encouraged Islamophobia within the military, claiming
" A staggering 140 million people… hate every thing you stand for and will never co-exist with you, unless you submit".
In France, it is not only Jean Marie Le pen and family that are leading the crusade against Islam and Muslims in France, but the French branch of the Jewish Defense League or Katch, recruiting former French soldiers to go to Israel to provide protection for Jewish settlements.
In Israel, the IDF in 2011 opened its first combat unit for ultra-Orthodox recruits with the first group of Haredim to serve in an artillery unit according to Brig. Gen. David Suisssa IDF chief artillery officer. One has to imagine what would be the reaction of President Obama and Congress if the Egyptian or any Arab or Muslim army establishes "Salafi" battalions.
Well known Christian Evangelists like the Rev. Pat Robertson, the late Rev. Jerry Faldwell and non other than John Hagee all have made inflammatory and racists statements about Muslims and the Prophet Mohamed
" This is worse than the Nazis," and " Adolf Hitler was bad, but what the Muslims want to do to the Jews is worse"
With the late Jerry Faldwell calling the Prophet Mohammed a "terrorist" with the preacher Billy Graham following suite. Keep in mind that all of these men of religion and faith are beneficiaries of a tax system that not only exempt them from taxes but allow then to collect billions of dollars of tax free money as if the US government is part of this hate speech and demonization.
However it is in Israel where real hate and racism flourish and runs deep within the religious establishment and institutions.
"All of the Palestinians must be killed; men, women, infants, and even their beasts."
This is the religious edict issued by Rabbi Israel Rosen, director of the Tsomet Institute, were many soldiers from within Israel and the Jewish settlements attend.
Rabbi Rosen no doubt a frequent traveler to the US compared the Palestinians to the ancient Amalekites and quoting the Torah
" Annihilate the Amalekites from the beginning to the end. Kill them and wrest them from their possessions. Show them no mercy. Kill continuously, one after the other. Leave no child, plant or tree. Kill their beasts, from camels to donkeys".
Islam is not too innocent either from similar opinions as those of Jewish rabbis and Christian Evangelists, with a number of Salafi Imams issuing " fatwa's" that justify the killings and murder of "infidels' or non-believers and are seen by Muslims and non-Muslims behind many of the terrorists attacks that took place in New York, Paris, London, Madrid, Bali and Casablanca.
The Islamic "Madrasa" in Pakistan, in Afghanistan became the recruiting grounds for the Taliban's. In Lebanon, more in Iraq, many of the Muslim clergy are behind many of the sectarian violence with Shiites murdering Sunnis and Sunnis murdering Shiites.
There are many ugly faces of religion, claimed religious leaders as Abu-Qutada and Abu-Hamza Almasri and Sheik Omar Abdul-Rahman, Mullah Omar, and with a dangerous trend of many "Salafis" joining the bandwagon with message of intolerance, hate not only toward Christians and Jews but toward Muslims as wells.
We all need to keep in mind that the ugly face of hate and racism and murder is not only religious. Begin, Shamir and Sharon were non-religious Jews. Hitler was an atheist. Stalin was a Communist and so were Pol Pot and Mao Tse-Tung. George Bush and Harry Truman were Christians. The late Emperor of Japan (WWII) was a Shinto, Saddam, Bashar, Qaddafi and Al-Bashir were and are Muslim.
Sami, a Palestinian-American and a US Army Veteran (66-68), recipient of the "soldier of the month award and leadership award from the 6th Army NCO Academy, is an international legal and business consultant with over 40 years of international experience, in construction, hospitality services, conservation, and defense, in the Middle East, Europe, and North Africa. Sami is a holder of BA, MPA in Public and Environmental Affairs, Jurist Doctor from Indiana University. While at IU he was elected class president, student government president and chairman of the Indiana Students Association,
Active in peace movement as a co-author of the pre-amble for the One State for All of its people and voluntary service program SalamNation. A frequent contributor on national and international affairs. He resides in the United States.
ATTENTION READERS
We See The World From All Sides and Want YOU To Be Fully Informed
In fact, intentional disinformation is a disgraceful scourge in media today. So to assuage any possible errant incorrect information posted herein, we strongly encourage you to seek corroboration from other non-VT sources before forming an educated opinion.
About VT
-
Policies & Disclosures
-
Comment Policy
Due to the nature of uncensored content posted by VT's fully independent international writers, VT cannot guarantee absolute validity. All content is owned by the author exclusively. Expressed opinions are NOT necessarily the views of VT, other authors, affiliates, advertisers, sponsors, partners, or technicians. Some content may be satirical in nature. All images are the full responsibility of the article author and NOT VT.