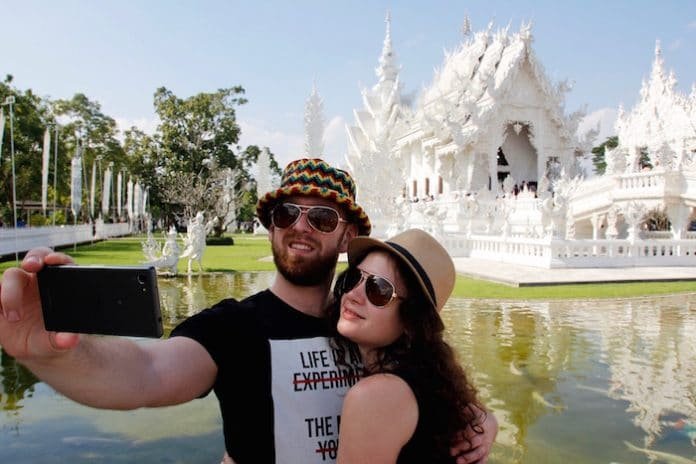 By Rick Gedeon
As the situation becomes more precarious in America with the continuation of failed policies and economic depression; is it any wonder why more and more of our veterans are ending up on the streets? 
I've made this rough guide for any veteran who qualifies for the Post 911 GI Bill, specifically those who might be interested in moving to Thailand.  There are no "minimum residency" rules to abide by.  The VA is pretty much straightforward when dealing with overseas veterans.  They even have their own office in Buffalo exclusively for veterans attending schools overseas.
Imagine for a moment that you are a veteran who was able to get into Ross College, in Sylvania, Ohio.  If you lived alone in Sylvania, could you live on $1,083.00 per month?  Would this be enough to make ends-meet?  If the answer is yes, by all means please take this avenue.  However, if you're the type who likes big cities and good food, continue reading.
The VA currently pays a monthly housing allowance of $1,368.00 per month for students attending overseas institutions of higher learning.  All of the tuition and fees are covered by the VA and is handled directly between the school and the VA.  If Thailand is not your cup of tea and you want to study in, say, Germany or France, will $1,368.00 be enough for you?  The reason why I have decided to write about Thailand is because Thailand has several things going for it.
First, you can survive on your monthly housing allowance!  Second, it's a fun place to be.  Third, you can get your degree done.  With the rise of ASEAN 2015, the Southeast Asian markets are set to lift-off.   The Philippines is another viable destination, the cost of living index shows the Philippines as a more economically favorable place to be.
However, the lower crime rate in Bangkok as compared the Manila makes up for the small economic advantage. Before you hire an international moving company and move over seas, consider these items;
Getting Started Click here to see if you qualify.  The first thing you should do is to see if you qualify.  Once you've processed your paperwork apply for your passport if you don't already have one.
Starting the MHA It can take anywhere between 2-6 months to get your allowance up and running.  In order to make sure your payment will arrive, stay on top of the administrators and ask to see their paperwork!  Call the VA and confirm everything!  After the first semester, this process should run like clockwork.
Uniforms Veterans are no strangers to uniforms; the good news is that you won't have to worry about spending a lot of your dough on trying to impress others during school hours.  However, most graduate programs don't require uniforms.  If you have short/long sleeved white dress shirts, pack it in the suitcase. If you have black dress pants, dress socks, and dress shoes, pack them in the suitcase.  White shirt and black trousers are basically the standard uniform for university students in Thailand.
Food Thailand is popular for its street kitchens, a lunch can cost as little as $1.50.  If you don't like rice, make sure to pack a year's worth of MREs.  Rice is the staple food of Thailand—period.  If you become nostalgic, Bangkok has Sizzlers, Mc Donald's, Pizza Hut and a plethora of other restaurants to stop by when you need a taste of home.
Housing Since most of the schools on the VA's approved program are either in Bangkok or near Bangkok and since Bangkok is the most expensive place in to reside in Thailand. Consider the costs as worst case scenario.  You can ideally find a one bedroom studio apartment with air conditioning for as little as $200.00 dollars per month.  Internet is sometimes included but if not it could be another $20.00 per month.Landlords often require a one month deposit and a payment one month in advance.  Most housing units don't have a kitchen.  Some come with refrigerators.  The cost of electricity can be kept below $60.00 per month.  The water bill should come to less than $15.00 per month.
Airfare If you look really hard you can find one way trips to Bangkok for as little as $500.00.  Hint:  look at the Chinese Airlines.
Visa Most schools will tell you not to come to Thailand on a tourist visa, but you can.  Americans are eligible to receive a visa on arrival.  This will give you 30 days to complete your paperwork and for you to visit the immigration office for either a 6 month or 1 year student visa.If 30 days isn't enough, you can always do what is called a visa run.  Whatever you do, don't stay over your allowed time because that can mean huge fines.  A visa run usually means that you get in a van and head towards Cambodia, get your passport stamped in Cambodia and then turn around the same day and get your passport stamped in Thailand for another 30 days.There are other options but this is probably the easiest and cheapest way to get it done.  This should cost no more than $120.00.  The student visa itself should be no more than $70.00.  For more information on immigration policies visit the Thai Immigration Bureau website (here).
Currency The currency fluctuates just like any other currency in the world.  The currency of Thailand is called the Thai baht.  For current exchange rates (click here).
ATM Once the GI Bill has established your monthly payments, they usually end up transferring your money into your bank account.  The easiest way of getting your money is by using an ATM.USAA does honor its USAA preferred ATM policy and they will reimburse you for your ATM fees, up to $15.00 per month.  That is to say, only by using the TMB Bank ATMs.  The maximum amount that you take per withdrawal is 20,000 Thai Baht or about $690.00 USD.
Transportation If you think you know what traffic jam is, get prepared to be schooled.  In Bangkok you don't need a car if you live close to the skytrain (BTS) or subway (MRT).  A single journey for a BTS Token can range from 16-40 baht.  However, if you don't live near mass transit the taxis are very cheap. If you get in a taxi during rush hour and drive one kilometer and wait for one hour then the meter should only read 100 baht or about $3.30.  Buses are a nightmare if you're an American with the concept of 'personal space'.  Bus fares start at 7 baht.  The air conditioned buses start at 10 baht.If you have enough money for a car and want to purchase a vehicle in Bangkok—enjoy the traffic jam.  If you're a risk-taker and hate waiting in traffic, there's always the moped option.  The DMV in Bangkok will usually not give Americans much grief when obtaining a license.  Make sure to bring your state license just in case.
The School Work The Thai way of education consist mainly of rote learning, or memorization.  From what I've been told the philosophy program at Assumption University is the only program that does not take this approach.  Otherwise be prepared to memorize.  The bright side of this is that you're first language is English, hence, most should not have a problem passing; so long as you show up to class!
Transferring credits If you've already completed some coursework in college make sure to bring your transcripts in a sealed envelope.  When you get to your school in Thailand ask the administrative staff to give you a copy of your transcripts just in case.  Credits are usually accepted but it is recommended to bring along the course syllabus for all of the courses you've already completed.  This can either be handled before arriving to Thailand or during your first semester.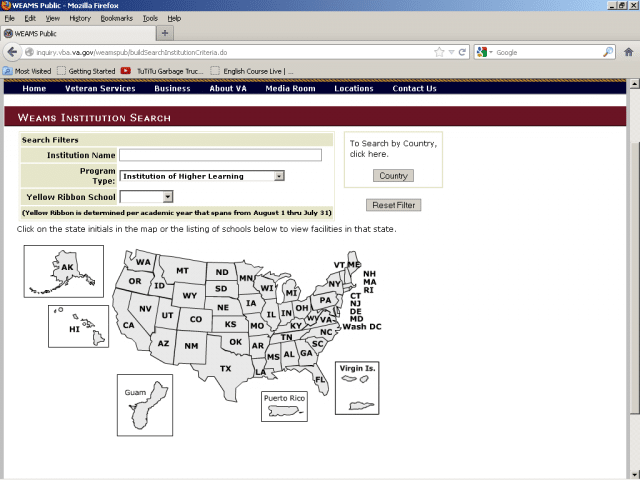 To find an approved program go to (here)
On the top right and side there is a icon named Country, click on it
 The Top Five Schools for Veterans in Thailand
#1 Mahidol University Mahidol is one of the most well recognized schools in Thailand.  The main campus is located right outside of Bangkok, thus, the cost of living is going to be even lower.  Mahidol is best known for their expertise in medicine.  Approved Programs: Business Administration, BA Southeast Asian Studies, BA International Management, MA Management, MA Tourism & Hospitality, MMgt Tropical Medicine, MS Dental Biomaterial Science, PhD Physics, PhD
#2 Assumption University Also known as ABAC, a private Catholic university located near the National Stadium and Ramkhamaeng University.  This school is where the children of the elite attend.  ABAC is best known for their management studies.  Many of the graduates go on to become executives in Thai industry.  There are currently around 23 students who use their VA benefits that attend this institution.
Approved Programs: Computer Science, BS Information Technology, BS International Business Management, BBA Management, BA Philosophy, MA MBA Information Technology, MA Education Leadership, PhD
#3 Ramkhamaeng University This school is situated practically on the same land as the National Stadium.  There have been students that have finished their entire bachelor's degree in 24 months.  The main advantage of this is that the Post 911 GI Bill offers 36 months of benefits.  This would leave the student with 12 months of tuition to pursue their MBA or MA.
Approved Programs: Business Administration, BBA English, BA Mass Communication Technology, BA
#4 Webster University Webster is the only American university in Thailand. When looking for it on the VA's Weams Institution Search look under Missouri, not Thailand.  The MHA is $1,230.  For approved programs and for tuition coverage please contact school directly.
#5 Bangkok University The only major on the list that my sources tell me is worth the effort is the Computer Graphics and Multimedia program.  The Chairman of that program is an American.  There are currently no more than 15 students that attend this institution who are using their VA benefits.
Business Administration-Marketing, BBA Business Administration-Entrepreneurship, BBA Business English, BA Communication Arts, BA Computer Graphics and Multimedia, Bachelor Hotel & Tourism Management, BA Business Administration, MBA
THIS INFORMATION WAS RETRIEVED FROM THE VA WEBSITE ON DECEMBER 31, 2012.
Language The medium of instruction for said programs is English.  Thai people are generally friendly.  Most cannot speak English.  There are many resources available for you to use to help you learn the language.  The internet is a great tool to help you learn the Thai language.  In most cases these autodidactic methods of learning are 100% free!  Learning the language is not a must, I've known Americans who've lived here for 5 years who cannot even say thank you in Thai.  Nevertheless, learning the language will make your life much more convenient.
Final Thoughts If you're able to manage your money prudently, $1,368.00/month should be more than enough for you to live on.   If you're a veteran getting ready to leave the service or a veteran who's homeless or almost there, this opportunity is waiting for you; not only to escape the economic turmoil but a chance for you to, simultaneously, improve yourself.  When you get to Thailand you will find many like-minded individuals and you will feel at home in no time.  Bangkok can be a culture shock but civilian life was probably the biggest culture shock for most of us.  As veterans we need to take care of ourselves and each other, let's make it count!
---
Rick Gedeon is graduate from USAF Air University, amateur historian, and anti-imperial/anti-police brutality activist.   Rick Gedeon has traveled extensively throughout the US and Asia.  A political marketer, routinely bringing together and forging alliances with different political organizations that share similar goals. He considers himself a Political Atheist and sympathizes with many Libertarian causes.  He can be reached at Rick_gedeon(at)mail.com
ATTENTION READERS
We See The World From All Sides and Want YOU To Be Fully Informed
In fact, intentional disinformation is a disgraceful scourge in media today. So to assuage any possible errant incorrect information posted herein, we strongly encourage you to seek corroboration from other non-VT sources before forming an educated opinion.
About VT
-
Policies & Disclosures
-
Comment Policy
Due to the nature of uncensored content posted by VT's fully independent international writers, VT cannot guarantee absolute validity. All content is owned by the author exclusively. Expressed opinions are NOT necessarily the views of VT, other authors, affiliates, advertisers, sponsors, partners, or technicians. Some content may be satirical in nature. All images are the full responsibility of the article author and NOT VT.