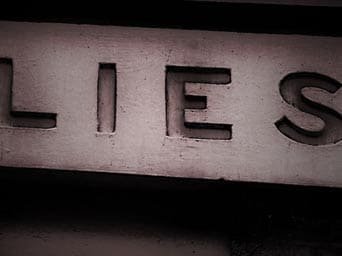 THE USG IS BASED ON LIES, VERY, VERY BIG LIES.
Even before WW1 and afterwards, the USG has a sordid history of BIG LIES.  And many of them are absurd, ridiculous lies the public just seems to accept despite all the evidence showing otherwise.
ALMOST EVERYTHING THE USG STATES OFFICIALLY IS A LIE
And it's all necessary to in order for the USG to control "we the people".
A BODYGUARD OF LIES PROTECT THE USG FROM EXPOSURE OF THEIR NWO GLOBLIST AGENDA AGAINST THE AMERICAN PEOPLE
Like Winston Churchill said during the Second World War, truth was so important to victory that it must be protected by a bodyguard of lies. If the enemy had been able to find out the truth of the Allies secret plans and deceptions, especially regarding the upcoming Invasion, the war might have been lost.  Churchill identified the maintaining of deception as a primary factor in obtaining victory.
THE USG USES LIES AS A TECHNIQUE OF MAJOR DECEPTION 
And we can now assume that the USG is using major deception in a well-organized attempt to attain their victory in a covert war against the American people, a war that most only sense and few know the specifics of. But the numbers of those that know the specifics is growing by leaps and bounds every day thanks to the alternative media on the world-wide Internet.
THE USG MUST LIE TO THE AMERICAN PEOPLE TO OBTAIN THEIR OBJECTIVES IN A WAR AGAINST THE PEOPLE
Why then is the USG lying about everything to the American people?  What is the covert war against the American people all about and whose interests are they fighting for?
THE USG IS CONDUCTING A LONG TERM COVERT WAR AGAINST ITS OWN CITIZENS TO SUDUE THEM, "DOMESTICATE THEM", AND MAKE THEM GOOD NWO GLOBAL CITIZENS
The answer is that the USG like every other large contemporary nation state government is technically at war with its people, because most large governments of the world see their people as an enemy to be conned, subdued and entrained with NWO Globalist values and expectations.  This must be done to represent those interests of the folks who put them in power and essentially own them.
THE CITIZEN IS THE ENEMY OF THE USG—OTHER LEADERS WHO ARE ALSO WORKING HARD TO DECEIVE AND SUBDUE THEIR CITIZENRY ARE NOW THEIR NWO GLOBALIST FRIENDS
These governments individually and collectively perceive their citizenry as their greatest challenge to be subdued as see it as a necessary evil in order to provide for their survival and prospering.  They know that if they did not withhold the truth from their constituents they would be forced out of their positions and would not be able to govern as directed by the special interests which have put them in power in the first place and essentially own them.  Nor would they be able to climb the NWO globalist food chain to higher and higher positions of prominence, power and wealth.
Who are these special interests that have bought most governmental officials and politicians inside the beltway in in many state and local governments?
WHO ARE THE SPECIAL INTERESTS THE USG OFFICIALS AND CONGRESS-CRITTERS ARE REPRESENTING ?
The British Banksters and their action arm, a set of powerful political and spy cutout groups pretending to the little best ally of America in the Mideast, and a world-wide network of approximately 140 International corporations that control all the large business cartel of manufacturing, energy, pharmaceuticals and defense products.
In DC alone, these groups employ a formidable force of political action groups and over 70,000 K-Street lobbyists who can exert substantial pressure on Congress-critters and typically offer "revolving door" jobs for loyal service as well as very large campaign contributions.  One group, our little best friends requires loyalty agreements to be signed toward their country by every Congress-critter that wants to be re-elected.  According to Cynthia McKinney, failure to sign such an agreement often results in massive campaign contributions by cutout to elect someone else that is willing to sign such a loyalty agreement to our supposed "best little friend in the Mideast". 
OUR COMPETITORS ARE OUR FRIENDS AND ALL CUSTOMERS ARE OUR ENEMIES
It's kind of like the major food company that was prosecuted and fined for conspiring and price fixing of lecithin products with their competitors in secret and lying about it.  An informer reported to LE that the board discussed how "our competitors are our friends (not our enemies) and the consumer is our mutual enemy, so let's work together to fix prices high enough to take care of all of us.
This is the same kind of cooperation that has occurred between many western governments since WW2, government officials working together from different countries to manipulate and control a common enemy, their citizenry. Thus the leaders of supposedly competing nations are regarded as friends or part of the NWO Globalist club by the USG since they are sharing techniques to manipulate and deceive their citizens to accept NWO Globalist values and changes.
Yes, the whole top echelons of the USG are based on the BIG LIE, the world's biggest charade.
THE PARABLE OF THE KING'S NEW CLOTHES IS THE BEST EXPLANATION OF THE SUBSERVIANCE AND HOMAGE PAID BY OFFICIALS TO THEIR SUPERIORS AND CONTROLLERS
It's like the "King New Clothes" fable.  If one wants to climb the USG food chain he/she must pay homage to the king publicly by making statements supporting the many absurd USG lies which is little more than telling the king how great his new clothes are when he is really naked. Doubt this, watch the Congress-critters fawn all over the Secretary of the Treasury and the head of the Federal Reserve. Some of the world most obsequious behavior that ever occurred in public was when Congress-critters paid homage to Alan Greenspan.  Of course thanks to Ron Paul and others, this spell is starting to be broken and cracks are now appearing in the veneer. 
Major mass media "talking heads" are the main propaganda dispensers for the USG and almost all of their stories are based on lies, usually big whoppers too.
If folks automatically assume that the Major Mass Media "talking Heads" are constantly lying because of their status as USG propaganda dispensers, they will be correct.
THERE ARE NUMEROUS WAYS THE USG LIES TO "WE THE PEOPLE"
STORY LINES CONFORM TO PRE-SET USG LIE FORMULAS:
I  THE BALD FACED BIG LIE (So big it is patently absurd)
II  THE OUT OF CONTEXT LIE
III  THE DUALISTIC TWIST OR NEUTRALIZING LIE
—————————————————————–
I   THE BALD FACED BIG LIE
There is the bald faced BIG LIE that Hitler and his ilk promoted, also successfully used by many other despots.  If declared enough, this BIG LIE almost always works unless the public is well informed.
Adolf Hitler with Joseph Goebbels, his Minister of Propaganda
As Adolph Hitler wrote in Mein Kampf:"…that in the big lie there is always a certain force of credibility…they more readily fall victims to the big lie than the small lie, since they themselves often tell small lies in little matters but would be ashamed to resort to large-scale falsehoods. It would never come into their heads to fabricate colossal untruths, and they would not believe that others could have the impudence to distort the truth so infamously. Even though the facts which prove this to be so may be brought clearly to their minds, they will still doubt and waver and will continue to think that there may be some other explanation.."
Note the famous quotes from Joseph Goebbels:
"If you tell a lie big enough and keep repeating it, people will eventually come to believe it. The lie can be maintained only for such time as the State can shield the people from the political, economic and/or military consequences of the lie.  It thus becomes vitally important for the State to use all of its powers to repress dissent, for the truth is the mortal enemy of the lie, and thus by extension, the truth is the greatest enemy of the State….the most brilliant propagandist technique will yield no success unless one fundamental principal is borne in mind constantly-it must confine itself to a few points and repeat them over and over…The essential English leadership secret does not depend on particular intelligence. Rather, it depends on a remarkably stupid thick-headedness. The English follow the principle that when one lies, one should lie big, and stick to it. They keep up their lies, even at the risk of looking ridiculous."
Therefore one can see how important complete control of the major mass media is to the maintenance of the current body of cumulative serial USG lies and how important that new lies be told all the time to provide the support necessary for the old lies. And one can see how important it is for the USG to use the major mass media talking heads to continue to repeatedly emphasize the same key talking points as dispensed propaganda.  And since the USG has been hijacked by the City of London Banksters, it is easy to understand why the USG uses their style of thick-headed stubborn adherence to big lies.
PULL THE JFK THREAD AND THE WHOLE CARPET OF USG LIES UNRAVELS
As numerous experts of the JFK assassination have reported, American intel spends millions of US Dollars every year to maintain the cover-up even 49 years later because if it was ever proven that the USG murdered JFK (which they did) the whole current US administration and American Intel could be driven from office.  American intel keeps using mass media mouthpieces and their specially selected and/or compromised authors to promote ghost written books which repeat absurd talking points which are super big lies and obvious whoppers to anyone who has studied the actual evidence and there is a lot of it available now, thanks to James Fetzer, Doug Horne, Jim Marrs and many other top JFK Researchers.
If this JFK thread (as Nixon called it "the Bay of Pigs thing" on phone recordings with Haldeman) was ever pulled, numerous other USG highly illegal covert operations involving murder, mass murder, drug and weapons trafficking and money laundering would be quickly uncovered and the current American Administration and Intel would collapse.
THE PRICE OF LIBERTY IS ETERNAL VIGILENCE 
The famous quote from Andrew Jackson in his farewell address on March 4, 1837: "But you must remember, my fellow-citizens, that eternal vigilance by the people is the price of liberty, and that you must pay the price if you wish to secure blessing.  It behooves you, therefore, to be watchful in your states as well as in the Federal Government."
Or the famous quote by Founding father John Adams: "Liberty cannot be preserved without a general knowledge among the people."
Or as Thomas Jefferson, another Founding Father stated so succinctly: "If a nation expects to be ignorant and free…it expects what never was and will never be."
II   THE "OUT OF CONTEXT" LIE BASED ON SELECTIVE INFORMATION
Then there is the "selective information" lie of pulling factoids out of context, where only a small part of a story is promoted as the key concept creating a completely false impression, often 180 degrees from the real truth. It is based on minimizing the real facts of the story to reduce public awareness of what really happened.  For example take one part of the 911 story.
It was boldly and repeatedly reported that both Twin Towers collapsed, but only once was it   announced that a third building, WTC 7 mysteriously collapsed after no serious damage from the supposed aircraft strikes.  It was claimed that a small fire had damaged the building to the degree it collapsed which fire experts know is complete nonsense.
This was a specially hardened and reinforced building that housed Mayor Guiliani's Emergency Management Center, and numerous intel agencies.  But the biggest problem was that WT 7's collapse was announced twenty minutes before it happened on live BBC TV by Jane Standley with the building still visible in the live video she was referencing in her report.  This was of course was smoking gun evidence that WTC 7 had to have been purposefully demoed by what had to have been pre-planted charges, and positive proof that the embedded BBC intel officer responsible for story vetting had to have provided a pre-planned storyline before it happened.
It later became apparent that the cause of this smoking gun problem was that the BBC embedded intel officer responsible forgot that the USA was still on Daylight Savings time and sent the report to be announced an hour earlier than he was supposed to.  There were reports by first responders at the scene that they were told on their radios to clear away from WT 7 because it was going to come down and were given an actual countdown. These important facts were ignored by the major mass media talking heads, and only reported by the alternative media on the Internet. This is perfect example of the major mass media getting caught telling a big whopper.  Usually they don't get caught because the masses are typically asleep at the wheel.
III   THE "DUALISTIC TWIST" OR NEUTRALIZING LIE
Then there is the dualistic twist, where basic facts are presented in a benign fashion and then a false story which runs counter is stated which neutralizes the small part of the true story first admitted to.
A typical example is when a major mass media talking head announces that the housing starts are way down, but have increased in the last month at a projected rate of a percent or two over last year, which in practical terms means no real improvement because last year was so dismal.  A story about a negative fact like the occurrence of high unemployment is allowed, but must be balanced  by including a statement such as, "but there have been over 100,000 new jobs since the President funded such and such project so the situation is improving (when a close examination would so this actually shows even more unemployment than claimed and the situation is not improving).
UNDER NEW SECRET EXECUTIVE ORDERS SINCE 911, ALL MAJOR MASS MEDIA NEWS STORIES MUST CONTAIN TALKING POINTS VETTED AND APPROVED BY USG INFORMATION OFFICERS AND ALWAYS CONTAIN A "NEUTRALIZING TWIST"
After 911, under the guise of "national security", agents of the USG approached all top news editors and informed them that all major news stories would have to be vetted and always contain a "neutralizing twist" at the end of the story to prevent the public from becoming too politically sensitized.
This meant in practical terms that stories which told the raw truth would be too disturbing to the public and result in the masses becoming too motivated to get politically involved in changing things, which would increase societal instability and thus must be mitigated.
USG INFORMATION CONTROL OFFICERS VET AND SUPERVISE ALL MAJOR NEW STORIES AND MAKE SURE THEY CONFORM TO PRE-SET FORMULAS SUCH AS THOSE LISTED IN I, II, AND III ABOVE.
Since 911 all major mainstream news has been vetted by the USG using high level "information control officers".  The only real reporting going on is by the alternative news available on the Internet, services like Drudge.report.com, Veteranstoday.com, Whatreallyhappened.com, Infowars.com, and many more of the like.
HERE IS A QUICK LISTING OF SOME OF THE USG'S BIGGEST LIES THAT CAN EASILY SHOWN TO BE FALSE AND SOME SHORT TO-THE-POINT REASONS WHY THEY ARE BIG LIES:
1-Oswald was the lone nut gunman that assassinated JFK, there was no conspiracy and the magic bullet proves it.  It is now known that JFK was murdered by a high level coup de etat originating within the JCS, and the CIA's Op40 which included Frank Sturgis aka Fiorini, E. Howard Hunt, etc. (of Room 40 Langely, Virginia fame), LBJ, J. Edgar Hoover, Alan Dulles, Ed Lansdale, GHWB and the Texas oilmen.  And it is now well known that the Warren Commission was a cover-up with at least two of the actual plotters on it making sure that the truth was well covered up by massive whoppers such as the magic bullet theory of Arlen Spectre and that Oswald was claimed to be a "lone-nut" shooter when there were at least three teams firing (from triangulated positions). Before he died Gerald Ford admitted he changed the location of the right side back wound by moving it up.  He said he did this for the good of America.
2-Martin Luther King was assassinated by a "lone-nut" gunman, James Earl Ray and there was no conspiracy.  It was proven in civil court that MLK was assassinated by a Mafia assassin working for American Intel with backup provided but not needed by rooftop located US military snipers.
3-Robert F. Kennedy was assassinated by a "lone-nut" gunman, Sirhan-Sirhan.  It is now well known that the LAPD destroyed evidence and covered up the facts, proving a massive conspiracy from the CIA since the LAPD was deeply embedded with numerous CIA agents.  Also, Sirhan's gun did not hold enough rounds to account for all the shots, proving some-one else was firing and the powder burn on RFK's skull and the direction of that killing shot proved that Sirhan could not have fired it.
4-The first NYC World Trade center bombing in the basement parking lot was instituted by the "blind Sheik" and was an act of Arab terrorism inside the United States of America. It is now well known that the Blind Sheik was set up by the FBI (as usual) and was manipulated into using real explosives next to a drum of cyanide stolen by the CIA from Louis Champon's Natural Cherry Flavoring Company in Boca Raton Florida.
5-Pan Am 103 was blown up by Libyan Terrorists.  It is now known that it was done by the International drug syndicate which was using Pan Am to bring large quantities of opiates into America for the CIA and was done to murder Tony McKee and his squad of DIA agents who were coming back to fully expose and stop this massive drug trafficking network. The aircraft was over half empty as a high ranking Div. 5 insider warned his son ahead of time who was going to be on that flight. Secret warning cables had even been sent to some diplomats instructing them not to fly on Flight 800.  The German BKA found a bomb that was going to be loaded in the baggage compartment and called the CIA to get instructions.  Aldrich Ames received the call and told them to let it go. And the rest is history.  He is spending the rest of his life in prison for that and not for the cover story of selling secrets.  He as many Intel officers in his capacity were expected to play the role of doubles as cover and this provided a means to hang hi m out to dry without exposing the truth.
6-The Murrah Building bombing was done by a Patriot dissident Timothy McVeigh who was an American domestic terrorist and we need to watch any American patriot group closely because many of them are domestic terrorists. Timothy McVeigh delivered the Truck bomb as revenge for Waco.  It is well known now that numerous high explosive charges were set inside the building by American intel assets, brought in hidden in Xerox copy boxes and set next to columns. Some of the charges failed and were seen immediately by the first responders, who pulled back until they could be disarmed and removed by a special bomb squad.  Supposedly McVeigh was a deep cover black op whose execution was faked.  Shandra Levy was rumored to have been given a job at the Bureau of Prisons because of her relationship with rep. Gary Condit, who was on the House Intel Committee.  As the highly possible rumor goes Shandra knew that McVeigh's execution was faked and told one of her girlfriend's which was picked up on a tapped phone call, necessitating extra-judicial sanction.
7-Pam Am 800 was blown up by static electricity in the main fuel tank which was not grounded properly. Any FAA licensed aircraft mechanic who has worked on 747s will tell you this is an absurd claim. Insiders have known for years the main fuel tank was hit by an out of control Aegis missile as Flight 800 passed through a USN drone/missile testing area.  What is not known is if the trajectory had been tampered with by cyber hackers who are free-lance terror assets who were assisting those who hijacked America's political system to push America into a police state.
8-From a cave in Afghanistan with his cell phone, Osama Bin Laden ran 19 Arab hijackers who hijacked four passenger aircraft and two of his men flew two of them into the Twin Towers of the World Trade Center.  Osama was so crafty that he was able to completely shut down all NORAD air defenses and ground to air missile systems protecting the Pentagon and NYC. It is now well known that the a high cabal located in the USAF, Neo-cons and Mossad instituted the 911 attacks. Steve Pieczenik, MD, Ph.D. has gone public naming names and Alan Sabrowsky, Ph.D. has also gone public stating who did it both testimonies are available on youtube.com). It is now well known that the BIGGEST TERRORIST in America is the USG itself. It stages false-flag terror attacks to motivate the American public to support draconian laws which they would never otherwise ever even consider.
Note these famous quotations:
"The easiest way to gain control of a population is to carry out acts of terror.  [The people] will clamor for such laws if their personal security is threatened." —Josef Stalin
"Terrorism is the best political weapon for nothing drives people harder than a fear of sudden death."  —Adolf Hitler
"The best political weapon is the weapon of terror. Cruelty commands respect. Men may hate us. But, we don't ask for their love; only for their fear."  —Heinrich Himmler, Commander of the SS and also controlled the Gestapo
9-We must attack Iraq because they invaded Kuwait as a raw act of imperialistic aggression.  It is now well known that Iraq invaded Kuwait because of the slant-drilling by Kuwait into Iraq's main oilfield and a statement by US Ambassador April Gillespie that if Saddam went after Kuwait, the USG would ignore such, considering it an internal Arab affair and none of the business of the USG.  This was all part of a very sophisticated long term deep black covert op.
10-Al Quaeda is behind all the continuing wars and terrorism in the Mideast and we must keep fighting there until they are eradicated.  We know that American intel started Al Quaeda (aka el cia duh) as a counterbalance to the Soviets invasion of Afghanistan.  Since then the USG and American Intel have continued to arm and use "el cia duh" to do much of its dirty work in the Mideast as needed to keep the Mideast in turmoil.
11-The Taliban are murdering and torturing women and behind a great deal of terrorism against the US Military and we must increase our war efforts in Afghanistan to eradicate them. The USG never gave a damn about human rights here, or anywhere else and has only used such phony concerns as a precept for attacking Afghanistan to gain control of the poppy harvest, which was nearly eradicated by the Taliban.
12-We must invade Iraq and go all the way to Baghdad this time because Saddam keeps violating the no fly zone and is acquiring weapons of mass destruction, including yellow cakes and nukes.  It is now well know that Saddam never had nukes, destroyed his nuclear development program, de-activated his bio-weapons and nerve agents and never had or tried to acquire "yellow cake".
13-We are fighting in Afghanistan and Iraq to establish freedom and democracy.  This is a huge whopper. It is now well known that the USG is fighting this war on because of the political influence of the Neocons, Aipac and the Israeli Lobby.  It has been a surrogate war for Israel and the oil companies.
14-We need Homeland security to keep us safe from all the Arab terrorist cells now present inside America.  There is are potential terrorists everywhere in America now and many are vets, returning vets with PSTD, Ron Paul supporters, Christians, tax protesters or dissidents of any kind against the US Government.
15-We need the TSA to prevent frequent hijacking of US passenger aircraft.  Without the TSA, there would be numerous hijackings and bombings of American passenger aircraft. The only attempted bombing of US passenger aircraft have been setups by American Intel which failed such as the underwear bomber who was able to get on the flight despite no passport because Intel officers ordered the ticket agents to let him on.
16-We need the Patriot Act and NDAA to protect America from Arab terror cell and domestic terrorists like Patriots and gun-owner extremists, Ron Paul supporters, vets and returning vets and tax protesters. The only ones that these legal unconstitutional abortions protect are the criminals in the USG that are using the false cloak of national security and the law to provide a complete block to their exposure and prosecution. The only real terrorists are in the USG, American Intel and their assets, and those that pull their strings.
17-The surge in Iraq has work and almost all opposition to democracy there has been eradicated.  Actually, the situation was temporary and has now deteriorated into a civil war.  Iraq has been essentially bombed back into the Stone Age, the country gas been de-industrialized and ruined, and millions have been either murdered or driven out.  And technically as a recent Investigator General's report has shown, all the many billions spent to rebuild Iraq have been wasted.  Essentially America has lost the war in Iraq and its soldiers have paid a horrendous price for this illegal war of acquisition which was somebody else's war in the first place (Israel's war).
18-We have to bail out the Big banks because if we don't the whole financial system will crash and this would be the greatest disaster for America in History. If we bail them out prosperity will return to America. Baloney, these two monstrous multi-trillion dollar bailouts went exclusively to large Wall Street banks, foreign Banks and a few select favored Corporations.  None of the money went to the American people that the bailouts were supposed to go to.  In fact Paulson changed his mind a day after receiving the bailout to use the money some place other that what he requested it for in the first place.
19-Obama's new health-care plan is being set up to provide affordable health care for all citizens. Many experts have said that it will double insurance rates, raise overall health care costs, put far too much money in the pockets of big pharma, and provide a means for the USG to get into the bank accounts of the citizens. Some see it as creeping socialism, Soviet-style and a huge hidden new tax on Americans.
America's Biggest Liar ?
20-Bernie Madoff was a single aberration in the Wall Street financial system. He has stated in a recent interview that the Wall Street Banks had to know what he was doing and implied that this type of Ponzi scheme is standard in many wall Street firms.
21-Osama bin Laden was killed by US Navy Seal in his hiding place in a midnight raid and his body was buried at sea as dictated by Islamic practice. This operation was ordered by President Obama and is considered a great victory for him.  It has been well established that Osama Bin laden (aka Col. Tim Ossman) was seen going in and out of the Pentagon many times, was considered a strong American Intel asset, had Marfan's disorder and either died from Chronic kidney disease or was killed in a bombing in 2001. It is now considered very dangerous to work as a black op in any capacity for the USG because they eat their own like mama guppies when they are done with them or want to cover something up.
22-The Federal Reserve must continue to provide money to Americans on a continuing basis as a Qualitative Easing every month in order to bring back prosperity to the American economic system.  The money is almost exclusively going to the big Wall Street banks and foreign banks to counterbalance huge debit balances to cover any expected derivatives bubble.  None of the money has been going to American consumers who seem to be experiencing constantly rising costs of all consumer costs.
23-Aurora, Sikh Temple and Sandy Hook mass shootings were all caused by the availability of military style assault weapons sold to law abiding Americans and if these guns were restricted and taken from law abiding gun owners, these mass shootings would not occur any more.  Many experts know for a fact these were deep black covert operations using a variety of sophisticated methods including spy-chiatrist and prescribed SSRI's, MK-Ultra Mindkontrol techniques, advanced psycho-tronics and other means to stage these pre-planned events whatever they have been.  And it is hard to determine that since Homeland Security has locked down all the evidence under "national security", so the public has access to very little of it.
24-We need to pass major new laws to restrict guns in order to keep people safe.  More guns in the hands of properly trained law abiding citizens have been proven to reduce major crimes of violence. Conceal carry laws have worked well to accomplish this in the states that have adopted them and these states require classroom training and live shooting training too.  It is a known fact that the cities and states with the most severe gun laws have the most organized crime (are the most mobbed up) and have the most violence.  Severe gun control and gun grabbing is strongly related to high violence. DC is perhaps the most corrupt city in America, even more so than Chitown, NYC and LA due to its crooked politicians who are almost all sociopaths and serial liars.  Most come in of modest means and leave extremely rich with many millions.
25-The second Amendment was included by our Founding Fathers to protect the rights of hunters to use guns for hunting. No, it was included to protect American Citizens from any Government tyranny or foreign invasion.
26-Homeland Security needs to buy a lot of ammo because its officers and agents need it for frequent target practice. Baloney, it is buying two billion rounds to use against American Citizens they define as "domestic terrorists" which is just about anyone that believes in the American declaration of Independence, US Constitution, Bill of Rights and Rule of Law.
27-Homeland Security needs 2700 armored personnel carriers which are IED and mine resistant in order to protect American Citizens from terrorists.  Baloney. The USG needs these to stifle dissent and to serve its own needs as the biggest domestic terrorists in America which is what the USG is. 
CONCLUSION:  BIG GOVERNMENT LIES MUST BE FULLY EXPOSED    
No one likes to face the tragic reality that their Government is based on lies and is using the Law as a shield to protect itself from exposure, or that it is using  "national security" to keep its crimes secret, or that the major mass media is dispensing its propaganda which is little more than a constant stream of perpetual serial lies. But folks need to face this hard truth and expose it in a civil fashion with friends and family and in their community of associations.
Fortunately we now have the world-wide Internet providing many excellent daily sources of independent, alternative news.  So far major USG efforts to fully restrict and censor these alternative bnews sources have failed. If "we the people" exert enough pressure against any such proposals in Congress, any censorship and prevention of such sites can likely be avoided.
The bottom line is this: a well informed society is the only means of changing things. Truth that is discovered and disseminated to the masses is the first step in stopping all the USG RICO serial and capital crimes by the USG, a government which has obviously been hijacked by the offshore Banksters from the City of London Financial District, the major international corporations they serve, and those old black nobility family families behind the curtain that pull all the levers, the true Wizards of Oz.  Unless folks wake up and become informed of these BIG GOVERNMENT LIES, change things inside the beltway, and establish a new administration based on truth, getting any honesty from the USG  is about as likely as pigs flying.
Social Psychologist with Doctorate from Major Midwest Big Ten University. Retired after serving the community for over 36 years during which time there were numerous contacts with those associated with Intel and Law Enforcement.
ATTENTION READERS
We See The World From All Sides and Want YOU To Be Fully Informed
In fact, intentional disinformation is a disgraceful scourge in media today. So to assuage any possible errant incorrect information posted herein, we strongly encourage you to seek corroboration from other non-VT sources before forming an educated opinion.
About VT
-
Policies & Disclosures
-
Comment Policy
Due to the nature of uncensored content posted by VT's fully independent international writers, VT cannot guarantee absolute validity. All content is owned by the author exclusively. Expressed opinions are NOT necessarily the views of VT, other authors, affiliates, advertisers, sponsors, partners, or technicians. Some content may be satirical in nature. All images are the full responsibility of the article author and NOT VT.