One of the Most Valued Human Traits is the Ability to Laugh at Death
This will make you laugh – I promise.
[Editor's Note: Dear Folks, Erica had sent this along, one of the surprises that can come from our commenters, getting gems like this out of the blue. She surmises that this was written in a sports bars somewhere with most of the family present, the funny ones anyway. It is a classic. I thought 'polio legs' was the punch line at first, only to discover that it was just the warm up. Enjoy. I surely did.  BTW, NY Times obits are expensive, so this was not only a labor of love, but had some bucks behind it. Thanks Erica…Jim W. Dean]
Published on NYTimes.com from May 3 to May 4, 2013
_________________________________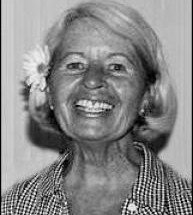 Waffle House lost a loyal customer on April 30, 2013. Antonia W. "Toni" Larroux died after a battle with multiple illnesses: lupus, rickets, scurvy, kidney disease and feline leukemia.
She had previously conquered polio as a child contributing to her unusually petite ankles and the nickname "polio legs" given to her by her ex-husband, Jean F. Larroux, Jr. It should not be difficult to imagine the multiple reasons for their divorce 35+ years ago.
Two children resulted from that marriage: Hayden Hoffman and Jean F. Larroux, III. Due to multiple, anonymous Mother's Day cards which arrived each May, the children suspect there were other siblings but that has never been verified.
She is survived by the two confirmed, aforementioned children. Her favorite child, Jean III, eloped in college and married Kim Fulford who dearly loved Toni. They gave Toni three grandchildren: Jean IV, Ann Elizabeth and Hannah Grace. Toni often remarked that her son, Jean III, was "just like his father," her ex-husband, Jean Jr., a statement that haunts her son to this day.
Hayden Hoffman married Stephen Hoffman of Charleston, WV. They reside in Bay St. Louis and carry the Larroux family torch forward through each and every Happy Hour, Mardi Gras and cocktail party.
Steve's quiet demeanor has provided ballast to an otherwise unstable family. They have two children: Charlie and Helen (the 'well-behaved' child Toni's daughter, Hayden deserved to raise.)
Toni had four sisters: Patty the elder, Kitty the cook, Lisa the lawyer and Piji…the…piji. The sisters dearly loved Toni; spoke often and as one family photo proved, all preferred Clairol blonde in a box #47.
They inherited their unique sense of humor from their father, Paul "P. Marvelous" White. He gave nicknames to all the girls such as "tittle mouse", "kittycat", "bouder bounce", "spooker mcdougle" and "poodle pump."
Toni previously served on the board of the Hancock County Library Foundation. Ironically, the only correspondence she has received from the library since her resignation has been overdue notices for several overdue books (a true statement.) Between ICU, dialysis and physical therapy she selfishly refused to make the time to return them.

Her last words were, "tell them that the check is in the mail…" Toni retired from GE Plastics after Hurricane Katrina in 2007. She would undoubtedly cherish the thought of having the former smoking room named in her honor.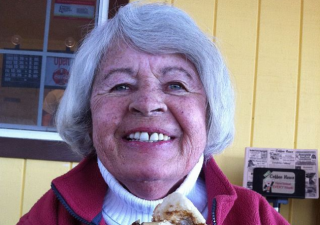 Any sendoff for Toni would not be complete without mentioning her lifelong buddy Myrtle Jane Wingo Haas and her adopted daughters Liz & Laura.
She considered Aaron Burrell to be a distant grandson (not distant enough) and had the ability with family pets to usher them toward heaven at an unrivaled pace.
Her favorite activity was sipping hot tea on her back porch with friends seated around her porch ensemble from Dollar General (again, not kidding.)
This will be sold to the highest bidder at her garage 'estate' sale. Any gifts in her honor should be made to the Hancock County Library Foundation (to the overdue book fund.)
Visitation will be held at Edmond Fahey Funeral Home in Bay St. Louis, Mississippi on Saturday, May 4th at 9:30 a.m. Her memorial service will begin at 11:00 a.m. (another true statement.) It will be led by Rev. Curt Moore of Orlando, Florida, a questionable choice for any spiritual event, but one the family felt would be appropriate due to the fact that every time Toni heard Curt preach she prayed for Jesus to return at that very moment.
On a last but serious note, the woman who loved life and taught her children to 'laugh at the days to come' is now safely in the arms of Jesus and dancing at the wedding feast of the Lamb. She will be missed as a mother, friend and grandmother. Anyone wearing black will not be admitted to the memorial. She is not dead. She is alive.
Edmond Fahey Funeral Home is in charge of the arrangements.
_________________________________
Jim W. Dean was an active editor on VT from 2010-2022.  He was involved in operations, development, and writing, plus an active schedule of TV and radio interviews.
ATTENTION READERS
We See The World From All Sides and Want YOU To Be Fully Informed
In fact, intentional disinformation is a disgraceful scourge in media today. So to assuage any possible errant incorrect information posted herein, we strongly encourage you to seek corroboration from other non-VT sources before forming an educated opinion.
About VT
-
Policies & Disclosures
-
Comment Policy
Due to the nature of uncensored content posted by VT's fully independent international writers, VT cannot guarantee absolute validity. All content is owned by the author exclusively. Expressed opinions are NOT necessarily the views of VT, other authors, affiliates, advertisers, sponsors, partners, or technicians. Some content may be satirical in nature. All images are the full responsibility of the article author and NOT VT.