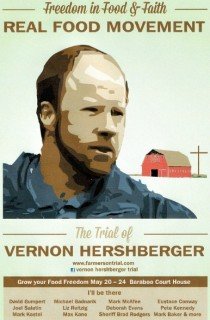 For live updates on the Vernon Hershberger trial, and a discussion about freedom with G. Edward Griffin, tune in to Truth Jihad Radio today, 3 to 5 pm Central Time. Listen live via AmericanFreedomRadio.com
Vernon Hershberger is Wisconsin's best-known accused criminal. Like Jesse James, Butch Cassidy, Pancho Villa, Billy the Kid, and plenty of others, Hershberger has developed an "outlaw mystique." People are flocking to Baraboo, Wisconsin to witness his trial, which begins today.
But Hershberger hasn't killed anyone. He hasn't even robbed anyone. His alleged crime: Milking cows and selling the milk – without cooking it first.
Actually, it isn't Vernon Hershberger who is supposed to cook the milk. It's the big corporate distributors, who own the commercial pasteurization systems. Hershberger is supposed to sell only to them – not to his neighbors.
Guess who wrote THAT law?
The big corporate interests, increasingly owned/controlled by the New World Order bankster elite, want to control every bite of food, every gulp of beverage, that is ever produced anywhere. Once they own GMO patents on every last crumb of food on earth, they'll start buying up the mouths and digestive systems of the people who eat the food.
If you doubt that this is precisely where things are headed, read Bill McKibben's Enough. Once human "gene-fixing" technology starts up, and the gene genie is out of the bottle, humanity will be gone, and a race of genetically-engineered, corporate-patented robot slaves will replace it.
Food freedom advocates are a growing segment of the resistance movement against the corporate takeover of Planet Earth. More and more people are standing up and saying "no Frankenfoods, please!" The New World Order control freaks are fighting tooth-and-nail against truth-in-labeling, since nobody will buy anything that admits it has GMOs in it.
Standing tall against the hostile takeover of Earth is Vernon Hershberger, who decided he'd rather risk jail than go along with the program. Hershberger is a Christian from an Amish background, a father of nine children, a hard-working small farmer who purchased his farm fifteen years ago and began supplying some of his neighbors with food items they requested.
Vernon Hershberger has never had a cavity or significant medical problem in his life – perhaps due to his traditional Amish-style diet with its heavy dose of raw milk. According to Weston A. Price Foundation and its Campaign for Real Milk, raw milk and other unprocessed foods are the best antidote to the "diseases of civilization" – starting with cancer and heart disease – that kill so many of us. Dr. Joseph Mercola and many other nutrition experts agree; for the short version, read his article "Why You Shouldn't Drink Pasteurized Milk."
Regardless of their position on the raw-vs.-cooked-milk debate, all nutritionists agree that raw milk poses a vastly smaller hazard to human health than does alcohol – or even soft drinks. But unlike alcohol and soft drinks, raw milk clearly does have positive nutritional value.
So this issue is a no-brainer. Let people drink what they want!
In 2003, Hershberger and other Wisconsin farmers met with the Wisconsin Department of Agriculture, Trade and Consumer Protection (DATCP) to work out a way to sell raw milk legally. The meeting was a success; Cheryl Daniels of DATCP made an administrative ruling that allowed the farmers to sell raw milk using private contracts. So Hershberger set up a small store on his premises, usually staffed by one of his relatives or neighbors, that sells a wide variety of healthy food – including raw milk.
I have shopped at his store many times, and once bought a "cow-share" in his raw milk cooperative. If that makes me a criminal, so be it.
Suddenly, in 2009, the federal FDA leaned on state regulators to curtail raw milk production. In June 2010, DATCP goons raided Hershberger's farm, poured blue dye in his milk tanks, surrounded his barn and store with crime scene tape, and sealed his coolers and told him to never open them again. Since then, the wheels of injustice have been slowly turning – culminating in today's trial. If convicted, Hershberger could face a $10,000 fine and three years in prison.
Compounding the family's difficulties, on April 13th, 2013 a fire burned down their machinery shed and chicken house. (Donate to the Hershbergers' rebuilding efforts here.)
The Farm-to-Consumer Legal Defense Fund is assisting Hershberger's defense. If you can't make it to Baraboo to attend his trial (directions here) please consider contributing at:
Farm-to-Consumer Legal Defense Fund (donate on-line here)
8116 Arlington Blvd., #263
Falls Church, VA  22042
(703) 208-3276 (Monday – Friday, 10 a.m. – 6 p.m. Eastern)
Also, please write to the Sauk County District Attorney (no relation of mine!) asking her to drop the case.
Patricia Barrett, Esq.
Sauk County District Attorney
Sauk County Court House
515 Oak Street
Baraboo, WI  53913Fax (608)355-3282
[email protected]
Dr. Kevin Barrett, a Ph.D. Arabist-Islamologist is one of America's best-known critics of the War on Terror.
He is the host of TRUTH JIHAD RADIO; a hard driving weekly radio show funded by listener donations at Patreon.com and FALSE FLAG WEEKLY NEWS (FFWN); an audio-video show produced by Tony Hall, Allan Reese, and Kevin himself. FFWN is funded through FundRazr.
He also has appeared many times on Fox, CNN, PBS, and other broadcast outlets, and has inspired feature stories and op-eds in the New York Times, the Christian Science Monitor, the Chicago Tribune, and other leading publications.
Dr. Barrett has taught at colleges and universities in San Francisco, Paris, and Wisconsin; where he ran for Congress in 2008. He currently works as a nonprofit organizer, author, and talk radio host.
ATTENTION READERS
We See The World From All Sides and Want YOU To Be Fully Informed
In fact, intentional disinformation is a disgraceful scourge in media today. So to assuage any possible errant incorrect information posted herein, we strongly encourage you to seek corroboration from other non-VT sources before forming an educated opinion.
About VT
-
Policies & Disclosures
-
Comment Policy
Due to the nature of uncensored content posted by VT's fully independent international writers, VT cannot guarantee absolute validity. All content is owned by the author exclusively. Expressed opinions are NOT necessarily the views of VT, other authors, affiliates, advertisers, sponsors, partners, or technicians. Some content may be satirical in nature. All images are the full responsibility of the article author and NOT VT.