The Crimean War Brought Us the First Photo Journalist War Correspondents…the VT Multimedia People of their Day

[Editors Note: Allen Roland reminded us this week of the Battle of Britain, where he featured Canadian pilot John MaGee's famous poem High Flight. It joggled my memory of an early full multimedia piece I had done for VT in November of 2011 where I featured the famous war poets as an example of how multimedia could bring this old history back to life.
The High Flight poem was part of elementary school education back in my day, and I can remember sitting in the class connecting with my first poem emotionally. I had put a good bit of work into this piece, going back to find a great photo of MaGee with his plane and the other great wordsmiths, and some fabulous videos featuring the early wartime photojournalists' work.  This is one of my favorites, a classic VT piece now. I hope the new readers enjoy…JD]

This is a special treat for our VT readers. We live in troubled times with men at war in far away places, so that scourge continues to linger with us.

For a change of pace I thought we would feature some bards of the past today, to share their talents at telling and also showing us their own stories. I think you will enjoy it as I had a lot fun pulling it all together.
Let's start with Tennyson's Charge of the Light Brigade and Kipling's The Last of the Light Brigade. We don't see much of this older war poetry, so I felt that a more modern multimedia presentation might help snag a new generation.

Among all the blood and gore of war we find a few oases from time to time. They help us to rise above the ugliness and horror, or paper it over.
One of our veteran treasures has always been our war poems and poets. But unfortunately it seems they are becoming less visible year after year, almost like a slow motion death sentence.
This part of our military heritage is in danger of being lost to future generations, and some older ones, too, if never have any exposure to it. We have to make this 'cool' again.
The old adage "out of sight…out of mind", has lasted through the years because it is true. I fear these poetic time capsules may end up as the private enjoyment of professional researchers if something is not done to breath some new life into them.
VT
is a big web site with a wide variety of readers. We can afford to devote some space and attention to parts of our heritage that we see slipping through the cracks. So this poetry series, like the
Weekend Concert
, is going to hunt down the gems to share with you.
We will cover the well known classics, of course, like In Flanders Fields by John McCrae in 1915…and High Flight, by John Gillespie Magee, Jr, a nineteen year old WWII, RCAF pilot who died shortly after writing his.


Rather than just putting their work up I will dig around for you to pull some background material together on the people.
After all, VT is about people, what they did, felt, and how they died, and then our contribution…how they are remembered. Please join us at the War Poems and Poets front as we will need some networking assistance to be successful.
I like to kick off a new series with something special, unusual, maybe even never seen by most of you before because I know that is the best way to have you checking back.
As my past readers know, I am partial to using full multimedia as much as possible and that is what I have for you today.

Rudyard Kipling is one of the English world's best known poets, primarily due to his being in most of our school curriculums. Gunga Din was my first exposure.
Kipling was a prolific writer, short stories, poetry, and novels like Captain Courageous. He was even a major children's book author with his Jungle Book series.
He was born in India and had those wandering English genes which took him all over the world, including living in Brattleboro, Vermont and beginning his family there. So we Americans lay claim to a part of him, Vermont anyway.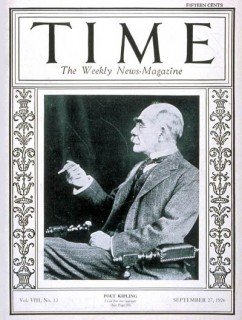 His war poetry was born out of his winter holiday travels to South Africa where he became well known and later a very public supporter of the English in their Boer War effort.
His later life brought the tragedy of losing his young son in WWI, an even sadder tale because when the son failed the eye exam dad used his influence to get him into officer's training anyway, at age seventeen. Did the father feel guilty, yes…for the rest of his life.
I have a dual selection today for Kipling, another intimate story with a twisted history, part of it famous and the ending less so.
The most well known English war poem of all time is Tennyson's Charge of the Light Brigade in 1854, during the Battle of Balaclava.


Remember, I told you this was about the people, and Kipling's 1891 poem has a contemporary tie in with treatment of veterans today. Our own Gordon Duff is one of the few living veterans today to know what being on a bayonet charge is like.
His platoon of Marines in Vietnam was sent on a mission to recover some wounded-KIA marines when they ran into a hundreds of NV regulars and they could not reach the Marines a few dozen yards in front of them.
They divided their forces, sending half around to make a right flank attack and the rest to charge bayonets across 300 yards of open ground into automatic weapons fire. This a classic VT Vietnam story.
One of the powers of poetry is its universal themes. Hence, when we bury the knowledge they are passing onto us, we are actually burying ourselves.
Years later, the last remaining Light Brigade survivors found themselves living in poverty in 1891. Ah, homeless vets…anybody ever heard of that? Mind you, this was in a country where everyone knew Tennyson's poem by heart.
Some good souls mounted a nationwide fundraiser for them to comfort their remaining days. It garnered a mere 24 pounds, less than one pound per million Brits then.
A disgusted Kipling wrote a sardonic poem, a setting where twenty veterans were visiting Tennyson to tell him of their plight.
I picked this one because it is a timeless theme, the public's 'here to today, gone tomorrow' attention and appreciation for even it's combat veterans.
Veterans benefits are a front and center chopping block item when pork barrel budgets search for something to trim.
Vietnam veterans have certainly suffered at the hands of an ungrateful country, especially the legions of rightly connected draft dodgers who ended up in politics and government. Their torments continue with scandals like the Los Angeles VA facility, and the weapons poisoning that they claim is not happening.
Rather than just post the poem I am giving you a multimedia presentation. It has more flavor to it. I liked the delivery and thought you might, also. And my regards to the creators. The audio begins at 45 seconds.
[youtube CH4bPbczUDg] – Kipling – The Last of the Light Brigade – reading
I promised you a multimedia presentation and we are not done yet. One of the reasons I have chosen the Crimean War as a starting point for series like History of the Charge, and this one, is because war coverage multimedia began here with these pioneering battlefield photographers.
This next piece has a fabulous selection of high resolution Roger Fenton photographs with a great original acoustic guitar accompaniment by Rich Cheyne.
The luxury of multimedia is being able to show you the men, let you look into their eyes, and they yours. Enjoy. This is a gem. Remember to always select the top resolution. This one is 360p…WAY much better than 240p.
[youtube l6ppLqPSgQ4] – Roger Fenton Photos with Guitar
Next up is some classic movie footage with narration using material from written participant accounts. I had not seen this done before. It gives us a bit of an insider's, a more intimate view…360p quality.
[youtube uj5bilCQEDU] – 6 mins – Old movie footage with period narration
Dear Folks, Our first commentor below, JC, found this gem of a clip, so here it is. I had found an similar old recording of Tennyson reading his poem, but is was barely audible so I did not use it. But if anyone finds any gems like this, pass them along please.
[youtube Qke-zjjYssM] – Actual real trumpeter reenactment in 1890
The VT Jim W. Dean Archives are just one click away…Military, Intel, American and Southern heritage, the Arts, Politics, Mideast, War, History and now War Poems and Poets.
gta 5 news
snap fish coupon code
dish network careers
brain tumor symptoms
proflowers coupon code
meeting agenda template
monster high wiki
bobble water bottle
christmas tree tax
frozen yogurt recipe
Jim W. Dean was an active editor on VT from 2010-2022.  He was involved in operations, development, and writing, plus an active schedule of TV and radio interviews.
ATTENTION READERS
We See The World From All Sides and Want YOU To Be Fully Informed
In fact, intentional disinformation is a disgraceful scourge in media today. So to assuage any possible errant incorrect information posted herein, we strongly encourage you to seek corroboration from other non-VT sources before forming an educated opinion.
About VT
-
Policies & Disclosures
-
Comment Policy
Due to the nature of uncensored content posted by VT's fully independent international writers, VT cannot guarantee absolute validity. All content is owned by the author exclusively. Expressed opinions are NOT necessarily the views of VT, other authors, affiliates, advertisers, sponsors, partners, or technicians. Some content may be satirical in nature. All images are the full responsibility of the article author and NOT VT.