VT Files Complaint against UCLA with NCAA 9 AM CST
By Robert L. Rosebrock

LOS ANGELES – The National Collegiate Athletic Association (NCAA) is responsible for overseeing and equally enforcing the strictest of rules for all members of its prestigious collegiate organization.
Only recently, the NCAA pursued an investigation that led to the indefinite suspension of one of the nation's top football players and an assistant coach at the University of Alabama, the reigning National Football Champions and currently ranked number one in this year's polls.
The player, Ha Ha Clinton-Dix, borrowed $200 from conditioning coach, Corey Harris, after his car was broken into and burglarized, including cash, prior to his planned trip to visit his parents in Florida.
Clinton-Dix repaid the coach but the NCAA considers this such a serious violation of their rules and regulations that officials deemed that both deserved to be harshly penalized.
What the player and coach did was not illegal by any stretch of common law, but it is unauthorized by NCAA's strict rules, and therefore punishable.
On the other hand, a United States District Judge recently entered a Federal Judgment against the Department of Veterans Affairs (VA) for engaging in illegal real estate dealings between non-Veteran entities, including the California Board of Regents – University of California, Los Angeles (UCLA), which is a member of the NCAA.
In a lawsuit filed by the ACLU on June, 8, 2011, Federal Judge S. James Otero ruled on August 29, 2013, that nine separate entities entered into agreements with the VA involving Federal property are "unauthorized by law, and therefore void."
Unauthorized by law is unlawful, and unlawful is illegal. Void is invalid, and invalid is illegal. Illegal activity is criminal activity.
This particular criminal activity involved the misappropriation of billions-of-dollars of Federal VA property that was exclusively deeded as a National Home for disabled Veterans.
This scandal evolved into the biggest and most corrupt land-fraud swindle in American history that resulted in some of the most heinous crimes against humanity – the persecution and torment of disabled and homeless Veterans — the very men and women who sacrificed their own safety and well-being for the greater good of all others.
UCLA, the reigning National Baseball Champions, controls acres of VA property valued at mega-millions for its massive state-of-the-art stadium, batting cage and parking lot.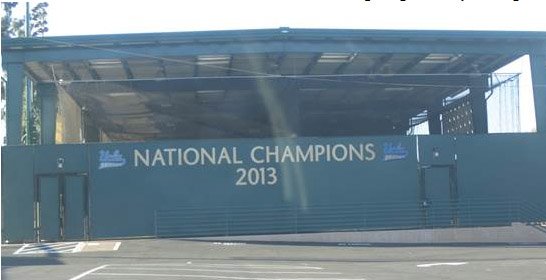 UCLA's illegal agreement allows the university to maintain one of the premiere collegiate baseball stadiums in the nation, which is an unfair advantage over other members in the NCAA,
Even worse, this and the other eight illegal agreements essentially deprives disabled homeless Veterans from obtaining the proper housing and care they need from war injuries they suffered while defending our nation's safety and freedom.
UCLA officials recently filed a Motion with the Federal Court seeking to vacate the Judgment against their illegal agreement. Their claims are feeble and fatuous at best, and disgraceful and disingenuous at worst.
The NCAA needs to move swiftly into investigating this case and deliver appropriate sanctions.
Remember the Penn State scandal where administrative leaders suppressed the truth about an assistant football coach who molested young boys? The winningest coach in collegiate football came down quicker than a quarterback sack, once the truth was exposed. The NCAA issued major sanctions, and rightly so.
Correspondingly, the NCAA must immediately begin serious inquiries into this atrocious land-fraud scam and hold UCLA as accountable over their multi-million dollar illegal use of Federal VA property orchestrated between VA officials and their own Athletic Department, as they do over a $200 loan between an assistant coach and a player.
In all the NCAA infractions over all the years, be they major or minor, not one involved the misuse of Federal VA property deeded on behalf of disabled Veterans, and none ever deprived a single homeless Veteran from getting proper housing and care.
In spite of this being the largest VA property in the nation, Los Angeles is our nation's capital for homeless Veterans.
This is a shameful national disgrace, not a celebrated national championship.
It's time for NCAA officials to play hardball with the reigning NCAA baseball champions.
And to level the playing field, we tossed them a softball. Now, they need to step up to the plate and knock one out of the park on behalf of America's disabled and homeless Veterans, who've already been thrown out at "Home."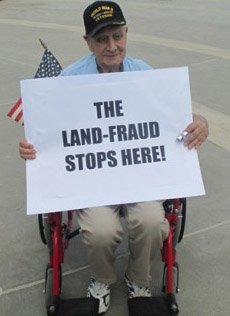 And lest we've forgotten, Henry Waxman, the U.S. Congressman whose District includes this Federal VA property, investigated Major League Baseball players for purportedly using steroids instead of investigating major land fraud by his own alma mater.
There's a lot more to report on this tragic crime and we will reserve it for the NCAA investigation. If they ignore a comprehensive and uncompromised investigation with appropriate sanctions, then the NCAA needs to be seriously investigated.
Please contact the NCAA and demand a full investigation into the unlawful use of UCLA's baseball stadium on Veterans property
The National Collegiate Athletic Association
700 W. Washington Street
P.O. Box 6222
Indianapolis, Indiana 46206-6222
Phone: 317/917-6222
Fax: 317/917-6888  
God Bless America and the Veterans Revolution
U.S. Army, 1965-67, Schofield Barracks, Hqs., U.S Army, Hawaii. Director, The Veterans Revolution, Captain, the Old Veterans Guard, and Director, We the Veterans.
ATTENTION READERS
We See The World From All Sides and Want YOU To Be Fully Informed
In fact, intentional disinformation is a disgraceful scourge in media today. So to assuage any possible errant incorrect information posted herein, we strongly encourage you to seek corroboration from other non-VT sources before forming an educated opinion.
About VT
-
Policies & Disclosures
-
Comment Policy
Due to the nature of uncensored content posted by VT's fully independent international writers, VT cannot guarantee absolute validity. All content is owned by the author exclusively. Expressed opinions are NOT necessarily the views of VT, other authors, affiliates, advertisers, sponsors, partners, or technicians. Some content may be satirical in nature. All images are the full responsibility of the article author and NOT VT.