Michael Hedges Died Young – but Remains a New Age Guitar Legend
… by  Jim W. Dean, VT Editor

[Note: When I came aboard VT I asked Gordon for editorial leeway to plant seeds for a VT Living section to break up the hardcore material that is our mainstay here. Being a long time arts aficionado he readily agreed. We both understood the value of escapism and its therapeutic salve for tired souls.
As I was testing multimedia templates for series potential one of my first ideas was to cherry pick the best entertainment on YouTube and then the wonderful job that Vimeo was doing with their HD material.
So I decided to mix the best of the old with the best of the new, including some of the lesser known artists to expose them to a new audience.
I had been a fan of and owned some Michael Hedges material but had completely missed the scattering of some of this live gigs on Youtube. Only then did I grasped what I had missed never seeing him play live…and instantly decided to share it with our VT audience.
We will be running this once a year for as long was we are here, and hopefully after. This is timeless…one of a kind talent, and it is a pleasure to rerun this again.]
____________________________
The video quality varies due to being done years ago and shot by audience people. This is the best I could find and I am grateful to have it.

Windham Hill artist, Michael Hedges died in 1997 at age 43. Like some other music greats he was killed in a car accident on a rain-slick S-curse in Mendocino County, north of San Francisco.
He went off a 120 foot cliff, was thrown out of the car, and not found for several days afterward. It was an ignominious end to a one and only music talent. but it will be my pleasure to share some of his highlights I have found.
I was introduced to Windham Hill records by an audiophile friend. Their recordings were popular with high end music people, especially for testing speaker quality.
Years later, when I began wanting to do music videos I revisited some of the music and heard Michael Hedges' Aerial Boundaries for the first time, which blew me away. But until I began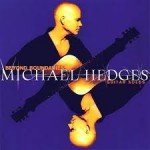 researching for this piece I had never even seen a photo, much less an actual performance.
Like many music greats Hedges did not fit the traditional mold. He studied classical guitar at Phillips University in Oklahoma, followed by a music composition degree at the Peabody Conservatory in Baltimore, Maryland. In 1980 he ended up at Stanford University's renowned electronic music department.
He covered a wide range of musical styles, used a variety of instruments including a guitar harp, and was known as a dynamic performer, which you are about to see. There is, was, no one like him. As the brothers would say back in those days, "That cat is from another planet".
Will Akerman, co-founder of Windham Hill Records discovered him in a Palo Alto club and signed him up. Said Ackerman:
"Michael tore my head off. It was like watching the guitar be reinvented."
Besides him unique playing technical style, he pushed the composition barriers back even further creating works for a mistuned guitar, for sounds that no one had ever heard before. To all the contemporary guitar greats of that time, he was simply amazing.


My work here was sifting through the available YouTube material. And, as always, trade offs have to be made on video quality for the older material, much of it shot with lower resolution cameras, and where the audio is not studio quality. So if you see something like that, I chose it as a representation of one of the best samples I could find of his early work.
I will start with what I felt were the bests, to give you newbies a feel for what a rare talent he was. If you want more, leave me a not in the comments section and I will add more. The audio levels on these are all over the place, so adjust as necessay. Watch your video settings, too….360p is a lot better than 240p.
First off we have some a middle career piece on his guitar harp at the Wolf Trap National Park in Vienna, Va., 1986. He has the gift of gab with his audience. If you have never heard him before this Because it's There piece demonstrates both his unique music compostion and technical playing style.
[youtube jN3439l4HR0] Because It's There…Wolf Trap
A very Michael version of Gimme Shelter. He is experimenting with his wardrobe during this period 🙂
[youtube prF59Qp1mTc] Gimme Shelter
An enegetic performance of Ritual Dance next at the Bottom Line Club, 1990.
[youtube OPB-ShG_UWY] Ritual Dance
Down and dirty again at the Bottom Line…Silent Applications, 1990
[youtube mD3UpgUoBRA] Silent Applications
Next the Dillon classic, All Along the Watchtower. I did even know that he sang until I was doing this. His love of the music, total at ease with his performing provided an intimate connection with his audiences. Dave Matthews was my favorite version of this old song until I saw this Hedges one, both great in their totally different styles. Add in Jimmi Hendrix and make it three.
[youtube 7SJTyYVCu7o] Summerville Theater, Mass. 11-27-97 Less than a month before he died.
At the end of his career, I call it his space ship hat years. Here is an E. E. Cummings rendition I Carry Your Heart, done at the Billboard Live, West Hollywood, 09-24-97, a few months before he died.
[youtube c1QCz6K2F6w] I Carry Your Heart
Here is a jam with Windham Hill basist Micheal Manning, playing Ignition.
[youtube ETZZyXmJr98] Ignition
This one was a big surprise, shot in my home town theater, The Mahawie, now a fancy Arts Center. I did not know he had played there til just now. The song is Breakfast in the Field. And I promise folks, you have never seen anyone play a guitar like this before.
[youtube F1QD-FPvRO4] Breakfast in the Field
Back to Artist's Profile with Ball T'shuvah… Interview – Lost guitar story
[youtube WUsfc8a4cYY] Bal T'shuvah
We close at The Mahawie again, Rickover's Dream, just incredible.
[youtube ncVeCggyQKQ]
Jim W. Dean was an active editor on VT from 2010-2022.  He was involved in operations, development, and writing, plus an active schedule of TV and radio interviews.
ATTENTION READERS
We See The World From All Sides and Want YOU To Be Fully Informed
In fact, intentional disinformation is a disgraceful scourge in media today. So to assuage any possible errant incorrect information posted herein, we strongly encourage you to seek corroboration from other non-VT sources before forming an educated opinion.
About VT
-
Policies & Disclosures
-
Comment Policy
Due to the nature of uncensored content posted by VT's fully independent international writers, VT cannot guarantee absolute validity. All content is owned by the author exclusively. Expressed opinions are NOT necessarily the views of VT, other authors, affiliates, advertisers, sponsors, partners, or technicians. Some content may be satirical in nature. All images are the full responsibility of the article author and NOT VT.