It's been a long week – Time for a change of pace break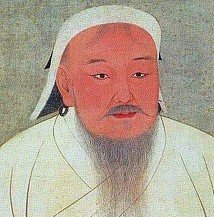 People have long denounced any glorification of combat as a desecretion  of human life. But that is a rather a selective evaluation as it assumes that all disputes could have been avoided by better diplomacy…and I somewhat agree. Sometimes it could have, but not always.
Genghis Khan, after making his bones by bring most of China under his control had had enough of putting cities to the sword and torch routine. As warriors get old they oftern morph into businessmen.
A ruined city filled with a few starving widows and orphans is not much of a tax base, or a useful way station for a traveling army needing provisions.
He became an astute psychological operations commander in chief. When beseiging a city his goal was to take it intact…with no destruction and no losses among his troops, a wonderful morale builder I might add. He developed a method of accomplishing this which I call his 'Scarlet Letter'.
He would entreat the city fathers to surrender the city intact and agree to pay the Khan's taxes, or he would "burn it to the ground, wear your women as robes, and sell your childern into slavery." Because he had already done this a number of times it was never condsidered an idle bluff.
Those city fathers who heeded the advice became part of a flourishing empire and became all the richer for it. And soldiers love their emporer even more when they do not have to die for him.
While David Irving has been smeared as a holocaust denier, that is definitely not the case. His problems began when he simply said the in all of his research he had found no documents laying out a program to exterminate the Jews. This was considered by the Whoish Lobby as Irving being a Hitler apologist, again something untrue.
What he had found was an order by Hitler that when Leningrad was finally taken, that every living soul was to be put to death as a deterrent for other Soviet cities following its example of resistance.
The Jewish Lobby did finally add Irving to their list of victims, a la using their own Hebrew Klan method of a public lynching, but the trial transcript stands as a monument to Jewish Lobby treachery and a low point of British jurisprudence. Irving is still kicking, and writing.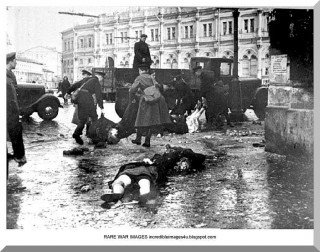 My point with the above missive is that combat can indeed be glorious if it can indeed save your people from the fate that awaited the Leningrad defenders if they had come up short in their task.
And this takes me to our early WWI fighter pilots who dueled in the skies over the trenches of France where the life expectency for a new pilot could be less than a week. And if you had the bad luck to run into an ace, on either side, it could be over in a matter of seconds.
The History Channel Youtube below has the best of the best examples of WWI gladiator combat in the skies as men dispatched their enemies to a firey death with no parachutes going down in their planes, yet allowed others escape whose guns had jammed and thus were not a worthy kill for being defenseless.
There are some incredible stories here. For example I had no idea that the German tri-wings, in a head on pass, could turn on a dime and brings their guns to bear on the passing opponent and shoot him down. But alas the eight to one odds were too much for the German pilot below as the British patrol pilots were all aces themselves.
Moral of the story?…if you find yourself in a desperate fight, people like this are good to have around. You have a better chance then of telling stories, versus having them told about you. Personally, I prefer the former…as you can see.
________________________________
[youtube SfgL82jlA-4]
________________________________
Jim W. Dean was an active editor on VT from 2010-2022.  He was involved in operations, development, and writing, plus an active schedule of TV and radio interviews.
ATTENTION READERS
We See The World From All Sides and Want YOU To Be Fully Informed
In fact, intentional disinformation is a disgraceful scourge in media today. So to assuage any possible errant incorrect information posted herein, we strongly encourage you to seek corroboration from other non-VT sources before forming educated opinion. In addition, to get a clear comprehension of VT's independent non-censored media, please read our
Policies and Disclosures
.
Due to the nature of uncensored content posted by VT's fully independent international writers, VT cannot guarantee absolute validity. All content is owned by the author exclusively. Expressed opinions are NOT necessarily the views of VT, other authors, affiliates, advertisers, sponsors, partners, or technicians. Some content may be satirical in nature. All images are the full responsibility of the article author and NOT VT.
About VT
-
Comment Policy