Governments in the so-called developed world have become almost completely subordinate to the agendas of parasitical
corporations that regularly undermine public health with the deregulated spewing of huge arrays of toxins into our air, our water, our food, and our very persons. Health Canada and the Food and Drug Administration in the United States have basically become extensions of companies like Monsanto, makers of an ecologically disastrous deluge of GMOs, suicide seeds, and cancer-causing glyphosate contamination. In league with compliant professional associations of dentists and doctors, governments continue to advance the Fluoride Deception based on the myth that a volatile neurotoxin is good for us when diffused in our tap water. An important element in the industrial production of nerve gas, nuclear weapons, aluminum, freon, rat poison, and anti-depression drugs, fluoride is injected into public drinking water without informed public consent. This practice, with its cumulative damage to our brains, thyroids, kidneys, and bones, is pressed forward on a dubious claim, initially sold by psy ops guru Edward Bernays, that mass fluoridation prevents cavities in teeth.
The mounting dangers to public health go on and on. Smart meters, cell phones and Wi Fi invade us with electromagnetic radiation. Antique nuclear energy plants surround us as Fukushima continues to spew the stuff of accelerating nuclear criticality into ocean, air and groundwater. Vaccines are making many recipients sick. Our skies are criss-crossed with chem trails as it becomes more and more clear that we have all been rendered human guinea pigs in a vast array of sometimes lethal scientific experiments. The most toxic pollution of all is the 24/7 contamination of the mental environment. This mental pollution exposes people to steady streams of diversion and disinformation. The disfigured venues of mass communication  regularly reassure us that war is peace, that environmental desecration provides the gateway to economic prosperity. The very instruments of our growing enslavement are made to appear as keys to liberation.
The worldwide spread of hydraulic fracturing, fracking, forms the basis of a more recent assault on the fragile ecology of public health and environmental equilibrium. Fracking in its present form goes back to techniques introduced by Halliburton Corporation in 1949. The aim of fracking is to extract oil and gas deposits that would not otherwise be accessible. The most destructive hallmark of fracking is its transformation of huge quantities of fresh water into contaminated water. The scale of the poisoning of water is vast, as in the drilling of hundreds of thousands of wells throughout the massive Marcellus Shale formation covering much of Pennsylvania, New York state, and Ohio. So radical are the negative effects of fracking to public health and the environment that it is made to seem that much of North America is indeed being rendered a sacrifice zone not fit for human habitation.
This article, "Frack Attack on Lethbridge Alberta Canada," embodies my effort to raise the alarm. In the first instance I want to inform my own
community, here in southwestern Alberta just north of Montana, what to expect from the fracking industry and the government. At the time of this writing some of the residents of my home town have been aroused to oppose fracking within municipal boundaries. This urban frack attack would see the sinking of three flaring wells within two miles of my home institution, the University of Lethbridge. The discourse on urban fracking has not yet extended to significant public discussion in response to the targeting of arid southwestern Alberta on the eastern slopes of the Rocky Mountains. This relatively pristine countryside is being slated for a frack attack of perhaps comparable magnitude to that which is now taking place on Pennsylvania. 
The drama is unfolding within the jurisdiction of the Alberta Tar Sands, the biggest and dirtiest single oil extraction project on the North American continent. One consequence of this geopolitical fact is that the government of Alberta has basically been rendered a wholly-owned subsidiary of the US national security state as well as the Texas-based and China-based energy cartels. Canadian Prime Minister Stephen Harper's deep connections to the Bush-Cheney-Netanyahu networks of militarized energy cartels are well known.

The article begins with a global overview of the confrontations being generated when citizens discover that their home regions have been rendered sacrifice zones for poisonous fracking operations. In recent months in New Brunswick, for instance, Micmac Indians mobilized with especially resolute determination to protect their ancestral territories from frack attacks emanating from a Texas based company, SNW, working in partnership with the NB-based Irving Oil Company.
I am sharing this article with the larger worldwide audience of VT. My view is that its contents are representative of many similar missives aimed at bringing public education to citizens who have every right and imperative to do all we can to avoid becoming victims of wanton frack attacks. These frack attacks are bearing down on many communities on several continents with Blitzkrieg-like speed and intensity. The problem of how to oppose mass fracking puts us face to face with the dilemmas before us in these dangerous times when government have become agents of harm to, rather than protection of, public health and environmental integrity.
________________________________________________

Goldenkey's proposal to frack municipal land in West Lethbridge offers yet another example of just how aggressive and
emboldened the fossil fuel industry in Alberta has become now that it has seized near monopoly control of Premier Alison Redford's provincial government. This frack attack on the urban ecology of Lethbridge would see the sinking of three wells within a two-mile radius of six schools, one of them the University of Lethbridge.
The swelling opposition to this plan to industrialize the growing and thriving residential settlement in West Lethbridge is part of a worldwide pattern. The well-known British Columbian scholar and pundit, Robin Mathews, has characterized this transnational phenomenon in his exposé of the behind-the-scenes skullduggery deployed to bring about the juridical defeat of Jessica Ernst, the environmental biologist who took the Encana Corporation to court for contaminating her well water in Rosebud Alberta. Mathews writes "All over the globe fracking is fouling drinking water, lowering water tables, and endangering agriculture… All over the globe people are being affected, waking up alarmed, calling for investigation, research, regulation, laws to control fracking."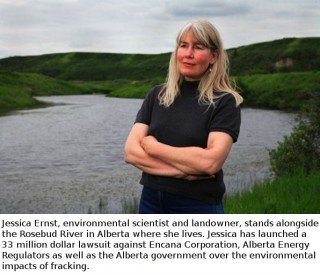 Recognition that fracking is dangerous to public health, environmental integrity, and agricultural enterprise is reflected by the fact that this extractive activity has been banned in a number of countries including France, South Africa, Bulgaria, Czech Republic, and Luxenbourg. Fracking has also been prohibited in the Canadian province of Newfoundland. Similarly, there is intense popular opposition to fracking in many jurisdictions whose governments do officially embrace it— governments like those of New Brunswick, Pennsylvania, Romania, and some districts of England.  The resort to direct action in these and other jurisdictions demonstrates that some citizens are made to feel so disempowered that the only remaining venue of meaningful opposition to fracking is to throw their bodies in the path of the onslaught.  
Here in southwestern Alberta the frack attack on West Lethbridge is but one small part of a much larger array of initiatives aimed at using this new technology to extract oil and natural gas from a massive shale formation extending from northern Montana to ranchlands south of Calgary. The heavy stock market speculation associated with this envisaged influx of extractive industrialization into the southwestern corner of Alberta is generally described as the Alberta Bakken play. Lethbridge is described in the business press as the most likely "anchor" city to provide industrial and residential support for fracking operations.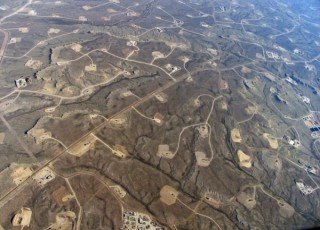 The limited water resources of arid southwestern Alberta pose the most obvious obstacle to transforming a zone of large-scale agriculture, recreation and education into a gas-rush-boom-and-bust economy marked by the proliferation of many thousands of fracking wells.  To draw out the fossil fuel embedded in shale, deep horizontal drilling is followed at every well by the injection of literally millions of gallons of chemical-laced water that is volatile enough to explode open and shatter the existing subsurface geology.  This feature of fracking contributes to the increased levels of earthquake activity that has been observed in many jurisdictions where the landscape has been subjected to this very intense form of industrial violence.
The rapid injection of these millions of gallons of supercharged chemical can be repeated up to 18 times for each well. Some of the used fracking brew will be retrieved at the wellheads to be hauled away for use at other sites and eventually transported to toxic waste dumps. Where are such dumps to be located? Who will operate them? Where will the makers of the Alberta Bakken play find the water they need? Will the fracking companies be charged for the true commercial value of fresh water or will they be subsidized at tax payers expense? What fresh water will be left for other users? Will there be any fresh water available any more once southern Alberta is fracked out? Such basic questions are especially pertinent in a region where irrigation farming and very large feedlots are already overtaxing the limited run-off coming from eastern slopes of the Rockies, already an area where glaciers are quickly shrinking.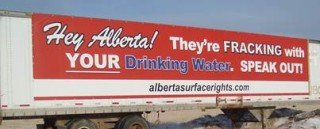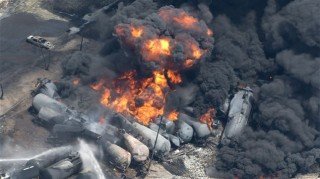 The dangers of transporting poisonous and highly flammable industrial products to and from fracking wells and then to refineries and markets was dramatically illustrated last summer by the lethal train disaster at

Lac-Mégantic Quebec. The worst explosions involved train cars carrying product from the Bakken shale formations in North Dakota.

As The Globe and Mail reported in December of 2013, "Bakken oil is potentially more hazardous than conventional crude because it is lighter and contains a number of gases and compounds, such as methane and propane, that can make it much more corrosive and volatile."
Let me conclude by picturing Lethbridge's intake pipe to the water treatment plant on the Oldman River. This aquatic intake is already bringing into our community's tap water toxins used in the industrial chemistry of extracting oil and gas from upstream wells, including those presently operating on the nearby Blood Tribe reserve. How many in the Lethbridge area have already determined that our tap water is not to be trusted as a safe source for drinking, bathing, and the hydrogenation of crops and domesticated animals? What would be the consequences for our tap water and public health of expanding the number of fracking wells in our local watershed to hundreds or even thousands of times the present number?
As we citizens push for a ban on urban fracking in Lethbridge, we should bear in mind that we have still not been given any real accounting of the huge transformations the makers of the Alberta Bakken play have in mind for us. We need to begin by demanding a moratorium on all future fracking projects in southwestern Alberta until the current inhabitants are given a full accounting of what has already been done and of plans being made for oil and gas exploration and exploitation in our region. We need to be especially attentive to preserving what is left of precious and dwindling fresh water supplies, an imperiled resource essential to the renewal of all life on earth

.