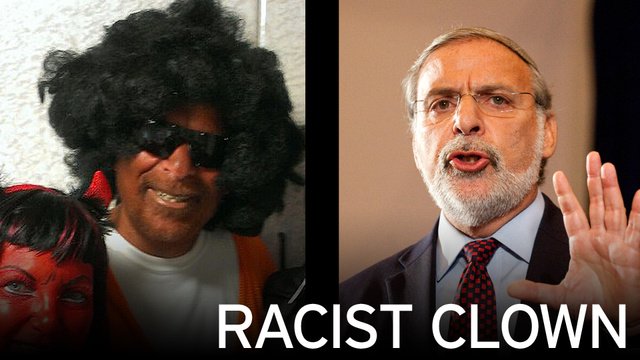 Anti-boycott Israel bill halts in NY Assembly
Dov Hikind, formerly of the Terrorist Jewish Defense League, originally submitted the bill
Leading the way against academic terrorism

[ Editors Note:  America Israeli Lobby extremists continue to dig a hole for themselves, proving once again that they are under the Talmudic sway that the rest of us are here to serve 'you know who'. 

Their immediate response to the American Studies Association (ASA) Israeli academic institution boycott resolution, was a terror campaign against all New York universities, to defund them for having 'unapproved  opinions' by the Lobby.

But the Zios must be scraping the bottom as they had to dig up old terror group member Dov Hikind of the Jewish Defense League to introduce the bill.  Obviously he must rate throw away status when the Lobby holds Abe Foxman back from unleashing some claim that the boycott is the forerunner to exterminating all Jews…and "Send your money in now so the ADL can save you all."

Abe Foxman

With each failed effort, fear of Jewish Lobby Terror is going down and more and more stories of their past nasties will begin to surface…and there are many of them.

Their gentile targets will finally figure out what they should have long ago, that there is safety in numbers, and they should take the offense when attacked.

That the push back is coming from academia and at the State political level is also a good sign. The Lobby has had a commissar network all throughout American universities, doing ongoing sniff tests on all of their people as to whether they are 'pro Israel' enough.

And if not pro-Israel enough, they are subject to the lynch mob treatment by drumming them out of their careers like they did with VT's own Dr. Kevin Barrett, but they failed with Dr. Kevin MacDonald at California State University where the effort blew up in their face. The ADL was caught red-handed with the rope in their hands.


Dr. Barrett got the Hebrew Klan rope treatment

So brighter days are ahead folks, but only for people who fight back. Please, those of you in New York State or who grew up there, get on the phones and call your state reps to see which way they are leaning and treat them accordingly.

If a lot of calls start coming in, more than in the past, a buzz will get started that "the times they are a changing".

This is the quickest and cheapest counterstrike that we have in our hands now. Once targets of the Lobby see that there is support now for fighting back, they will not go down on their knees as quickly as in the past.

The politicians will begin go see a definite risk in being one of their stooges. We have been waiting a long time for this.  Carpe Diem…Seize this Moment… Jim W. Dean ]
______________________________
Anti-boycott Israel bill halts in NY Assembly
– 
First  published  February 5,  2014 

–





A bill targeting academic groups that boycott Israel has halted in the New York Assembly after it passed the state's Senate.

Last week, the New York Senate passed the legislation which seeks to cut state aid to universities that take part in a movement to boycott Israeli academic centers.

However, three committees in the state's Assembly did not discuss or vote on the legislation and Assembly woman Deborah Glick, the chair of the Higher Education Committee, said on Monday that the bill will be reworked and will come back to the Assembly in a different form.
"We hope that New York legislators have realized that it is inappropriate for them to deny state funds to universities in an effort to silence political speech activities that they personally disagree with. The right to engage in human rights boycotts, used to oppose segregation in the US South, the Apartheid regime in South Africa, and now aimed at achieving equal rights for Palestinians, is protected by the First Amendment," said Dima Khalidi, Director of Palestine Solidarity Legal Support and Cooperating Counsel with the Center for Constitutional Rights.
Barbara Bowen, President of the Professional Staff Congress (PSC), also said, "This dangerous legislation must not become law."
The bill was introduced by Assemblyman Dov Hikind, a Brooklyn Democrat who is also a former member of the Jewish Defense League that was classified as a "terrorist group" by the FBI in 2001, and state Sen. Jeff Klein, a Bronx Democrat, after the American Studies Association overwhelmingly voted in December to ban Israeli universities from collaborating with their campuses.
The organization said the reason behind its decision was that the Israeli institutions were "a party" to policies "that violate human rights" as Israel's "violation of international law and UN resolutions" continues and the "impact of the Israeli occupation on Palestinian scholars and students" is well-documented.
The ASA is the largest and oldest association involved in interdisciplinary studies of American culture and history.
___________________________________
Jim W. Dean was an active editor on VT from 2010-2022.  He was involved in operations, development, and writing, plus an active schedule of TV and radio interviews.
ATTENTION READERS
We See The World From All Sides and Want YOU To Be Fully Informed
In fact, intentional disinformation is a disgraceful scourge in media today. So to assuage any possible errant incorrect information posted herein, we strongly encourage you to seek corroboration from other non-VT sources before forming an educated opinion.
About VT
-
Policies & Disclosures
-
Comment Policy
Due to the nature of uncensored content posted by VT's fully independent international writers, VT cannot guarantee absolute validity. All content is owned by the author exclusively. Expressed opinions are NOT necessarily the views of VT, other authors, affiliates, advertisers, sponsors, partners, or technicians. Some content may be satirical in nature. All images are the full responsibility of the article author and NOT VT.