by Hardy Stone
 There are few people on earth who understand total commitment like the present and former members of United States Armed Forces. The cost of freedom often involves pushing your family, friends, and neighbors past normal levels of mental and physical strain. As a result, the cost of service to our Nation often leaves veterans with permanent injuries.
Currently, over 20 veterans and/or servicemen per day commit suicide. Every single day. They can no longer find a way to deal with the scars of their dedication. If you don't know a veteran who has committed suicide, you will.
Because of their injuries, most of these disabled veterans are no longer fit for military service, but as a result they are not fit for civilian service either. How can a person who lives with constant nightmares of surprise attacks or unforeseen explosives being anywhere at anytime, or who looked through the scope of a rifle and watched a life end, or who lost a limb, or damaged their brain, be expected to work a nine-to-five job like nothing happened? How can a person with ten sick days a year make all their necessary weekly mental or physical health care appointments? This is tragic and wrong on many levels, but feeling badly about it won't make it right.
The Service Disabled Veteran Owned Small Business (SDVOSB) program was developed with these challenges in mind. It is designed to offer veterans a chance to compete for meaningful work as business owners and provides the only cure for desperation–hope. The best way to help a disabled veteran is to offer them opportunity, flexible time schedules and hope. Without hope, the pain too often becomes too much to bear.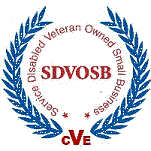 One Connecticut Veteran who carries these burdens is Doug Fleming, sole owner of Douglas P. Fleming, LLC (Fleming). Doug Fleming has been rated by the Veterans Administration as a Total, Permanent, and Severely Service Disabled Veteran. He suffers from multiple physical injuries — and perhaps worst of all — from Post Traumatic Stress Disorder (PTSD). To Fleming, the SDVOSB program has been a true "life saver."
After years of successfully completing a variety of construction projects for multiple government agencies, Fleming learned that the State of Connecticut was attempting to support the SDVOSB industry by funding the "Dive Locker Project" on the Navy base where he  once had served, Sub Base New London in Groton, Connecticut.
To Fleming, this was an ideal scenario to get public support for Disabled Veterans. What could be better than a local SDVOSB being the company that performed a contract funded by  Connecticut tax payers, ultimately ending with a state of the art building in support of operations on the base where he had proudly served?
Most importantly, this project offered him the opportunity to hire fellow local veterans, and other SDVOSB's. Unfortunately, since the day the contract was executed, working on the "Dive Locker Project" has been the exact opposite of what Fleming and fellow veterans were expecting.
On a professional level, Navy military and civilian employees in the Public Works Department have openly and subversively repeatedly questioned the legitimacy of Fleming's injuries. They have verbally and physically assaulted Fleming. They have repeatedly attempted to create confusion and fear on his job site. They have egregiously violated OSHA and other safety regulations.
In short, instead of taking into account and working with Fleming's Service-Connected Disabilities, the Navy has preyed upon and aggravated those disabilities, especially his severe PTSD. Worse, when Fleming has exposed these abuses to higher – level Navy management, he has been told that it is he and his SDVOSB Company that are the problem.
The issues are spun or are completely covered up to hide these abuses.
Multiple employees of Fleming's company (some who have quit their jobs) have stated that the Dive Locker Project has become "an extremely hostile work environment." Why?
On behalf of all veterans and active servicemen, Fleming is hopeful that this forum will help get these questions answered. The SDVOSB program must succeed. It is critical for a national problem that affects all of us and should only be expected to get worse.
No one deserves to be bullied–least of all our Disabled Veterans. They served us; now we need to serve them. Over the next several weeks, we will release statements identifying the past, present, and ongoing abuse by the Navy. This abuse, primarily directed at the SDVOSB owner and primarily focused on the disabilities directly resulting from his service to the United States, but also towards his staff and subcontractors has been systematic, psychological, and at times, even physical.
 Assault and Battery Against a Disabled Veteran by Navy Personnel
 On August 12th, 2013 Fleming was onsite for discussions of unforeseen construction conditions. Navy's Contracting Officer's Representative and Senior Supervising Engineering Technician James Besse and Construction Manager Ensign Laramie entered the site at approximately 1400 hours. Seven of Fleming's employees were present.
After reviewing the unforeseen construction issues, James Besse began a tirade directed at  Fleming. Besse was screaming and carrying on to such a level that Fleming's employees started to move away from the construction area. Fleming asked Besse, "What is the problem?" Besse, approximately 12 feet away, turned and charged at Fleming, screaming, "You're my f**ing problem!"
As Besse continued to charge at Fleming and close the distance, he clenched his fist, gained momentum, and struck Fleming in the face and continued to throw punches, striking Fleming, while John Kelly, Site Supervisor, jumped in between to pull Besse away. Besse continued his assault, both verbally and physically, until Fleming and all his employees left the construction area. Besse continued hurling vulgarities, including disparaging remarks about Fleming's disabilities.
In the coming weeks, more examples of Navy's systematic abuse will be forthcoming.
Hardy Stone is the editor/publisher of VetLikeMe, the nation's only publication devoted to service disabled veteran owned business.
ATTENTION READERS
Due to the nature of independent content, VT cannot guarantee content validity.
We ask you to
Read Our Content Policy
so a clear comprehension of VT's independent non-censored media is understood and given its proper place in the world of news, opinion and media.
All content is owned by author exclusively. Expressed opinions are NOT necessarily the views of VT, other authors, affiliates, advertisers, sponsors, partners or technicians. Some content may be satirical in nature. All images within are full responsibility of author and NOT VT.
About VT
-
Read Full Policy Notice
-
Comment Policy