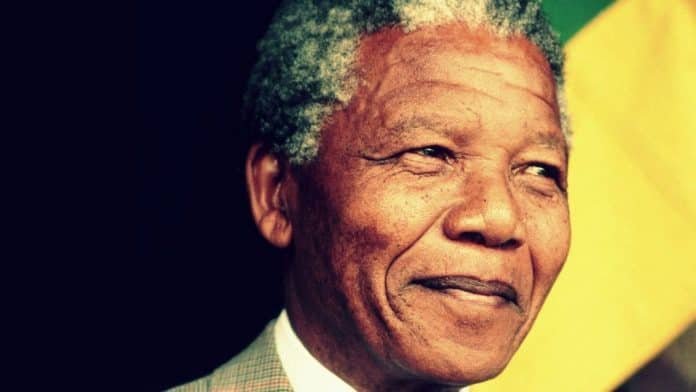 DISCLOSURE: VT condemns the horrific tragedy committed by the NAZI Party against Jewish Citizens of Europe during Word War II known as the "Holocaust". VT condemns all racism, bigotry, hate speech, and violence. However, we are an open source uncensored journal and support the right of independent writers and commentors to express their voices; even if those voices are not mainstream as long as they do NOT openly call for violence. Please report any violations of comment policy to us immediately. Strong reader discretion is advised.
---
By Jonas E. Alexis
It has been more than two months since Nelson Mandela passed away. The New York Times extolled him as "one of the most extraordinary liberation leaders Africa, or any other continent, ever produced."[1]
The Times moved on to say that Mandela triumphed "without the blood bath so many had predicted and feared."[2]
The British newspaper the Daily Mail declared that Mandela's "courage in the face of persecution made him the most potent symbol of the struggle against apartheid, and an inspiration to millions in his country and billions beyond."[3]
The Washington Post opined that Mandela's "heroic life and towering moral stature made him one of history's most influential statesmen…"[4] The New York Sun added that Mandela's
"life reminds us of, among other things, the fact that each generation hands up its giants…The travail of South Africa and the triumph that Mandela did so much to deliver will for all time be one of the towering stories of the 20th century."[5]
USA Today said something similar: "Mandela's charisma, stoic optimism, and conciliation toward adversaries and oppressors established him as one of the world's most recognizable statesmen of the 20th century and a hero of South African democracy."[6]
Peter Oborne of the British newspaper The Telegraph even went further and compared Mandela to Jesus Christ:
"There are very few human beings who can be compared to Jesus Christ. Nelson Mandela is one. This is because he was a spiritual leader as much as a statesman.
"His colossal moral strength enabled him to embark on new and unimaginable forms of action. He could lead through the strength of example alone."[7]
Mandela, continued Oborned, "did not preach violence. He advocated peace."[8] Similar accolades can be found in the LA Times, the Houston Chronicle, CNN, Fox News, etc.[9] Max Boot of the neoconservative magazine Commentary highly praised Mandela.[10] South African Rabbi Dovid Hazdan lamented:
"You are talking about a person larger than life with so much compassion for every person in this country and even the entire world. Our world is poorer for the loss of a great leader and icon of peace."[11]
Nelson-Mandela-Speech-Prison-Biography-Quotes-Biography-Family-Wife-Winne-Timeline-News-Life-Bio-Smile-760x570David Sacks, author of Jewish Memories of Mandela, added: "A true giant is gone. He was a light whose presence informed the spirit of a democratic South Africa."[12]
Mandela will even have a high school named after him in Brooklyn, New York.[13] Mayor Rahm Emmanuel declared that "the world is better because [Mandela] lived."[14]
Why has much of the world eulogized Mandela as a patron saint? Was he really a peaceful protester, or was he following an age-old revolutionary movement which got its start in subversive ideology and bloody terrorism?
Mandela, throughout the 1940s, took part in the revolutionary movement called the African National Congress (ANC), which progressively made an alliance with the South African Communist Party (SACP), a largely "Jewish body":
"Two rising SACP leaders, Joe Slovo and his wife, Ruth First, had mentored and brought on the young Mandela, enrolled him in the Party, and positioned him as the obvious next leader of the ANC."[15]
Soon enough,
"The SACP decided that the only way to head off the threat from the PAC was to launch an armed struggle against the apartheid government. The Party accordingly set up Umkhonto we Sizwe (Spear of the Nation, or MK).
"It was a 100% Communist organization and Mandela, who headed it, was then on the Party's Central Committee, a fact about which he lied both in court and later in his autobiography."[16]
A liberal Christian by the name of Albert Luthuli, who headed the African National Congress and "who believed in nonviolence, was brutally shunted aside to allow Mandela to become the new leader."[17]
The ANC party, of course, quickly moved to violent ideology to get things done. When Mandela got out of jail in 1990, "ANC activists thrust into his hand a speech they had prepared, full of Marxism-Leninism, threats of nationalization and so forth. The tone was utterly militant and hard line. Mandela loyally read out the speech…
"But the major fact was that the exiled ANC had decided that if negotiations were to happen they had to reposition the party by going on a charm offensive and adopting an attitude of racial reconciliation.
"This suited Mandela perfectly—these were clearly his own feelings anyway—but had the party decided the opposite he would undoubtedly have followed the opposite policy.
"What no one can take away is that Mandela showed extraordinary courage and fortitude through twenty-eight years in jail, and he adopted a generous attitude of forgiving his enemies when he emerged from jail. These are the two things that people all over the world remember."[18]
Yet even after Mandela embraced a new façade, his deep-seated ideology never faded away. Oxford scholar R. W. Johnson writes:
"His presidential term started with the Shell House shootings when ANC militants on the roof of the ANC's headquarters used AK-47s to gun down Inkatha marchers in the streets of Johannesburg. Mandela simply refused to hand over either the murderers or their weapons and attempted to justify this wholesale murder.
"Then, early in his term, the government laid off all the country's most experienced teachers, a blow from which the school system has never recovered.
"Mandela's administration also saw the passage of perhaps the most extreme labor laws in the world and radical affirmative action laws which saw the ruination of the civil service by the mass replacement of skilled whites and Asians by mainly unskilled Africans. The civil service has also never recovered."[19]
In the same vein, scholar Timothy J. Williams made the case that
"Mandela was personally involved in the targeting and timing of terrorist bombings that took place during his imprisonment. Even a group as left-leaning as Amnesty International refused to grant Mandela political prisoner status because of the obviously violent character of his ideology and his actions.
"His African National Congress party ran a horrific camp for political prisoners in Angola, with daily torture and murder, often by the "necklacing" technique, whereby a gasoline-filled tire is placed around the neck of a victim and set ablaze. Virtually all the victims of this particular horror were blacks.
"Within South Africa, on direct orders from Winnie and Nelson Mandela, the ANC targeted not only whites, but also black civil servants, teachers, lawyers, and businessmen—essentially anyone who imagined a post-Apartheid South Africa that differed from the one mandated by the Marxist ANC.
"Even simple black peasants who refused to carry out terror attacks were treated as enemies. Thus, just as the terroristic FLN killed far more Algerians than did the French during the Algerian war for independence, the ANC was the leading cause of death, by far, for black South Africans throughout the period of Apartheid."[20]
It was declared that the ANC also got involved in other violent activities:
"Emboldened, the ANC tackled cruel potato farmers and brought them down too. Soon it was organizing consumer boycotts all over the country, and often winning. At the same time, it was behind the ceaseless protests against the pass laws for women while winning stunning victories in the Treason Trial and elsewhere."[21]
But according to Scholar Stephen Ellis and Russian historian Irina Filatova, the Communist Party should be blamed for this activity. The Communist Party, indeed, provided the subversive resources and even led others to attack their perceived enemies.[22]
Under Mandela's presidency, AIDS grew at an exponential rate, and by the time he got retired, "30 percent of young black mothers were infected with the virus."[23]
Johnson concludes that Mandela's
"work for children was prodigious and merited every positive adjective. But there were queries about the way the Mandela Foundation was run. Increasingly, foreign celebrities were milked of large sums—at least $1 million a throw—in order to dine with Mandela and be photographed with him.
"A number of extremely dubious characters paid these sums in the hope of sanitizing their image, including the Liberian warlord, Charles Taylor, who had been judged of having committed crimes against humanity.
"The outpouring of world grief and tributes to Mandela has no time for any ifs or buts, let alone the many qualifications which apply to his political career."[24]
BIO-MANDELA-WINNIE-JOE SLOVOAnother awful truth that must be pointed out is that Mandela got some of his training from Mossad agents, just a few months before he was arrested in 1962. He was trained by those agents in "judo, sabotage and weaponry."[25]
When Mandela would visit Israeli circles in the Middle East, Haaretz told us that "He greeted our men with 'Shalom', was familiar with the problems of Jewry and of Israel, and gave the impression of being an intellectual."[26]
Of course, the Mandela Foundation denied that he had received training from the Mossad,[27] but they still have yet to refute the fact that Mandela had its feet firmly planted in revolutionary activity.
After it was discovered in the Nelson Mandela Centre of Memory that Mandela was actually a wolf in sheep's clothing, Rian Malan of the Spectator declared,
"By day, he was or pretended to be a moderate democrat, fighting to free his people in the name of values all humans held sacred. But by night he donned the cloak and dagger and became a leader of a fanatical sect known for its attachment to the totalitarian Soviet ideal."[28]
In his own manuscript, which he had written while in prison, Mandela made it quite unambiguous:
"If force will advance [the struggle], then it must be used whether or not the majority agrees with us."[29]
According to Malan, this is Stalinism in plain language. As Malan puts it,
"Who determines the course of struggle? It is the communist vanguard, imbued with higher wisdom derived from the gospel of dialectical materialism. And if the majority talks back, they must be smashed. As they were in the final bloody phase of the struggle here. And everywhere else in Planet Soviet."[30]
This is not far-fetched, and even Mandela sympathizers such as Zakes Mda of Ohio University, who actually met Mandela, declared that Mandela "was a fire-breathing revolutionary who would quote Marx and Lenin at the drop of a hat…"[31]
In short, Mandela's violent movement would have been almost impossible without Communist and other subversive movements. Nadine Gordimer (Jewish South African Nobel laureate, political activist, and writer) helped edit Nelson Mandela's speech during the Rivonia Trial and dedicated much of her Nobel Prize money to the Congress of South African Writers, an organization that claims to fight racism in South Africa.
Former South African Jewish judge and prosecutor Richard Goldstone, who regularly kept in touch with Mandela and who opposed Israel's war crimes but later backed away from his position because of too much pressure from Jewish organizations, wrote,
"From Mandela's first days as a young lawyer, however, individual Jews played a significant role in his career. The first was an attorney, Lazar Sidelsky, who in 1942, flouting the customs of the time, accepted the young Mandela as a law clerk at his Johannesburg firm…
"Not long before Sidelsky's death, almost 60 years later, at the age of 90, Mandela, in a typically thoughtful gesture, invited his former boss to a lunch at his Johannesburg home.
"During the apartheid years, there were nonobservant Jews who assumed leadership roles in the South African Communist Party and who were among the few white South Africans who treated their fellow blacks with dignity and as equals. In consequence, many of them paid the price of social ostracism, imprisonment, and exile.
"Among a number of them were Solly Sachs (the father of Justice Albie Sachs); Albie Sachs himself; Joe Slovo, who subsequently became minister of housing in President Mandela's Cabinet, and Gill Marcus (whose father had been, for many years, the London bookkeeper of the exiled African National Congress), who became a deputy minister of finance in the Mandela Cabinet and is today the governor of the South African Reserve Bank.
"When Mandela faced long "treason" trials in the 1950s and '60s, two of his leading counsel were Jewish — Israel "Issy" Maisels, then a pre-eminent Jewish leader, and Arthur Chaskalson, whom Mandela appointed in 1994 to head the new Constitutional Court of South Africa. Mandela's friendship with Helen Suzman, the leading anti-apartheid member of the South African Parliament for many years, was an intimate and affectionate one.
"And then there was his rabbi. Cyril Harris was the revered chief rabbi of South Africa from 1987 to 2004. At the joyous induction of Mandela as president in May 1994, Harris delivered a moving address. A close friendship between them developed, and Mandela frequently referred to Harris as 'my rabbi.'
"As such, he invited him to give a Hebrew blessing to his marriage, on his 80th birthday, to Graça Machel. At Harris's funeral in Jerusalem, the South African ambassador was present and spoke warmly of 'our rabbi.'
"During his presidency of South Africa, Mandela had a warm relationship with the leaders of the Jewish community and spoke regularly at the opening ceremonies of the South African Jewish Board of Deputies. In 2000 he officially opened the South African Jewish Museum, in Cape Town."[32]
Mandela, when freed from his prison cell, said that "Nadine Gordimer was one of the first [people] he wished to see."[33]
Mandela also had a close relationship with another Jewish revolutionary, Arthur Goldreich, whom Mandela credited with helping to "fill many gaps in my understanding."[34]
Goldreich "made trips to Czechoslovakia and East Germany to study munitions and guerrilla warfare; he even visited Moscow and Beijing, where he spent four hours meeting Deng Xiaoping in 1062. Mandela later credited Goldreich with providing the ANC with much crucial military expertise."[35]
Goldreich, among other revolutionaries such as Joe Slovo, began to meet at a place called Liliesleaf Farm, a few miles north of downtown Johannesburg and began to turn it into an
"'incubator for revolution,' where everyone from SACP head Joe Slovo to ANC leader Walter Sisulu would gather. Having concluded that a purely nonviolent struggle could not succeed in a state where peaceful dissent was viewed as treason, the SACP and ANC began to plot a sabotage campaign targeting government installations and property.
"Mandela and Slovo were put in charge of forming a single armed movement: Umkhonto we Sizwe, or Spear of the Nation. Liliesleaf was their headquarters and Goldreich was seen as an especially valuable adviser given his battlefield experience during Israel's War of Independence."[36]
Around the same time, many Jewish luminaries tried to create their own revolutionary cells. Michael Harmel
"and other leaders of the South African Communist Party began to visit Liliesleaf regularly, turning it into an 'incubator for a revolution' where everyone from SACP head Joe Slovo to ANC leader Walter Sisulu would gather….
"Mandela and Slovo were put in charge of forming a single armed movement: Unkhonto we Sizwe, or Spear of the Nation. Liliesleaf was their headquarters and Goldreich was seen as an especially valuable adviser given his battlefield experience during Israel's War of Independence."[37]
Mandela himself admitted that Joe Slovo was "an ardent Communist"[38] who used his revolutionary vector to woo people into his circle.
Now here is the puzzling dilemma: suppose Obama for example was for many years a neo-Nazi. Suppose that during his terms as governor, he also implemented literal neo-Nazi policies. Wouldn't the Zionist world dethrone him from his post?
Yet despite the fact that Bill Keller of the New York Times knows that Mandela was a Communist, he brushed this aside and then intoned that Mandela was
"an opponent of armed struggle and an advocate of violence, a hothead and the calmest man in the room, a consumer of Marxist tracts and an admirer of Western democracy, a close partner of Communists and, in his presidency, a close partner of South Africa's powerful capitalists."[39]
The only way Keller could have posited such nonsense is to ignore history altogether. In fact, he made it quite clear that he is "respectful of scholarship, but also wary of its limits."[40]
Keller is wary of the limits of scholarship not because the evidence is not there for all to see, but because the evidence may present disturbing but truthful conclusions. And Keller is not prepared to accept disturbing conclusions. That certainly allows him to propound one nonsensical assertion after another, such as the following:
"The early collaboration of the A.N.C. with the Communists was a marriage of convenience for a movement that had few friends. The South African Communist Party and its patrons in Russia and China were a source of money and weapons for the largely feckless armed struggle, and for many, it meant solidarity with a cause larger than South Africa."[41]
To make a long story short, most of the members of the Communist Party were sent to jail; some of them, like Goldreich and Wolpe, escaped and went to other countries.
Gordimer's Jewish contemporaries, such as Joe Slovo, Ruth First, Denis Goldberg, and Albie Sachs, were leading Communists in South Africa. Sachs was appointed to the Constitutional Court of South Africa by Nelson Mandela in 1994.
Slovo, a staunch Marxist, became Minister for Housing in Mandela's government. Gordimer's entire literary career was shaped to create revolution using racism and apartheid as a metaphor—or weapon. Her book July's People envisions a South African revolution in which whites are plundered by blacks when blacks discover that only through revolution can they achieve freedom.
In other words, to a large extent, Gordimer was for Mandela what Stanley Levinson and other revolutionaries were for Martin Luther King. Rabbi Marc Schneier, writing for the Jewish Week, admitted:
"The upcoming observance of Dr. Martin Luther King, Jr. Day on Jan. 20, juxtaposed against the recent passing of Nelson Mandela, should cause us to reflect with pride on the inspiring role that Jews played in both the civil rights movement in the United States and the struggle for the overthrow of apartheid in South Africa…
"no segment of society provided as much and as consistent support to Dr. King and Nelson Mandela as did American and South African Jews."[42]
What the rabbi failed to tell us is that Jewish revolutionaries supported King and Mandela because King and Mandela were being used as two remote controls. Schneier declared that "Jews mobilized in support" of people like Mandela and King because "Jewish conscience refused to abide oppression."[43]
This explanation certainly does not follow. How does Schneier explain the fact that Israel has had a long history of torturing children, sterilizing Ethiopian women, and literally and brutally massacring Palestinians?
How does he explain the brutal history of Communism in the twentieth century without talking about the perpetrators? Can we honestly talk about King Kong without mentioning the colossal gorilla?
If this argument is not too convincing, let us look at current events. The Israeli newspaper Haaretz had an article entitled, "Israel secretly flying asylum seekers to Uganda."[44] I'd like Schneier to explain this phenomenon in light of what he has said here.
Let us briefly return to one of Schneier's central points. Why did revolutionaries support Mandela and King? According to historian David Levering Lewis, they wanted "to fight anti-Semitism by remote control."[45]
This is also the assessment of Jewish author Gelya Frank and Jewish historian Murray Friedman.[46] Jewish scholar Benjamin Ginsberg argues something very similar.[47] In the same vein, the late Jewish academic Israel Shahak wrote,
"The apparent enthusiasm displayed by American rabbis or by the Jewish organizations in the U.S.A. during the 1950s and the 1960s in support of the Blacks in the South was motivated only by considerations of Jewish self-interest, just as was the communist support for the same Blacks…
"Stalin and his supporters never tired of condemning the discrimination against the American or the South African Blacks, especially in the midst of the worst crimes committed within the USSR…Its purpose in both cases was to try to capture the Black community politically, in the Jewish case to an unthinking support of Israeli policies in the Middle East."[48]
Revolutionaries like Marx Lieber, who became Langston Hughes's literary agent, believed that blacks should concentrate their talent on revolutionary work.
"[Lieber's] profitable production of Erskine Caldwell's play Tobacco Road permitted him to indulge his social passions. He kept reminding Hughes and the other writers he represented of their leftist political obligations while representing them in negotiations with bourgeois publishers."[49]
Lieber eventually helped Hughes gain recognition by selling one of Hughes's poems, "Slave on the Block," to Scribner's magazine.
Other blacks gained renown in a similar way, including James Baldwin, "whose talent was first recognized and nurtured by Jewish editors of small but influential magazines" such as Commentary, New Leader, and Partisan Review.[50] (More recently Spike Lee seems to be gaining positive accolades from the Zionist Hollywood in the same way, producing films such as Oldboy.)
When Baldwin's "The Harlem Ghetto" first appeared in Commentary, sociologist Nathan Glazer, a member of its editorial board, praised Baldwin as a talented writer, "how remarkable we didn't yet know."[51]
To this end, the editors of Commentary asked Baldwin to write a piece dealing with the issues of blacks and Jews, which Baldwin reluctantly agreed to do. For Baldwin, this issue was puzzling because he saw blacks suffering under the hands of Jewish exploiters. He declared,
"When we were growing up in Harlem our demoralizing series of landlords were Jewish, and we hated them."[52]
Baldwin actually ended up following the advice given by Glazer and others in an indirect way, and Baldwin's The Fire Next Time was one of the fruits of that came out of that ideological puzzle.
If Baldwin or Richard Wright happened to be Christians, they would have suffered a great deal like many other Christians. Irving Louis Horowitz, a noted sociologist and professor, recounted that his parents used to cheat the black Christians, counting it "a special occasion on which my father wreaked his own revenge on Christendom."[53] He detailed:
"The scam went like this: the unsuspecting customer would bring in all light bulbs for testing. Each bulb would be placed against the side of the bulb tester rather than against the filament that would light up the bulb. The trick was easily learned and passed on to my mother, my sister, and me. I became a master at this special bulb test.
"When the same bulbs were retested after the customer left, they almost always were found to be perfect, or least good enough for resale. My father placed them into inventory and sold them as new.
"The special bulbs were resold countless times each season. Hence, it was no accident that the volume of December bulb sales probably surpassed that of any other month. December profits also showed remarkably uncharacteristic good health."[54]
What we are seeing here is that Mandela's violent ideology had its roots in subversive movements. Looking back at what happened then, Gideon D. Sylvester of the Jerusalem Post declared:
"My student years were heady times. Growing up in the shadows of the Holocaust, we were shocked at humanity's inhumanity and deeply motivated to join struggles for justice. So we campaigned for Soviet Jewry, marched for Israel and waged war on apartheid.
"Nelson Mandela was our hero and to this day, a portrait of him embracing former South African chief rabbi Cyril Harris hangs over my desk.
"Mandela, in turn, drew inspiration from the Jewish community. The Diary of Anne Frank was one of the best-read books among the black freedom fighters imprisoned on Robben Island, and the anti-apartheid movement was supported by many Jews."[55]
Mandela's flirtation with violent ideology turned out to be a disaster. In the whole scheme of things, nothing good has ever come out of violent or subversive reactions. Even people like Thomas Sowell have implicitly admitted this point.
Sowell himself pointed out that in some cases things were a lot better prior to the Civil Rights movement.[56] Clarence Thomas indirectly said something similar.[57] But Charles M. Blow of the New York Times chastised Clarence Thomas for saying such things.[58]
---
CITATIONS
[1] "Nelson Mandela," NY Times, December 5, 2013.
[2] Ibid.
[3] Leon Watson and Dan Newling, "NELSON MANDELA 1918 – 2013: Family gather at home of Nelson Mandela as mourners continue to pay their respects outside the former leader's house and whole country enters period of mourning," Daily Mail, December 5, 2013.
[4] Sudarsan Raghavan and Lynne Duke, "Nelson Mandela dies; former president of South Africa was 95," Washington Post, December 5, 2013.
[5] "Nelson Mandela," NY Sun, December 5, 2013.
[6] William A. Welch, "Nelson Mandela, Rights Activist, Dies," USA Today, December 5, 2013.
[7] Peter Oborne, "Few human beings can be compared to Jesus Christ. Nelson Mandela was one," Telegraph, December 6, 2013.
[8] Ibid.
[9] Emily Alpert, "Nelson Mandela Dies: Watch His 1st TV Interview, Prison Release, More," LA Times, December 5, 2013; "Nelson Mandela's Legacy," Houston Chronicle, December 5, 2013; Justice Malala, "Mandela's death shines uncomfortable light on South Africa's ANC," CNN, December 17, 2013; "Highlights of Nelson Mandela's life show how he became a symbol of reconciliation," Fox News, December 5, 2013.
[10] Max Boot, "The Character of Nelson Mandela," Commentary, December 5, 2013.
[11] Dave Goldiner, "South African Jews Mourn Nelson Mandela, 'Mensch' of the Nation," Jewish Daily Forward, December 6, 2013.
[12] Ibid.
[13] Lia Eustachevich and Elizabeth Hagen, "NYC to Name School After Mandela," NY Post, December 6, 2013.
[14] Quoted in Lolly Bowean, Lauren Zumbach and Stacy St. Clair, "Nelson Mandela dead: Chicago officials pay tribute," Chicago Tribune, December 5, 2013.
[15] R. W. Johnson, "The Mandela Myth," National Interest, December 10, 2013.
[16] Ibid.
[17] Ibid; see also Rian Malan, "What a Lost Prison Manuscript Reveals about the Real Nelson Mandela," The Spectator, January 18, 2014.
[18] Johnson, "The Mandela Myth," National Interest, December 10, 2013.
[19] Ibid.
[20] Timothy J. Williams, "Nelson Mandela: A Candid Assessment," Crisis Magazine, December 10, 2013.
[21] Rian Malan, "What a Lost Prison Manuscript Reveals about the Real Nelson Mandela," The Spectator, January 18, 2014.
[22] Ibid.
[23] Johnson, "The Mandela Myth," National Interest, December 10, 2013
[24] Ibid.
[25] Ofer Aderet and David Fachler, "Mandela Received Weapons Training from Mossad Agents in Ethiopia," Haaretz, December 20, 2013.
[26] Ibid.
[27] Raphael Ahren, "Mandela Foundation doubts late leader received Mossad training," Times of Israel, December 22, 2013; "Nelson Mandela Foundation Denies Israel Training Claim," Jewish Daily Forward, December 21, 2013.
[28] Rian Malan, "What a Lost Prison Manuscript Reveals about the Real Nelson Mandela," The Spectator, January 18, 2014.
[29] Ibid.
[30] Ibid.
[31] Zakes Mda, "The Contradictions of Mandela," NY Times, December 5, 2013.
[32] Richard Goldstone, "Nelson Mandela, Iconic Leader for Jews of South Africa — and World," Jewish Daily Forward, December 5, 2013.
[33] Per Wastberg, "Nardine Gordimer and the South African Experience," NobelPrize.org, April 26, 2001
[34] Quoted in Sasha Polakow-Suransky, The Unspoken Alliance: Israel's Secret Relationship with Apartheid South Africa (New York: Vintage Books, 2010), 33.
[35] Ibid.
[36] Ibid., 34.
[37] Ibid., 33.
[38] Nelson Mandela, Long Walk to Freedom: The Autobiography of Nelson Mandela (New York: Back Bay Book, 1994), 91.
[39] Bill Keller, "Nelson Mandela, Communist," NY Times, December 7, 2013.
[40] Ibid.
[41] ibid.
[42] Marc Schneier, "MLK, Mandela and the Jews," The Jewish Week, January 14, 2014.
[43] Ibid.
[44] Ilan Lior, "Israel Secretly Flying Asylum Seekers to Uganda," Haaretz, February 19, 2014.
[45] Murray Friedman, What Went Wrong?, 59.
[46] Gelya Frank, "Jews, Multiculturalism, and Boasian Anthropology," American Anthropology, 1997, vol. 99, 735; Friedman, What Went Wrong?.
[47] Benjamin Ginsberg, The Fatal Embrace: Jews and the State (Chicago: University of Chicago Press, 1993).
[48] Shahak, Jewish History, Jewish Religion: The Weight of Three Thousand Years (London: Pluto Press, 2002), 103.
[49] Friedman, What Went Wrong?, 112-113.
[50] Ibid., 113.
[51] Ibid.
[52] Quoted in Roberta Strauss Feuerlicht, The Fate of the Jews: A People Torn Between Israeli Power and Jewish Ethics (New York: Times Books, 1983), 190.
[53] Jones, Jewish Revolutionary Spirit, 811.
[54] Ibid.
[55] Gideon D. Sylvester, "Mandela and the Jews," Jerusalem Post, December 12, 2013.
[56] Thomas Sowell, Black Rednecks and White Liberals (New York: Encounter Books, 2005), 241.
[57] Jonathan Chait, "Clarence Thomas Nostalgic for Race-Neutral Days of 1960s Georgia," NY Magazine, February 11, 2014.
[58] Charles M. Blow, "Thomas Speaks…Blindly About Race," NY Times, February 12, 2014.
Jonas E. Alexis has degrees in mathematics and philosophy. He studied education at the graduate level. His main interests include U.S. foreign policy, the history of the Israel/Palestine conflict, and the history of ideas. He is the author of the new book Zionism vs. the West: How Talmudic Ideology is Undermining Western Culture. He teaches mathematics in South Korea.
ATTENTION READERS
We See The World From All Sides and Want YOU To Be Fully Informed
In fact, intentional disinformation is a disgraceful scourge in media today. So to assuage any possible errant incorrect information posted herein, we strongly encourage you to seek corroboration from other non-VT sources before forming an educated opinion.
About VT
-
Policies & Disclosures
-
Comment Policy
Due to the nature of uncensored content posted by VT's fully independent international writers, VT cannot guarantee absolute validity. All content is owned by the author exclusively. Expressed opinions are NOT necessarily the views of VT, other authors, affiliates, advertisers, sponsors, partners, or technicians. Some content may be satirical in nature. All images are the full responsibility of the article author and NOT VT.