By Kevin Barrett, VT Editor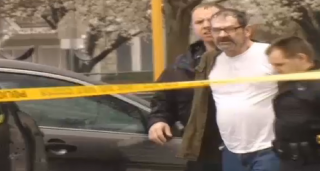 Sunday, on the eve of Passover – just as the feds were backing down from their standoff in Nevada – some idiot shot and killed three people outside a Jewish Community Center and a Jewish Retirement Home in Kansas City. Reports say that none of the victims were Jewish.
The suspect, a professional "notorious anti-Semite" and federal informant named Frazier Glenn Miller, reportedly was screaming "heil Hitler" as he was hauled off by police.
The shooting is a public relations bonanza beyond the wildest dreams of the ADL, the SPLC, AIPAC, and the rest of the Israel lobby. The media's mighty wurlitzer is blasting out its usual tune hyping the dangers of the patriot movement – people not unlike yourself, gentle VT reader! Next time you try to tell someone about who was behind 9/11, who really runs the media, who are the real terrorists in Palestine, and so on, here is the response you'll get: "Oh, you must be one of those crazy Jew-hating Nazis like Glenn Miller!"
One perfect PR incident like this is more persuasive than a million rational arguments. And the Zionists know it. They are experts at ginning up such "incidents" in service to their cause.
They also engage in the wholesale manufacture of "Jew-haters," in real life and especially on the internet. You may have seen some of their drivel disgracing the comment sections here at VT. They are the people who hate all Jews because they are Jews. (OK, a few of these people may be real – you know who you are – but I'll wager the great majority are sock puppets.)
According to CBS News: "The Southern Poverty Law Center, which tracks hate groups, said it reached Miller's wife, Marge, by phone and that she said authorities had been to their home and told her that her husband had been arrested in Sunday's attacks." CBS and the rest of the media, however, was unable to get through.
Does Morris Dees have Glenn Miller on speed dial?
Dees and Miller have a long history. Miller served three years in the federal pen for plotting to assassinate Dees – and came out a federal informant…and a walking, talking advertisement for Dees's obsessive, excessive fund-raising. Miller has been walking around ever since with a big sign on his back reading: "Dangerous racist Nazi moron – please send money to Morris Dees and the ADL so they can protect society from the likes of me."
One suspects that Miller's prison psychiatrist was a certain Dr. Louis Jolyon "Jolly" West, and that his whole post-prison career has been one big psy-op. Jolly West, a notorious MK-Ultra mind control specialist, "treated" other walking, talking SPLC/ADL ads, including OKC bombing patsy Timothy McVeigh. Whoever inherited West's private practice is presumably using hypnotherapy on people like Glenn Miller.
Then again, it's possible that people can really be this stupid without outside help.
But everything about this incident – the timing, the choice of victims, the suspect being a "famous white supremacist" who also happens to be a federal informant – is, to say the least, suspicious.
Dr. Kevin Barrett, a Ph.D. Arabist-Islamologist is one of America's best-known critics of the War on Terror.
He is the host of TRUTH JIHAD RADIO; a hard driving weekly radio show funded by listener donations at Patreon.com and FALSE FLAG WEEKLY NEWS (FFWN); an audio-video show produced by Tony Hall, Allan Reese, and Kevin himself. FFWN is funded through FundRazr.
He also has appeared many times on Fox, CNN, PBS, and other broadcast outlets, and has inspired feature stories and op-eds in the New York Times, the Christian Science Monitor, the Chicago Tribune, and other leading publications.
Dr. Barrett has taught at colleges and universities in San Francisco, Paris, and Wisconsin; where he ran for Congress in 2008. He currently works as a nonprofit organizer, author, and talk radio host.
ATTENTION READERS
Due to the nature of independent content, VT cannot guarantee content validity.
We ask you to
Read Our Content Policy
so a clear comprehension of VT's independent non-censored media is understood and given its proper place in the world of news, opinion and media.
All content is owned by author exclusively. Expressed opinions are NOT necessarily the views of VT, other authors, affiliates, advertisers, sponsors, partners or technicians. Some content may be satirical in nature. All images within are full responsibility of author and NOT VT.
About VT
-
Read Full Policy Notice
-
Comment Policy