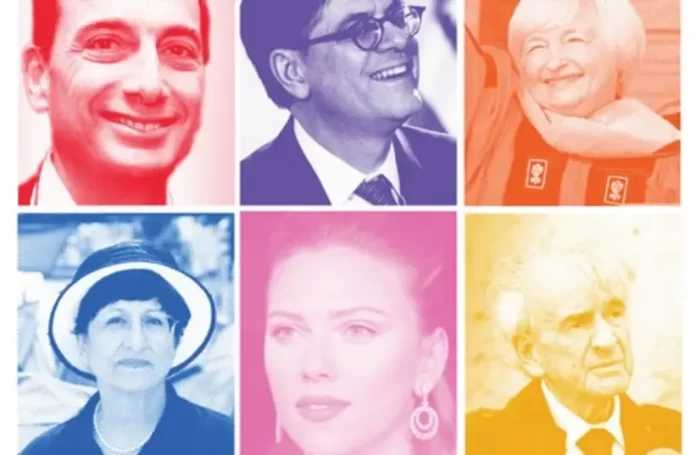 By Gilad Atzmon
Yesterday The Jerusalem Post published its "list of the world's 50 most influential Jews," those who in one way or another have "worked tirelessly for the improvement of humanity and, in doing so, have made their mark on history."
The truth is that the list does not exactly fit the Post's description of it. Not a single humanist is listed; instead, we find a catalog of Jewish war criminals, financiers, gambling tycoons, ethnic cleanser advocates, a Holocaust fraudster, a few Rabbis with minimal importance even within the Jewish world, and one Ethiopian entertainer.
I guess that for those who are still desperate to find a Jewish humanist, Masada 2000's S.H.I.T List is the place to find them.
The J Post's list is headed by US Treasury Secretary Jack Lew, "who in his position in the cabinet is vital to shaping President Barack Obama's policy." Lew is followed by Janet Yellen, "another American Jew who made history this year when she became the first woman ever appointed chair of the Federal Reserve." Apparently, the 1st and 2nd most influential Jews in the world are now taking care of American finance. Let's hope that these 'influential Jews' know what they are doing because the last two influential Jews who ran the Federal Reserve left the world's economy in ruin.
Coming in fifth, we find the powerful American billionaire Sheldon Adelson, no doubt a 'shining humanist' as well as a casino tycoon.  The list also includes a number of Jewish War Criminals such as Shimon Peres and Tzipi Livni. The list even includes an ethnic cleanser advocate, Avigdor Lieberman.
And of course, don't forget Jewish philanthropy.  Number 39 on this J Post list is no other than George Soros, the elderly New York Jewish billionaire who funds so many good causes that also just happen to be particularly good for the Jews. The J Post was probably rewarding Soros for reducing the entire Left into a dysfunctional controlled opposition network.
Perhaps the British people should think twice before they vote for Ed Milliband, apparently the world's twentieth-most influential Jew.  The Labour party may want to consider an influential Brit instead.
The Jerusalem Post's  Top 50 Most Influential Jews of 2014  list:

1. Jack Lew
2. Janet Yellen
3. Binyamin Netanyahu
4. Shimon Peres
5. Sheldon Adelson
6 Malcolm Hoenlein
7. Avigdor Liberman
8. Adina Bar-Shalom
9. Yair Lapid
10. Naftali Bennett
11. Elie Wiesel
12. Ronald Lauder
13 Steven Spielberg
14. Stanley Fischer
15. Shari Arison
16. Rabbi Yechiel Z. Eckstein
17. Tzipi Livni
18. Scarlett Johansson
19. Isaac Herzog
20. Ed Miliband
21. Yosef Abramowitz
22. Lynn Schusterman
23. Matthew Bronfman
24. Karnit Flug
25. Joseph Gitler
26. Nir Barkat
27. Natalie Portman
28. Nitsana Darshan-Leitner
29. Irwin Cotler
30. Jeremy Ben-Ami
31. Moshe Kantor
32. Hershey Friedman
33. Ephrat Levy-Lahad
34. Ephraim Mirvis
35. Jonathan Sacks
36. Abe Foxman
37. Idan Raichel
38. Lena Dunham
39. George Soros
40. Vladimir Sloutsker
41. Benny Gantz
42. Daniel Gordis
43. Ester Rada
44. Raphael Mechoulam
45. Dalia Dorner
46. Ofra Strauss
47. Chaim Chesler
48. David Golinkin
49. Marcie Natan
50. Mark Leibler
Gilad Atzmon is an Israeli-born British jazz saxophonist, novelist, political activist and writer.
Atzmon's album Exile was BBC jazz album of the year in 2003. Playing over 100 dates a year,[4] he has been called "surely the hardest-gigging man in British jazz." His albums, of which he has recorded nine to date, often explore the music of the Middle East and political themes. He has described himself as a "devoted political artist." He supports the Palestinian right of return and the one-state solution in the Israeli-Palestinian conflict.
His criticisms of Zionism, Jewish identity, and Judaism, as well as his controversial views on The Holocaust and Jewish history have led to allegations of antisemitism from both Zionists and anti-Zionists. A profile in The Guardian in 2009 which described Atzmon as "one of London's finest saxophonists" stated: "It is Atzmon's blunt anti-Zionism rather than his music that has given him an international profile, particularly in the Arab world, where his essays are widely read."
His new book The Wandering Who? is now availble at Amazon.com
ATTENTION READERS
Due to the nature of independent content, VT cannot guarantee content validity.
We ask you to
Read Our Content Policy
so a clear comprehension of VT's independent non-censored media is understood and given its proper place in the world of news, opinion and media.
All content is owned by author exclusively. Expressed opinions are NOT necessarily the views of VT, other authors, affiliates, advertisers, sponsors, partners or technicians. Some content may be satirical in nature. All images within are full responsibility of author and NOT VT.
About VT
-
Read Full Policy Notice
-
Comment Policy