Unanswered Questions on the Moncton Shooter and the RCMP
A Critical Look at the Facts and the Hype Concerning the Moncton Shooting Episode. Is the Royal Canadian Mounted Police Deploying Disinfo at the Behest of US Black-Ops Funders?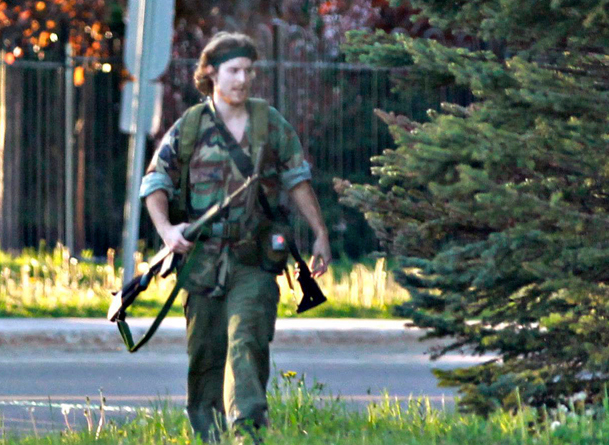 by Anthony Hall
The shooting spree said to have resulted in the murder and wounding of five Royal Canadian Mounted Police officers in Moncton New Brunswick raises many questions. Here's some that occur to me after my curiosity was piqued by FB post published today by American author and pundit Naomi Wolf.
Wolf suggests that the Moncton episode's whole US-counterterrorist-style might be explained by following the flow of US-black-op-financing apparently now streaming into the burgeoning Canadian police state. Wolf's observations about possible US involvement in the Moncton shootings helped me to remember theories going around in 2013 about the possible role of US Delta Force/Statfor (see below) in the heavily-armed raids of the RCMP on Native Mi'Kmaq anti-fracking activists in and around Elsipogtog.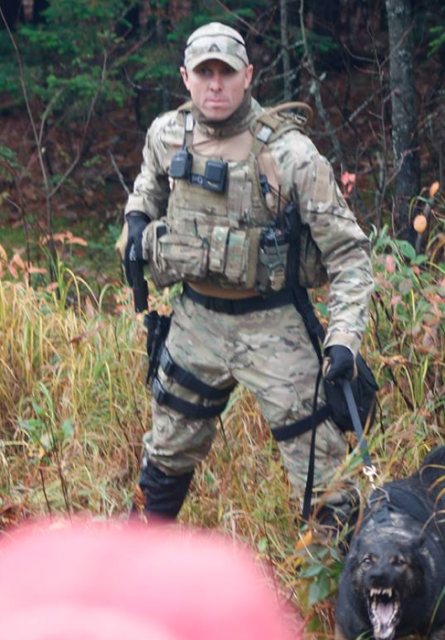 This thought raises further questions. Could the Moncton RCMP be somehow involved centrally in all the blending of US and Canadian policing and military operations as secretly negotiated in the so-called Security and Prosperity Partnership of North America? Is there more than meets the eye to the Ramboesque style of this whole operation in New Brunswick, a Canadian maritime province essentially owned by the Irving Natural Resources Company?
Alternative Media
As raunchy and crude as is some of the internet coverage of the Moncton shooter incident is, the citizen journalists covering this matter tend to run circles around the well-paid stenographers of press releases from official sources. This stenography, evading at all cost any critical evaluation of the actual evidence, is pretty much what discerning people have come to expect from the mainstream media these days.
I have been learning from citizen journalists that shooter drills took place in Sackville, just a twenty minute drive from Moncton, only days before the lethal incident. Apparently the alleged shooter, Justin Bourque, was apprehended and taken to the RCMP detachment in Sackville, not Moncton, after he was apprehended. Why?
It has been credibly argued that the juxtaposition of drills that approximate concurrent or subsequent episodes of mass murder such as on 9/11 embody classic signs of false flag terrorism.
I have learned from one of the You Tubes linked to below that a key witnesses in this matter is a professional actress. Another witness filmed by CTV clearly has huge internal contradictions in her story. I have seen the allegation that relevant Facebook pages, including the one attributed to the alleged shooter Justin Bourque, have been tampered with and altered. I want that allegation to be addressed on the record by the responsible authorities.

Obvious Questions
What am I to make of the allegation that the Rambo-style shooting episode in Moncton seems like a poorly-produced replica of other fairly obvious false-flag events? What is the story behind the dissemination of the key image sent viral of Bourque strolling along with his hunting rifle? Is that a bow and arrow on Bourque's shoulder? What if anything was the role of RCMP tweeters in sending this image viral? Who is taking responsibility for the appallingly poor police work if it turns out that one or more aspects of the rather implausible official version of these lethal events is actually true? One thing that is almost certainly true is the existence of dead RCMP officers.
Was the Moncton shooting in whole or in part a staged event to secure increased budgets and new powers for police-state attacks on our human rights and civil liberties? Could the event have anything to do with a strategy for re-electing the "law-and-order" party that presently control the national government in Ottawa?
Could the episode be in any way a diversion from the RCMP's failure to enforce the criminal law on high-ranking officials involved in, for instance, the Senate scandal, election fraud, the torturing of prisoners in Canadian custody, the wholesale and illegal police invasions of our private communications by the ubiquitous surveillance state, the lethal tasering of civilians including subsequent RCMP misrepresentations, the propensity of police to clear other police of any charge of wrongdoing in cases involving the deaths of civilians, the failure (or worse) of law enforcement in the unsolved cases involving hundreds of missing and murdered Aboriginal women in Canada? This list is far from complete.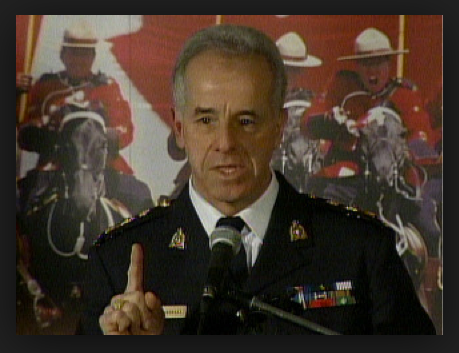 There is more than enough contradictory evidence out there on the Moncton shooting to justify at least the asking of some critical and penetrating questions by reporters in Canadian media venues such as CTV, The Globe and Mail, and the CBC (the CPC Broadcasting Company?). The lack of such questioning screams of journalist malfeasance similar to what happened when Sgt. Peter Montague and other RCMP spin doctors concocted a tapestry of lies and half-truths to paint a false picture of Aboriginal terrorism in British Columbia in 1995.
As RCMP media relations officer Sgt. Peter Montague boasted during the 1995 episode, "smear campaigns are an RCMP specialty." Another police official was caught on camera asking for journalistic help with the RCMP's "disinformation and smear campaign" targeting especially the Native activists' controversial lawyer, Bruce Clark.
Presumably the RCMP expect to pay for this kind of professional media help in spreading politically expedient lies. The integration of journalists into the national security state has a long history in the Cold War when the CIA in Project Mockingbird put thousands of journalists on its payroll to spin, lie, and censor for the manufacturing of consent for certain policies.
The spread of purposeful, planned and coordinated disinformation is nothing new in police work, journalism and politics. This kind of activity was accelerated after 9/11 when anti-terrorism replaced anti-communism as the major justification for the even tighter merger of journalists and police into the fast-growing military-industrial complex.
Does this current failure of critical reportage not suggest that the media venues named above have allowed themselves to become extensions of the police and of those that have transformed the RCMP from a law enforcement unit to a political enforcement unit?
Citizen Deserve Genuine Evidence-Based Answers
Might the asking of hard questions by mainstream journalists result in the possibility that those who step out of line might lose the prospect of lucrative jobs such as PR spin doctors or even as Senators with sweetheart deals like those formerly extended by Prime Minister Stephen Harper to CTV reporters Pamela Wallin and Mike Duffy.
Given the list of crimes, violations, and misdemeanors delivered on Canadians so far with impunity by the election-fraud government of Stephen Harper and the smear-and-disinformation RCMP, the time has now passed for the extension of the benefit of the doubt in cases such as this one where the smell of deceit is so unmistakable.
Tony Hall
Here is an excerpt from an article by Sakej Ward in a United Church web publication on the Indigenous resistance to the Moncton RCMP's protection of the contested fracking operations in New Brunswick in 2013
In reference to the Mi'kmaq warrior society being targeted and raided I spoke in the interview about the similarities it had to the raid made by INSET (Integrated National Security Enforcement Team – Canada's counter terrorism law enforcement department) against Dave Dennis and I. I wanted to add that these similarities are not coincidental. They are part of an overall strategy at defeating any grass roots movement. Stratfor, is a US company, created by former Delta Force (U.S. Army Counter terrorism unit) operatives. After leaving the military the owners of the company utilized and modified a war strategy model of counter-insurgency to be employed against grass roots movements opposing corporations.
http://www.montrealpresbytery.ca/?q=node/655
On Stratfor see
http://www.popularresistance.org/stratfor-monitors-and-studies-social-movements/
Alternative Media You Tubes
Actress is the main witness
https://www.youtube.com/watch?v=F2B1QkWi0m8
Shooter drill only days before the publicized shooter incident, a common feature of this genre of false flag episodes
https://www.youtube.com/watch?v=GLc_OKWTxTM#t=14
The changing story and internal contradictions of the woman who claims to been the first, or one of the first, to call 911 for RCMP help
https://www.youtube.com/watch?v=SrwkLAo-ByQ
Robot Voice assesses modification of Facebook pages etc.
https://www.youtube.com/watch?v=sBcrn-BLZgE
A critical look the Canadian version of what may be a Rambo-style meme of false flag police work
https://www.youtube.com/watch?v=6Izi5nC2OAw
Slightly more polished Rambo assessment focusing on the stretch of credulity required to accept the police version of events as entirely true
https://www.youtube.com/watch?v=t5cyjd7qvxM
Discussion of media spin on the Canadian Rambo
https://www.youtube.com/watch?v=NQ_qmkTlQtY&list=UUXJvAKcEJpWAOsPcOTGxMSg
Amazingly Retrograde Spin, Delivered as a Crappy Sappy Hollywood Replica of a Really Bad Cop Show
https://www.youtube.com/watch?v=aMT_P2zaLa0
CBC on the gun story
https://www.youtube.com/watch?v=Om3uIvnrlcw
"True Evidence" inserted pictures from Italy into Moncton story
https://www.youtube.com/watch?v=m0kN3rbNvfs
Something Rather Sinister Here, Something going on in Canada
https://www.youtube.com/watch?v=xiFbS6Zc164
Arsenault's Reprehensible CBC report, Canadians are the most asleep people on earth, Canadians should stop sipping so much Tim's
http://informationwarfareblog.com/important-moncton-shooting-used-as-justification-to-target-conspiracy-theorists/
"On a Mission"
https://www.youtube.com/watch?v=_OP3M3tqrKQ
An excerpt from Naomi Wolf's FB post on possible US Funding of Canadian "counter-terrorism" operations and the need for evidence to support the reported facts of Canada's supposed Rambo-style shooting episode.
"I found a series of bills pumping DHS [Homeland Security] money (the unaccountable billions out of our budget) into…Canada's borders and national security. Now Canada does not have a terrorism problem (no one hates Canadians, those sweet, peaceful, rational people). So to justify all that money ….it has to have a crazy people problem. This is not to say Moncton "didn't happen." It is to say VERIFY DETAILS as there is a major financial incentive for senior Canadian officials and their closely related news outlets, to have the same fear climate in Canada we now lucratively have in the US. I hope this is clear by now. It is the same reasoning behind everything I will ask you to verify. Money's relationship to lies."
Thanks to my friend and colleague Mark Taliano for introducing to me to the false flag implications of the Moncton shooting incident and the pertinent observations of Naomi Wolf who has questioned the veracity of RCMP, eye witness, and media reports
http://naomiwolf.org/2014/06/canada-in-the-crossfire/
ATTENTION READERS
Due to the nature of independent content, VT cannot guarantee content validity.
We ask you to
Read Our Content Policy
so a clear comprehension of VT's independent non-censored media is understood and given its proper place in the world of news, opinion and media.
All content is owned by author exclusively. Expressed opinions are NOT necessarily the views of VT, other authors, affiliates, advertisers, sponsors, partners or technicians. Some content may be satirical in nature. All images within are full responsibility of author and NOT VT.
About VT
-
Read Full Policy Notice
-
Comment Policy