ADVISORY:  The contents herein are controversial dealing with racism and bigotry. VT supports independent open media and author Lasha Darkmoon's right to express her controversial views even if VT disagrees with them. The subject matter demands smart intelligent and responsible discourse so that our collective global world moves forward for all; no matter race, color, or creed. Thus we welcome your sharp important thoughtful comments at the bottom of this article. – John Allen, General Manager, VT
---
"As far as I know, no one has ever come up with an effective solution to the Jewish problem. Solving the riddle of the Sphinx would be easier."
Part 1:  A Problem without a Solution
by Lasha Darkmoon
Why all attempts to solve the Jewish Problem have failed
The Jewish Problem, more commonly and euphemistically known as the "Jewish Question", has agitated the minds of political analysts throughout history but has remained unresolved to this day.
For centuries, a ready and makeshift solution to the problem consisted of the mass expulsion of the Jews.
Just get rid of the Jews, it was thought, and the problem would go away. This didn't work. The Jews simply migrated and created problems elsewhere. And then, after a few years, their descendants came trickling back into the same countries from which their ancestors had been forcibly evicted.
Here is Queen Maria Theresa in a decree dated 1777, during the heyday of the Enlightenment period. The Queen of Austria-Hungary, Croatia, Bohemia, Mantua, Milan, Galicia, Parma, and the Austrian Netherlands had grown weary of the Jews and the never-ending problems they had caused in her extensive dominions.
---
"Wherever the Jew is found he is a problem, a source of unhappiness to himself and to those around him." — Maurice Samuel, You Gentiles
---
Her expulsion order is typical of the many others  issued by other countries before her time, so we shall quote the angry queen in her own words:
"Henceforth no Jew, no matter under what name, will be allowed to remain here without my written permission. I know of no other troublesome plague within the state than this race, which impoverished the people by their fraud, usury, and money-lending and commits all deeds which an honorable man despises. Subsequently, they have to be removed and excluded from here as much as possible."  (See here)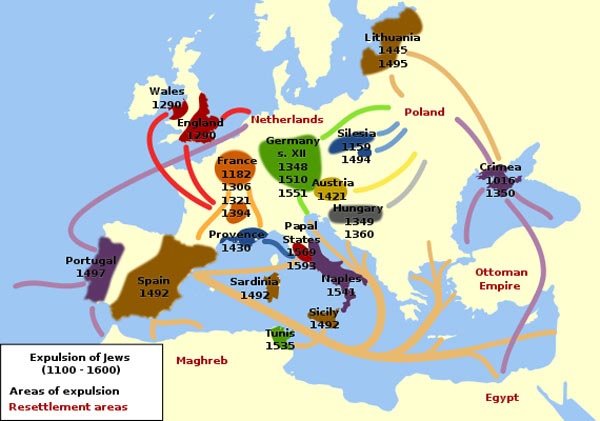 Though Jews have been expelled from 109 locations from AD 250,
expulsion failed to solve the Jewish Problem.
♣
The next attempted solution to the Jewish problem, primarily advocated by the Jews themselves and their philosemitic supporters, was complete emancipation of the Jews.
It was widely believed that if their crippling disabilities were removed, and if Jews were made equal citizens, the Jewish problem would just "disappear" — especially with assimilation. The Jew's antisocial behavior, it was argued, was the natural result of his unfair treatment. Treat him well and he would behave properly.
It was always understood that assimilation was a necessary precondition for Jewish emancipation. In order to become equal citizens, Jews had to promise to fit in with the society around them and become part of a happy and homogenous whole.
They were told: to intermarry with the natives, convert to Christianity, learn the language of the country, dress like other people, adopt the manners and customs of those around them, and, above all, take a back seat and keep out of trouble.
It was a rare Jew who followed all these instructions to the letter. Some refused to follow any. As for the final injunction — take a back seat and keep out of trouble — most Jews found this impossible to keep. It ran against the grain of their nature. It was almost like expecting a cat not to kill birds or a fox not to raid the hen house.
The Jews received their first emancipation in France. This was in 1791 after the French Revolution, a catastrophic event engineered by Masonic secret societies in which the Jews featured predominantly and wielded the most influence. Several other revolutions were to follow in the nineteenth and early twentieth century. All of these, without exception, were masterminded by Jews.
"At the front of every one of these revolutionary movements for the destruction of authority, nationhood, and religion," noted an eminent elder statesman, "you find a Jew."
These inflammatory words were written by Benjamin Disraeli, Prime Minister of England, himself a Jew who had converted to Christianity.
♣
Emancipation proceeded at a rapid rate in the country after country throughout the 19th century. Far from "solving" the Jewish problem, this merely made matters worse. This was because Jewish emancipation inevitably led to Jewish supremacy.
Every single country that emancipated its Jews was soon taken over by Jews.
In Russia, the Jews took their emancipation by force. This was in 1917 after the Bolshevik Revolution: an event carefully planned, financed, and largely administered by Jews from New York. Communism was then ushered in, the Pale of Settlement abolished, and Jews thereafter emigrated in swarms to the United States, Canada, South America, various other European countries, and, finally, to Palestine — where they immediately began to make themselves a thorough nuisance to the Arabs.
Did emancipating the Jews in Russia solve the Jewish problem? No, it did not. It made matters infinitely worse: not only in Russia but in every single country to which these refugees from the Pale of Settlement came with their beaky noses under black hats, their raggedy beards, their wild eyes, and their clack clacking Yiddisher tongues.
The Red Terror was soon to follow. The Russian peasants, who constituted 90 percent of the population at that time, were massacred in their millions, with Jewish commissars in the vanguard giving the orders to kill. Blood ran in rivers through the streets of Moscow and St Petersburg, much to the delight of psychopaths like Leon Trotsky, Lazar Kaganovich, and Ilya Ehrenberg — all of them Jews with lots of blood on their hands.
Over 66 million Russian Christians, according to Solzhenitsyn, were genocided by an essentially Jewish regime in the Soviet Union between 1917 and 1953. In comparison, the French Revolution had been a nun's picnic.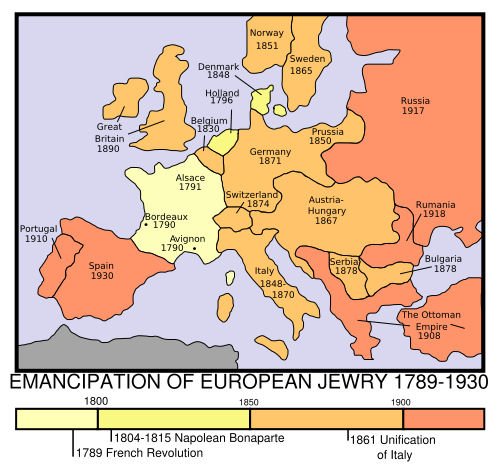 Here is the psychopathic Leon Trotsky (pictured),  shortly after the violent emancipation of Jews in Russia that followed in the wake of the Bolshevik Revolution (1917):
"We must turn Russia into a desert populated by white negroes upon whom we shall impose a tyranny such as the most terrible Eastern despots never dreamt of…. We shall shed such floods of blood as will make all the human losses suffered in the capitalist wars pale by comparison…. By means of terror and bloodbaths, we shall reduce the Russian intelligentsia to a state of complete stupefaction and idiocy and to an animal existence."  (Full quote here)
— From the 'Memoirs of Aron Simanovich', quoted in The Nature of Zionism by Vladimir Stepin, Moscow, 1993, and translated from Russian into English by Clive Lindhurst.
Zionism promoted as a solution to the Jewish Problem
A new "cure" for the Jewish problem was offered by Theodor Herzl in the late 1890s: Zionism.
"Give us a country of our own," the Zionists said in so many words, "and this will solve the Jewish problem."
Quite simply, the idea was this: if Jews were given their own country, they would all go and live there and get out of everyone's way. It was thought that the removal of their presence from every country, as they proceeded to settle in their new homeland, Israel, would solve the Jewish problem once and for all.
The formula was axiomatic and self-evident: No Jews, no Jewish Problem.
Is it anti-Semitic to say this? No, it is not, given that the pioneers of Zionism put forward exactly the same idea in different words. They demanded a separate Jewish homeland for Jews on the grounds that Jews were a headstrong and highly-strung race incapable of living in other people's countries without creating problems sooner or later. The Talmudic mentality insisted: that we Jews will not take orders from our inferiors.
Israel's first president, Chaim Weizmann, wrote in his memoirs:
"Whenever the quantity of Jews in any country reaches the saturation point, that country reacts against them. [This] reaction…cannot be looked upon as anti-Semitism in the ordinary or vulgar sense of that word; it is a universal social and economic concomitant of Jewish immigration, and we cannot shake it off. —  Chaim Weizmann, Trial and Error (1949). Quoted in Albert S. Lindemann's The Jew Accused, 1991 (p. 277).
Theodore Herzl, the founder of Zionism, had himself made the same point much earlier. "Anti-Semitism," he wrote, is "an understandable reaction to Jewish defects." And in his diary, he added: "I find the anti-Semites are fully within their rights." (See here)
It has long been recognized by intelligent Jews that mutual antagonism between Jew and gentiles is only to be expected and that any attempt to achieve lasting peace and harmony between the two groups is doomed to failure. "I do not believe that the primal difference between gentile and Jew is reconcilable," Jewish author Maurice Samuel points out in his book You Gentiles. "You and we may come to an understanding, never to a reconciliation. There will be irritation between us as long as we are in intimate contact."  (See here)
Why Zionism failed to solve the Jewish problem
Zionism seemed a neat solution to the Jewish problem initially. This was because, on the one hand, it meant that the Jews got their own country; and, on the other, it meant that non-Jews got rid of Jews and no longer had to put up with their pesky presence — which, as both Herzl and Weizmann had already conceded, was the root cause of anti-Semitism.
And so it came about that Zionism was widely seen in these early days as an original and workable solution to the Jewish problem, even though Zionism meant stealing Arab land on which to park this recalcitrant race of rootless cosmopolitans.
The awkward question nevertheless needs to be asked: did Zionism actually succeed in solving the Jewish problem, as it was widely expected to do? No, unfortunately, it did not. Like all other solutions hitherto tried, Zionism was to prove an abysmal failure.
This was because Jewish leaders reneged on their implicit promise, or rather on the tacit understanding, that those who are given a homeland are under obligation to go and live there. The Jews were expected to emigrate to Israel en masse, thereby solving the Jewish Problem by removing the root cause of the problem, i.e., themselves: meaning, their presence in other people's countries as undesirable maladapts.
The Jews' reluctance to emigrate to Israel en masse after 1948 defeated the whole purpose of giving them their own country in the first place. It made a mockery of Zionism and its rationale.
There are almost as many Jews in North America today (5.8 million) as there are in Israel (5.9 million). An enormous  40 percent of world Jewry now choose to live in the United States. Vast numbers of Jews moreover continue to live in other people's countries where they continue to excite anti-Semitism by their domineering presence, their over-representation in key professions, their tendency to network, and their constant involvement in fraud and financial scams.
This was not as it was meant to be. Why give the Jews a homeland if they refuse to live there? Why buy a man a horse, you might similarly ask,  if he refuses to ride it?
So here we are now: at this awkward impasse.
By giving the Jews Israel, the Brits and the Americans possibly made history's most costly mistake. No decision they could have made is likely to have more catastrophic consequences. The Jews now have nuclear weapons. More than once, they have threatened the world with their Samson Option, i.e., world annihilation if ever Israel is existentially threatened. And needless to say, they are currently engaged in the ongoing genocide of the Palestinians, a people whose only crime is that they happen to own the land the Jews covet.
Adolf Hitler once described America as the Jews' "new hunting grounds". I apologize for quoting the most hated man in history, but it seems there were times when Hitler actually hit the nail on the head. With remarkable prescience, he saw that the state of Israel would one day develop into organized Jewry's international crime base from which it would plunder other countries, including America, with impunity:
"It doesn't even enter their heads to build up a Jewish state in Palestine for the purpose of living there; all they want is a central organization for their international world swindle, endowed with its own sovereign rights and removed from the intervention of other states: a haven for convicted scoundrels and a university for budding crooks."  — Adolf Hitler, Mein Kampf, Chapter 11
---
THE THEFT OF PALESTINE
In 1946 the Jews owned 6 percent of Palestine.
Today they occupy (illegally) roughly 90 percent.
In his final years, Stalin appears to have developed a negative attitude toward Israel, seeing it as a giant military base run by a Jew-controlled America that would one day threaten the vital interests of the Soviet Union. Before he could do anything about it, Stalin was assassinated.
The one man who could have stopped international Jewry in its tracks, as it ran its rollercoaster ride to world domination with the United States as its battering ram, had been secretly poisoned to death — either by Beria, thought by many to be Jewish or by another Jew in Stalin's entourage.
The date of Stalin's death, March 1, 1953, happened by a strange coincidence to fall on the Jewish feast of Purim.
International Jewry today continues its triumphant march in North America, Europe, and elsewhere.
---
Continued in Part 2: 7 Drastic Remedies for the Jewish Problem

Dr. Lasha Darkmoon (b.1978) is an Anglo-American ex-academic with higher degrees in Classics whose political articles have been translated into several languages. Most of these can be found at The Occidental Observer and The TruthSeeker, but others on a variety of different topics—such as philosophy, religion, art, and poetry—will be found on the net.
Because of her radical political ideas in regard to 9-11 and the role played by organized Jewry in international affairs—ideas that would alienate her friends and family and make them ostracize her—Lasha Darkmoon is forced to conceal her true identity at the present time under a pen name.
The need for the strictest anonymity makes it impossible for Lasha Darkmoon to reveal her home address or telephone number to anyone; nor to accept the numerous invitations she has received to appear on people's radio programs, to give talks and interviews, or to enter into audiovisual communication with anyone. She remains a strictly reclusive and private person whose only contact with strangers, for the foreseeable future, must be through the written word.
Indian mysticism remains Lasha Darkmoon's chief influence. Though echoes of her favorite poets—Blake, Keats, Baudelaire, Yeats, and TS Eliot—may sometimes be heard in her verse, Darkmoon's work is marked above all by a lush exoticism and otherworldliness.
ATTENTION READERS
We See The World From All Sides and Want YOU To Be Fully Informed
In fact, intentional disinformation is a disgraceful scourge in media today. So to assuage any possible errant incorrect information posted herein, we strongly encourage you to seek corroboration from other non-VT sources before forming educated opinion. In addition, to get a clear comprehension of VT's independent non-censored media, please read our
Policies and Disclosures
.
Due to the nature of uncensored content posted by VT's fully independent international writers, VT cannot guarantee absolute validity. All content is owned by the author exclusively. Expressed opinions are NOT necessarily the views of VT, other authors, affiliates, advertisers, sponsors, partners, or technicians. Some content may be satirical in nature. All images are the full responsibility of the article author and NOT VT.
About VT
-
Comment Policy