Alimuddin Usmani Interviews Gilad Atzmon
Alimuddin Usmani: In a recent text you called the British labor opposition leader, Ed Miliband, a shameless Zionist.  Ed's father, Ralph Miliband, was a Marxist  and a member of Hashomer Hatzair. Is there a contradiction between being both a Marxist and a Zionist?


http://www.thejc.com/comment-and-debate/comment/112046/ralph-miliband-marxist-and-zionist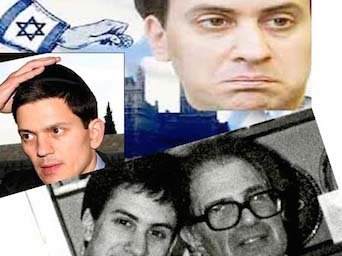 Gilad Atzmon: This raises a few questions that deserve close attention. First, can someone  be a Marxist and a Zionist simultaneously? Theoretically, NO; practically, YES.
On the theoretical level, there is a blatant contradiction between Marxism and Zionism. Marxism is universal and cosmopolitan, Zionism is tribal and nationalist. Can anyone be a cosmopolitan and a nationalist or universal and tribal? Ordinary people probably can't, but the Jew can – Ralph Miliband clearly got away with it and he wasn't the only one.

While the term 'Jewish Left' is an oxymoron due to the impossible contradiction between ethno centrism  and the universal, it turns out that quite a few Jews have managed to overcome this hurdle. They operate tribally within their racially oriented Jews-only political cells, but they also identify as Marxists, Socialists and leftists. They must believe that no one notices the duplicity. But many do.
In order to understand this form of political dishonesty we must grasp the Jewish progressive  twist on the universal. Marxism seeks to unite the proletariat regardless of skin-colour, gender or race. The Jewish left strives to transform Marxism into a tribal friendly discourse. They separate society into different identity  groups. Accordingly, the Jewish progressive purports to support  the 'oppressed' yet he stays cocooned in a Jews only Marxist ghetto in which he doesn't mix with the Goyim, let alone the working people.

The next question addresses the case of Ralph Miliband. The fact that Ralph Miliband, a petty Zionist, continually managed to convince his socialist cohorts that he was 'cosmopolitan' and a 'socialist' shows that the British Left has been hijacked  by a controlled opposition for some time. This fact alone explains why  the working class in this country have been left behind.
Does anyone really believe that  any of the Milibands (Ralph, Ed or David) spent a day in a factory in their entire life? I doubt it. And what about Ralph Miliband's best friend Eric Hobsbawm, was he a worker or a coal miner?  These people are members of the Jewish middle class pseudo intelligencia. They are people who claim to know what is good for the 'working people.' In Yiddish it is called Chuzpah. In practice, it is nothing short of deception.  

Alimuddin Usmani: Three young Israeli settlers who disappeared recently in the West Bank were found dead. Since their disappearance the Israeli government took measures to punish the Palestinians collectively. What do you think of this affair?
Gilad Atzmon:Collective punishment is a popular activity in the Jewish State. After all, the Jews have been waiting for 2000 years to punish the goyim collectively.

In order to understand Israel and its actions we must understand Israeli policy within the context of the Jewish continuum. It is not Zionism that drives Israel to impose collective measures against Palestinians. This response is embedded in the nature of the Jewish state.
There is also a deeper rationale behind such collective punishment. The abuse of the Palestinians in a collective manner contributes to Israeli collectivism. The punishment  of Arabs as a homogenous identity unites the Jews, it enhances the Jewish collective and it sets clear racial barriers between the Arabs, the Goyim and the 'Jewish continuum'.    

Alimuddin Usmani: The most radical  Zionist figures were born in Eastern European countries : Ze'ev Jabotinsky (Ukraine), Yitzhak Shamir (Belarus), Menachem Begin (Belarus). Is there a link between their place of birth and their harshness against Arabs and Palestinians? 

Gilad Atzmon: The great Palestinian spokesperson Hanan Ashrawi, said once that Israel is the place where Jews punish Palestinians for crimes committed by the Europeans. There is no doubt that Jewish suffering in Eastern Europe contributed to the formation of hawkish Israeli right wing militarism. However, although the Iron Wall philosophy (the idea that Jews should treat Arabs with a fist) was introduced by Ze'ev Jabotinsky, it was Ben Gurion and the so-called Jewish 'Left' who implemented the Iron Wall and expelled the Palestinians.
I have long  agreed with Avi Shlem that Jabotinsky's Iron Wall matured into Left Zionism praxis by means of osmosis. However, I now think that it might be possible that it wasn't an ideological transformation that made Ben Gurion into a Jabotinsky disciple. It appears that Jabotinsky and Ben Gurion  as well as the rest of the Zionist elite were interpreting the Jewish national aspiration as a biblical homecoming project driven by racial supremacy and plunderous inclinations. In other words, both Ben Gurion and Jabotinsky treated the Palestinians with a fist because this is how they interpreted the meaning of their Jewish existence.

Alimuddin Usmani: Do you think that Mossad, whose motto is "by way of deception", inherited a Jewish historical tradition dating from the sicarii (siqariqim in modern hebrew)?
Gilad Atzmon:"By way of deception" is  a quote from the Bible (Proverbs 24:6). And this is significant because, in the eyes of the Israeli it conveys an imaginary  continuum between the Biblical Israelites and the current crop of Mossad agents  who facilitate too many 'false flag' operations, foolishly believing that no one notices.

But in fact it is the Mossad motto that helps us to grasp the political  role of people such as the Milibands,  BHL, The CRIF, LFI, Dershowitz, Neocons, Hasbara,  AIPAC,  George Soros and others. The Mossad's motto suggests that from a Jewish perceptive, deception is kosher. This is devastating indeed. 
Alimuddin Usmani: You attended a joint conference with Alain Sorel on the11th of June. Can you share  your thoughts about this event?

Gilad Atzmon: I enjoyed the conference enormously. To start with, entering Dieudonne's shrine is a spiritual treat that I would happily practice on a daily basis. I admire the man and love the room.  On top of that I am totally inspired by E&R's activity, the diverse crowd, the intellectual enthusiasm and the scholarly approach. It is a societal transformation at its inception. This was my second event with Alain Soral, whom I regard as the last French thinker. I respect his thoughts,  the methods by which he develops his argument and the depth of his scholarship. It is clear that the harassment Soral endures at the hands of the Jewish Lobby and their puppet anti-Social government is due to the fact that our rulers lack the ability to address the questions raised by Soral and E&R.
Alimuddin Usmani: On the 20th of June Dieudonné prevailed in a case against a Jewish student organization (UEJF) that attempted to censor a video disseminated via YouTube. The UEJF demanded that Dieudonné contribute 50,000 Euros to a Shoah memorial. The judge rejected their claims and stated that Dieudonné's target was primarily  Prime Minister Manuel Valls rather than the Jews. What is your reaction to this judgment?

Gilad Atzmon: It means that in France the prime minister is far more vulnerable than a certain tribe that believes itself to be ruler of the land.
Gilad Atzmon is an Israeli-born British jazz saxophonist, novelist, political activist and writer.
Atzmon's album Exile was BBC jazz album of the year in 2003. Playing over 100 dates a year,[4] he has been called "surely the hardest-gigging man in British jazz." His albums, of which he has recorded nine to date, often explore the music of the Middle East and political themes. He has described himself as a "devoted political artist." He supports the Palestinian right of return and the one-state solution in the Israeli-Palestinian conflict.
His criticisms of Zionism, Jewish identity, and Judaism, as well as his controversial views on The Holocaust and Jewish history have led to allegations of antisemitism from both Zionists and anti-Zionists. A profile in The Guardian in 2009 which described Atzmon as "one of London's finest saxophonists" stated: "It is Atzmon's blunt anti-Zionism rather than his music that has given him an international profile, particularly in the Arab world, where his essays are widely read."
His new book The Wandering Who? is now availble at Amazon.com
ATTENTION READERS
Due to the nature of independent content, VT cannot guarantee content validity.
We ask you to
Read Our Content Policy
so a clear comprehension of VT's independent non-censored media is understood and given its proper place in the world of news, opinion and media.
All content is owned by author exclusively. Expressed opinions are NOT necessarily the views of VT, other authors, affiliates, advertisers, sponsors, partners or technicians. Some content may be satirical in nature. All images within are full responsibility of author and NOT VT.
About VT
-
Read Full Policy Notice
-
Comment Policy