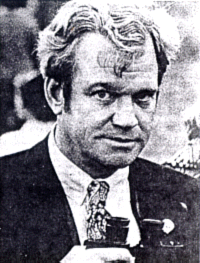 Worst Person on Earth Dead

If you wait by the river long enough, the bodies of your enemies will float by – Sun Tzu

Few around today remember Steve Kanga.  However, we at Veterans Today do.  Kanga was murdered by thugs employed by Scaife.  Powerful "dickless ratbags" love having reporters killed.  John McCain has at least one under his belt, to add to the crewmen of the USS Forrestal and the American aircrews he is responsible for killing.
Scaife, worse than the Koch brothers or Sheldon Adelson, worse than Coors or DeVos, worse than Palin or Rand Paul, is said to be dead at 82.  Born to wealth and arrogance, Scaife did much more than finance every affliction on the American people imaginable for the past 3 decades.  He ran a private army of retired/fired crooked cops that he sent out around the country to handle the problems the "rich and dickless" are unable to handle for themselves.
Scaife was like a Bush family member that had "gone bad."
Scaife was born in 1932 and, in 1950, began attending Yale where he was soon expelled for a minor joke, rolling a beer keg down a flight of steps, breaking both legs of a frat brother.  At the height of the Korea War, any other student would have immediately been drafted but not Scaife, the man who funded Watergate and the truncated Nixon presidency.
Oddly, Nixon has turned out to be the only Scaife funded scumbag worth bringing back to life, but we will continue.
Rather than face military service, his father donated millions to the University of Pittsburgh.  There, Scaife attended intermittently, and was eventually awarded an unearned bachelors degree in something 7 years later, when he officially reached the age where he could no longer be drafted into the military.
If one were to define what is wrong with America or humankind, one need only look at everything and everyone Richard Mellon Scaife supported.  If you find yourself "with him," chances are you are a psychopath, a moron with wealthy parents or simply stupid.
There are no other choices.  Look into this man.  Even Sheldon Adelson served in the US Army.
Biography
Gordon Duff is a Marine combat veteran of the Vietnam War. He is a disabled veteran and has worked on veterans and POW issues for decades. Gordon is an accredited diplomat and is generally accepted as one of the top global intelligence specialists. He manages the world's largest private intelligence organization and regularly consults with governments challenged by security issues. Duff has traveled extensively, is published around the world and is a regular guest on TV and radio in more than "several" countries. He is also a trained chef, wine enthusiast, avid motorcyclist and gunsmith specializing in historical weapons and restoration. Business experience and interests are in energy and defense technology.
Gordon's Latest Posts
EDITORIAL DISCLOSURE
All content herein is owned by author exclusively.  Expressed opinions are NOT necessarily the views of VT, authors, affiliates, advertisers, sponsors, partners, technicians or Veterans Today Network (VT).  Some content may be satirical in nature. 
All images within are full responsibility of author and NOT VT.
About VT
-
Read Full Policy Notice
-
Comment Policy