Samples from VT Videos Offered
—
By Gordon Duff and Mike Chester
—
Veterans Today is a strong supporter of the Second Amendment.  We are also actively involved in weapons design, gun safety and historical restoration.  Literally, out of lack of storage space, we are "cleaning out our closets" a bit.  If these items are of interest to you, contact information is available at the bottom of the page.  Additional photos furnished on request.  We priced these so it would be more than obvious that this is intended to be a "perk" for VT readers.
VT has worked with variety of platforms, SKS, AR, Mosin and more.  We are offering a few of our design prototypes, most are "NIB" or tested only, less than 5 rounds.  That will be specified.  Shipments are only to FFL as required.  Some units are technically "pistols" and will be specified.  3% charge for Visa/Mastercard applies.  Shipping a blanket $20 per weapon.
I haven't done this before as we are not a business.  We are FFL holders, thus sales consistent with state and federal regulations.  It is our hope to pick up a better camera, more equipment and turn out more videos.


AR-15 Pistol 7.5" Phosphate barrel   $499
7.5" Phosphate .223/5.56 Wylde barrel.  Tennessee Arms Nylon lower. DPMS trigger group. KAK buffer tube (Sig-Tac ready) Kak flash can. 4" aluminum quad rail. 3 lb. 12 oz. weight (unloaded) 30 Rd. Mag.
(Editor notes:  This is a great barrel.  I will switch out the TA lower for an Anderson for $25.  The DPMS trigger is really nice.  The TA lower is very light, brass reinforced but not for everyone.  The fit and function, however, are superb.  Please note that the KAK buffer is 8.45 inches with a setback for a SigTac which allows "shouldering" for proper use of sights, as allowed by law.  Other less expensive pistol buffers are for "extended arm" only.  The KAK flash can is also a nice touch.  The short rail is extremely light and "free float."  Cantilevered CQB holographic red/green 1x sight (NIB) included for $49.00.  Entire unit is NIB.)


SKS     $499
This is a custom built SKS with a Paratrooper length (16.5 inch) barrel and an ATI folding stock. This was built using a Chinese made SKS (there is no manufacturer's name on it, but it has the shape and build quality of a Norinco, so I think they were the manufacturer) I received it fresh out of long term storage packed in cosmoline and it appears to have never been fired or fired very few times. As you can see in the pictures, there is no wear in the action. (The brown spots are bits of cosmoline that I missed and not rust) I have it mounted in a ATI folding stock that allows the gun to be fired with the stock folded or open. It is fitted with a NC Star 3-9X red/green illuminated reticule scope and a 30 round magazine. It also features a front grip with pop out bipod. The barrel was professionally threaded and is fitted with an AK style muzzle brake.


AR-15 Pistol 7.5" Stainless barrel    $799
7.5" SS .223/5.56 Wylde stainless barrel, Magpul grip and trigger guard. Ni-Bor bolt carrier group. Anderson lower. KAK buffer tube with ½" spacer. KAK Flash can, Sig-Tac Arm Brace. Troy QD swivel. 7" Aluminum quad rail. Cantilevered CBQ holographic red dot scope. 30Rd. Mag.
(Editor's note:  This is a hot barrel.  Note the Magpul dress and very high end bolt carrier group.  The KAK custom buffer tube includes a KAK spacer (removable) that allows safe and effective use of the weapon unlike other SigTac setups.  Rail is continuous "flat top" with room for all legal optional equipment which does NOT include a descending forward grip.  This is legally a pistol but may be fired from the shoulder and is set up to do so comfortably.  Unit has been test fired only, 3 rounds, and is considered NIB.  This is one of the finest SigTac 5.56 units offered.)


Mosin "Tula"  Nagant "Deer Slayer"   $389
1939 Mosin Nagant built in the Tula factory. Professionally shortened to 22" barrel for deer hunting. Black Monte Carlo polymer ATI stock. Custom downturned bolt to accommodate scope (professionally mounted).  Receiver professionally drilled and tapped for scope mount. HQ brand 3-9X50 scope with illuminated red/green reticule. Bore and action gleaming. (pre-war/1939)
(Editor's note:  We hand picked these 1939 Tula Nagants.  These fire the very powerful 7.62x54R cartridge which is very affordable and available.  Scope mount is premium.  Gunsmithing alone on bolt and scope mount would normally be unaffordable.)


AR Stainless Carbine "Midwest Industries" 5.56/223 Premium  $699
NIB 16 inch AR with premium 1/7 twist stainless barrel.  Rail is Midwest Industries MI SS12G2, perhaps the world's finest.  Upper and lower are Palmetto (not PTAC).  Unit is unfired, very light, well balanced and a superior weapon.  Furniture is Magpul.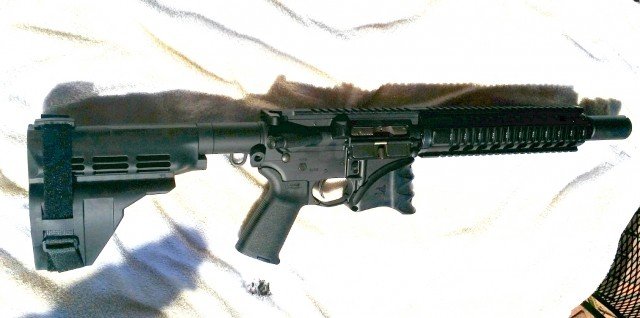 AR Pistol 10.5 inch Chrome Lined 5.56/.223 Wylde Barrel $799
KAK Industries buffer with spacer and flash can, Sig Tac brace included, ni bo premium bolt carrier.  Lower is Palmetto with Magpul grip and trigger guard.  Premium mag-well grip.  10 inch free float rail.  Troy Industries end cap with QD sling mount.  NIB unfired.
Purchase:
Chet's Firearms
Howell, Michigan
Email: [email protected]
Visa/Mastercard accepted (3% charge)
Shipping $20

ATTENTION READERS
Due to the nature of independent content, VT cannot guarantee content validity.
We ask you to
Read Our Content Policy
so a clear comprehension of VT's independent non-censored media is understood and given its proper place in the world of news, opinion and media.
All content is owned by author exclusively. Expressed opinions are NOT necessarily the views of VT, other authors, affiliates, advertisers, sponsors, partners or technicians. Some content may be satirical in nature. All images within are full responsibility of author and NOT VT.
About VT
-
Read Full Policy Notice
-
Comment Policy