Festival America
Literature and Cultures of North America
Vincennes, France   Sepetember 11-14, 2014
French people in Paris and Vincennes are interested in American writers and culture as evidenced by the 7th edition of  Festival America , Literature and Culture of North America U.S, Canada, Quebec, Haiti . It was sponsored in part by  Télérama the TV guide.
Vincennes is a suburb close to Paris known for its castle  Le Château de Vincennes and also for Parc Floral.  The Festival featured 65 authors from North America and 45  French authors.
My friend, Ludavic from Normandy who likes to speak and read English and I went to Festival America on Saturday night to see the film  about Louisiana, the discussion in French and the concert.
When we arrived we entered the Hotel de Ville ( city hall)  where the book stores had vendors selling mostly books with American authors but in French!  We asked if there were any books in English and one vendor told us that Shakespeare & Co. was the only bookstore there selling books in English.
There were three Grand Soirées
Thursday
"L'Amérique de Richard Ford"  which featured a talk by the author Richard Ford hosted by Natalie Crom from Télérama. A short film Affaires de Coeure  by Catherine Berge was presented before the talk.
Friday
"Il était un fois dans l'Ouest¨ translated English "Once upon a time in the West" hosted by Julien Bisson from Lire

The theme was how was the US developed. Was it like in the Westerns?
There were 4 writers both American and France there: Jim Fergus, Philipp Meyer, Céline Minard and Eric Vuillard who participated in the discussion.
Before the discussion a film  ¨Winter in the Blood¨ an avant-premiere  before it opened in France  by Alex and Andrew Smith    (2013, USA)   It was from an adaptation of a novel
¨L'hiver dans le sang de James  Welch¨ (translated as   winter in the blood of James Welch ) which shows the young Blackfeet Indian  living on a reservation in Montana. He saw his father die in a pit and his younger brother disappeared at 14 years of age.  He looked at the animals  which seemed to be the last remains  of the heritage of his ancesters. The presentation by Alex Smith and Louis Welch was in collaboration with the Embassy of the United States of America in Paris.
Saturday
¨Fêtons La Louisiane¨translated    "Celebrate Louisiana"
It was hosted by Francis Geffard and Michel Bezin.    It was presented to a sell out audience – there were no empty seats and some people were standing. First there was a projection of short films from Helgi Picciinin . ¨La Luisiane d'aujourd'hui: vivre en deux langues¨ ( Louisiana today to live in two languages).  It showed how  the generations gradualy lost their French language but a minority of people francophones loved their French language and French culutre, and encouraged the use of the language, arts and French culture:  The writers from Louisiana went on stage and told about their attahment to New Orleans in the recent past such ad Katrina and also the leaks fo plateformes of petroleum from BP. These writers shared their thoughts about Cajun culture and their love for New Orleans. We were pleased to hear from Zachary Richard, David Cheramie, Tim Gautreaux, Jesmyn Ward, Joseph Boyden, Helgi  Piccinin and André Gladu.
After the discussion, there was an amazing concert by Zachary Richard;  For 40 years he has been singing in Cajun and French as well as English;  His last album¨Avec Le Fou ( With the Crazy) he affirms his love of the French language and the poetry of its music. He is an ecologist and wants to keep the love of the culture of  the land of his ancestors. For the concert, he sang and played the guitar while his accompanit played the fiddle!  We felt the enthusiasm of the crowd!  At one point we all got up to dance in our places!  The concert went on until about 12.30.   Ludavic and I wondered if the attendees came primarily for the concert.
During the festival there were  speeches  about many subjects:
¨¨Dans les petites villes¨   in the little cities
¨Dans les île¨s  in the Islands
¨Ou en est la rêve américan?
Where are we in the American dream?
¨C'est quoi l'Amérique ¨
What is Ameria?  Each writer tells of his vision of America and how it inspires his works.
¨Pour l'amour de l'art
For the love of art
The topics talked about were  music, painting, dance and movies Stevern Sampson, an American  journalist, writer and critic  gave a speech entitled
"Les écrivains américains à Paris"  translated as American writers in Paris;
He answered the question if Paris has a literary prestigue with writers from across the Atlantic. He talked about Henry James, Ernest Hemingway, Anaïs Nin, Henry Miller and so many others.
¨New York  New York
Ïndiens et Blancs en Amérique le face à face¨ translated  as Indians and Whites in America face to face There were talks by poets.
There were some presentations where American and French authors gave hommage to the great writers
J.D. Salinger
He never made a public appearance or wrote anything for 40 years of his life.  Fréderic Beigbeder  wrote about Salinger in his new novel ¨Oona et Salinger.
Joyce Maynard  shared a part of his life  an episode which she shared in ¨Et devant moi le monde- translated  and if front of me the world.   I remember reading Sainger's ¨Catcher in the Rye¨which was popular in USA  at one time.
Fréderick Beigbheder and Joyce Maynard were there.
Pacal Thuot was the moderator.
Raymond  Carver
He was called the American Tchekhov,   He wrote about modest people and ordinary dramas.
His novel  Les Vitamins du Bonheur   Vitamins of Good Luck was published in 1976.
Richard Ford, Philippe Dijan, Olivier Cohen, Rodolph Barry and Stéphane Michaka participated in the discussion moderated by Michel Bazin;
Jack Kerouac et the Beat Generation
His work is considered as one of the most important of the 20th century/  He was a prolific author and his book  ¨Sur la route¨ with the new edition and new translation is considered an  important book tor ead.
Yves Buin, Herménégide Chiasson and Fanny Wallendorf participated in the discussion which was moderated by Hubert Artus.
There were films about Quebec, Haiti and  French Guiana;
Twenty-seven writers francophones from North America came to the festival to echange ideas and tell about their cultures from Quebec; Haiti, Acadie, Louisiana, Manitoba and Saskatchewan . They came to Versailles to tell us their vision of America where they write in French.:
Some of the programs included Francophones en Amérique de Nord anglophoen. In 2012 almost 36 million North Americans were of French descent  almost 10% of the  total population of USA and Canadaz; Deni Yvan Béchard from  Saskatchewan, J.R. Leveillé  from Manitoba Deni Yvan Béchard from a French American family  also told of their experiences to preserve French culture hoted by Simone Suchet Louisiane: être cajun aujourd'hi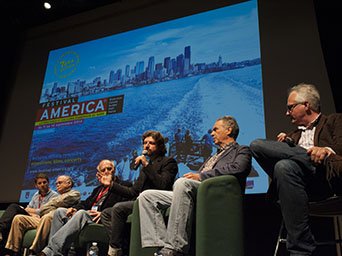 Louisiana  – to be Cajun today
In 1916 English was the language to be used  in schools. In 1900 85% of the population of southwest  Louisiana was French speaking, in 1950 it was 50%.  The last count was 250,000 Francophones in Louisiana about 10% of the popluation the majority over 60 years of age.
David Chermamie, Tim Gautreauw, Helgi Piccinin and Zachary Richard participated hosted by Dominque Chevallier, Francophoes de l'Ouest canadien, Francophones of West Canada, Manitoba and Saskatchewa have to protect their French culture to keep their French artistic and literary culture,  David Bouhare, Joseph Boden, André Gladu and J.R. Léveillé participated Hosted by Francis Geffard;
There was interesting photography by French photographers.
Montana, Montréal-New York and American States of Mind were  titles of some photographs.
The Club photo of Vinennes Images chose 40 photographs to display.
Festival America  Litératures et Cultures d'Amérique du Nord 7th edition was interesting, educative and fascinating;  We wish to thank the press office  Laurent Delarue and Marianne Fontaine for inviting us to have an enjoyable experience.
For the complete program go to www.festival-america.org.
To  see the videos and audio presentations.
http://www.festival-america.org/les-videos-et-les-enregistrements-audios.html
Jane Rosenstein is a U.S. citizen living in Paris, France. She is a professional translator/interpreter. She is the owner of The International Connection which does international marketing consultation including sales of wine, interpretation, and translation.
She enjoys the cultural life that living in Paris offers and has talents in organizing events. She speaks English, French, and Spanish. She has a B.S. degree in mathematics from the University of Pittsburgh and an M.B.A. degree from Georgia State University in Atlanta, GA.
ATTENTION READERS
Due to the nature of independent content, VT cannot guarantee content validity.
We ask you to
Read Our Content Policy
so a clear comprehension of VT's independent non-censored media is understood and given its proper place in the world of news, opinion and media.
All content is owned by author exclusively. Expressed opinions are NOT necessarily the views of VT, other authors, affiliates, advertisers, sponsors, partners or technicians. Some content may be satirical in nature. All images within are full responsibility of author and NOT VT.
About VT
-
Read Full Policy Notice
-
Comment Policy