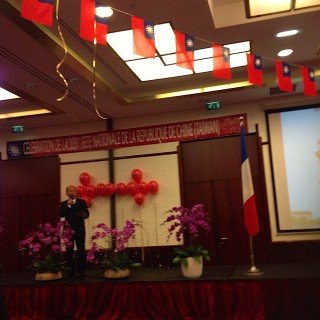 I had the privilege of attending Taiwan's 103rd National Day celebration of the Republic of  China (Taiwan) held on October  8, 2014 at the Evergreen Hotel in Paris, France. Ambassador Lu gave a speech that Taiwan is a democracy and thriving in business. He welcomed visitors to visit Taiwan.
After feasting on the buffet of delicious food , which was catered by a restaurant in  Paris'  largest Chinese neighborhood, at the celebration,  I met Mr. Lih-min Hsieh, director of consular information  who introduced me to  Aline Tsui, third secretary service information and Julia Chen director of  Taiwan Trade Center, Paris.  I requested and was granted an interview with Ambassador Lu on October 27, 2014 to learn more about Taiwan. Mark W. Suits, a Paris journalist and photographer for VT, went with me.
Ambassador Lu warmly welcomed us and introduced us to his first secretary , Mr. Chi-tao Wen.
First I asked Ambassador Lu to comment on the phrase  "One China Two Systems" which means that Mainland China referred to as Beijing would like to have political control of China while keeping the Taiwan economy as it is now functioning.
Ambassador Lu told us that Taiwan is a full-fledged democracy and free vibrant economy and plans to continue being an independent country.
In Taiwan there is freedom to vote with more than 250 political parties— namely the nationalist party (Kuoming Tang) in power, and the opposition Democratic Progressive Party.
Taiwan has all levels of elections since 1949 when President Chiang Kai-shek came with the government from mainland China to Taiwan. Through years of efforts in political renovations Taiwan has a single parliament (Legislative yuan). Taiwan had its opposition party since 1986, and its people have held elections by direct vote and universal suffrage since 2000.   The Democratic Progressive Party won in 2000 and 2004. In 2008 and 2012 the Nationalist Party won; The next Presidential election will be in 2016. Taiwan as a democracy had gone through  power transferring twice in a tranquil revolution with no blood shedding These are marvelous accomplishments and a model for Chinese democratization.
Taiwan is the 19th world economy – 17th place for import, 18th for export–in the world, Ambassador Lu stated. Taiwan's market is not sufficiently known in France.  He gave an example of HTC mobile possessing dual camera with the image captivating technology bought from France. He stressed that Taiwan is not only a market but also a credible and reliable international partner. He talked about the bilateral relation improvements with France in cultural, educational, and scientific research exchanges in recent years.
Then he discussed how China did not keep their promises to Hong Kong through the recent "umbrella revolution" in Hong Kong.
Ambassador Lu told me that Beijing didn't respect their promises regarding free elections.
These promises are included in the Joint Declaration of the government of the UK  of Great Britain and Northern Ireland and the government of the People's Republic of China (PRC)" signed in 1982 —namely, under the principal of "One country Two systems,"  PRC promises that its communism will not be applied in Hong Kong's Special Region, in keeping with Hong Kong's Capitalism system and way of life will not be changed for 50 years as stipulated  in Hong Kong's Basic Laws of Special Administrative Region.
Thus, only candidates recommended by Peking (known today as Beijing) are on the ballots. Contrary to Hong-Kong, Taiwan has its real democracy  as shown in the student Sun-Flower Protest in March, 2014.  Students protested for the transparency on signing the  "Service TradeAgreement " following agreement which is one of the following agreements under the Economic Cooperation Framework Agreement (ECFA) signed with Beijing in June, 2010. The ECFA is composed of 4 agreements: service trade agreement, goods trade agreement, investment agreement and the dispute settlement agreement.
Since the beginning of the event, hundreds of open discussions or communications in different walks of society were done, but due to lack of understanding or some opposition political maneuvers, rumors appeared and spread, and because of  a fast  approval process in the legislative yuan (parliament), the students occupied the parliament and then the government for 24 days. However, the students' voices were heard—a surveillance law regarding the signing of treaty with Beijing was sent to the legislative yuan (parliament) for approval. During this period, the every day life of Taiwanese people continued as usual. This event is regarded as a deepening of democratization in Taiwan.
I had some experiences with Chinese people in Hong Kong fearing this because when I was in Atlanta, Georgia an attorney from Canada called me trying to reach another company to provide a Cantonese interpretation for Hong Kong people going to the Canadian Embassy to emigrate into Canada. People continued to come and my company, The International Connection, provided the interpretation until they closed the Canadian immigration services in Atlanta, New York City and most other locations in the U.S. Then the people tried to emigrate using the other worldwide offices that remained open.
Press – the press is pro China and controlled by China Communications such as e-mails and letters are screened. I also learned that by attending the "Doing Business in China ¨seminar at Mama Events here in Paris.  All musical productions contents of publications must be approved by Beijing for all of China.
China's political system is also changing, Ambassador Lu said.  Mr. Xi Jinping, the current  president of PRC, was running a campaign against corruption when he took power. The public sector couldn't spend money to go to restaurants in China.
China, under the former Chinese leader Deng Hsiao-ping in 1980s, proposed the "One China Two Systems" to try to take control of the sovereignty of Taiwan but this has never been accepted by the Taiwanese people.
Regarding the future option for Taiwan's eventual relation with Beijing, Ambassador Lu said, it will be left for time to find out the best choice of system —democracy or communism.  It's a competition for time and system. Taiwan is an open society and welcomes competition and freedom of life. The Taiwanese people keep their status-quo for now and Taiwan's fate will be decided by its people in democracy with consensus in the future.
Mark mentioned the decline of the USD and the Chinese changing – where their ways of life seems getting off from the communism – hoarding gold, the shale oil which is 5-6 miles underground. He talked about the social weakness and unfairness of world capitalism with the super elite having with so much money that they turn to use their personal wealth to have power.
I asked Ambassador Lu about the Taiwan's relationship with the USA. The U.S. is Taiwan's 3rd country of export following China (1st) and Hong Kong (2nd). The U.S. is Taiwan's 3rd country for imports following Japan (1st) and China (2nd).
Taiwan shares the common and universal value of democracy. There have been no US troops in Taiwan since 1979 when US broke and switched diplomatic recognition to the People's Republic of China in Beijing, abrogating the Sino-American Mutual Defense Treaty with Taiwan.  Instead, the Taiwan Relations Act (TRA) passed through in the US Congress gave Taiwan a substantial status as an authority, replacing the sub-mentioned treaty, and maintaining the commercial, cultural and other relations with people on Taiwan.
U.S.A.  is the number 1 country  for investment in Taiwan;   As to technical developments worldwide. U.S.A. with Silicon Valley is no; 1, then Japan, mainland China and then in 4th place is Taiwan;
Taiwan has advanced education; 30,000 – 20,000 students go abroad of which 3,000 go to France. Taiwan  invests 3.1% of GDP in R&D field  of which 78% is contributed by private sector. U.S.A. is the most important partner in scientific cooperation, followed by France.
In 1968, President Chiang Kai-Shek prolonged compulsory education from 6 years to 9 years. The government needed 160 million Taiwan Dollars ( $US 1 = $45 NTD-New Taiwan Dollar)
The Taiwanese government had 140 million NTD but needed 160 million NTD , so then Prime Minister Yen Chia-Kan borrowed money from the U.S..  The money was refunded by Taiwan afterwards with a favorable balance of trade. By doing this, it cultivated the human resources and paved the solid foundation for Taiwan's national development.
Taiwan retreated in its initiative from its UN permanent security and member state on October 25, 1971 following UN adoption of the 2758 resolution to cede the China representation rights to Beijing. Taiwan is not a member of the UN nor UNESCO, and Taiwan's people are subject to lots of inequity and unfairness for international participation. Ex. some years ago for a Non-Governmental Organization's cultural event taking place in a UNESCO building, all Taiwan's concerned parties including civil society members and journalist were not allowed to enter because they had passports from Taiwan,   by an officer at the entrance of UNESCO building refusing them the right to enter the building.
Tourism is a growing and prosperous industry in Taiwan. 95% of foreign tourists are happy with their visit to Taiwan; only 5% are not happy because they have to leave. As Taiwan people's brilliant accomplishments and excellent reputation in all respects won international recognitions, and with Taiwan diplomats' efforts tourism is encouraged. Tourists from Europe and the USA enjoy reciprocal visas exemption treatment.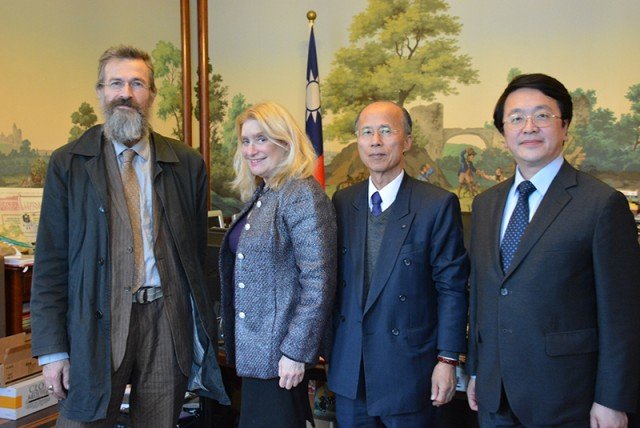 Mr. Lu's comments on the Growing Older Population:
7% are over age 65 —-the life span in Taiwan is 76 for men, 82 for women. When I asked Ambassador Lu what the plans are for dealing with the aging population he said Taiwan's national health care starting from 1995 covers most medical consultations and prescription expenditures in any hospital or clinic at its people's choice, and Taiwan is amongst the word's best top 5 world wide for medical care;
He concluded the interview by telling us Taiwan continues to progress and hoped we would visit Taiwan.
Jane Rosenstein is a U.S. citizen living in Paris, France. She is a professional translator/interpreter. She is the owner of The International Connection which does international marketing consultation including sales of wine, interpretation, and translation.
She enjoys the cultural life that living in Paris offers and has talents in organizing events. She speaks English, French, and Spanish. She has a B.S. degree in mathematics from the University of Pittsburgh and an M.B.A. degree from Georgia State University in Atlanta, GA.
ATTENTION READERS
We See The World From All Sides and Want YOU To Be Fully Informed
In fact, intentional disinformation is a disgraceful scourge in media today. So to assuage any possible errant incorrect information posted herein, we strongly encourage you to seek corroboration from other non-VT sources before forming an educated opinion.
About VT
-
Policies & Disclosures
-
Comment Policy
Due to the nature of uncensored content posted by VT's fully independent international writers, VT cannot guarantee absolute validity. All content is owned by the author exclusively. Expressed opinions are NOT necessarily the views of VT, other authors, affiliates, advertisers, sponsors, partners, or technicians. Some content may be satirical in nature. All images are the full responsibility of the article author and NOT VT.