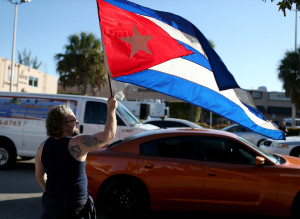 by Sami Jamil Jadallah
Like AIPAC, which has a stranglehold on America's policy in the Middle East, the self "Exiled Cuban" community of Florida has exercised similar stranglehold over US policy toward Cuba. These two communities unique in political powers representing less than 3% of US population have exercised undue, dangerous toxic and monopolistic influence over US foreign policy issues related to Israel and Cuba.
Given the power and influence of the "Self Exiled" Cuban community, President Barack Obama, more courageous than Richard Nixon when he opened diplomatic relationships with China, took the most courageous step of any president in the last 60 years, when he announced the opening of diplomatic relationship with Cuba. A country the US has put under illegal international siege and embargo for over 60 years.
Such decision by President Obama took the Cuban community of Florida by firestorm enraging it with the likes of Senator Marco Rubio (R-Fl) declaring
" appeasing the Castro brothers will only cause other tyrants from Caracas to Tehran to Pyongyang to see that they can take advantage of President Obama's naiveté during his final two years in office".
Senator Rubio continued to state, " as a result America will be less safe as a result of the President change in policy". Senator Robert Mendez (D- NJ) quickly condemning the president decision with promises to block any efforts to improve relations. It is interesting to note that the "Cuban" congressional contingency is the most Zionist even more than some Jewish members of Congress.

"It's absurd and it's part of a long record of coddling dictators and tyrants that this administration has established," Senator Rubio continued to declare
" at a minimum, Barack Obama is the worst negotiator that we've had as president since at least Jimmy Carter, and maybe in modern history of the country."
I am sure Senator Rubio is unaware that President Jimmy Carter was the one who negotiated the Camp David Peace Agreement between Israel and Egypt.
In Florida where the self Exiled Community plays a major role in local politics and business, denunciations of President Obama policy toward Cuba was swift and as expected at all levels.
Governor Rick Scot (R-Fl) declaring his opposition stating " as long as Cuba choose dictatorship over democracy, I will continue to support the embargo and sanctions against them".
Other members of Congress specially those members of the Cuban community of Florida like Rep. Mario Diaz-Balart were outraged with the President decision "President Obama's decision to allow the Castro regime to blackmail the United States and abandon our pro-democracy principles is an outrage,".
Rep. Rep. Ileana Ros-Lehtinen, a Florida Republican, perhaps more Zionist than Bibi Netanyahu declared "This misguided action by President Obama will embolden the Castro regime to continue its illicit activities, trample on fundamental freedoms, and disregard democratic principles."
President Obama recognizing the role and contribution of the Cuban community, a role that no one can deny stated
"Meanwhile, the Cuban exile community in the United States made enormous contributions to our country –- in politics and business, culture and sports. Like immigrants before, Cubans helped remake America; even as they felt a painful yearning for the land and families they left behind. All of this bound America and Cuba in a unique relationship, at once family and foe."
However special interests or one issue "community" whether religious or ethnic or "nationalistic" must not have a monopoly over broad US national and international issues and policies.

Well, perhaps President Obama can muster the same courage and declare "independence" of American foreign policy from AIPAC giving full recognition of the State of Palestine and demand an end of the Israeli Occupation, the longest in modern history.
True Mr. President "After all, these 50 years have shown that isolation has not worked. It is time for a new approach." The same can be true of US policy toward Palestine.
Sami, a Palestinian-American and a US Army Veteran (66-68), recipient of the "soldier of the month award and leadership award from the 6th Army NCO Academy, is an international legal and business consultant with over 40 years of international experience, in construction, hospitality services, conservation, and defense, in the Middle East, Europe, and North Africa. Sami is a holder of BA, MPA in Public and Environmental Affairs, Jurist Doctor from Indiana University. While at IU he was elected class president, student government president and chairman of the Indiana Students Association,
Active in peace movement as a co-author of the pre-amble for the One State for All of its people and voluntary service program SalamNation. A frequent contributor on national and international affairs. He resides in the United States.
ATTENTION READERS
Due to the nature of independent content, VT cannot guarantee content validity.
We ask you to
Read Our Content Policy
so a clear comprehension of VT's independent non-censored media is understood and given its proper place in the world of news, opinion and media.
All content is owned by author exclusively. Expressed opinions are NOT necessarily the views of VT, other authors, affiliates, advertisers, sponsors, partners or technicians. Some content may be satirical in nature. All images within are full responsibility of author and NOT VT.
About VT
-
Read Full Policy Notice
-
Comment Policy