The Eleven Winners at Sesames 2014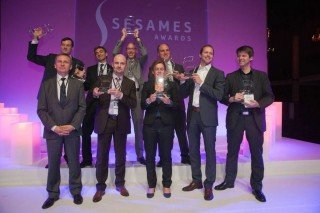 On the evening of November 4, 2014 Francesca Grunupp, Mark Suits our new photographer and Guillaume Cheng-hao Hu from the Embassy of Taipei in France and I went to the Sesames Awards at a ceremony held in the Salle Wagram in the center of Paris.
Contestants for the awards came from the Smart Cards, digital security, identification, secured transactions and contactless technologies sectors.  In 2014, eighty-nine companies made a total of 130 submissions. Professionals from the industry and journalists attended this event. The Sesames Awards marked the start of the 29th CARTES SECURE CONNEXIONS, the global event for payment, identification and mobility whose theme this year in Paris was "Users on the Move."  Cartes Asia will be taking place from March 18-19, 2015 in Hong Kong and Cartes America will take place from May 5-7, 2015 in Las Vegas.
We arrived at Sesames and were warmly greeted by Francis Flevet-Malhebiau, a press agent for Cartes. A pre-ceremony cocktail reception followed featuring great food and new inventions. I was particularly was fascinated by the Google Glass technology on display as I had never seen it. It is Google's invention using a computer on eyeglasses and is very impressive!
After the cocktail reception, we went to the auditorium to see which companies would win the awards. Isabelle Alfano, Exhibition Director, welcomed the attendees to the Sesames Awards. The different categories were presented with the three companies that were short- listed. Then came the suspense of waiting to hear the announcers tell us the winners from the 34 finalists.   Each winner received an official glass award and made an acceptance speech or had a representative make the speech in their place. The following is a list of the awards in their respective categories:
HARDWARE — Oberthur Technologies with Lasik integrated color laser inside polycarbonate documents. It is the first technology to enable personalization for a color picture with a single infrared laser inside a 100% polycarbonate document such as a passport or ID card. This technology provides protection against fraud by providing a irrefutable authentication.
SOFTWARE — Transport for London (nominated by MasterCard) for its invention named the  Future Ticketing Project – Pay as You Go Travel with Contactless EMV. Customers can travel around London using a contactless payment card by touching it on entering and leaving the transport. Transaction cost is charged directly to the card.
IDENTIFICATION/ID CARDS/HEALTH E-GOVERNMMENT

Emirates Authority with the UAE National ID Authentication Service
presented The National Validation Gateway, a program for the e-Government in UAE. It gives trust services to all Organizations and Government Agencies in UAE using real time identity, verification, multi-factor user authentication capabilities and digital signatures for digital transactions using the National ID Card.
IT SECURITY — Morpo with Morpho Tablet
The device features a small touchscreen for secure mobile data operations using biometrics (fingerprint and facial recognition) and cryptographic functions. The product
Morpho Tablet combines mobility, versatility, and security in a single platform for services in various sectors anywhere and at any time.
TRANSPORTATION —  Fidesmo  with Fidesmo. The company offers a connected card  that is managed from mobiles or internet. It is changing public transportation tickets, as each mobile telephone becomes a sales channel to buy and register tickets whenever and wherever and use the same card in multiple cities.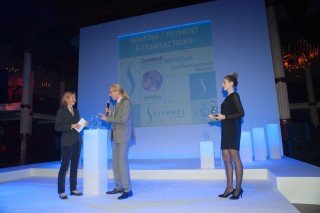 BANKING/PAYMENT/E-TRANSACTIONS — Worldline  with Certified Customer Reviews
This company provides a service through using online reviews. Its certified reviews service allows users and merchant to benefit from trusted and certified online reviews. Its reviews are mainly used by merchants and restaurants.
MOBILE COMMUNICATIONS — Inside Secure with Matrix HCE
Matrix HCE is a mobile application of the HCE based payment schemes transaction, which is the best possible security solutions available to enable the mass adoption of the software based mobile payments applications and to make the time shorter to market for issuers and cloud system providers.
TRUSTED INTERNET/AUTHENTICATION — Syniverse with Syniverse International Fraud Intervention Solution
An opt-in scheme to authorize payment transactions when a cardholder's mobile device is found in the same geographical location as their mobile device – insuring that the card is being used in the same location, preventing fraud. An opt-in scheme to authorize payment transactions when a cardholder's mobile device is found in the same geographical location as their mobile device- insuring the card is being used in the same location and therefore preventing fraud.
MANUFACTURING & TESTS  — Comprion with Otability
The company manufactures a toolbox of different software modules to facilitate tests of components involved in the OTA communication chain between backend services (Trusted Service Manager) and secure elements (physical or embedded). This test environment can be used in a lab, allowing for reproducible test scenarios including failure reproduction.
THE SPECIAL DISCOVERY
Dynamics Inc.for Open Loop/Closed Loop Multi Network Co-branded Card
Its device includes several buttons on the face of a card each associated with a unique account. A user selects an account by pressing a button and the account information is written onto the Electronic Strip registered trademark) EMC and NFC applets. Then the card can be used at any reader globally.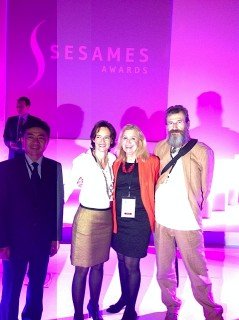 After the presentation, we went to a cocktail reception where we were served champagne, wine, soft drinks and French delicacies including foie gras.  We enjoyed the plentiful refreshments and talking to the winners.  The crowd appeared to be having a good time and the winners were happy to talk to us about their innovations.
Isabelle Alfano, CARTES SECURE CONNEXIONS event director and press agent Francis Flevet-Malhebiau did a great job organizing Sesames.
Jane Rosenstein is a U.S. citizen living in Paris, France. She is a professional translator/interpreter. She is the owner of The International Connection which does international marketing consultation including sales of wine, interpretation, and translation.
She enjoys the cultural life that living in Paris offers and has talents in organizing events. She speaks English, French, and Spanish. She has a B.S. degree in mathematics from the University of Pittsburgh and an M.B.A. degree from Georgia State University in Atlanta, GA.
ATTENTION READERS
Due to the nature of independent content, VT cannot guarantee content validity.
We ask you to
Read Our Content Policy
so a clear comprehension of VT's independent non-censored media is understood and given its proper place in the world of news, opinion and media.
All content is owned by author exclusively. Expressed opinions are NOT necessarily the views of VT, other authors, affiliates, advertisers, sponsors, partners or technicians. Some content may be satirical in nature. All images within are full responsibility of author and NOT VT.
About VT
-
Read Full Policy Notice
-
Comment Policy