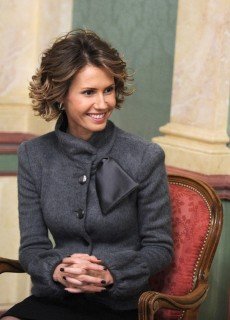 by Jonas E. Alexis
Good news. The Neo-Bolsheviks/Neoconservatives/Zionists are sad because Assad, one of their foes, did not receive a major defeat in 2014.
For the past two years, the neoconservatives/Zionists tried just about every diabolical tactic you can imagine in Syria—blatant lies, covert operations, psychological warfare, cunning deceptions, media manipulation, etc.
In 2013, CNN propagandized that Assad is "a ruler" who is "shaped by violence" and "indecision." In the same year, Fox News blasted Asma, Assad's wife, for standing by her husband. The Zionist news unashamedly declared that Assad's relationship with his wife was "a match made in hell."
The Zionist kingdom is quite upset about the relationship because they thought that Asma was one of their puppets. What probably ticked them off is that they thought that Asma was well trained in feminist ideology at King's College London. Fox News complained,
"Asma, who is pretty and fit, is also smart. She was an investment banker at J.P. Morgan when she met the Syrian president, who was then training in London to be an eye surgeon.

"Now, people around the world wonder how a woman born in the United Kingdom, with a bachelor's degree in computer science and French literature, could have stood by as her husband amassed a fortune over $1 billion while serving in public office.

"And how she could post Instagram photographs of her charity work while presumably hearing that her husband's regime has used chemical gas to asphyxiate children."
The reporters at Fox News did not even want to reexamine their preconceived ideology. Could it be that the Dreadful Few have been deceiving them from time immemorial? And could it be that the reporters knew this as well? Did Assad really use "chemical gas to asphyxiate children"?
Well, to them the truth of the matter is not important. What is important to them is that Americans and much of the world need to accept the bold lie that Assad used "chemical gas to asphyxiate children."
So, to answer why Asma still stands by her husband, Fox News went to deep end. Pay close attention here:
"The answer is simple:  Being pretty is no antidote to being greedy nor corrupt nor lacking empathy, even though people instinctively think it ought to be. And having children is no antidote to malignant narcissism.
"You can be slim and wear stylish clothes and have an above-average IQ and still have such deep questions about whether you are worth anything at all, presumably because no one ever loved you for real.
"And then you can go about trying to fill yourself up with money, power and the adulation of others, no matter what it takes—including killing people.
"In fact, it is an expected result of running from one's own self-loathing, cloaked in finery and fakery and fraud, that the real and decent people who interact with you will end up emptied out, of their money or their life force, by being in contact with you — let alone having you as their 'first lady.'
Since Fox News admitted that Asma has "an above-average IQ," then the first lady should take their tirade as a complement and should challenge them on the same premise. She should start looking at other events in recent memory.

Why did the Dreadful Few slaughter, torture, and pillage innocent people in Iraq and Afghanistan? Why did they turn Abu Ghraib into a Sadean sex pool? Why did they send the six-trillion dollar bill to the American people? Didn't at least one member of the Dreadful Few openly admit that genocide sometimes can be permissible?

Is Fox News really saying that Assad is worse than the Neoconservatives who relentlessly pushed the war in Iraq? Lastly, didn't Madeleine Albright admit that half a million Iraqi children died because of just one war in Iraq?
Hmmm…Let's see how the jokers at Fox News wiggle out of that dilemma.
---
In order to literally reduce Assad and all of Syria to ashes, Neoconservative Daniel Pipes even suggested that the United States needed to support both Assad and the Syrian rebels/terrorists so that the Zionist regime could kill two birds with one stone. Pipes was not kidding when he said explicitly,
"The West should prevent either side in the civil war from emerging victorious by helping whichever side is losing, so as to prolong their conflict."
Pipes added,
"This policy recommendation of 'helping whichever side is losing' sounds odd, I admit, but it is strategic."
Yes, this policy is odd, Talmudic, and diabolical. The only way that Pipes found it "strategic" was because it sought to subvert and pervert the moral and political order and substitute essentially Talmudic ideology in its stead.
But the "policy" was all in vain. The Neo-Bolsheviks/Zionists wasted their time, money, and energy because Assad is still in power. The New York Times itself declared at the end of 2013 that "Syrians on both sides of the war increasingly see Assad as likely to stay."[1]
At the end of the same year, Dan Halutz,
"who served as IDF chief of staff during the Second Lebanon War in 2006, told a gathering in Moscow that the prospect of al-Qaida-affiliated elements ruling Damascus in place of the Assad regime would be more problematic from Jerusalem's standpoint.

"'The regime in Syria is killing its citizens on a daily basis, but we need to admit that the opposition in Syria is comprised primarily of very extremist Muslims like al- Qaida,' the former IDF chief is quoted as saying in Ma'ariv."[2]
Now Listen to Neoconservative Seth Mandel of Commentary:
"The idea that there are no winners in war has long been a rallying cry for peace. But right now in the Middle East, what should concern American policymakers most is that the reverse is never true: whether or not there are winners, there's always a loser. And in Syria at the moment, every side seems to be winning except ours.
"Syrian dictator Bashar al-Assad, NPR notes, is ending the year in a far better place than he started it. Although that seems obvious, it's disturbing to think back what a difference a year makes…
"The key quote comes next from Joshua Landis. 'I think Assad is in a stronger position today in many respects, certainly on the battlefield, and he has the United States as a strategic ally,' he told NPR.
"Think about that. It was less than a year ago that the American secretary of state was asserting unequivocally that Assad was done and that certainly his days of being treated as a legitimate head of state were over. Now 'he has the United States as a strategic ally.'"[3]
Poor Mandel. Too bad that the plan didn't work. I'm sure he and his Neoconservative brethren are formulating another covert "strategy."
---
Haaretz reported last September that Assad was no longer a dictator and a bad guy in the eyes of the Obama administration. They said,
"Western diplomatic sources admitted Monday morning that despite the sweeping denials and the United States' declared opposition there is intelligence cooperation between Damascus and Washington.
"According a report in the Syrian newspaper Al-Watan Monday, the cooperation is conducted through an unnamed third party and is not direct.
"The third party conducts security consultations with the Americans and through them receives intelligence information that is ultimately transmitted to the Syrians.
"This includes information about the movements of Islamic State convoys, meetings of the organization's leaders, and weapons and ammunitions armories that IS fighters have seized in Iraq or on Syrian territory….
"According to the sources, Washington will ultimately be forced to admit the cooperation indirectly, due to the precise attacks by the Syrian army on IS sites, which are hard to find without precise intelligence information."[4]
The International Business Times had similar reports last August. We were told that
"Western intelligence agencies have been assisting the Syrian government of Bashar al Assad fight militants of Isis (now called the 'Islamic State'), by providing details on the location of militant leaders for targeted air strikes…
"The information was passed to Assad's government by German intelligence service Bundesnachrichtendienst (BND), which acted as an intermediary."[5]
David Bukay of the University of Haifa, Israel, did not help the Zionist "strategy" when he wrote in the Jerusalem Post,
"Questions should be addressed concerning the situation in Syria. When the democratic world condemns Assad as a cruel bloody dictator, and accuses him of butchering his own people, does it really has the accurate knowledge and the reliable information of the domestic situation in Syria and who are the forces operating there?
"Does the reality match the myths disseminated around about who are the butchers? Moreover, does it take into consideration that all the political leaders in the Arab-Islamic polity during its entire history are coercive brutal and oppressing? By that, is Bashar Assad really different in dictatorial and brutal terms from all other contemporary and previous historical leaders?
"Another set of questions relate to outer forces. Does the Assad regime pose a greater threat to international security than the Al-Qaida elements fighting there?
"Do we really believe that toppling the Syrian regime means weakening Iran and Hezbollah, and turning the balance of power in the ME in favor of Western interests?
"Are the forces fighting Assad, called 'the opposition,' pro-Western and more democratic forces? Shouldn't we deeply be concerned that toppling Assad regime could strengthen the al-Qaida affiliated groups, thereby endangering the regional and in time even the global security?
"A third set of questions are, what will happen to Syria after toppling Assad? Will Syria become more stable and tranquil with the opposition rule? What will be the regional balance of power and the political stability of Jordan and Lebanon, let alone Israel?
"What will be the fate of the religious and ethnic minorities in Syria, like the Christians and the Druses? Above all what will happen to the Alawite minority? Isn't it highly probable that pervasive bloodshed massacre, a full-fledged genocide will be conducted against them?
"It must be clearly stated: Bashar's disappearance means the persistence of domestic chaotic anarchic situation in Syria, like Iraq, Libya and Yemen. Contrary to the US (and Israel) wishful thinking, the regime that will emerge will be no democratic and not liberal; not pro-Western and not a secular regime with the Free Syrian Army…
"Bashar downfall also means deteriorating and exacerbating the Arab-Israeli-Palestinian conflict to bloody wars.
"As for the US: Did the US learn the lessons of toppling Qaddafi in Libya? The result is that the flag of al-Qaida -affiliated groups (AQIM) waves openly in Benghazi and the groups' activity is now seen in Mali, Niger, and Mauritania, directing to Algeria and Morocco to the west, and uniting with al-Qaida affiliate Boko Haram in Nigeria.
"On the east, AQIM has reached a collaboration with Somalia's al-Qaida affiliate group, al-Shabāb, and together they threaten Kenya and Ethiopia. AQIM has also close relationships with Hamas in Gaza, and al-Qaida groups in Sinai…
"[O]ne can choose his friends, but no one chooses his enemies. However, if one can do it, to choose his enemy, it is sure to select Bashar Assad. It is highly urgent and crucially important to declare: save Bashar Assad."[6]
If we have to "save Bashar Assad," then we have to get into a serious ideological conflict with the Neo-Bolshevik/Neoconservative/Zionist mafia, who will continue to do their best to manipulate the average American and the media.
We also will get involved into a serious conflict with some of the well-paid Goyim who are plowing and reaping for their masters. Those Goyim can be easily defeated because they feast on lies and deceptions—and as the old saying goes, you can't fool all the people all the time.
Most importantly, those Goyim who have been prostrating before the Dreadful Few have no decent argument whatsoever, despite the fact that some of them are well educated. Here I'm thinking of people like Thomas Sowell, Victor Davis Hansen, Bruce Thornton, Ann Coulter, John Bolton, John McCain, etc.
Hansen, who is a classicist and who has enough intellectual fiber to make a rational judgment, compared Putin to Hitler![7] When someone like that abandons reason and embraces complete madness, you can be sure that he has been kissing the Zionist/Jewish Ring.
---
[1] Anne Barnard, "Syrians on Both Sides of the War Increasingly See Assad as Likely to Stay," NY Times, November 8, 2013.
[2] Herb Keinon, "Ex-Army Chief Halutz: Israel Prefers Assad over Islamists in Syria," Jerusalem Post, December 11, 2013. Ladies and gentlemen, Israel and the United States have been supporting these "very extremist Muslims like al-Qaida" since time immemorial. They are commonly known as the Syrian rebels, or so-called "moderates."
[3] Seth Mandel, "2014: Bashar al-Assad's Combeback Year," Commentary, December 24, 2014.
[4] Jack Khoury, "Report: U.S. providing Assad regime with anti-Islamic State intelligence," Haaretz, September 15, 2014.
[5] Tom Porter, "US Gives Intelligence To Assad For Targetting Isis Commanders," International Business Times, August 23, 2014.
[6] David Bukay, "Saving Bashar Assad," Jerusalem Post, December 26, 2013.
[7] Victor Davis Hansen, "What Drives Vladimir Putin?," National Review, May 8, 2014.
Jonas E. Alexis has degrees in mathematics and philosophy. He studied education at the graduate level. His main interests include U.S. foreign policy, the history of the Israel/Palestine conflict, and the history of ideas. He is the author of the new book Zionism vs. the West: How Talmudic Ideology is Undermining Western Culture. He teaches mathematics in South Korea.
ATTENTION READERS
We See The World From All Sides and Want YOU To Be Fully Informed
In fact, intentional disinformation is a disgraceful scourge in media today. So to assuage any possible errant incorrect information posted herein, we strongly encourage you to seek corroboration from other non-VT sources before forming an educated opinion.
About VT
-
Policies & Disclosures
-
Comment Policy
Due to the nature of uncensored content posted by VT's fully independent international writers, VT cannot guarantee absolute validity. All content is owned by the author exclusively. Expressed opinions are NOT necessarily the views of VT, other authors, affiliates, advertisers, sponsors, partners, or technicians. Some content may be satirical in nature. All images are the full responsibility of the article author and NOT VT.