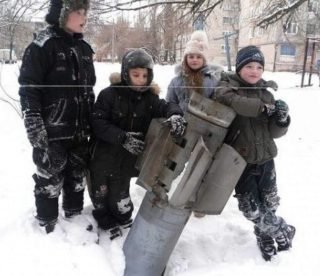 [ Editor's Note:  I can see a light at the end of the tunnel now. Neither the West or Kiev are laying claim to the Debaltsevo pocket as Ukraine territory.
Kiev has announced it is pulling troops and equipment out, supporting their claim all along that they have not been surrounded.
Of course none of these claims are supported by independent sources and we all know what Kiev's track record has been for reporting accuracy.
The Republics put the kabosh on that more today, releasing that they have all communications in the pocket blocked (with jammers) and no such order to retreat could have been received.
They are standing by their offer of a "green corridor", meaning that Kiev troops will be allowed to march out, but without weapons or equipment. The militias also state they are clearing out pockets of Ukies and taking surrenders, but so far we have seen no large units involved. So inquiring minds would like to ask, "Where are they?" Shelling seems to be slacking off.
Lavrov says Moscow supports a "removal of Ukie troops" (without equipment). And in a surprise move Belarusian President Alexander Lukashenko tells us that Minsk is ready to offer guarantees to pull out Ukrainian troops AND heavy weapons from Debaltsevo.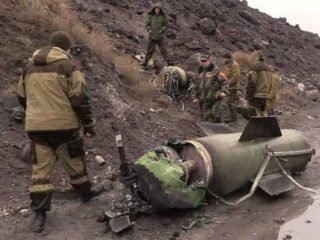 He is offering to "guarantee" the removal, meaning that he would take control of the heavy weapons, moving them to Belarus, where they would not be used again by either side.
As wild as this sounds it is actually a better deal for Kiev because it means that the militias would not get them either.
So the planets seem to be aligning to wrap Debaltsevo up soon and then we will see the OSCE monitors moving in. They are already reporting today that the Luhansk militias, who got into Debaltsevo first, are pulling back their heavy weapons already.
Keep your fingers crossed that we get through the next two days. Once the major engagements are stopped the little ones will have the monitors reporting them quickly which will bring a long needed rest to the civilian suffering, and the troops can get a bath as they are getting pretty ripe by now… Jim W. Dean ]
_______________________
–  First published … 
February 18,  2015

  –

Kiev troops surrounded in the city of Debalstevo have started to surrender en masse, Ukrainian rebels have said. President Poroshenko announced a complete withdrawal from the contested city.

Ukrainian President Petro Poroshenko confirmed in a video statement that he has given an order to withdraw troops from Debaltsevo on Wednesdsay.

"We stated and proved that Debaltsevo was under our control and that there was no encirclement. Our units withdrew according to plan in an organized manner. They took military hardware with them – tanks, APCs, artillery pieces, tow-tracks, cars," the president said.

He added that some 80 percent of the troops have already left the city.

Reuters cited a witness who saw the troops, some of them injured, arriving in Artemyevsk, a city northwest of Debaltsevo, through which a road leading to Kiev-controlled areas goes.

Poroshenko will visit eastern Ukraine later in the day and chair a security council session in the evening, Ukrainian media reported.

Earlier Semen Semenchenko, MP and commander of one of Kiev's volunteer battalions, reported that the troops were being withdrawn from the contested city. He added that Kiev should now attack in other parts of the frontline, which had been weakened by the rebels to lay siege on Debaltsevo.

"They are empty and we have troops. One strike and the frontline would crumble," he assured, adding that withdrawal is "beyond comprehension."

However, DPR spokesman Denis Pushilin has denied Poroshenko's statement, saying Kiev troops are not being evacuated, but are giving themselves up.

"Most of these formations, which Poroshenko referred to, were defeated by the militia forces, and some of these units surrendered or are surrendering now," Pushilin said as cited by the Donetsk news agency.

Earlier Maksim Leshchenko, a senior official in the self-proclaimed Donetsk People's Republic, also told journalists on Wednesday that the Ukrainian troops are laying down their arms "in their hundreds."

Earlier on Tuesday, Eduard Basurin, a military spokesperson for the rebels, confirmed taking some 300 soldiers prisoner.

Debaltsevo was Kiev's stronghold deep inside the rebel-held territories in eastern Ukraine, a military asset portrayed in the media as a site of a heroic last stand of the Ukrainian military.

DPR PM Zakharchenko hospital interview after injury in Debaltesvo

https://www.youtube.com/watch?annotation_id=annotation_1712166495&feature=iv&src_vid=55gEwaWtFOw&v=B5170kP7lNs

 The rebels said they had some 3,000 troops encircled in a pocket and had been calling on them for days to lay down their arms and surrender. Kiev rejected the claims, insisting that Debalstevo supply lines were intact and that the city would remain under their control.

The fate of Debaltsevo was arguably the biggest debating point at last week's peace talks in Minsk, which resulted in a ceasefire agreement. The continued violence around the city contrasts the virtually uninterrupted truce in other parts of eastern Ukraine.

EU Foreign Policy Chief Federica Mogherini demanded an end to hostilities around Debaltsevo and threatened Russia with more EU sanctions.

"The EU stands ready to take appropriate action in case the fighting and other negative developments in violation of the Minsk agreements continue," she said.

The ceasefire also dominated Wednesday's phone conversation between Russian Foreign Minister Sergey Lavrov and US Secretary of State John Kerry.

"Minister [Lavrov] pointed out the importance of direct dialogue between Kiev, Donetsk and Lugansk, including a speedy end to armed clashes in the area of Debaltsevo, and reiterated the obligations of the Ukrainian authorities to (conduct) constitutional reform and provide Donbass with a special status," the Russian Foreign Ministry said in a statement.

On Wednesday, anti-government forces started pulling back heavy weapons from the frontline in quiet areas of the conflict zone.

"Five 152mm self-propelled artillery pieces are being withdrawn from the village of Yelenovka to their permanent base," Basurin told the media.

Under the Minsk agreement, Donetsk has 14 days to withdraw heavy weapons completely, but if everything goes "as planned, we can handle it faster," the Donetsk Defense Ministry said.

"We intend to start artillery withdrawal in those areas, where the ceasefire is observed," Basurin said.

On the line of contact, where there is no military actions, weapons will be pulled back "within 3-4 days," the ministry stressed.

RIA Novosti confirmed the pullout, saying that its correspondent witnessed withdrawal of Grad multiple rocket launchers and tanks from the disengagement line.

According to Basurin, Debaltsevo is currently fully controlled by anti-government troops, but there are groups of Kiev soldiers in the south of the city trying to resist.

"DNR troops are now conducting a search operation in Debaltsevo aimed at locating and blocking those groups," Basurin said.

He also stressed the situation in the so-called 'Debaltsevo cauldron' should not become a pretext for either Kiev, or militia to violate the Minsk agreements.

On Tuesday, Russian President Vladimir Putin called on Kiev and the rebels to do whatever they can to resolve the issue without loss of life.

"I really hope that the decision-makers in the Ukrainian leadership won't prevent the Ukrainian troops from laying down arms, if they cannot take such an important decision themselves and order it. Or at least they shouldn't harass people who want to save their lives," he said.

"On the other hand, I expect the militias not to detain those people and allow them to leave the conflict zone and go back to their families," he added.

Author Details

Jim W. Dean is Managing Editor of Veterans Today involved in operations, development, and writing, plus an active schedule of TV and radio interviews. He broke into television work doing Atlanta Public TV programs for variety of American heritage, historical,military, veterans and Intel topics and organizations since 2000. Jim's only film appearance was in the PBS Looking for Lincoln documentary with Prof. Henry Lewis Gates, and he has guest lectured at the Army Command and General Staff School at Fort Gordon, GA.

He is working to find time now to database his extensive video archive of Americana and interviews filmed during his public TV days so individual topic segments can be key word searched to quickly use in future multi-media projects.

Read Full Complete Bio >>> Jim's Latest Posts

ATTENTION READERS

Due to the nature of independent content, VT cannot guarantee content validity.

We ask you to

Read Our Content Policy

so a clear comprehension of VT's independent non-censored media is understood and given its proper place in the world of news, opinion and media.

All content is owned by author exclusively. Expressed opinions are NOT necessarily the views of VT, other authors, affiliates, advertisers, sponsors, partners or technicians. Some content may be satirical in nature. All images within are full responsibility of author and NOT VT.

About VT

-

Read Full Policy Notice

-

Comment Policy