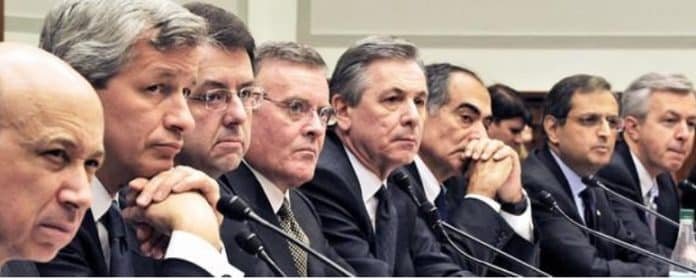 by Rand Clifford  for Veterans Today
Millions of decent people are employed in the banking "industry", similar in chain-of-command dynamics to America's Armed Forces. So many fine people, but honesty is irrelevant when Banksters, or psychopaths in general, give the orders.
Decency would make the following a group mug shot, or police lineup, instead of simply a gust of smug indignation [2]:
Behold, CEOs of "too-big-to-fail" banks, not only being  inconvenienced by a congressional hearing, but actually called to task by buffoons as far below these CEOs as Banksters are below the High Cabal.
Parasites come and go…until they kill off their prey.
Banking is classified as an industry…but what of Bankstering?
Merriam-Webster defines INDUSTRY as:
1: diligence in an employment or pursuit; especially :  steady or habitual effort
2: (a)  systematic labor especially for some useful purpose or the creation of something of value
(b)  a department or branch of a craft, art, business, or manufacture; especially :  one that employs a large personnel and capital especially in manufacturing
(c)  a distinct group of productive or profit-making enterprises <the banking industry>
(d)  manufacturing activity as a whole <the nation's industry>

Bankstering might squeak in under the "…some useful purpose" bar, same as piracy. But as for, "…the creation of something of value"…what do you think?
Of course the definition is leveraged with "…a distinctive group of productive…", but reality touches base with, "…or profit-making enterprise <the banking industry>". When it comes to profits in a non-productive (parasitic) industry, "…your loss is my gain". The winners and losers in bankstering mirror whose interests are served while public interest is plundered.
Your personal relationship with bankstering is where paper rubber meets the road, mimicking the effect of studded tires. You become the road by surrendering fruit of your personal industry to a commercial bank.
From "Depositor" to "Unsecured Creditor"

Remember when putting "money" in a bank was a reasonably safe way to earn interest? Well now, fruits of your industry have been legislated into the naked and wide-open zone not only infested by pirates, but owned by pirates on the high seas of high finance sailing "weapons of mass financial destruction" called derivatives. [3]
A crippling public problem is how few people understand that in bankstering, depositors have the new role of, "unsecured creditor". How many people have noticed what their "receipt" says? Giving "money" to a commercial bank is now, legally, what you are doing—your "deposit" becomes property of the bank. Your "receipt" verifies that you have been given, "counter credit"—a crucial booby trap for when your bank runs into what virtually all commercial banks are buried in, insolvency. As an "unsecured creditor"—last in line to be paid—your reward for your "deposits", odds are, will be a harrowing lesson regarding "counterparty risk". [4]
Demure legislation with pit-bull jaws that changed depositors to unsecured creditors is another brick in the road to Bankster bail-ins—which already own the legislative green light, along with negative interest rates. Austerity is in the same legislative drawer as martial law. 800 FEMA camps are right in our faces, tricked-out and staffed for business, but out of mind? [5]
Bar the Exits
Banksters are obsessed with making sure people have no escape from the fiat systems relentlessly concentrating wealth in the fewest possible talons.
Tiberious Caesar announced two thousand years ago, five centuries before the collapse of Rome: "I want my sheep shorn, not shaven." Now, with Banksters in possession of most everything that can be possessed via fiat ("money")—forget wool, Bankster sheers are dripping blood and covered in bone chips, meat and skin.
Power can easily be cornered with paper, but that's far from the problem. Without public confidence Rothschild central banking power would evaporate like contrails—con game over. Thanks to public confidence, Ponzi-scheme paper power is damn like "chemtrails" in the most vicious, public-assault ways. [6]
Dollars are the "reserve" illumination of paper power. In the smothering "Ponzi scheme from hell…", the "Federal Reserve System" is the crown jewel. Perhaps the clearest reflection of Bankster hysteria to bar all exits from the parasitic money-from-nothing vampire we allow to feed at our necks…suppression of monetary metals, via Comex paper—crystal clear. The smashing down of gold and silver with paper is one of Banksters' highest performing psyops—kept alive by…you guessed it, public confidence. In the fantastic movie Dracula (1931), Dr. Van Helsing nails it with:
"The strength of the vampire is that people will not believe in him".
"Stockholm syndrome" has become a plague. The only cure is one of the last things the public wants to hear, truth. Most people believe what they want to believe, damn the evidence, damn reality.
Too much belief is based not on knowledge or awareness, but on the ethereal, "I heard…." As for seeing…there seems to be a tight connection with the public's attitude toward truth, and Dracula's existential problem with, or "dislike" of, mirrors. [7]
Silver Mirror, Silver Bullet
Silver is the most reflective of all metals…and perhaps the best reflector of Bankster desperation to bar all exits from their money-from-nothing hall of mirrors. A main mirror is called the, "Commodity Exchange" (COMEX). Realistically, the only commodity whirling around the COMEX is paper. Regarding paper silver, on February 19, 2013, 1.88 billion ounces "traded" in one day, representing 902 days, or 2.5 years global production of silver metal. 1.88 billion ounces of paper silver dumped on the market in one day achieved a 50-cent decline in the paper "price" of silver. Gold is currently being pounded with the same illegal paper operations, but silver seems the authentic "Achilles Heel" of global Rothschild Central Bankstering. Why, when silver is such a relatively tiny market, physically? Why all the derivatives, all the paper to slice with the speed of computer algorithms, the "price" of silver below actual cost of production. Despite appearances, insanity is less involved than survival. Silver is annoyance, like Wolfbane, garlic…almost  a crucifix…but! Enough public knowledge, enough people thinking outside the hall of mirrors could defend us from Bankula. Silver bullet, wooden stake through the heart, whatever it takes…but public freethinking would be "money in the bank".
Gold is the money of kings; silver is the "…money of gentlemen".
Even kings are no match for the Power of Paper. But kingly humiliation at the hands of fractional-reserve paper power leveraged by public gullibility is nothing compared to the papering over of public freethinking.
"When a government is dependent upon bankers for money, they and not the leaders of the government control the situation, since the hand that gives is above the hand that takes. Money has no motherland; financiers are without patriotism and without decency; their sole object is gain."
— Napoleon Bonaparte
The COMEX psyop is a paper scalpel operating on monetary metals to protect fiat currency. How do such crimes skate? The manipulation is engineered and perpetrated by "entities" not only above the law, they own the law. And the actual surgery is done by supercomputers.
Malignant terms soon to gouge people in the eyes, ears and wealth, include: negative interest rates; bank bail-ins; bank holiday; counterparty risk; reset…all on the road to martial law.
At least martial law might be an antidote to apathy?
In part 3:
*   Audit the fed
*   All the gold in Fort Knox
*   Power winging eastward
*   The Great Unwinding/Reset
*   The beauty of Aurum
LINKS:
[1]   "Bankster"
http://www.smithsonianmag.com/history/the-man-who-busted-the-banksters-932416/?no-ist
[2]   "The Infamous Seven"
https://www.google.com/search?q=bankster&tbm=isch&tbo=u&source=univ&sa=X&ei=RBTtVODbDo3coAS3vILoCA&ved=0CDwQsAQ&biw=1010&bih=632
[3]   "It's Gone"
https://video.search.yahoo.com/video/play;_ylt=A2KIo9dX89pUFmwA3u_7w8QF;_ylu=X3oDMTByZWc0dGJtBHNlYwNzcgRzbGsDdmlkBHZ0aWQDBGdwb3MDMQ–?p=youtube+cartoon+%22it%27s+gone%22&vid=c83f308635548ff1f40034edc6df1da9&l=1%3A41&turl=http%3A%2F%2Fts4.mm.bing.net%2Fth%3Fid%3DVN.608039491218637855%26pid%3D15.1&rurl=https%3A%2F%2Fwww.youtube.com%2Fwatch%3Fv%3D-DT7bX-B1Mg&tit=And+it%26%2339%3Bs+gone+%28original%29&c=0&sigr=11b20jcre&sigt=10s2tk99i&sigi=11r3un1po&age=1366387200&fr2=p%3As%2Cv%3Av&hsimp=yhs-001&hspart=mozilla&tt=b
[4]   "Unsecured creditor"
http://www.globalresearch.ca/no-bank-deposits-will-be-spared-from-confiscation/5332743
[5]   FEMA camps
http://www.countercurrents.org/clifford061008.htm
[6]   The Sky does not Lie
http://www.veteranstoday.com/2015/02/02/the-sky-does-not-lie/
[7]   Dracula, and mirrors
https://www.youtube.com/watch?v=lH2LFZbw8qk
Rand Clifford's novels are published by StarChief Press. Email contact: [email protected]
ATTENTION READERS
Due to the nature of independent content, VT cannot guarantee content validity.
We ask you to
Read Our Content Policy
so a clear comprehension of VT's independent non-censored media is understood and given its proper place in the world of news, opinion and media.
All content is owned by author exclusively. Expressed opinions are NOT necessarily the views of VT, other authors, affiliates, advertisers, sponsors, partners or technicians. Some content may be satirical in nature. All images within are full responsibility of author and NOT VT.
About VT
-
Read Full Policy Notice
-
Comment Policy