___
Press TV original title:  Netanyahu's Congress speech aimed at hindering Iran nuclear deal
–  First published  …  February 27,  2015  –
"With a gentleman I am always a gentleman and a half, and with a fraud I try to be a fraud and a half." – Baron Otto von Bismarck, first Chancellor of Germany 1871-1890
The old adage that every cloud has a silver lining is certainly the case with Netanyahu's current double ploy, pretending to be the Zionist-Dutch boy with his finger in the Iranian nuclear weapons dike, while grabbing the world stage just before the Israeli elections.
For intelligence analysts who have long followed Zionist espionage in the US, we are given a second Christmas in March with the Zionist Lobby pulling out all the stops for Bibi's last assault on the Iran nuclear talks.
By that I mean not only will they deploy all of their usual shills and water carriers, but even some of their deep cover assets and agents to wreck any agreement. That level of involvement makes the effort a major espionage one, so hunting season is open.
Yes, the long stand down on prosecuting Israeli espionage has been a humiliation, especially for the FBI which is tasked with "blocking" their efforts, but always short of getting any arrests and indictments.
That would be too embarrassing to the seamy array of Americans who assist Israel in what is clearly espionage…and in this case political espionage which is long rampant on Capitol Hill.
Neither Idi Amin, Saddam Hussein or the late Mr. Gaddafi were offered a prestigious Joint Session of Congress speech. But here comes Mr. "Being investigated for Crimes Against Humanity in Gaza" Netanyahu, getting the red carpet treatment from the Jewish Lobby branch in Congress, primarily the NeoCon Republicans, and too many Democrats who should know better.
This Hail Mary pass by Bibi is an act of desperation which has been recognized by both friends and foes of Israel. His Likud party was leading in the polls, but is now in a neck and neck race, so he could be betting his election on this speech.
My gut feeling is that the Zionists already know that when a nuclear resolution deal gets done with Iran, Israel will find itself in the hot seat over its entire inventory of weapons of mass destruction, which is a threat to all of us.
Tel Aviv desperately needs to keep the Iran nuclear bogeyman alive to keep control of its diverse and unhappy Israelis through fear of a future, which includes cutbacks in US support and growing economic isolation.
No matter what happens with the speech, I already see long term damage for Israel politically as more Americans learn the extent of Israeli subversion here.
The backlash began immediately after the speech plans were announced. They were not only politically bipartisan, but spilled over to some of the top media pundits editorializing about what a dumb move it was. Even many in the Israeli Lobby were shocked. Someone in the lobby camp had miscalculated badly, and they began organizing a counterattack, which poured more fuel on the controversy.
In their usual bullying manner, they countered the announcements of Democrats boycotting the speech, including the Black Caucus, by announcing there would be "payback" on all those who refused to attend. This was over the line. The Israeli Lobby had now hung targets on themselves and all those supporting the speech. Thank you, Santa!
If anyone had any illusions that the speech protocol announcement was just a misunderstanding, Mr. Motor Mouth Bibi cleared the air by admitting to Israelis that going to Congress was the whole point of his strategy of flanking Obama, as it might have the last say on killing a negotiated P5+1 deal.
Here he admitted he was trying to undermine and, if needed, reverse an international agreement by any means at his disposal. Our Congress is occupied Israeli territory here, an old joke that is really not a joke… but a significant national security threat.
_________________________________
Bibi weaves his old web of lies
As I refreshed my research before I began writing this, I found a recent speech by Bibi that I can only describe as having been spoken by a deranged individual, or in Bibi's case, a sociopath.
He claimed the P5+1 has an offer on the table that includes a pathway for Iran having nuclear weapons when Iran has said it does not want them, and Obama has consistently said his Iran policy is a non-nuclear weapons one.
What Bibi is doing here, a massive lie, is converting Iran's having a reprocessing capability into a certainty that Iran will make bombs and use them on Israel. Bibi is talking to us like we are idiots.
What he leaves out is that under the IAEA — which Israel is not — all reprocessed uranium is carefully inventoried and placed under 24/7 video surveillance.
_________________________________
Floating phantom threats to Israel
Netanyahu then moved on to protecting Israel from Iran by drawing an analogy to fighting ISIL as a threat similar to the Islamic Republic. But he left out that we know Israel has been supporting ISIL militants in the occupied Golan Heights and the terrorists tormenting the Syrian people.
He forgets that Iran is working closely with Iraq, Syria and Hezbollah to combat the Takfiri terrorists who Israel and the West are supporting.
Israel has been telling us for two decades that Iran is going to have the bomb soon, has always been proven wrong, yet it continues to make the claim. It is time to make the Zionists eat their words, and I think Bibi is providing us that opportunity.
_________________________________
My open letter to Bibi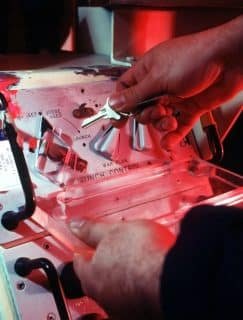 Dear Mr. Netanyahu, we have come around now to being happy you are doing the speech, because we think it will be the downfall of your popularity in America.
We will review your history of being a nuclear threat, going back to your days in California, where you were part of an espionage team illegally exporting nuclear triggers. This is material released last year from declassified FBI files.
We are going to be rerunning some of last summer's nuclear 9-11 series, the classified 2003 Sandia Labs report leaked from overseas sources, which confirmed the nuclear signatures at Ground Zero.
Of course, we had to verify the material was real, and that we were not being set up with a bogus story, and we verified it.
We worked our sources back to the original investigators at Ground Zero, one of whom was a co-team leader of the New York Able Danger group that had the Dancing Israelis, the art students and Mohammad Atta all living within a few blocks of each other in Ft. Lee, New Jersey…all of them under surveillance.
The Able Danger team had a safe house right down the street from their targets, and their office headquarters a half mile away. Atta was videoed visiting the dancing Israelis on several occasions. He was not only working for Saudi Intelligence, but moonlighting for the Mossad, not as an unusual arrangement as you might think.
The investigators told us that two of the three jammers put up on the high rise condos in Ft. Lee — to block the Port Authority and New York City first responder radios — were recovered by the FCC on September 12. The jammers were made in Israel. Give me a call Bibi, and I will tell you the name of the company.
These targets were being watched as part of the ongoing top secret recovery operation of pilfered decommissioned nuclear warheads.
Israelis, with the help of high-level traitors here, then also acquired the technical pit specifications to re-fabricate them into mini nukes for Israel's use and whoever they sold them to.
Built using designs from our own nuclear labs, three of the re-fabricated nukes brought down the World Trade buildings. These were "clean nukes" designed for demolition work with minimal collateral damage.
We also know, Bibi, you conspired with top law enforcement people in New York City, who helped get some of your teams picked up that day spirited out of town. You will make fools of your American traitor assets in Congress with your speech, so we will begin dropping all of this on them after you go, and they can reap what they have sown.
They shame America for the traitors they are, as you shame Judaism for the traitor you are. We have our cross hairs on you sir and all of your helpers. And I want to thank you, because your "flank Obama" speech ploy is going to help us greatly.
When you stand at the podium in front of Congress, you will be seeding a future firing squad of American people who know what you have done, and who aim to see all of you pay for it.
Jim W. Dean was an active editor on VT from 2010-2022.  He was involved in operations, development, and writing, plus an active schedule of TV and radio interviews.
ATTENTION READERS
We See The World From All Sides and Want YOU To Be Fully Informed
In fact, intentional disinformation is a disgraceful scourge in media today. So to assuage any possible errant incorrect information posted herein, we strongly encourage you to seek corroboration from other non-VT sources before forming educated opinion. In addition, to get a clear comprehension of VT's independent non-censored media, please read our
Policies and Disclosures
.
Due to the nature of uncensored content posted by VT's fully independent international writers, VT cannot guarantee absolute validity. All content is owned by the author exclusively. Expressed opinions are NOT necessarily the views of VT, other authors, affiliates, advertisers, sponsors, partners, or technicians. Some content may be satirical in nature. All images are the full responsibility of the article author and NOT VT.
About VT
-
Comment Policy