Colonel James E. Sabow was murdered to keep him from blowing the whistle on the illegal narcotrafficking of cocaine into the US.
Testimony from a former CIA contract pilot and a retired Army investigator with ties to CIA operatives and the Middle East support that El Toro was one the military bases used to ferry weapons and supplies to the Contras in Nicaragua and cocaine into the US.  The influx of vast quantities cocaine during the Reagan and Bush administrations was the fuel for the crack cocaine.
By virtue of his position as Assistant Chief of Staff, 3rd Marine Aircraft Wing, Colonel Sabow had to know of the covert operation to fly weapons and supplies to the Contras on CIA proprietary airlines.
If you're thinking of LtCol Oliver North and Iran-Contra, you're on the right path.  North was out of government when the murder took place but he had met with Colonel Sabow on at least three occasions.  You can bet they were not discussing golf scores or cocaine shipments.  With reputation as a straight arrow Marine, Colonel Sabow would have refused an illegal order to participate in any narcotrafficking activity.
Colonel Sabow didn't know until the day before his murder that the C-130's were bringing cocaine into the US from Central America.
The Contra War in Nicaragua ended in June 1990 but there was a lot of money on narcotrafficking of cocaine and the money was too good to stop.
Colonel Sabow was relieved of duty by El Toro's Comma ding General on January 17th for an alleged misuse of military airplanes (never substantiated). Colonel Sabow told several people including Brigadier General Adams, the base commander, Colonel Joe Underwood and General J.K. Davis (retired Asst. Commandant of the Marine Corps) that he would not accept responsibility for any misuse of government aircraft and that if they persisted he, "Would demand a court marshal and he would divulge all of what he had learned and suspected of illegal and criminal use of government aircraft." That same night, Colonel Underwood who lived next door to the Sabow's, threatened Colonel Sabow if he revealed what he knew. The threat was overheard by Colonel Sabow's wife, Sara. The next morning, Sara Sabow found the body of her dead husband in backyard.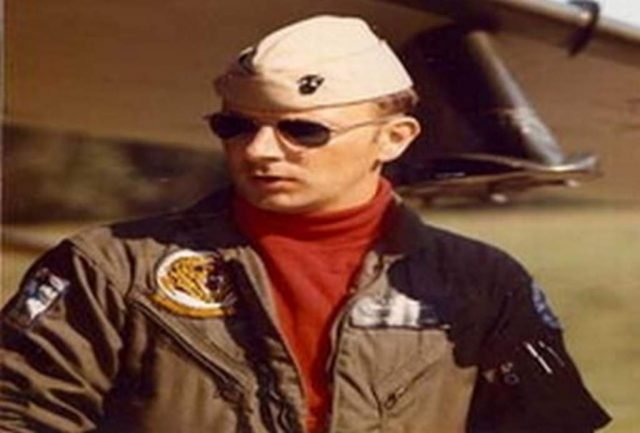 Colonel Sabow trusted in the Marine Corps and that other Marines would have his back. His trust was misplaced; he was a threat to the very highest levels of government. In threatening to blow the whistle on the narcotrafficking of cocaine into El Toro, the colonel had unknowingly signed his own death warrant.
John David Sabow, MD, younger brother of murdered Marine Colonel James E. Sabow, writes about the special relationship between the two brothers, the trials the Sabow family has endured over 24 years since the murder at former Marine Corps Air Station El Toro, CA, the deceit of senior military and government officials, the corruption of various government agencies and their complicity in murder and narcotics:
Brotherly love for those lucky enough to have experienced it, is a bond so special that it fulfills the famous Gospel quote, "No greater love is there than to give up your life for a friend". The friend in my case has been and ever will be my brother.

Our careers took wholly different paths. But no matter where we were or what we were pursuing, we stayed in touch. I was totally fascinated, and honestly somewhat envious of his life as a jet fighter pilot. I remember a quote of a young neurosurgeon who said that the only thing that would be more exciting than his profession would be that of fighter pilot. I chose medicine as my profession but due to a spinal cord injury I sustained at the age of twenty, I chose a career as a neurologist that afforded me the intellectual but at the time, not the visceral challenges of the neurosurgeon. However, I had no idea what was in store for me and how that would change.

I never could have comprehended that at precisely the same moment Jimmy's world would end, mine would be forever transformed. My life as a clinical neurologist would become one as a forensic neurologist but not one as seen solving TV mysteries. As Jimmy's life ended, mine changed drastically. I left my world of concentrating 50 to 60 hours a week in consultation on neurological mysteries, to a life never free from the stress of knowing my brother was murdered. By who and why? I soon realized that it would be entirely up to me to prove that he was murdered and to expose those who were responsible.

I tried to live two lives. The fatigue exaggerated the already severe weakness from my spinal cord injury. Multiple falls resulted in fractures to my thigh, both ankles and eventually I had to undergo multiple shoulder, neck and back surgeries. The consequences were inevitable. I had to make a choice. I chose to devote my life to find my brother's murderers. However, what transpired was an odyssey that changed the deepest feelings of love and respect I had for my country and its leaders. What I have encountered in the last twenty-five years would make every soldier who has given his life for our country, rise from their grave in communion with Colonel Sabow and rid this nation of the cowardice and corruption that I have personally witnessed in the hallowed halls of Washington.

In July 1961, at age twenty, I was enjoying touring with a Canadian water-skiing show. During a show we were giving in the St. Lawrence River near Kingston, Ontario, I took a bad fall in shallow water. My head hit the sandy bottom at just the right angle and I was immediately paralyzed from the neck down. Only a month before, I had completed a two-semester course in comparative anatomy, which emphasized the nervous system. Consequently, I knew at the very moment of impact that I had broken my neck. I was completely submerged and floated flaccidly with my head just above the sandy bottom. I could hear people above me but could not alert them. I accepted without panic that this was the end. When I could not hold my breath any longer, the manager of the ski troupe, David Lean, jumped into the water and under my shoulders lifted me to the surface. My head was slightly twisted and it seemed to be locked but I had no other discomfort. There wasn't even the slightest bruising where my head contacted the sandy bottom. I told David Lean what happened. I directed him not to move me until I caught my breath, and then to lower me back in the water face down and float me into the shore. It was a windy day and the water was choppy, so I had him stop floating me as soon as my face felt the sand. Then I had him and others scoop a hole under my mouth that allowed me to take a breath in spite of the waves coming into shore. Luckily, there was a large audience, perhaps a thousand spectators. A doctor was summoned and two immediately came to assist. A short time later an ambulance arrived and transported me to the Queens University Medical Center, Kingston General Hospital. Crutchfield tongs, a traction device whose pins are inserted into the skull to distract and immobilize the neck and stabilize fractures of the cervical spine were applied. In addition, within twenty-four hours I underwent a posterior decompression and fusion. I stayed in traction for three months.

I remained completely paralyzed for about five weeks. One night while not being able to sleep, I felt a peculiar sensation throughout my right side. Without thinking I tried to move my right arm to an adjacent table. It moved. Then I made a similar effort in my leg and I could feel a slight movement. Initially, my nurses and especially my neurosurgeon were in disbelief, thinking that I was experiencing the first phase of musculoskeletal spasms that typically follow a period of spinal shock. Indeed, when I was alone trying to move more and more in different directions, I could cause my extremities to stiffen in uncontrollable spasms. In spite of the spasms, I was enjoying improvement in movements and sensation with the assistance of bedside therapy. I could not stop. I wanted to move constantly. I tired myself out against the direction of my doctors, but I felt I had no choice. Up to this moment, I felt that my goal to attend medical school was lost. Now I was experiencing a reprieve. However, there was a big problem.

Earlier in the year, I took my MEDCATS (Medical College Acceptance Tests). A short while later, I received an invitation for an interview at Jefferson Medical College of Thomas Jefferson University in Philadelphia. I was accepted into medical school without having to attend my fourth undergraduate year of college. But here I was in Crutchfield tongs tied to a bed. However, I knew that with the gains that I was experiencing I was going to live my dream. I simply informed Jefferson that I thought I would rather they save my place for the following year. It was agreeable. I also knew that I was not totally honest, for I never mentioned anything about my physical situation. However, the power that this news gave me was incalculable. I feel that one always would have described me as a goal-oriented, maybe a somewhat driven person, but now I knew that I had only one chance to achieve my dream.

After three months at the Kingston General Hospital, I was taken by ambulance to the Toronto Union Station. A window was removed from a Pullman car and I was lifted through to a prepared sleeper. My father accompanied me on the over-night trip to Pittsburgh. Upon arrival, I was taken to the Rehab Unit of St. Francis Hospital. I remained as an in-patient for three months. My progress was encouraging and I graduated from long leg steel braces and Canadian crutches to a single brace on my left leg and a cane.

In late May 1962, I was extraordinarily fortunate in acquiring my own personal trainer. My brother Jimmy graduated from Georgetown University. Instead of waiting to be drafted into the military, he applied for Officer Training in the Marine Corps. Fortunately for me, he did not have to report for basic training in Quantico, VA until the following January. Right from the graduating ceremony, Jimmy, our mother and I drove to our summer home in Canada where we spent the entire summer. This was an especially significant time in my life for I am convinced that without my brother's dedication, guidance and understanding, I would not have achieved enough strength and endurance to successfully enter and thrive through the rigorous first year of medical school. He literally took over my training. Both Jimmy and I were athletic, so that gave me an edge. Hiking through the underbrush surrounding our cabin started the morning. Crawling to the nearest cedar tree and grasping the pegs on the trunk was how I righted myself after the dozens of falls. My mother rebuked Jimmy for torturing me when we returned to our cabin and I was covered with the scratches from the wild raspberry bushes. From there we went to the winding river that had both rapids and pools and wound around our property. This was right up Jimmy's alley for he both dove and swam on Georgetown's swimming team. Back and forth across the largest pool, I swam. Then he fashioned a kickboard and headed me into the fast moving water below the rapids. There I had to kick and kick while he measured the progress. The closer I made it to the rocks, the happier he would get and the less he would scream.

I knew we were extremely close, more so than other brothers that I had observed growing up. But during that summer, I realized that Jimmy wanted me to succeed in medical school as much as I wished to. In fact, when the summer ended and we returned to our home in Pittsburgh, Jimmy accompanied me to Philadelphia, prepared my apartment and remained several days helping me adjust.

Years later after medical school, two residency programs and a successful career in Neurology, it seems that again Charles Krauthammer and I had somewhat similar paths. Mr. Krauthammer completed his training in psychiatry and early on decided to pursue a vocation in political writing and he became a formidable political columnist and TV personality. My career also took a transformation but out of necessity –not by choice.

On January 22, 1991, Colonel James Sabow, Chief of Operations and Assistant Chief of Staff, Marine Air, Western Area stationed at El Toro, MCAS, CA was called into the backyard of his home on the El Toro base by his next-door neighbor, Colonel Joe Underwood. Underwood attacked his unsuspecting neighbor and held him while two or three trained assassins viciously clubbed Col. Sabow behind his right ear. A massive depressed skull fracture, as well as multiple basilar fractures resulted. A short time later, after Col. Sabow aspirated a large quantity of blood into his right lung, doubling its weight, he expired. However, that wasn't enough for these cowards. Then they returned to the crime scene from the interior of the Sabow house where they were awaiting the return of Sally (Jim's wife) from a weekday mass. Their original plan, which was to stage a murder-suicide scenario, was thwarted by Sally's unpredicted absence. Unwilling to wait any longer for Sally's return, Underwood and the other killers left through the back door. Then they thrust a 12-gauge shotgun into Jim's mouth in an attempt to destroy the evidence of the external blunt force to his skull. However, they failed. The muzzle contacted the soft palate resulting in the angle of the barrel directed to the anterior bodies of the first and second cervical vertebrae. The vertebral bodies dissipated much of that initial force. The upper portion of the spinal cord disintegrated. The remaining force that consisted of four to five gallons of explosive gases and pellets were directed upward through the base of the skull and into the cranium. The autopsy stated that there was "no observable brainstem remaining". It also stated that the right lung was filled with "aspirated" blood.

I include this brief description of this brutal attack on my brother to help explain why I felt forced to change my life's focus. With my knowledge and experience, I knew early on that my brother was murdered. However, for twenty-three years I have heard repeatedly, "There is not one shred of evidence other than suicide". Congressman Duncan Hunter (Chairman-House Armed Services Committee, now Retired) requested that the US Att. General Alberto Gonzales investigate Col. Sabow's death. The response from the United States Attorney General stated that the "Federal government has no jurisdiction in this matter" and then referred me to the Att. Gen of California. Most disingenuous is the fact that Col. Sabow was on active duty and was killed on base housing under exclusive federal jurisdiction. Furthermore, when the CA attorney general tried to investigate in the early nineties they were informed that this was a federal matter and that CA had no business getting involved. Congressman Hunter did nothing in response. This is unforgiveable and in my estimation a criminal dereliction of duty both by Hunter and Gonzales. If those men did not know of their responsibility, then who would?

I think that I still love my country but how can I be sure? How does one express love to abstract concepts whose leaders have so consciously disgraced every tenet of law and order and engage in a cover-up of the capital murder of one of its heroes? How can I truly respect that concept when those same leaders have tried to ruin me, blackmail me, attempted to have me dismissed from practicing my profession as a neurologist, have the IRS try to bankrupt me, monitor my communications, falsify autopsy photos that proved beyond any doubt how severely Col. Sabow's head was bludgeoned and hire unethical "experts" to construct reports that anyone with an ounce of common-sense would dismiss as ridiculous.

I have spent the past twenty-five years in a Kafkaesque existence. I have experienced too much for the nightmare to ever stop. How could it? How do I disregard the beliefs with which I grew, for which my father and brothers fought? The nightmare will only end when I have exposed the truth, brought to justice those who assassinated Jimmy, exposed the indifference and cowardice of so many of this country's leaders and restore a semblance of accountability in Washington. Those who thought that by killing Colonel Sabow, the agenda involving smuggling weapons and drugs into and out of military bases would die with him. They made a grave mistake! And those who thought that they were invincible are wrong. Unless they do with me what they did with my brother, I will never stop until I take my last breath. They should understand that Jimmy fought to have me walk. Now I will walk to fight for him!
Robert O'Dowd served in the 1st, 3rd and 4th Marine Aircraft Wings during 52 months of active duty in the 1960s. While at MCAS El Toro for two years, O'Dowd worked and slept in a Radium 226 contaminated work space in Hangar 296 in MWSG-37, the most industrialized and contaminated acreage on the base.
Robert is a two time cancer survivor and disabled veteran. Robert graduated from Temple University in 1973 with a bachelor's of business administration, majoring in accounting, and worked with a number of federal agencies, including the EPA Office of Inspector General and the Defense Logistics Agency.
After retiring from the Department of Defense, he teamed up with Tim King of Salem-News.com to write about the environmental contamination at two Marine Corps bases (MCAS El Toro and MCB Camp Lejeune), the use of El Toro to ship weapons to the Contras and cocaine into the US on CIA proprietary aircraft, and the murder of Marine Colonel James E. Sabow and others who were a threat to blow the whistle on the illegal narcotrafficking activity. O'Dowd and King co-authored BETRAYAL: Toxic Exposure of U.S. Marines, Murder and Government Cover-Up. The book is available as a soft cover copy and eBook from Amazon.com. See: http://www.amazon.com/Betrayal-Exposure-Marines-Government-Cover-Up/dp/1502340003.
ATTENTION READERS
We See The World From All Sides and Want YOU To Be Fully Informed
In fact, intentional disinformation is a disgraceful scourge in media today. So to assuage any possible errant incorrect information posted herein, we strongly encourage you to seek corroboration from other non-VT sources before forming an educated opinion.
About VT
-
Policies & Disclosures
-
Comment Policy
Due to the nature of uncensored content posted by VT's fully independent international writers, VT cannot guarantee absolute validity. All content is owned by the author exclusively. Expressed opinions are NOT necessarily the views of VT, other authors, affiliates, advertisers, sponsors, partners, or technicians. Some content may be satirical in nature. All images are the full responsibility of the article author and NOT VT.