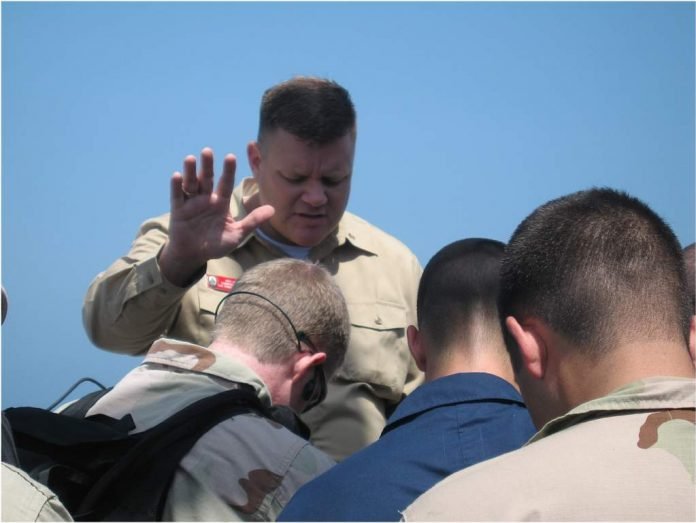 Navy Captain Jon Fahs, Commander of Naval Nuclear Power Training Command, wants Lt.Cmdr. Wesley Modder, a Pentecostal Navy chaplain, removed from his post and barred from promotion for allegedly railing against homosexuality and pre-marital sex and acting in a discriminatory manner. Chaplain Modder, a former enlisted Marine, denies he did anything wrong and is not going without a fight.  Captain Fahs issued a no contact order on March 24, 2014, which prevented Chaplain Modder from ministering to grieving sailors and the deceased sailor's family members.
Section 533(b) of the Fiscal Year (FY) 2013 National Defense Authorization Act (NDAA), Pub. L. No. 112-239, is entitled "Protection of Chaplain Decisions Relating to Conscience, Moral Principles, or Religious Beliefs." It states "No member of the Armed Forces may:
Require a chaplain to perform any rite, ritual, or ceremony that is contrary to the conscience, moral principles, or religious beliefs of the chaplain; or
Discriminate or take any adverse personnel action against a chaplain, including denial of promotion, schooling, training, or assignment, on the basis of the refusal by the chaplain to comply with a requirement prohibited by paragraph.
Chaplain Modder's attorney denies that the he did anything inappropriate. The counseling was in private and not done publicly.
The Navy and the other services allow men and women on active duty to be practicing homosexuals.
Did Chaplain Modder tell those he was counseling that homosexual activity and premarital sex are sins?  We don't know.  But, it's not hard to see that this could lead to complaints to Chaplin Modder's commanding officer.  Same sex civil unions and marriages and homosexuality are supported by government policy. 
How do you counsel two people of the same sex who are living together and have some relationship issues that they need to change their lives?  The moment you tell them that they need to change their lives, they run to the commanding officer to file a complaint. 
Chaplain Modder is a former enlisted Marine who previously served as the Force chaplain for Naval Special Warfare Command. He has deployed overseas multiple times during the War on Terror, including in support of Navy SEAL Teams. In October 2014, Chaplain Modder's commander called him a "consummate professional leader," "the best of the best," and said he sets the "clear benchmark" for chaplain professionalism.
Now, the Navy is threatening Chaplain Modder with career-ending punishment because, when asked, he expressed faith-based views on marriage and human sexuality in private counseling sessions.
Liberty Institute is defending Chaplain Modder and asserts that censoring his religious expression is unconstitutional religious discrimination.
The "no contact" order comes only days after the Navy officially denied Chaplain Modder's request for religious accommodation, in violation of federal law and Department of Defense (DoD) regulations. (Read more about Modder's case at https://www.libertyinstitute.org/ModderFacts).
These accusations [against the chaplain}are baseless," said Berry, who works for the Liberty Institute, a legal organization dedicated to freedom of religious expression issues. "We specifically denied [in a written response to the Navy] that he said or did anything inappropriate."
He described Captain Fahs' actions as "a form of religious discrimination," and said that a request for religious accommodation was submitted Monday to the Navy, requesting Chaplain Modder be allowed to continue to conduct his chaplain duties in accordance with his religious beliefs.
Modder has served in the Navy for 19 years. If a potential board of inquiry forces him into early retirement out before he reaches 20 years of service, he will lose substantial retirement benefits.
Captain Fahs also banished Chaplain Modder from the Naval base where Modder is stationed on the day of the memorial service for a deceased sailor. The order also comes just days after Captain Fahs denied Chaplain Modder's request for a religious accommodation to provide pastoral counseling in accordance with his faith. (See Captain Fahs' denial letter at https://www.libertyinstitute.org/ModderFacts).
This Navy official is using the 'no contact' order as a weapon to punish and humiliate a decorated military chaplain," said Mike Berry, Liberty Institute Senior Counsel and Director of Military Affairs. "I am stunned that he would deny Chaplain Modder the ability to minister to a grieving family and other sailors.
Liberty Institute President and CEO Kelly Shackelford said,
Of the most critical times for chaplains, the death of a colleague is near the top of the list. For this Navy official to bar a chaplain from comforting and ministering to sailors and families is a reprehensible violation of religious freedom and common human decency.
Liberty Institute President and CEO Kelly Shackelford said,
Of the most critical times for chaplains, the death of a colleague is near the top of the list. For this Navy official to bar a chaplain from comforting and ministering to sailors and families is a reprehensible violation of religious freedom and common human decency.
Chaplain Modder's conduct is a direct challenge to the permissive morality sanctioned by the military.  He has an uphill fight. 

But, Modder's service as an enlisted Marine prepared him to fight for his country and his beliefs.  The Navy can expect this former Marine not to just walk away. 
During his service in the United States Marines, Modder served in Operation Desert Shield and Desert Storm in Saudi Arabia. He earned a doctorate in Military Ministry and has served as a Navy chaplain for 15 years. As the Force Chaplain for Navy Special Warfare Command (WARCOM), Chaplain Modder was entrusted with the spiritual wellbeing of the Navy's most elite warriors. Chaplain Modder supported Navy SEALs in DEVGRU during high-profile operations around the globe between June 2008-June 2010.
Robert O'Dowd served in the 1st, 3rd and 4th Marine Aircraft Wings during 52 months of active duty in the 1960s. While at MCAS El Toro for two years, O'Dowd worked and slept in a Radium 226 contaminated work space in Hangar 296 in MWSG-37, the most industrialized and contaminated acreage on the base.
Robert is a two time cancer survivor and disabled veteran. Robert graduated from Temple University in 1973 with a bachelor's of business administration, majoring in accounting, and worked with a number of federal agencies, including the EPA Office of Inspector General and the Defense Logistics Agency.
After retiring from the Department of Defense, he teamed up with Tim King of Salem-News.com to write about the environmental contamination at two Marine Corps bases (MCAS El Toro and MCB Camp Lejeune), the use of El Toro to ship weapons to the Contras and cocaine into the US on CIA proprietary aircraft, and the murder of Marine Colonel James E. Sabow and others who were a threat to blow the whistle on the illegal narcotrafficking activity. O'Dowd and King co-authored BETRAYAL: Toxic Exposure of U.S. Marines, Murder and Government Cover-Up. The book is available as a soft cover copy and eBook from Amazon.com. See: http://www.amazon.com/Betrayal-Exposure-Marines-Government-Cover-Up/dp/1502340003.
ATTENTION READERS
Due to the nature of independent content, VT cannot guarantee content validity.
We ask you to
Read Our Content Policy
so a clear comprehension of VT's independent non-censored media is understood and given its proper place in the world of news, opinion and media.
All content is owned by author exclusively. Expressed opinions are NOT necessarily the views of VT, other authors, affiliates, advertisers, sponsors, partners or technicians. Some content may be satirical in nature. All images within are full responsibility of author and NOT VT.
About VT
-
Read Full Policy Notice
-
Comment Policy