Edited by Harold Dill
"Esthetique" means esthetics and is focused on the beauty of the face and body. From body painting to massages to water bikes and, of course, makeup, estheticians students, spa owners, and industry professionals were presented with a vast array of productand demonstrations at the Salon D'Esthetique.
As in previous years, I went primarily to see the body painting and to purchase makeup from Makeup Forever at 50% off. To my surprise I discovered the Tuina message presented by Fatima Bilgen and Qi Gong Exercises demonstrated by master Yi Sumei. Some interesting products at the show were the body cocoon machine and a unique water bike.
Estheticians and students come to the show to buy make up and to learn about new products and techniques to help them improve their services and increase business
Makeup Forever was very busy trying to keep up with the lines of customers crowding around their booth to buy products. Continuing in their tradition, a man with a bullhornwas calling customers by their first names to pick up their orders. Most buyers camewith lists. I even saw a lady who came with cotton swabs to test the lipsticks as they were attached and could not be sampled but just swabbed. The company had body painting demonstrations in an adjacent booth.
Fatima Bilgen, an esthetician diplomat in Acupuncture and Massage has a Masters Degree in Chinese medicine, and is now studying for her doctorate, described and demonstrated Tunian message which she studied for 12 years. Tui Na is composed oftwo syllables: Tui which means rub and Na which means to sense. It is a combination of techniques of messages which give a free flow of vital energy throughout the body known as Qi pronounced "tchi." As with acupuncture, Tui Na Massage follows thefundamental rules of ¨Tao."
It incorporates the theory of yin and yang, the 5 elements, and the complex network of meridians. That is why the Western cultures call it a Taoist message. Fatima Bilgen presented massage as a way for practitioners to increase their business by providing the service to their clients. She explained that the messages are performed on 7 parts of the body, face, crown of the head, neck and shoulders, back, bust and sides,abdomen, legs, and reflexology for feet.
These Chinese massage techniques are easy to learn and apply. Her messages were formulated after 12 years of study in traditional Chinese medicine, many months of work, observation, questioning her clients and her personal reflection on the subject of messages.
By taking her courses, estheticians learn how to utilize the meridians according to the needs of the clients, to work the acupuncture points most effectively without becoming tired, As the estheticians are experts in care of the face, she demonstarted how to ¨read the face¨ with precise observation and to chose the appropriate treatment.
Each person is different and has different needs at different times. All that is required is the hands, not any equipment and the message has so many good benefits.

www.fatimabilgen-tuina.fr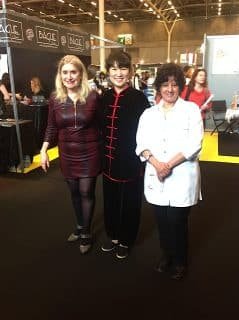 Yi Sumei, an acupuncturist, doctor in Chinese Medicine, English teacher and director of the center of Teaching and Research of Chinese Medicine at the University of Nanjing, gave a demonstration using 6 sounds or vibrations for 6 exercises in Qi Gong tomaintain vitality. Fatima Biligen interpreted Chinese into French. According to Yi Sumei, external imbalances can produce wrinkles, swellings, dry skin, acne and devitalized skin.
Since 1990 Yi Sumei has specialized in the teaching of Chinese medicine in more than 120 countries. She has appeared on numerous  TV shows and given lectures in medical topics. She explained that the internal governs the external and the external reflects theinternal. Each exercise is to be performed 6 times so 6 exercises times 6 equals 36. Six is a lucky number in Chinese and so is 36.
There are 5 seasons in China, summer, end-of-summer, autumn, winter and spring.Each season has an organ associated with it. For example, spring is the season of theliver. She showed Qi Gong for 5 organs and the system of meridians. Members o f theaudience were encouraged to make the sounds and inhale through the nose and exhale through the mouth. As we were seated we could not perform the exercises.
Yu Sumei suggested that estheticians might want to add these exercises to optimize treatments for their clients. When I saw this dynamic, attractively svelte female doctor performing the exercises, I was impressed. She talked with me and told me that shwould welcome visitors to visit  her in Nanjing.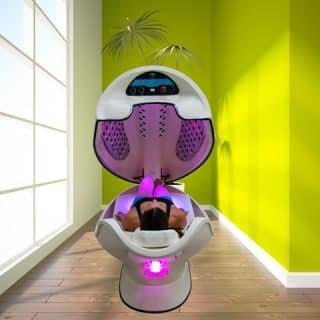 A unique cocoon in the shape of an egg attracted my attention. Steve Le Guen, from Wellness USA, told me that the egg fits over the client letting only the head to be exposed. The client lies down and enjoys fitness and wellness sessions lasting from 20 to 60 minutes in a cocoon that makes higher heat sessons more comfortable and enjoyable than they have ever experienced; The Cocoon Wellness Professional Multi-sensory Pod. It was designed for businesses to provide consumer health benefits in beauty salons, tanning centers, spas, hotels, fitness centers, golf clubs etcetera. It appeals to overweight people who may notvbe able to work out and to those who want privacy in approving their appearance and do not want to go to large fitness centers.
Wellness USA Inc is a leading global developer of the multi-sensory Cocoon Pod products for residential, commercial and institutional markets. I found this to be a very innovative product.
www.wellness-usa.com.
Another unique product is the Manuel Hydrobike from NJ Hydrobike France. It is available in red, yellow and blue.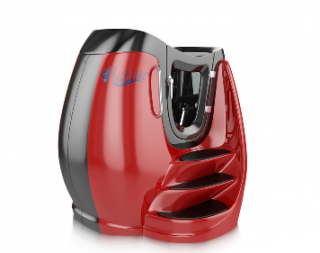 The unique features of this water bike are the four programs:
Manuel – the initial intensity of the water-air message is regulated in the intermediate
Relaxation – the intensity of the air water message changes during the treatment.
Pulsation – the intensity of the air water message changes with pulsations during the
Training – the initial intensity of the air water message is regulated in the maximum
The parameters including the number of calories burned, the time remaining, the number of pulsations, temperature of the water, level of water and the  intensity of water-air message.
During the treatment, you can control the intensity of water-air massage,activation/deactivation of massage, regulate the temperature of the water.
The water bike is being sold to health clubs, spas and individuals. It felt good to test the water bike but unfortunately there was no water in the bike at the show.
www.hydrobikefrance.fr
This show was very interesting and informative. It featured ways of becoming beautiful both inside and outside.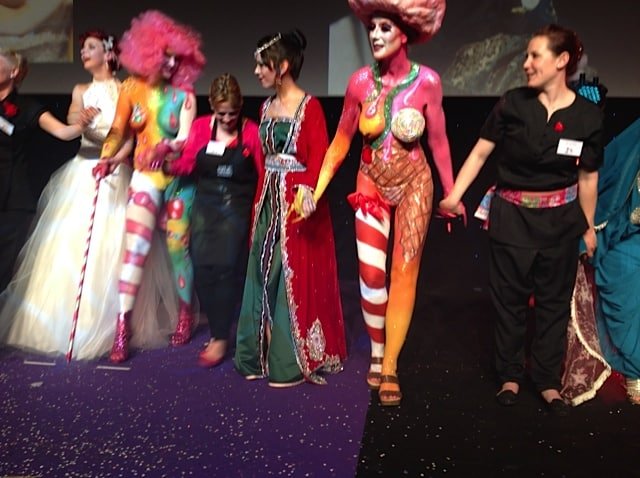 Jane Rosenstein is a U.S. citizen living in Paris, France. She is a professional translator/interpreter. She is the owner of The International Connection which does international marketing consultation including sales of wine, interpretation, and translation.
She enjoys the cultural life that living in Paris offers and has talents in organizing events. She speaks English, French, and Spanish. She has a B.S. degree in mathematics from the University of Pittsburgh and an M.B.A. degree from Georgia State University in Atlanta, GA.
ATTENTION READERS
Due to the nature of independent content, VT cannot guarantee content validity.
We ask you to
Read Our Content Policy
so a clear comprehension of VT's independent non-censored media is understood and given its proper place in the world of news, opinion and media.
All content is owned by author exclusively. Expressed opinions are NOT necessarily the views of VT, other authors, affiliates, advertisers, sponsors, partners or technicians. Some content may be satirical in nature. All images within are full responsibility of author and NOT VT.
About VT
-
Read Full Policy Notice
-
Comment Policy