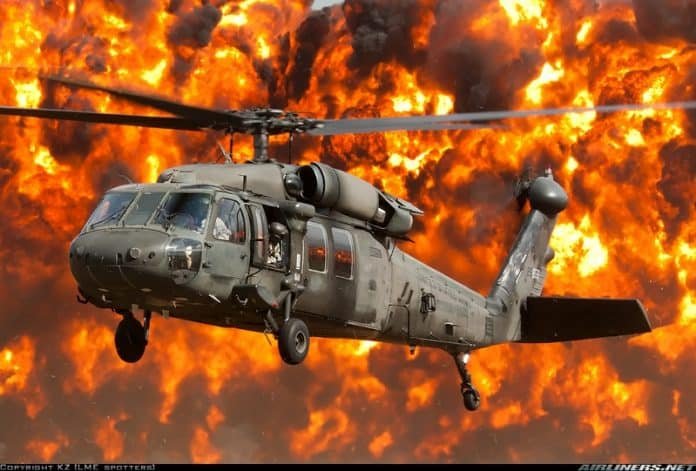 … from Russia Today,  Moscow
[ Editor's Note: The saga of using a "defensive" cover for supplying offensive weapons to our allies is still being used on the hypnotized taxpayers.
Pouring in more arms kills any chance of peaceful negotiated settlements as our allies feel they always are holding American prestige hostage to have to support them in a military solution. And there are times when that is exactly what America wants.
For decades Americans have watched an endless stream of our politicians pledge allegiance to Israel with virtually blank check support, trying to avoid the AIPAC double edged sword of banning them from campaign funding and then running someone against them "more reliable", even in a primary.
Americans generally watch all this and do nothing, as if in a trance. We have allowed our Congress to be more afraid of Israel Lobby payback than getting it from the voters. Part of that is due to the cost of running a political race is so high that banksters and gangsters now have more influence than the entire public. Just look at Sheldon Adelson and the Koch brothers for example.
We have reduced ourselves into accepting what I coined as a "pretend-a-democracy". "They" are cool with letting us vote decide among ourselves any issue that they do not care about. Most of those are usually emotional issues, gay marriage, school prayer, Sharia law, and now the fear porn ones that are so in vogue in Alt media.
But on issues "they" deem critical to them, they rule with an iron fist, which includes murder and mayhem of all kinds.
And they find no hesitation in getting the services of taxpayer trained public servants, specialists from all branches of government, including the military and Intel, that will take care of the nasty business for them. Many begin working for "them" while on the public payroll.
The biggest scandal for America is its own home grown national security threat, our leadership class. It has been going on for decades, with even the Bush family and the wannabe Mitt Romney, examples of well known financial warlords and major players in the shadow government, which includes a large number of capos.
This is all open knowledge in the Intel community, but viewed as like natural disaster like hurricanes and floods…where life always goes on despite them.
The US might not win the gold medal for the best political traitor class as many countries have always been ruled like conquered peoples, even by their own. But we have fallen the furthest from our Founding  Fathers ideals, and yet the majority of us are just in denial over it.
The main reason people are hiding out there is because to admit it they know would quickly be followed by a request to do something about it, and they avoid that situation like the plague. The last days of the Roman empire has always been an overused hyperbole, but if the shoe fits…you know the rest… Jim W. Dean ]
_____________________________
–  First published  …   May 21,  2015  –
The $1.9 billion deal with Israel implies supply of some 3,000 Hellfire precision missiles, 250 AIM-120C advanced medium-range air-to-air missiles, 4,100 GBU-39 small diameter bombs and 50 BLU-113 bunker buster bombs.
The order also includes 14,500 tail kits for Joint Direct Attack Munitions for 220kg and 900kg bombs and a variety of Paveway laser-guided bomb kits.
Israeli media sees the deal as "compensation" for the rapprochement between Iran and the US, which Washington sees as trying to get Tehran's nuclear program under control.
Tel Aviv has been sharply criticizing Washington for its decision to negotiate a nuclear deal with Tehran, and Israel has even ostentatiously "reserved the right" to conduct a unilateral air strike on Iran.
"The proposed sale of this equipment will provide Israel the ability to support its self-defense needs," the US Defense Security Cooperation Agency said, adding that the new contract is meant to"replenish"Israel's arsenal without supplying the country with any kind of new weapons.
In November 2014 it was reported that Pentagon was going to supplying Israel with 3,000 smart bombs, similar to those used by the Israeli Air Force in Gaza last summer, where an estimated 100 tons of munitions were dropped.
The main contractors to fulfill the lucrative Israeli arms deal will be Boeing, Ellwood National Forge, General Dynamics, Lockheed Martin and Raytheon Missile Systems, AFP reported.
As for Saudi Arabia, the world's largest buyer of American weapons, it wants to buy 10 Seahawk MH-60R helicopters along with radars, navigation systems and 38 Hellfire missiles.
According to a Congressional Research Service (CRS) report, between 2010 and 2014 Riyadh spent $90 billion on American weapons, becoming world's leading buyer of US-made arms.
The helicopters will be supplied by Sikorsky Aircraft Corp, while associated gear will be produced by Lockheed Martin. The US administration must notify Congress 30 days ahead of the sale of weapons to a foreign government, as lawmakers have a right to block or amend any arms deal.
Both Israel and Saudi Arabia have been recently conducting offensive operations on the territory of their neighbors.
During the 50-day campaign in Gaza last summer, where Israel actively used its Air Force, more than 2,100 Palestinians were killed, the vast majority of them unarmed civilians. Israel is also regularly targeting airstrikes on the territory of neighboring Syria.
Saudi Arabia has initiated and led airstrikes on the territory of neighbor Yemen, where Houthi rebels have seized power and ousted a Riyadh-backed president.
Since late March, when airstrikes were launched and a naval blockade of Yemen was imposed, at least 1,250 people have been killed and over 5,000 wounded in the conflict, according to the World Health Organization. Local estimates of casualties have been much higher.
Jim W. Dean was an active editor on VT from 2010-2022.  He was involved in operations, development, and writing, plus an active schedule of TV and radio interviews.
ATTENTION READERS
Due to the nature of independent content, VT cannot guarantee content validity.
We ask you to
Read Our Content Policy
so a clear comprehension of VT's independent non-censored media is understood and given its proper place in the world of news, opinion and media.
All content is owned by author exclusively. Expressed opinions are NOT necessarily the views of VT, other authors, affiliates, advertisers, sponsors, partners or technicians. Some content may be satirical in nature. All images within are full responsibility of author and NOT VT.
About VT
-
Read Full Policy Notice
-
Comment Policy